Hidden Georgia Tech: The Wind Tunnel
By Victor Rogers SEPT. 26, 2016
Across the Georgia Tech campus, hidden spaces and forgotten places await rediscovery. Some are relics of an earlier time, difficult to find and explore. Others are very much in view, but often overlooked. Hidden Georgia Tech is a photo essay series highlighting places on campus that are hidden in plain sight.
THE JOHN J. HARPER WIND TUNNEL
Located on the ground floor of the Daniel Guggenheim School of Aerospace Engineering's Guggenheim Building, the low-speed wind tunnel is a state-of-the-art facility for experimental research. Over the years, aerospace researchers have used this laboratory to test and/or develop a wide range of products including radar antennae, stadium lights, laser scanners for cash registers, delta wings, rotor blades, business jets, fighter planes, the NASA X-38 Crew Return Vehicle, parafoils, and the soil scoop arm for NASA's Curiosity Mars Rover. Five awards under the highly competitive Defense University Research Instrumentation Program, among other projects, have kept the tunnel at the leading edge of diagnostics capabilities for basic research.
The wind tunnel operates entirely on sponsored research projects. Recent projects include Army/NASA/Navy studies to improve the speed and safety of carrying slung loads under helicopters, enable helicopter flight at high speeds, understand fin vibrations on fighter planes at a high angle of attack, as well as a NASA project to improve the ability of future aerospace engineers to learn to innovate across several disciplines. Take a look inside.
John J. Harper Wind Tunnel Photo Gallery
Photos by Rob Felt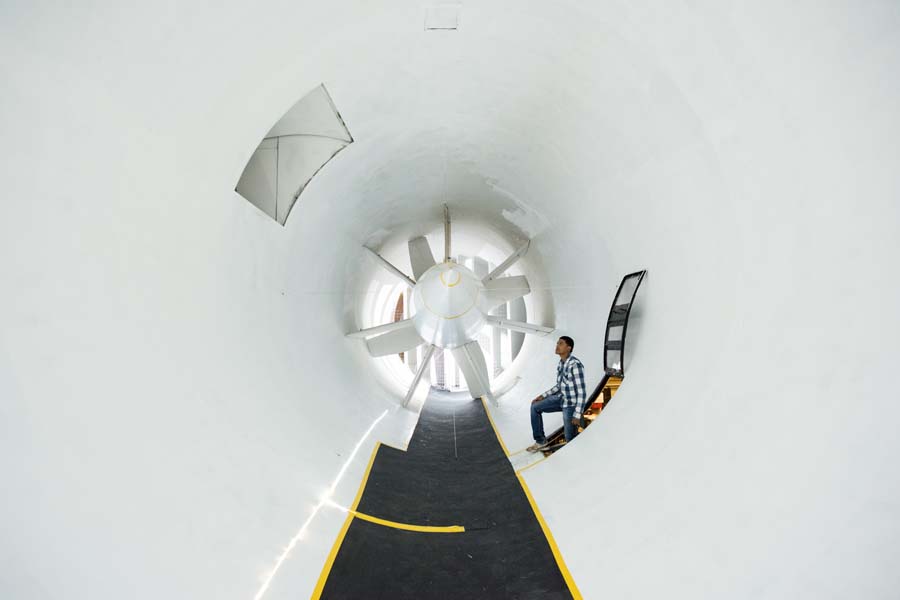 Aerospace Ph.D. candidate Nandeesh Hiremath enters the main diffuser. The tunnel's four fan blades are driven through a World War II Curtiss bomber propeller hub by a shaft from an electric motor. The tunnel's top speed is currently limited to 32 meters per second.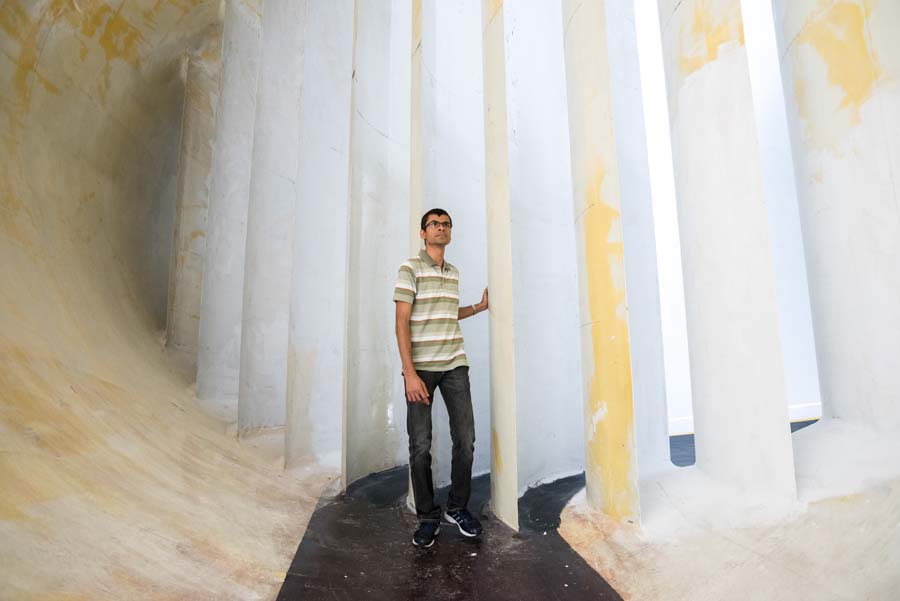 Aerospace Ph.D. candidate Dhwanil Shukla stands in front of the turning vanes in the 20-foot diameter settling chamber.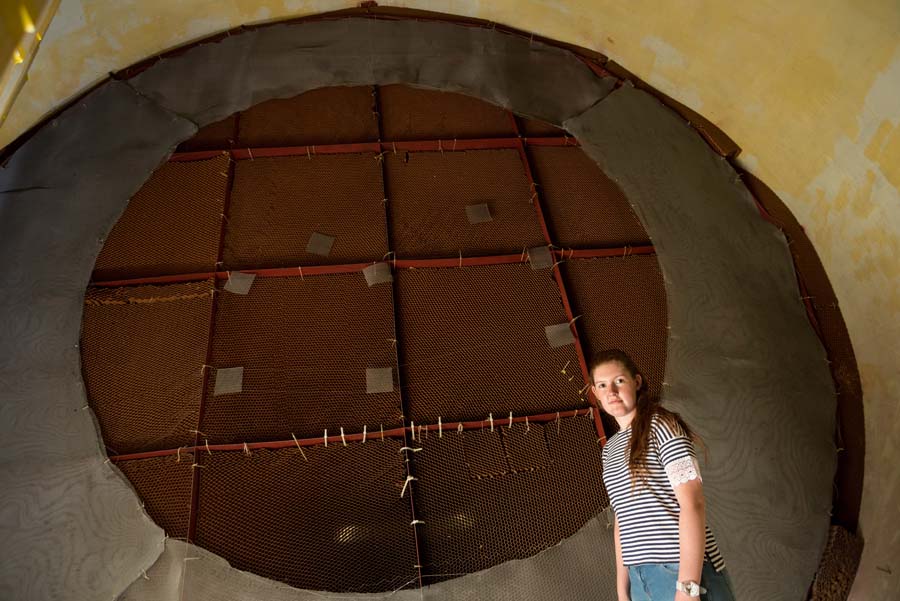 Emily Hale, aerospace engineering undergraduate, stands in front of a honeycomb screen where large-scale turbulence is filtered out before the air flow contracts and accelerates into the test section of the wind tunnel.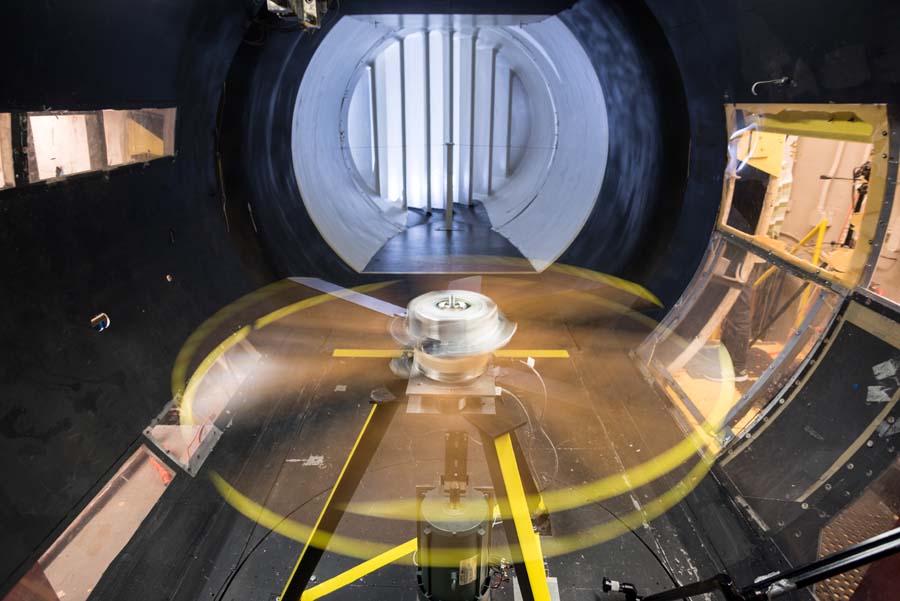 A counter-rotating pair of three-bladed fans spin upward, in a new study of the load variations and wake interactions of multiple rotors.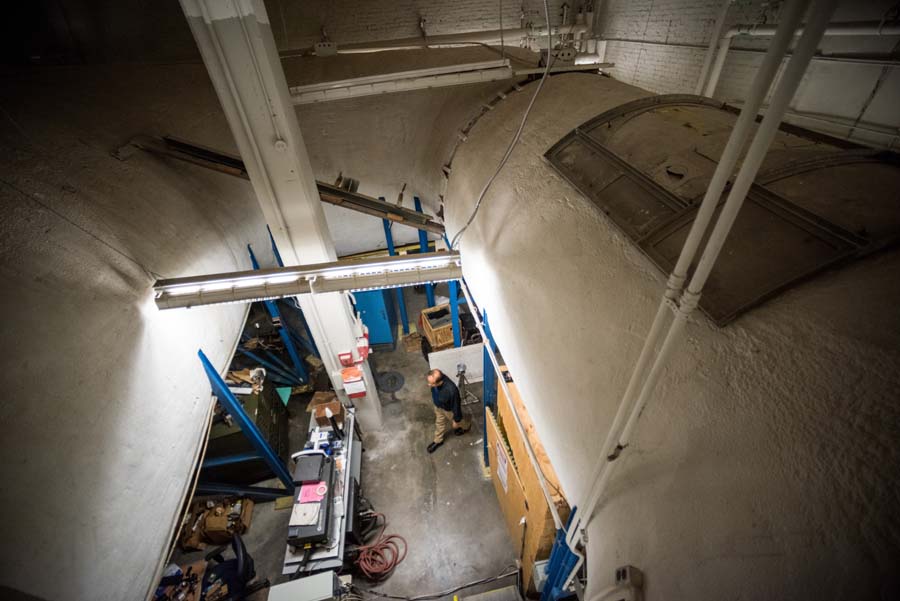 The two-story tall wind tunnel is one of the largest in an academic setting, and is operated by a student team.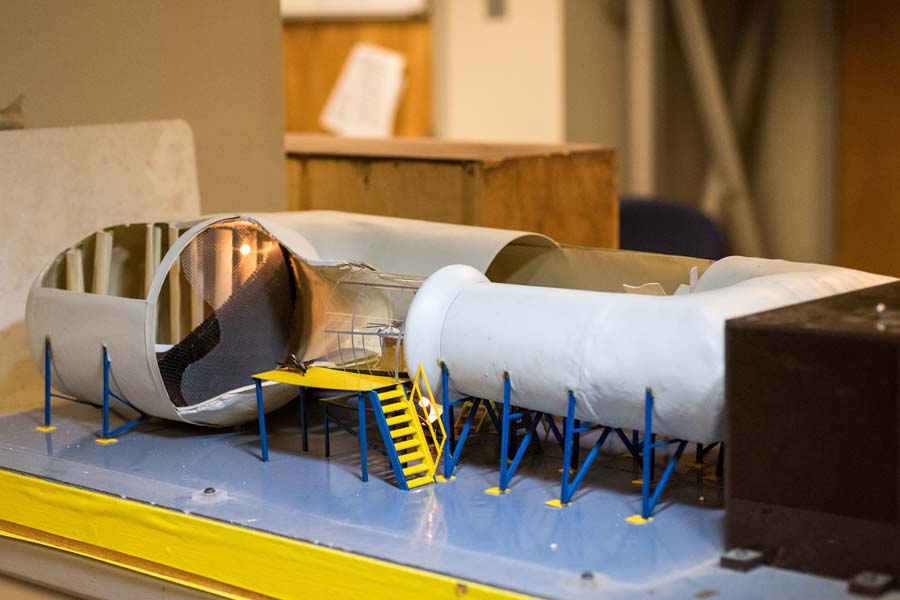 This model of the tunnel was built by then-undergraduate Richard Schwartz circa 1990. Schwartz has recently been working with NASA to capture high-resolution images of spacecraft re-entering the atmosphere.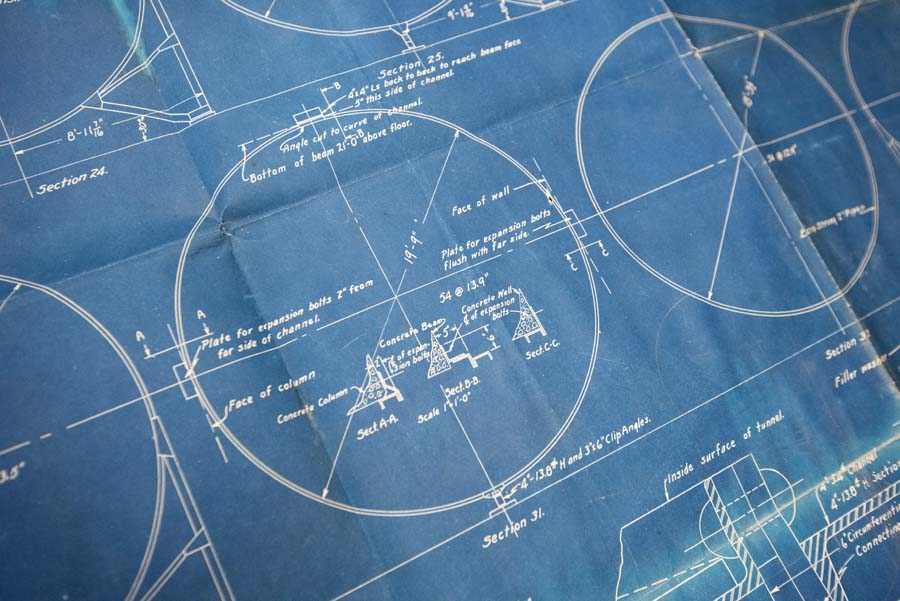 Blueprints from 1930 show how the Guggenheim Building was built around the tunnel. Above the tunnel test section was an office room. A glass wall could open to lift models in from the Cherry Street parking lot using a ceiling-mounted crane. The present fourth floor was extended over that office in 1994.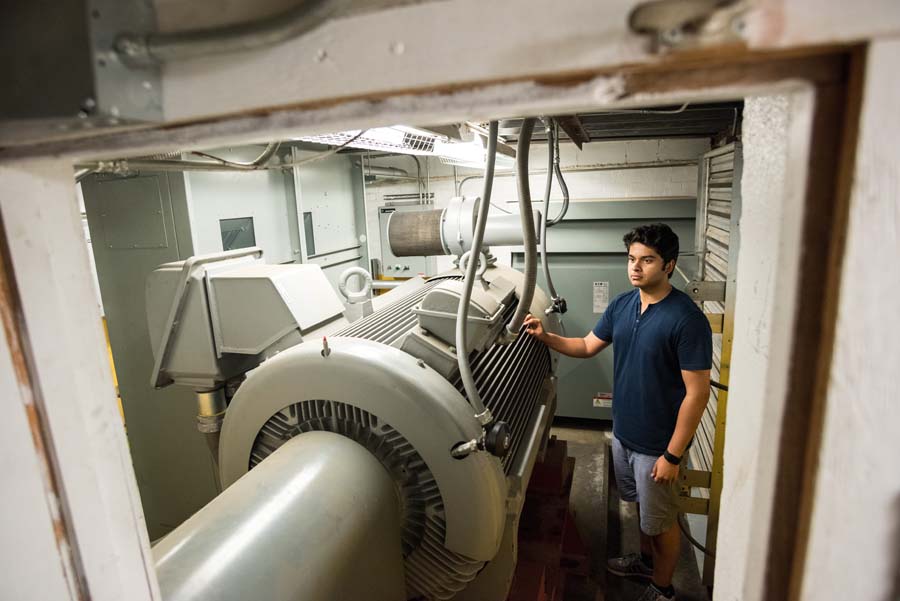 Aerospace undergraduate Ayush Jha stands in the tunnel's motor room. In 2011-12, the Institute replaced the 1930 vintage motor and water-cooled clutch with a new variable frequency drive and motor. This has greatly improved the air speed stability, and slashed noise and vibration levels.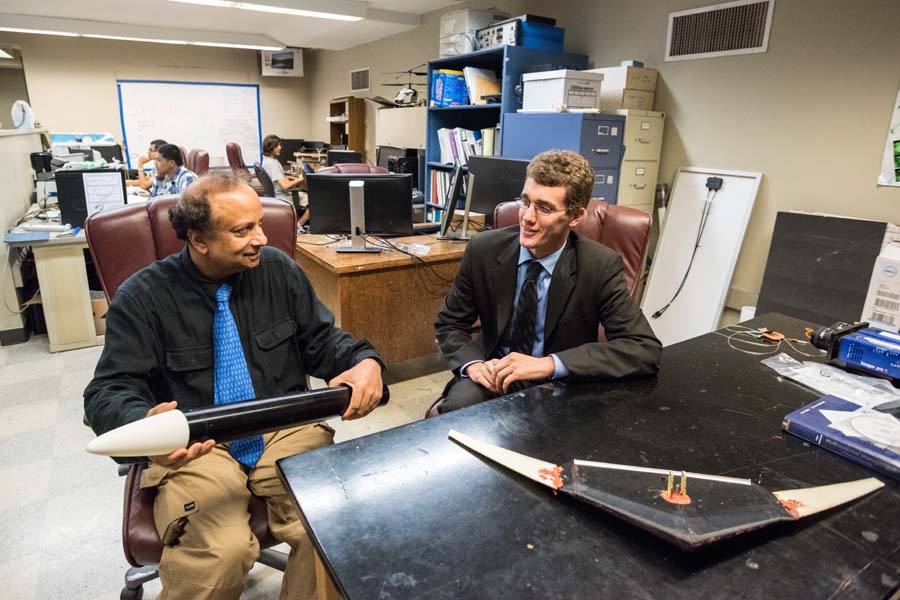 Aerospace undergraduate Joseph Robinson discusses his Career Fair experiences with Narayanan Komerath, aerospace engineering professor and director of the Harper Wind Tunnel.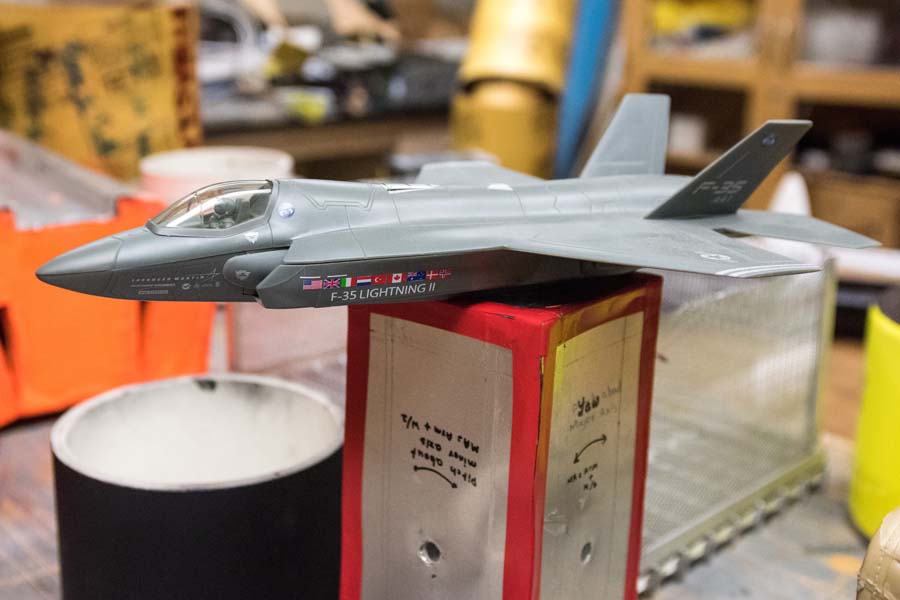 One recent Army/NASA/Navy-sponsored project was to define the aerodynamics of arbitrary-shaped bodies at arbitrary attitudes. A fleet of models (like the one shown) is a part of the extensive knowledge base accumulated on such bluff-body aerodynamics.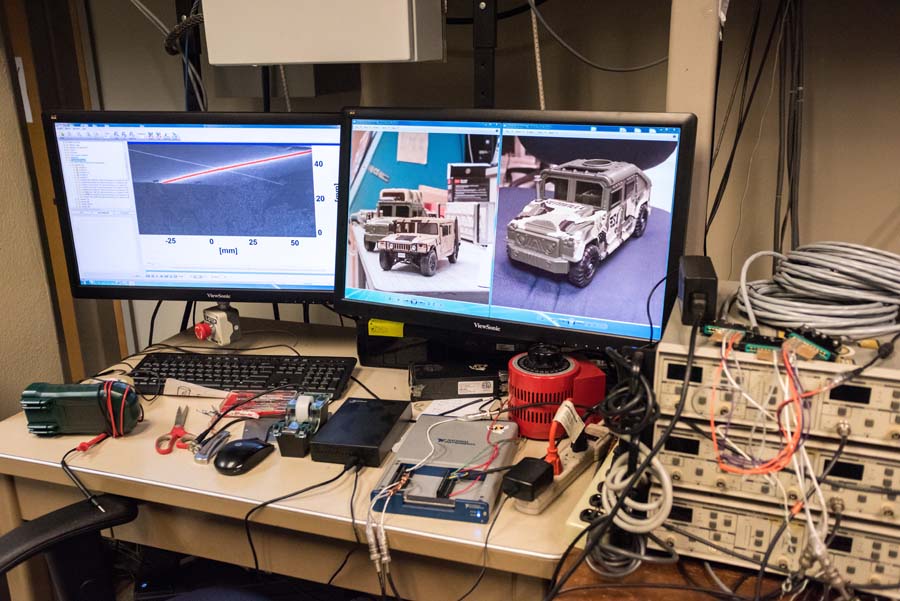 What used to be the large control panels of the wind tunnel with several electronics racks, knobs, and dials, have all now been reduced to one control box and computer screens.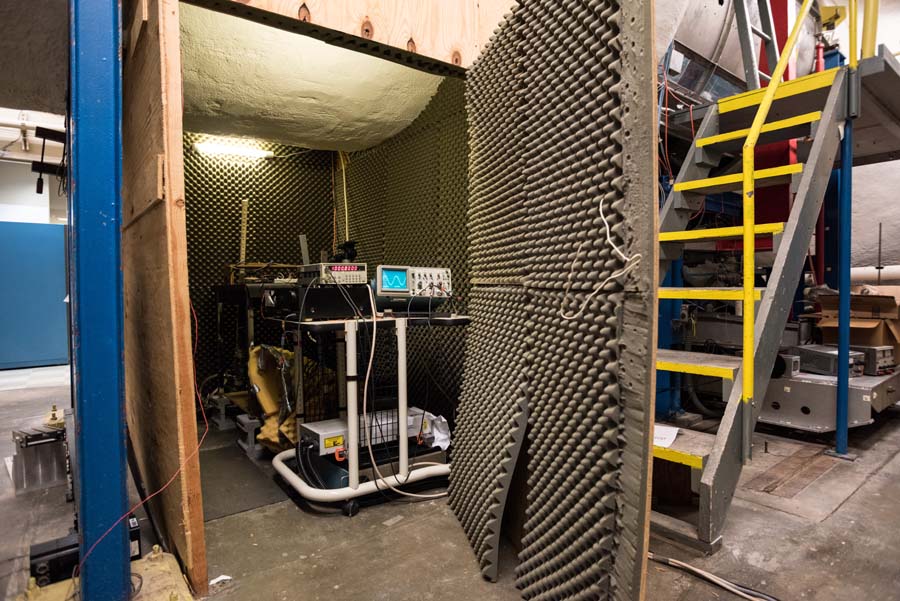 This small enclosure allows laser diagnostics to be developed safely, and to be used with (loud) acoustic resonators.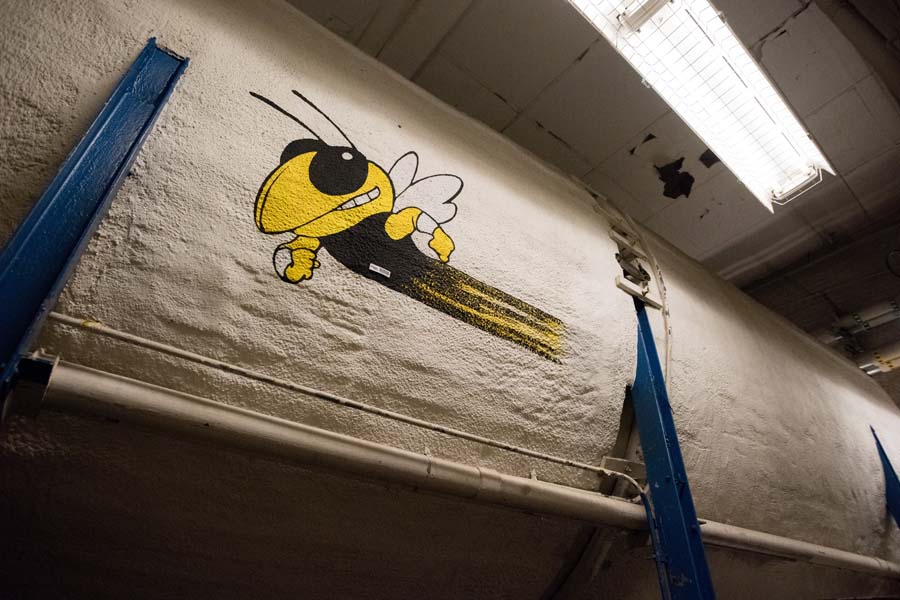 The Buzz painting was done in 1991 by then-Ph.D. candidate Philip A. Fawcett, now a member of the Daniel Guggenheim School of Aerospace Engineering's External Strategic Advisory Council. The wind tunnel is named after the late Aerospace Engineering Professor John J. Harper.

Since 1985, more than 300 students, including over 200 undergraduates, have used research experience at the tunnel as a springboard to government and industry positions. They have won numerous PURA (President's Undergraduate Research Awards) and other awards, including Georgia Tech's Sigma Xi Outstanding PhD Thesis awards four times, and participated in over 400 publications.