Volleyball, AAPI Heritage Month, and Unity Garden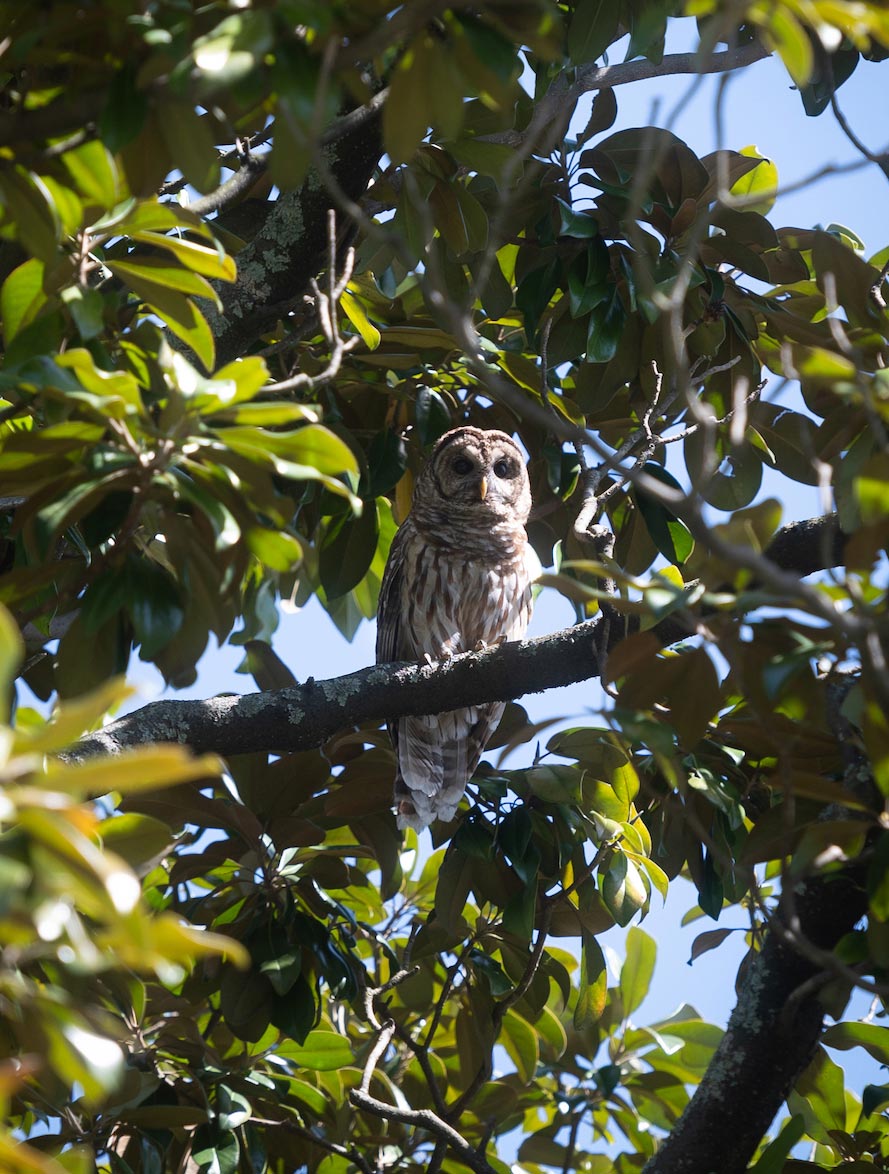 An adult barred owl (Strix varia) was spotted near Price Gilbert Memorial Library. They roost in trees during the day and hunt small mammals at night. They generally have small ranges so this owl, like many other species, has likely made the Tech campus its home. Photo taken April 1 by Allison Carter.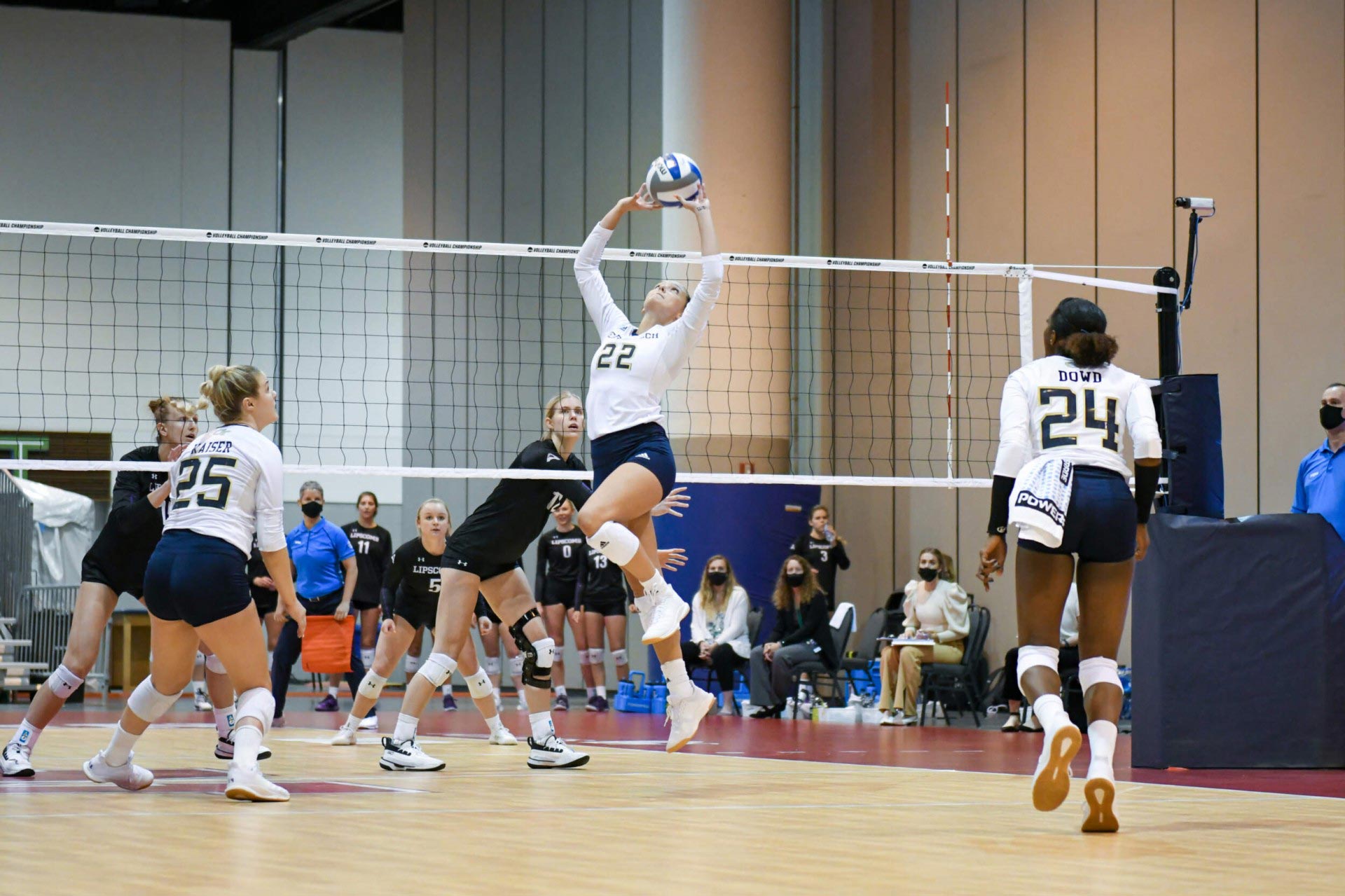 No. 23-ranked Georgia Tech volleyball won its first NCAA Tournament match in nearly 17 years, with a 3-1 (25-21, 16-25, 25-21, 25-19) victory over Lipscomb in the opening round of the 2020-21 NCAA Volleyball Championship. Tech later saw its most successful season in more than a decade come to a close with a 3-0 (25-19, 25-21, 25-18) loss to third-seeded Minnesota in the second round. Photo taken April 14 by Georgia Tech Athletics Association.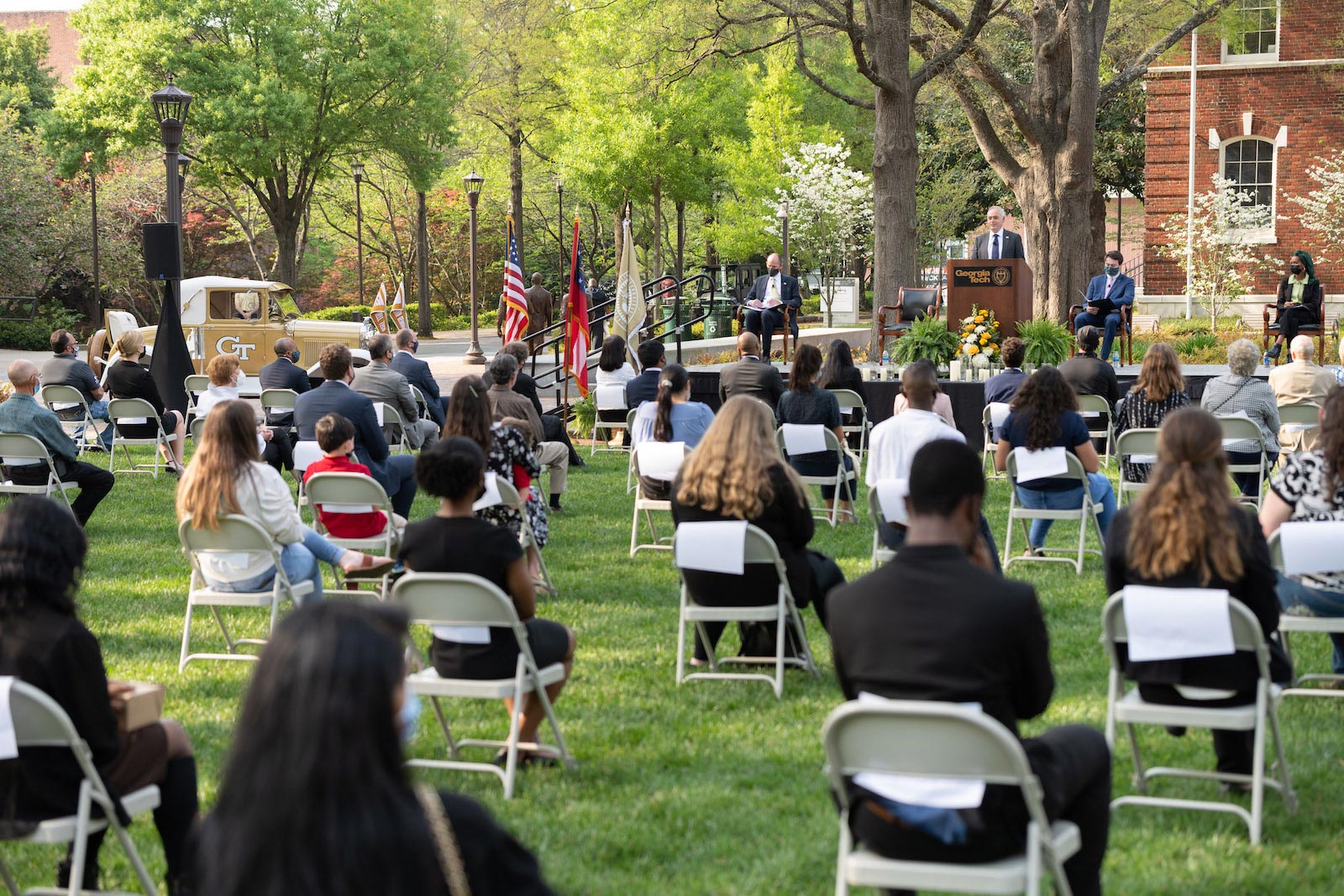 Each spring, Georgia Tech remembers students and employees who died during the past year at When the Whistle Blows. During the event, held in Harrison Square, the steam whistle is sounded once for each person honored. This year's event remembered those lost during 2019 and 2020. Photo taken April 7 by Rob Felt.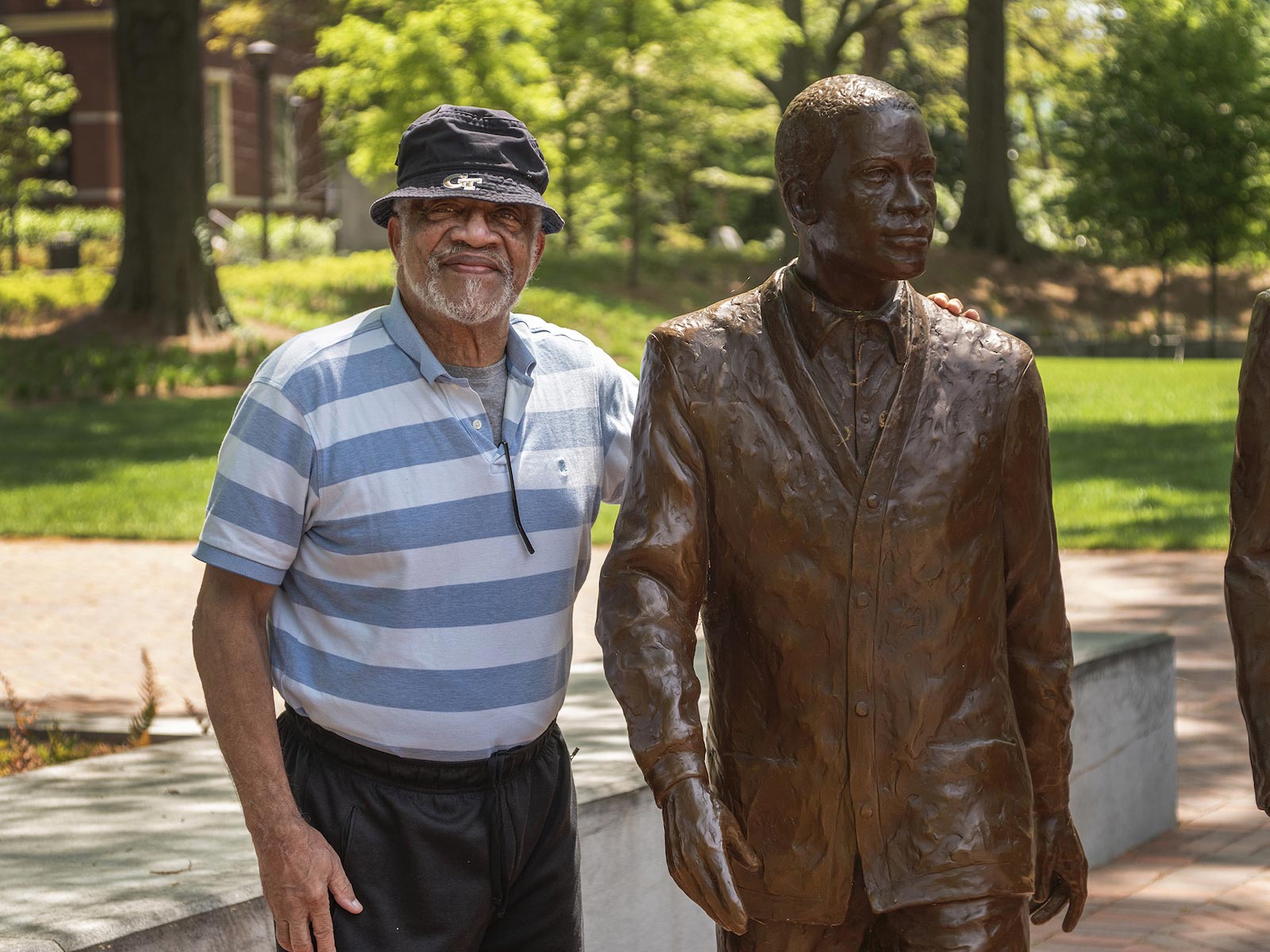 Ralph A. Long Jr., one of the first three Black students to attend Georgia Tech, recently posed with a sculpture of himself. The Three Pioneers sculpture is in Harrison Square. Photo taken April 13 by Christopher Moore.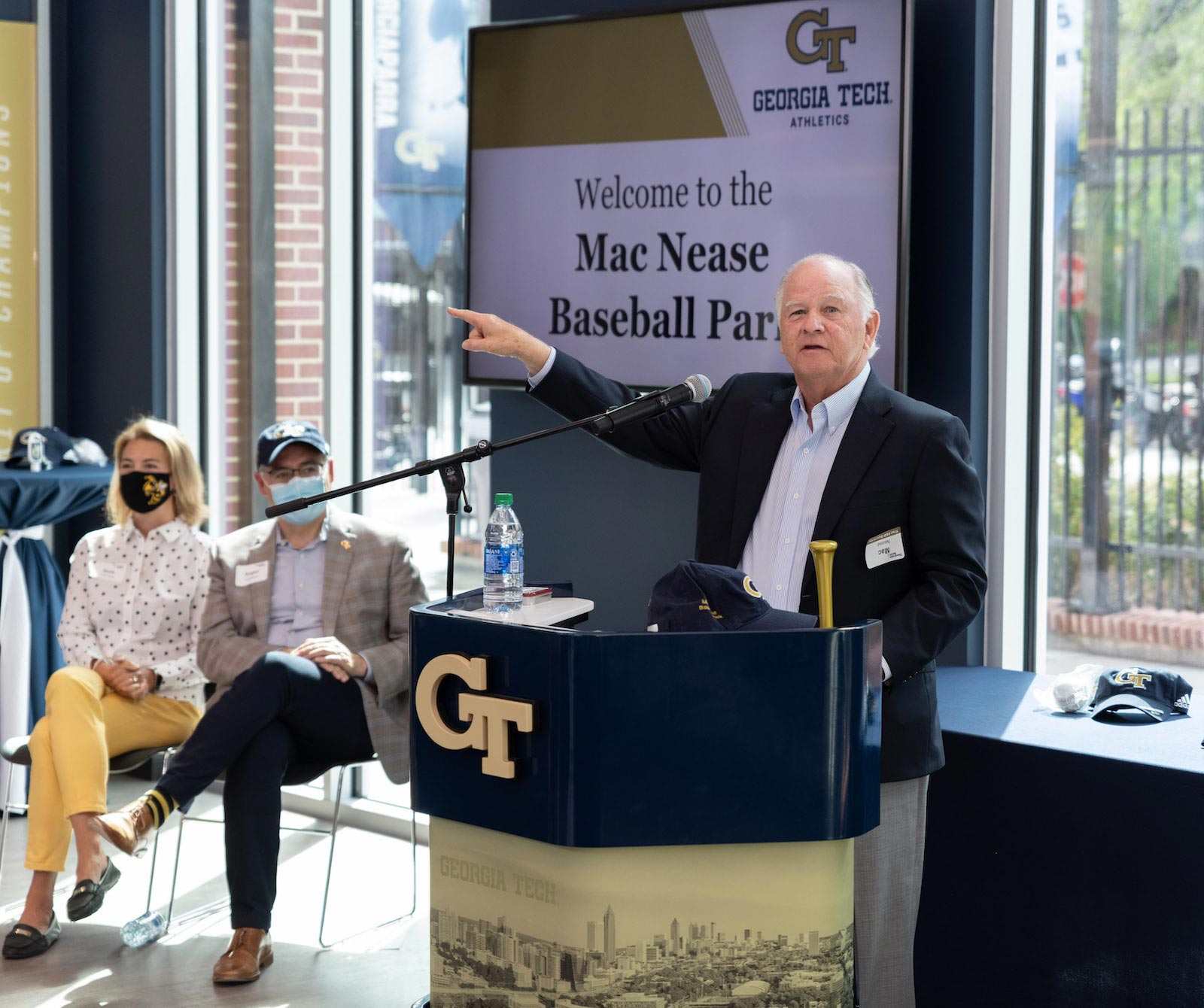 At the dedication of Mac Nease Baseball Park at Russ Chandler Stadium, Georgia Tech honored Mac Nease (pictured), a Tech baseball letter winner and 1965 alumnus (industrial management), and his wife, Brenda, for their significant philanthropy supporting both phases of renovations over the past several years.
April is national Sexual Assault Awareness Month. Organizations VOICE and GT Smile collaborated to paint rocks teal (for Sexual Assault Awareness Month) and decorate them with messages of support for survivors of sexual violence. They placed the rocks throughout Mayer Memorial Garden for Teal Ribbon Day. Third-year student Jodi Camino (pictured) is part of VOICE peer educators and chair of the Joint Sexual Violence Advisory Committee within the SGA's executive branch. Photo taken April 8 by Christopher Moore.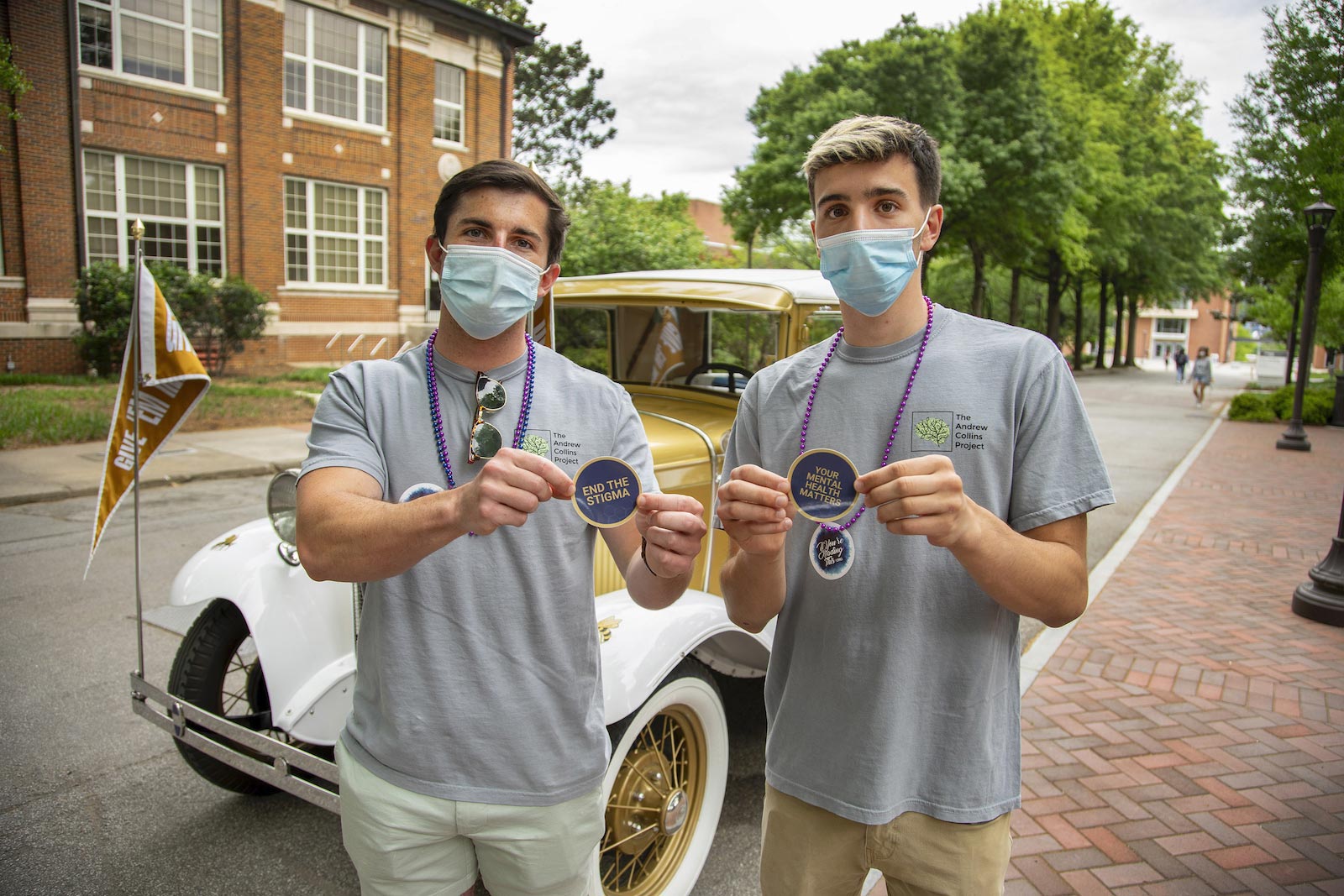 The Campus Walk for Suicide Prevention, held April 17, benefited the American Foundation for Suicide Prevention (AFSP). Georgia Tech raised $11,775 and 121 students participated. All proceeds will go toward the AFSP to fund research for suicide prevention, create and distribute education programs, advocate for public policy, and support survivors of suicide loss. Photo taken April 17 by Christopher Moore.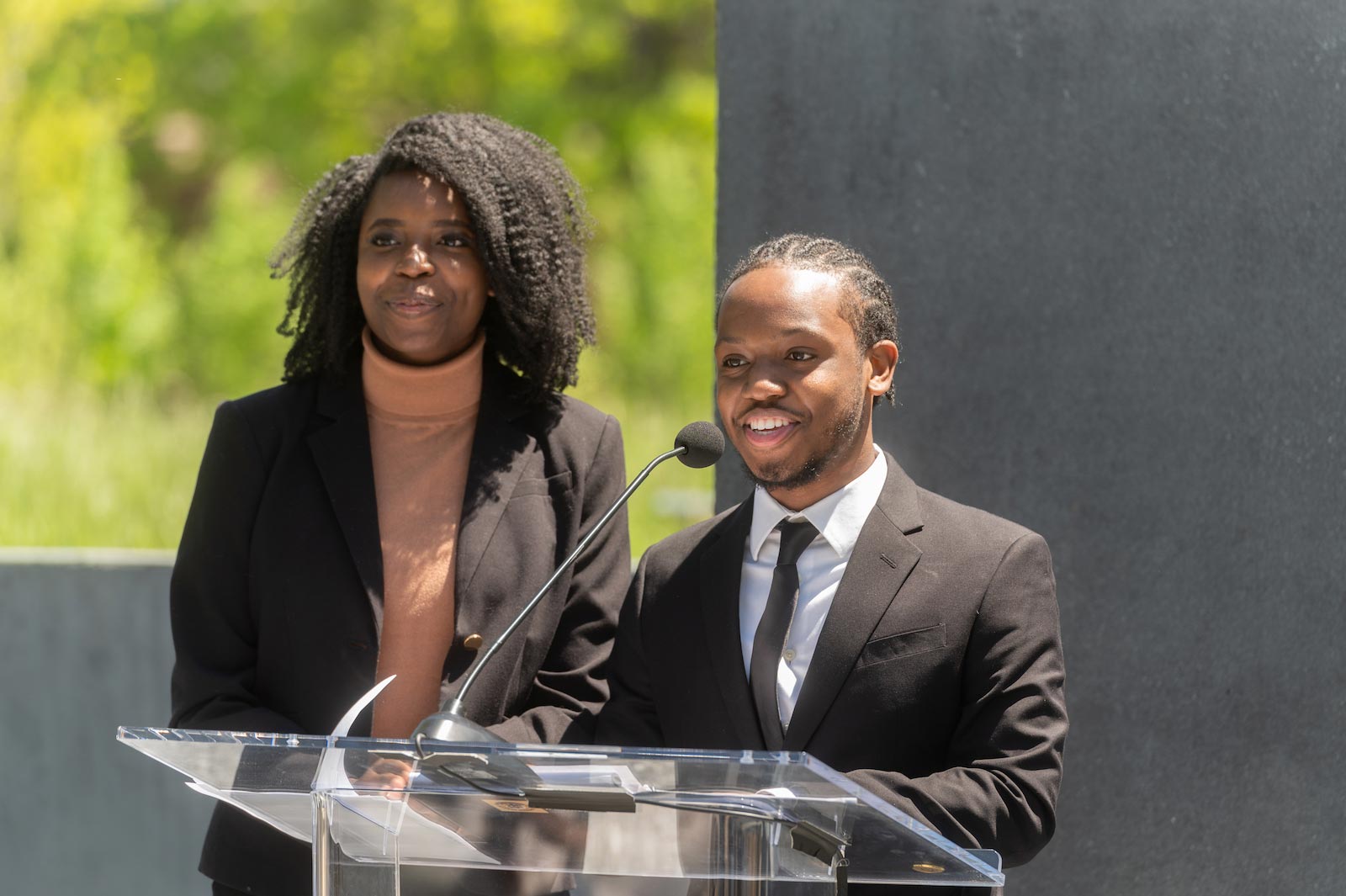 Georgia Tech commemorated the transformation of a site once known as a haven for segregationists into an environmental restoration project now known as the EcoCommons. Undergraduates Shelbe Johnson (left) and Kemuel Russell spoke on behalf of the Georgia Tech African American Student Union. Photo taken April 21 by Allison Carter.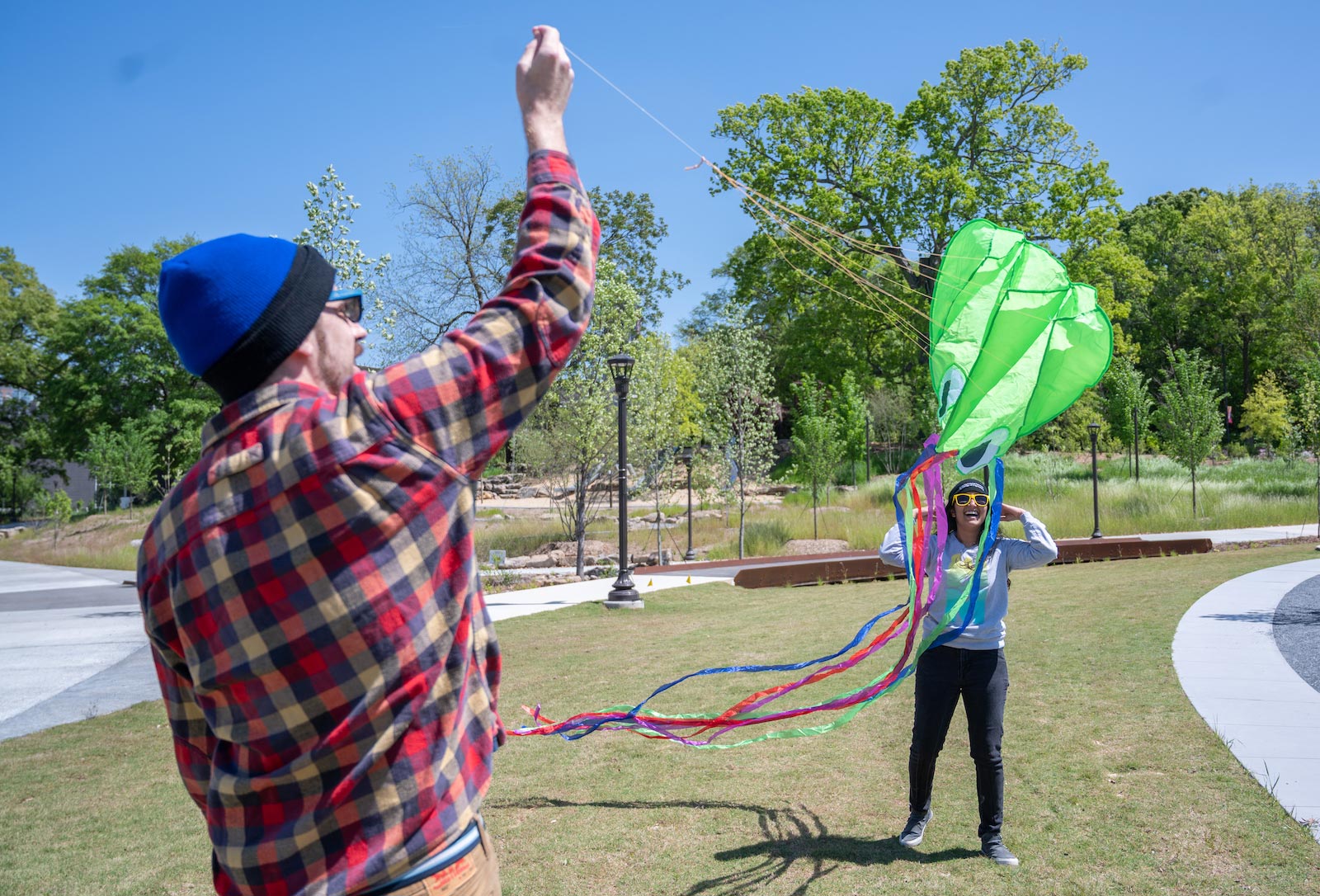 Go fly a kite: Eddie DiLoretto and Manali Banerjee, both graduate students in materials science and engineering, took a study break in the EcoCommons and flew a kite. Photo taken April 21 by Allison Carter.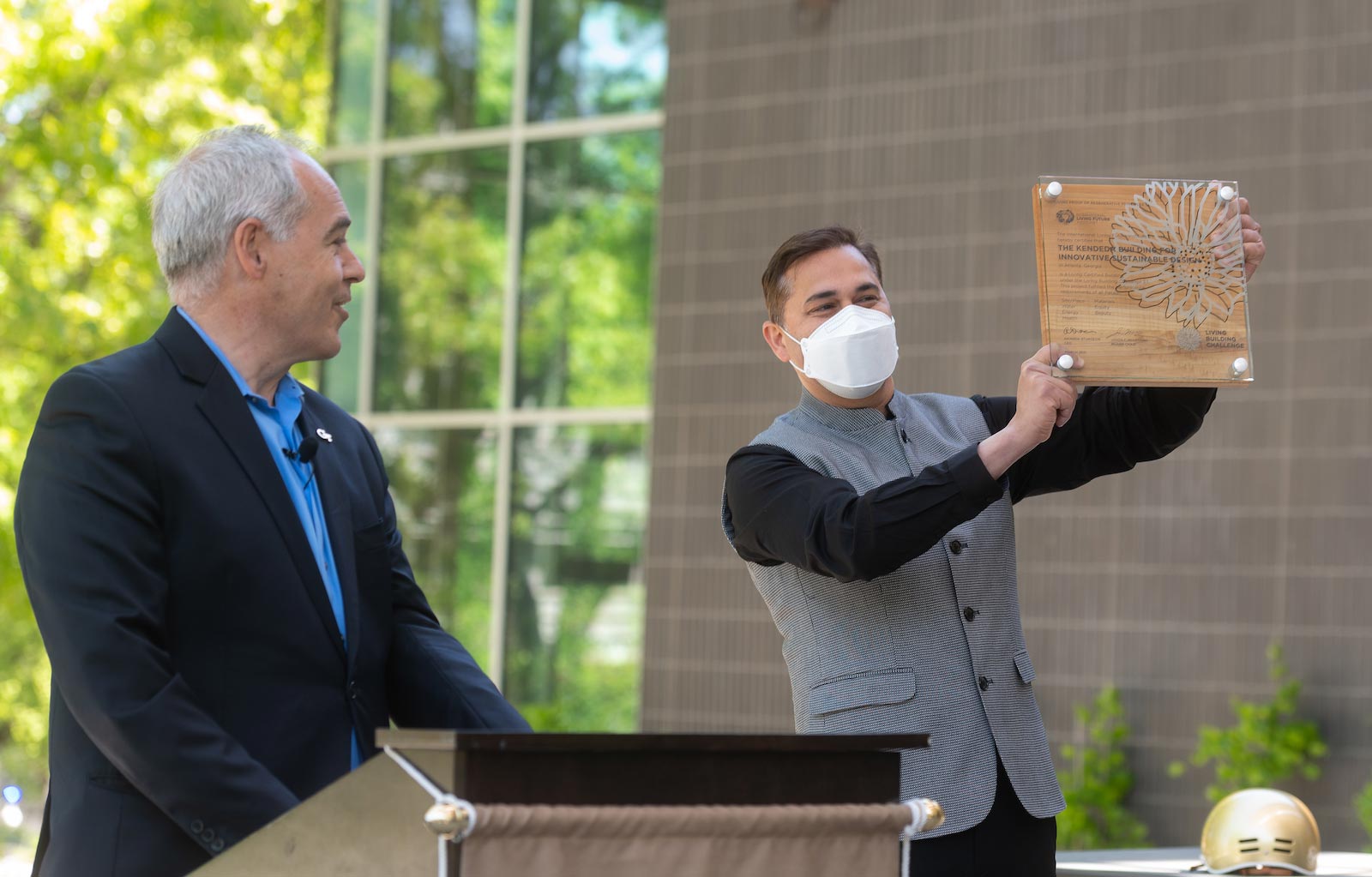 The Kendeda Building for Innovative Sustainable Design earned Living Building Challenge certification, the world's most ambitious and holistic green building achievement. The certification from the International Living Future Institute independently verifies that The Kendeda Building is among the greenest in the world. President Ángel Cabrera (left) and Shan Arora, director of The Kendeda Building, celebrated the honor. Photo taken April 22 by Allison Carter.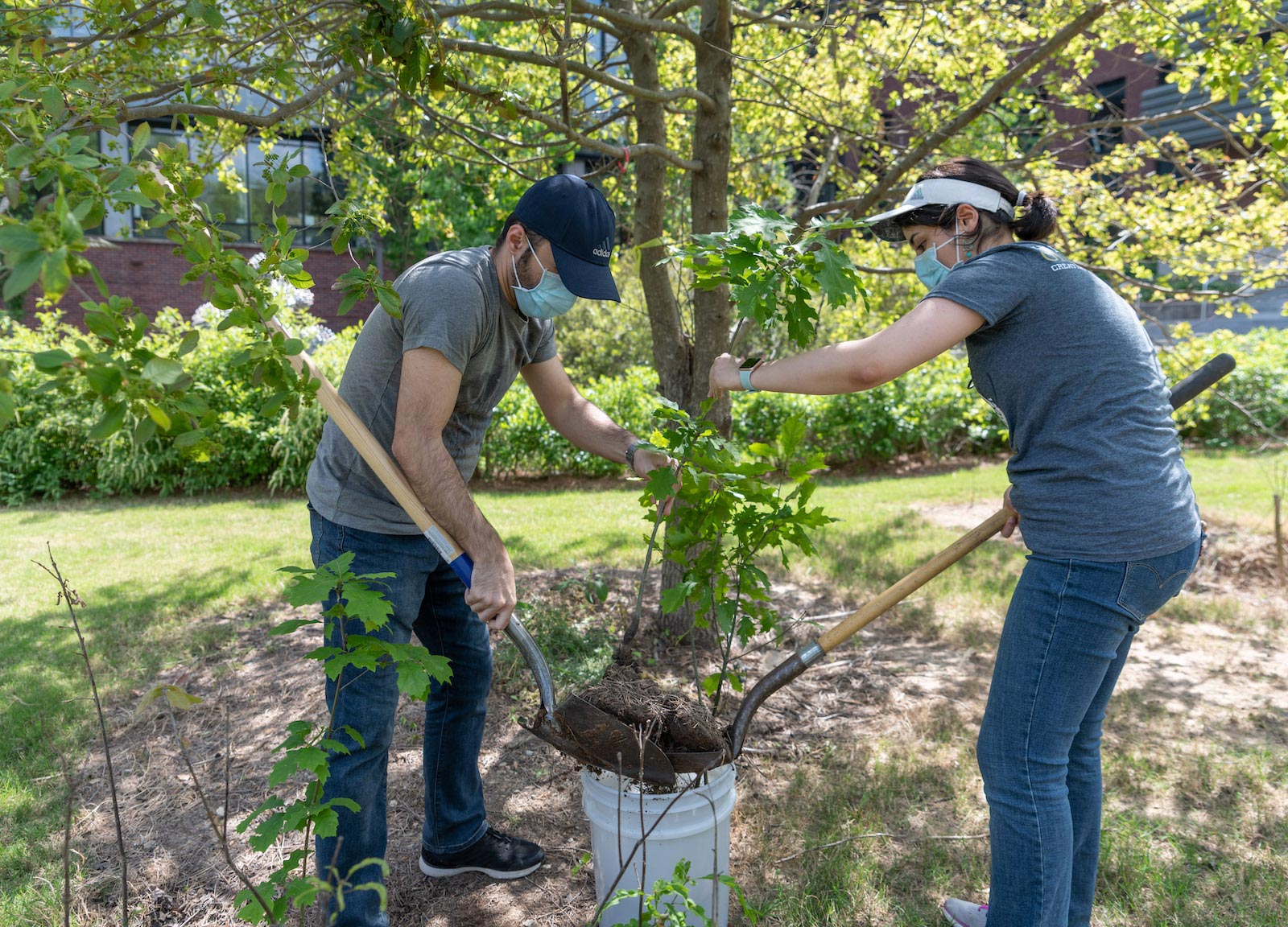 The Tech community celebrated Earth Day throughout the week of April 19 – 22. Events and activities included a conversation on solutions for the climate crisis, household hazardous waste collection, and transplanting trees grown in the campus nursery to spots around campus. Photo taken April 20 by Rob Felt.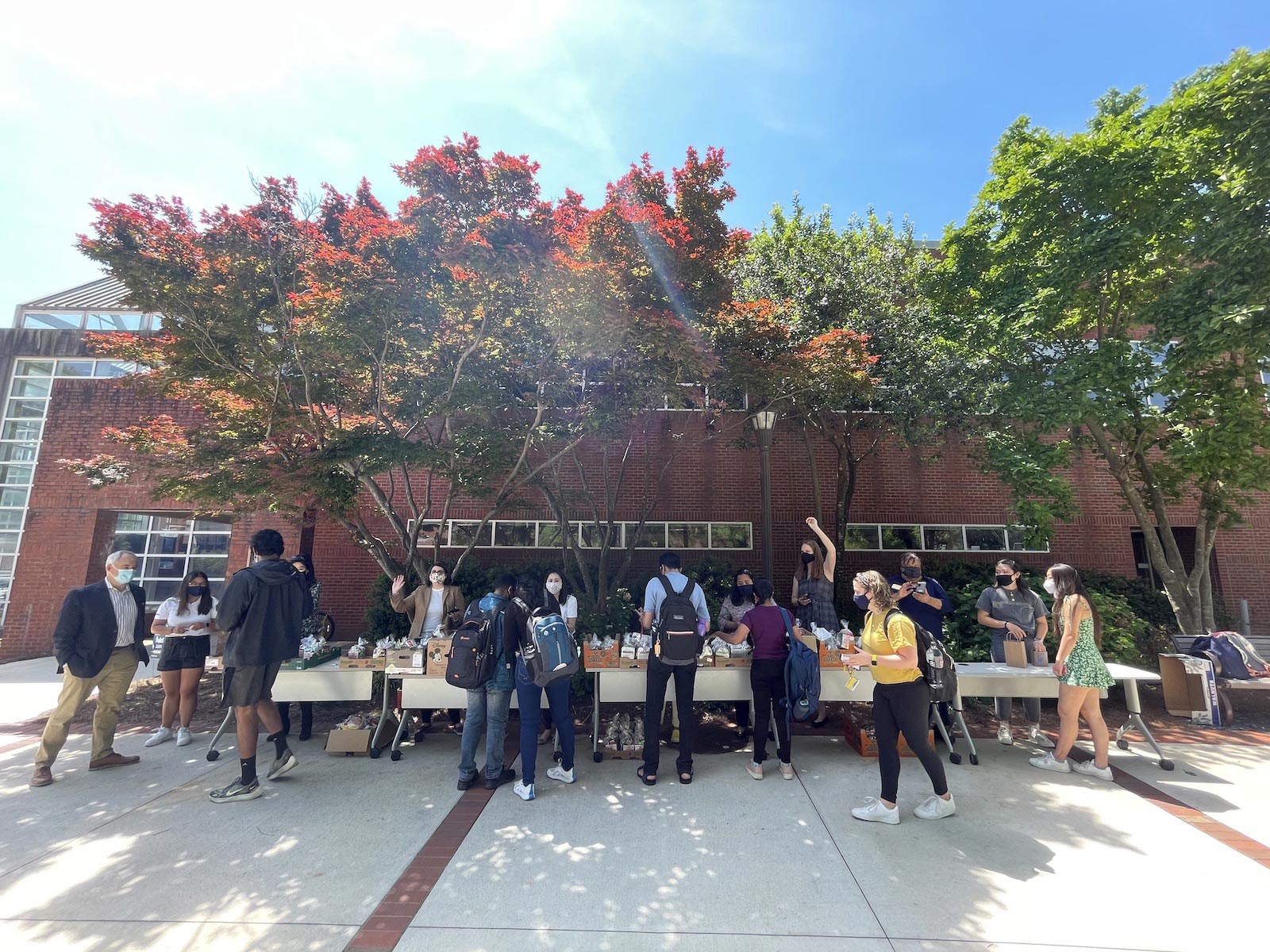 Before finals, volunteers helped the Office of Student Diversity Programs give away care packages with Asian goodies including noodles, chocolate biscuits, green tea, rice crackers, kopiko, and guava candy. The event, part of an early celebration of Asian American Pacific Islander Heritage Month, was called "Have You Eaten Yet?" because in some Asian cultures that is how families ask about each other's well-being. The care packages were funded by the Residence Hall Association. Photo taken April 26 by Karen Yiu.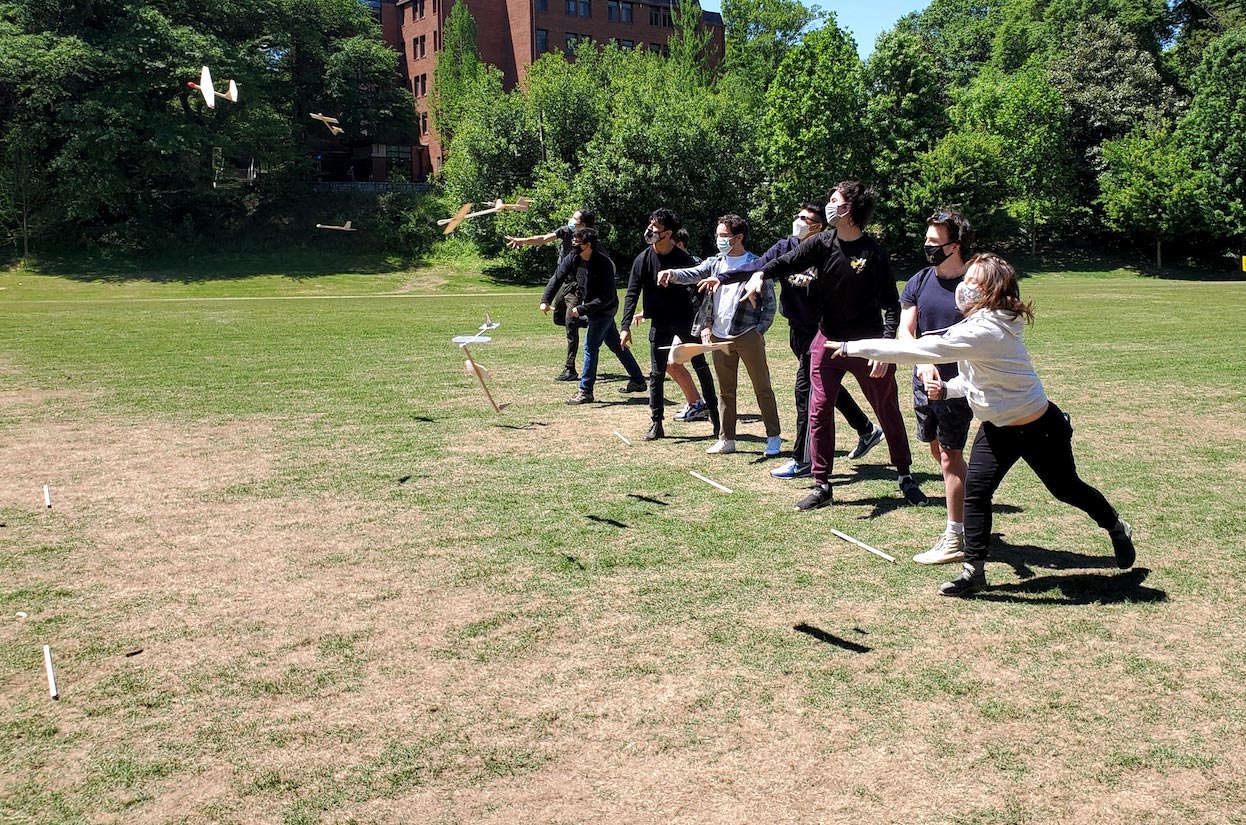 In Introduction to Aerospace Engineering (AE 1601) students designed and built balsa wood gliders and launched them from the Burger Bowl. The flyoff involved a tournament to crown the class champion for farthest distance. The winners were: section A, Christopher McCollough (86 feet); section B, Aidan Coleman (98 feet); and section C, Zachary Connor (50 feet). Photo taken April 22 by Turab Zaidi.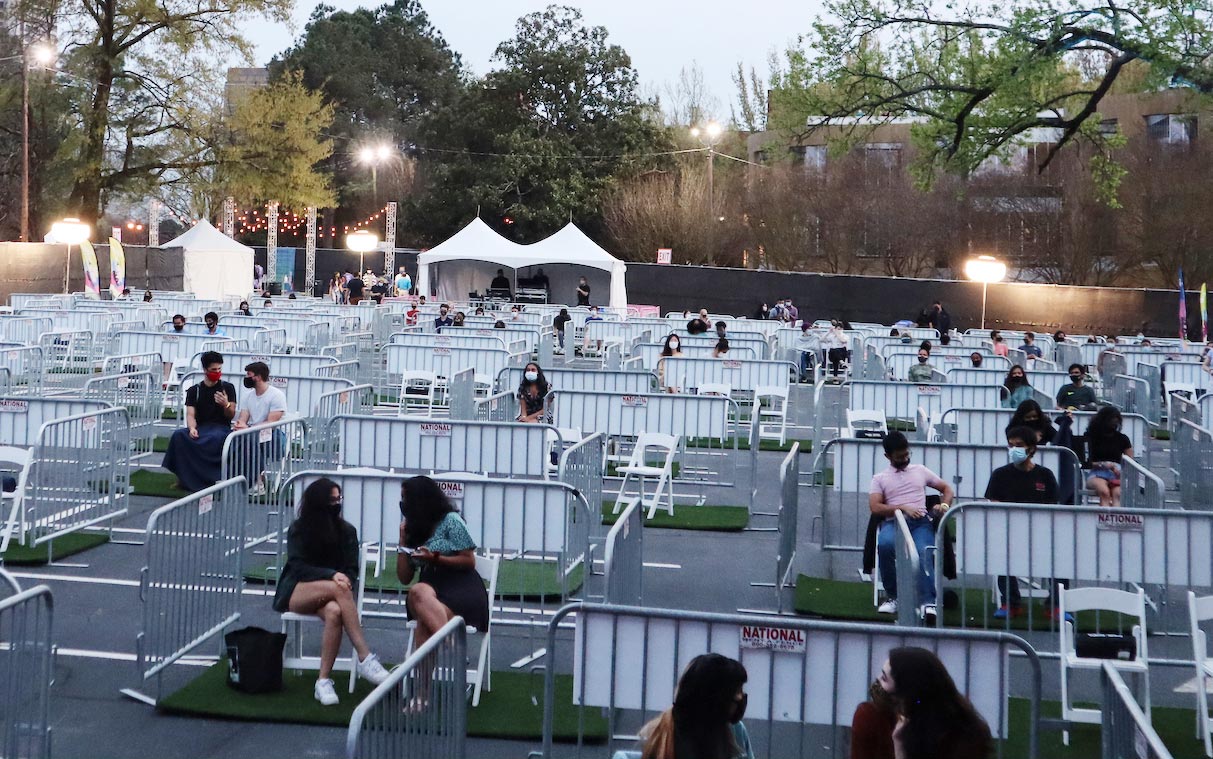 A physically distanced audience gathered in the W21 parking lot across from The Kendeda Building for the Student Center Program Council's Chill on the Hill, a free night of performances by student musicians. The event was part of the Georgia Tech Arts Skyline Series, a six-week program of music, dance, theater, and conversation that continues through May 18. Photo courtesy of the Student Center Program Council.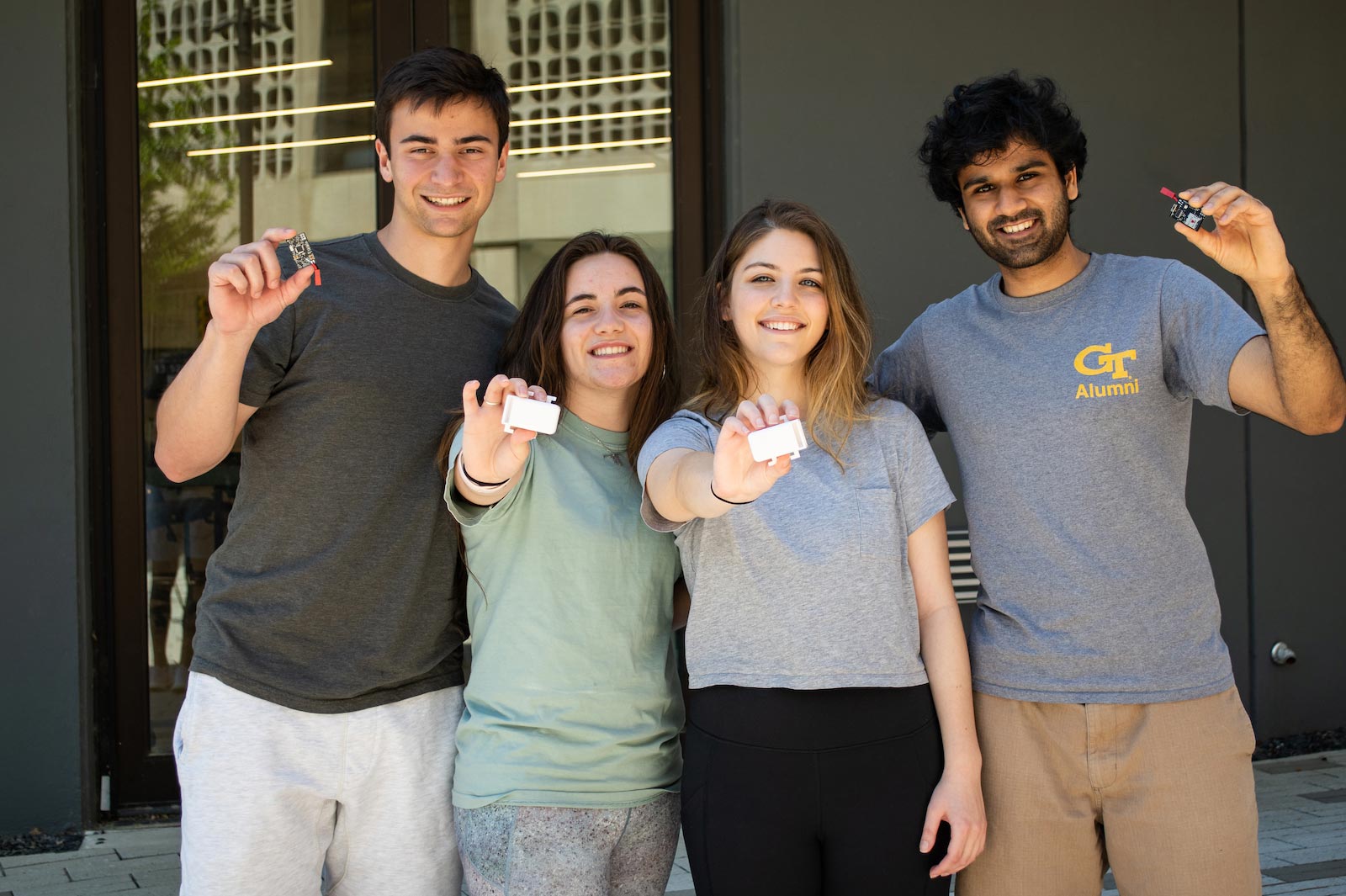 At the 2021 Spring Capstone Expo the award for best overall project went to StrideLink, an unsponsored interdisciplinary team whose goal was to develop a low-cost gait analysis tool for physical therapists. StrideLink team members are (L-R): Tony Wineman (electrical engineering), Cassandra McIltrot (biomedical engineering), Marzeah Khorramabadi (computer engineering), and Neel Narvekar (computer engineering). Photo courtesy of George W. Woodruff School of Mechanical Engineering.
Credits
Photography: Allison Carter, Rob Felt, and Christopher Moore
Writing/Editing: Victor Rogers, Stacy Braukman