The Month in Photos: November 2021
Ethics Week, U.S. Space Force, and Fall Foliage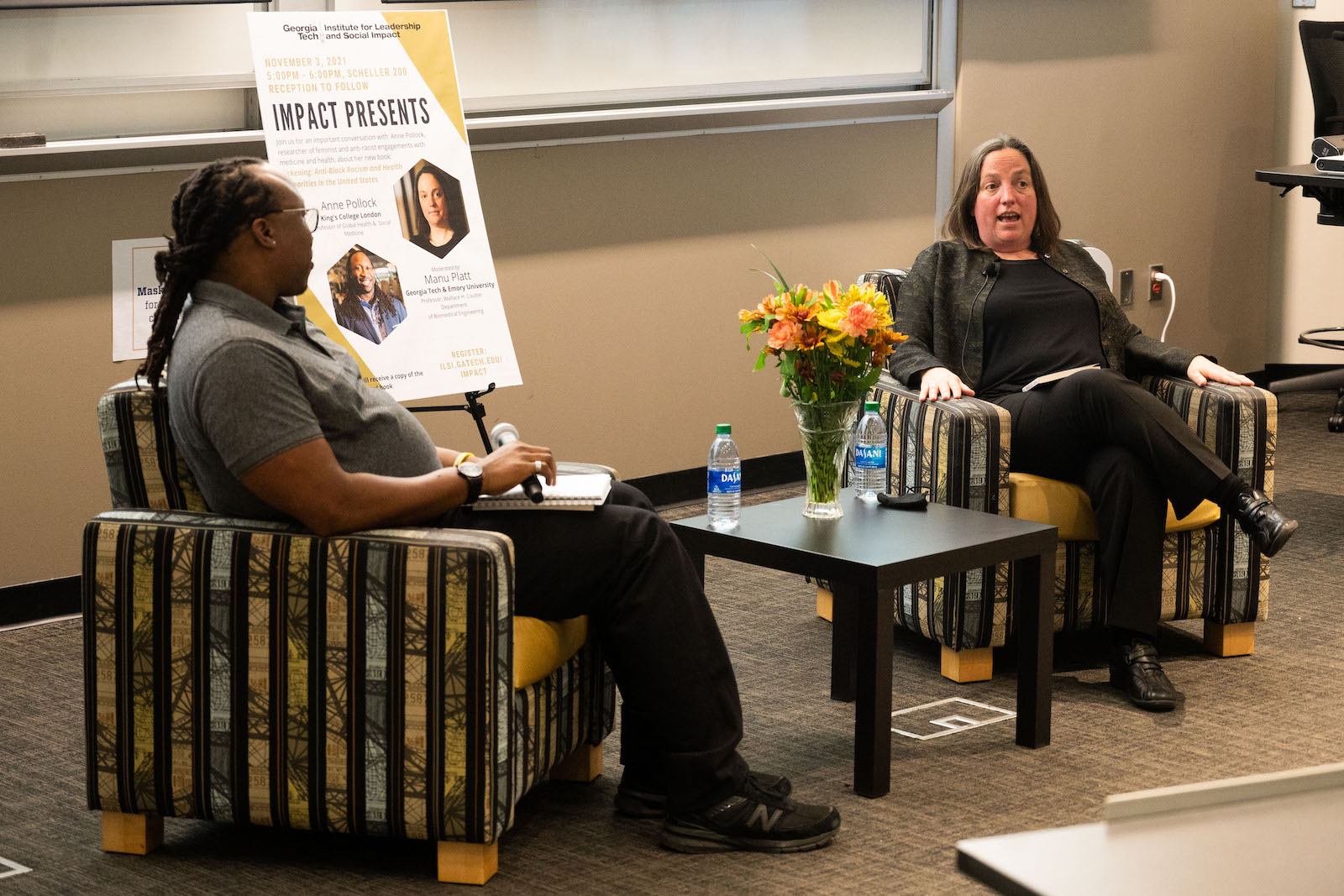 The Institute for Leadership and Social Impact presented a conversation on "Sickening, Anti-Black Racism, and Health Disparities in the United States." The recorded event, featuring Anne Pollock, professor of global health and social medicine at King's College London, was hosted by Manu Platt, professor in the Wallace H. Coulter Department of Biomedical Engineering. Photo taken Nov. 3 by Allison Carter.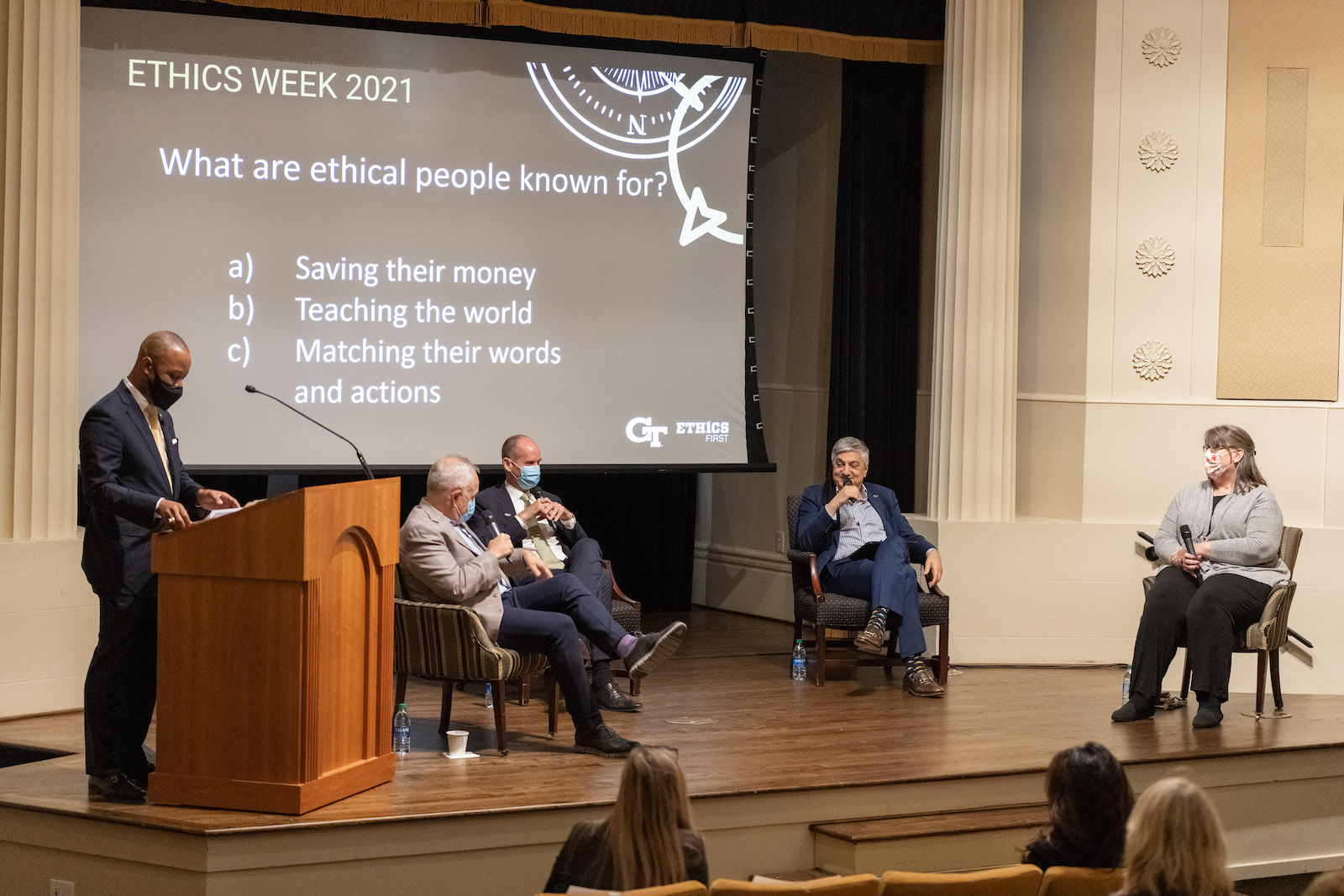 Game Time Mashup with Executive Leadership: As part of Ethics Week, President Ángel Cabrera and Executive Vice Presidents Steven W. McLaughlin, Chaouki Abdallah, and Kelly Fox competed in familiar games with an ethical twist. The hybrid event was moderated by Darryl W. Lunon II, deputy general counsel and chief ethics and compliance officer in Tech's Office of the General Counsel. Photo taken Nov. 8 by Rob Felt.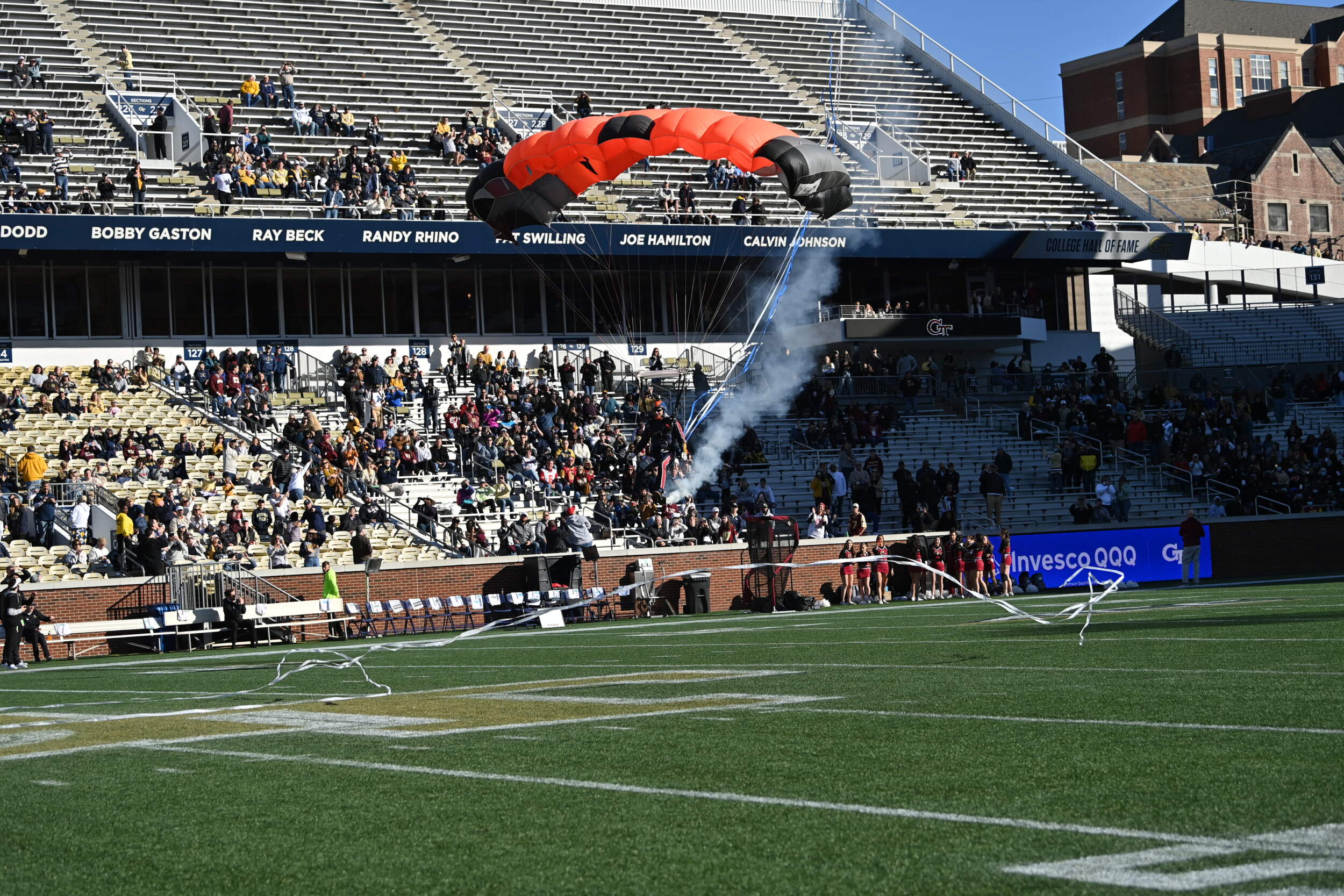 The Daniel Guggenheim School of Aerospace Engineering and Georgia Tech Athletics hosted the first Space Day at Bobby Dodd Stadium on Nov. 13. Before kickoff of the Boston College game, Georgia Tech's Sport Skydiving Club flew into the stadium with the official game ball. The skydivers passed the ball to Regents' Professor Dimitri Mavris, who was recognized as the Georgia Power Professor of Excellence. Photo courtesy of Georgia Tech Athletics.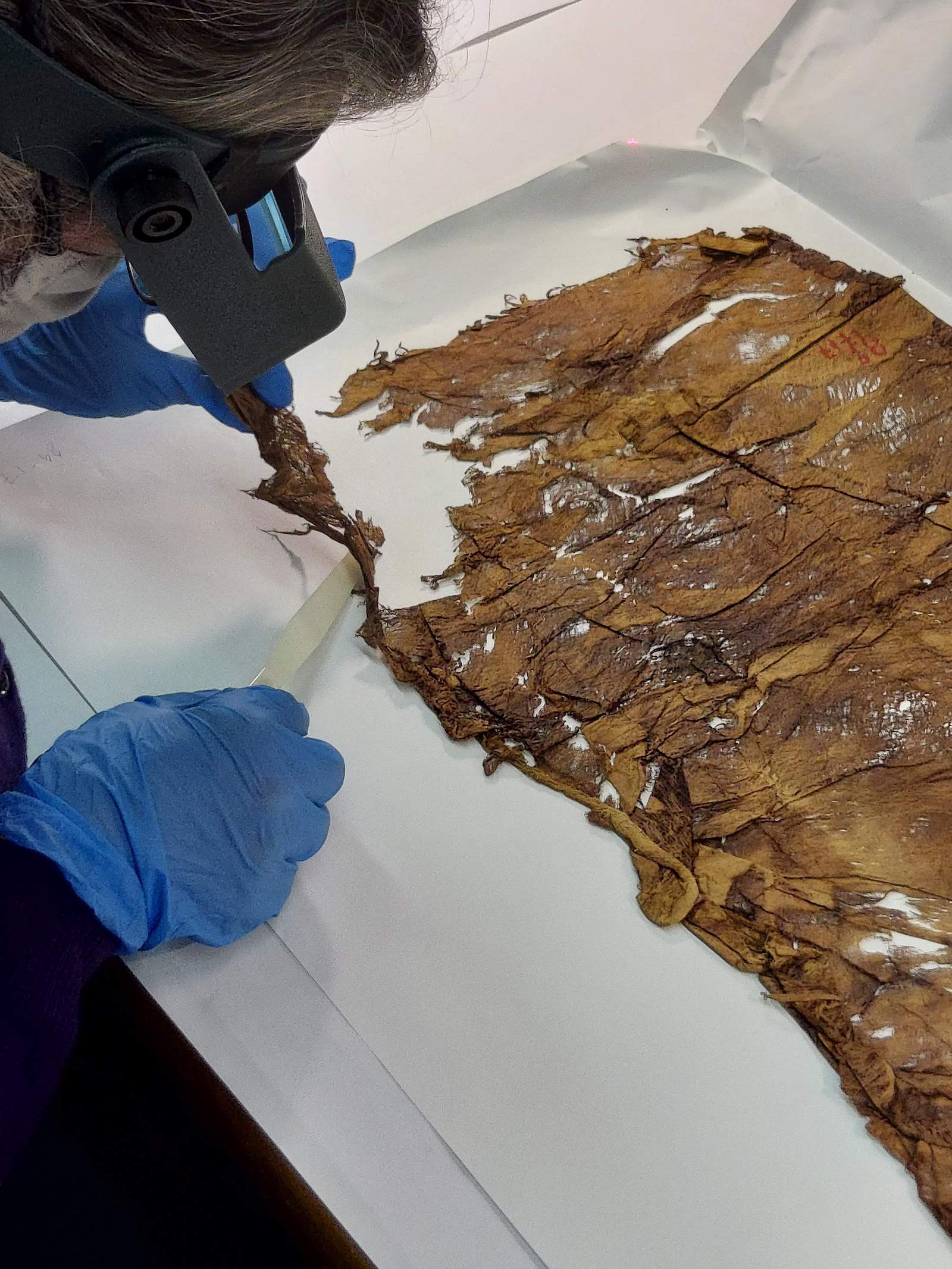 Paper conservator Stephanie Watkins carefully lifts fibers on a tapa to determine damage to the piece at the Robert C. Williams Museum of Papermaking. Watkins is doing a condition survey of the Paper Museum's bark paper pieces as part of a National Endowment for the Humanities Preservation Assistance Grant. The museum will use information from the survey to improve storage and to make information about these historic artifacts available to researchers. Photo taken Nov. 18 by Virginia Howell, Robert C. Williams Museum of Papermaking.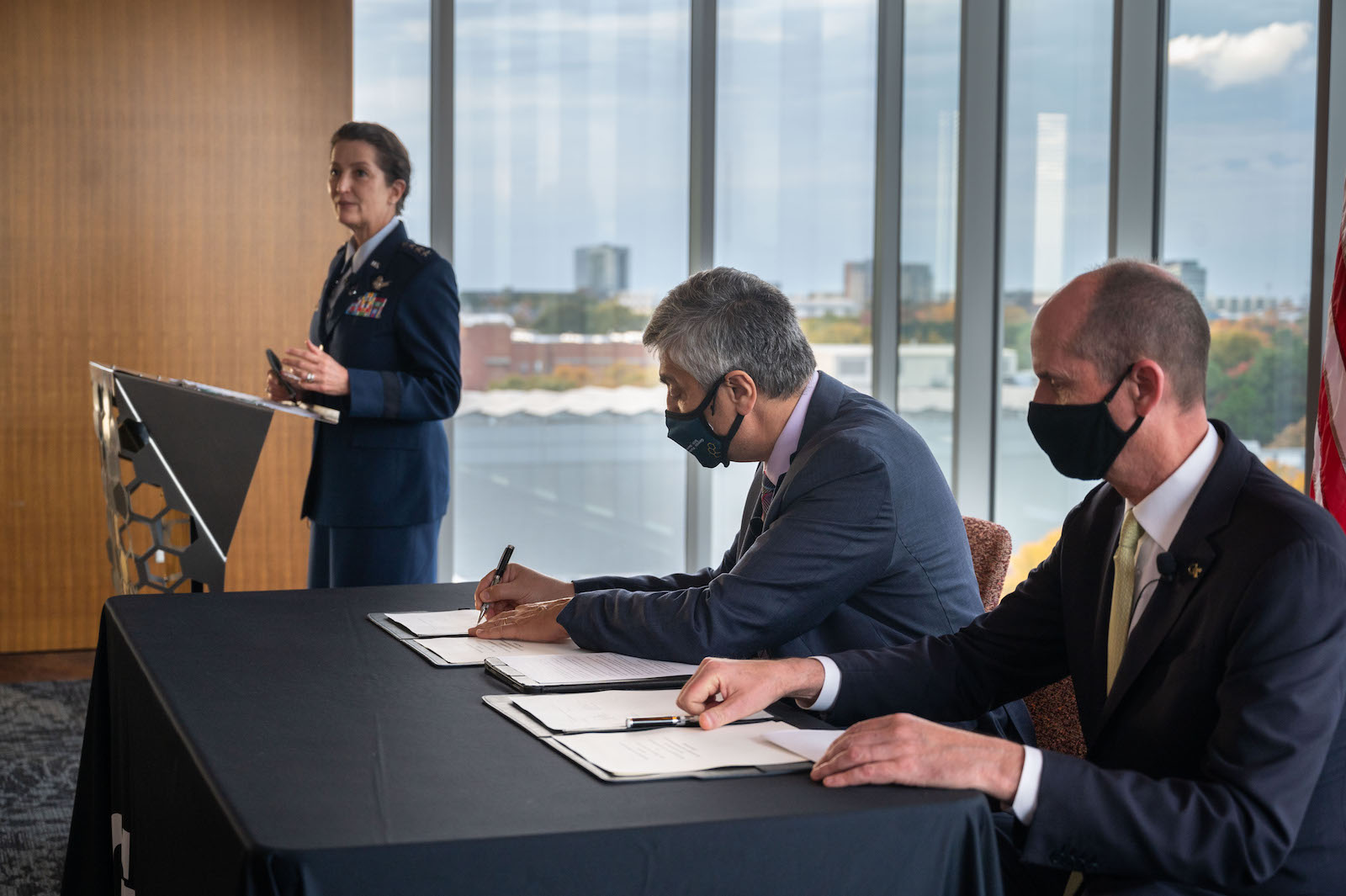 Lt. General Nina M. Armagno, U.S. Space Force director of staff, joined Executive Vice President for Research Chaouki T. Abdallah and Provost Steven W. McLaughlin to sign a memorandum of understanding, making Georgia Tech the newest member of the U.S. Space Force's University Partnership Program. The signing ceremony took place on Veterans Day. Photo taken Nov. 11 by Allison Carter.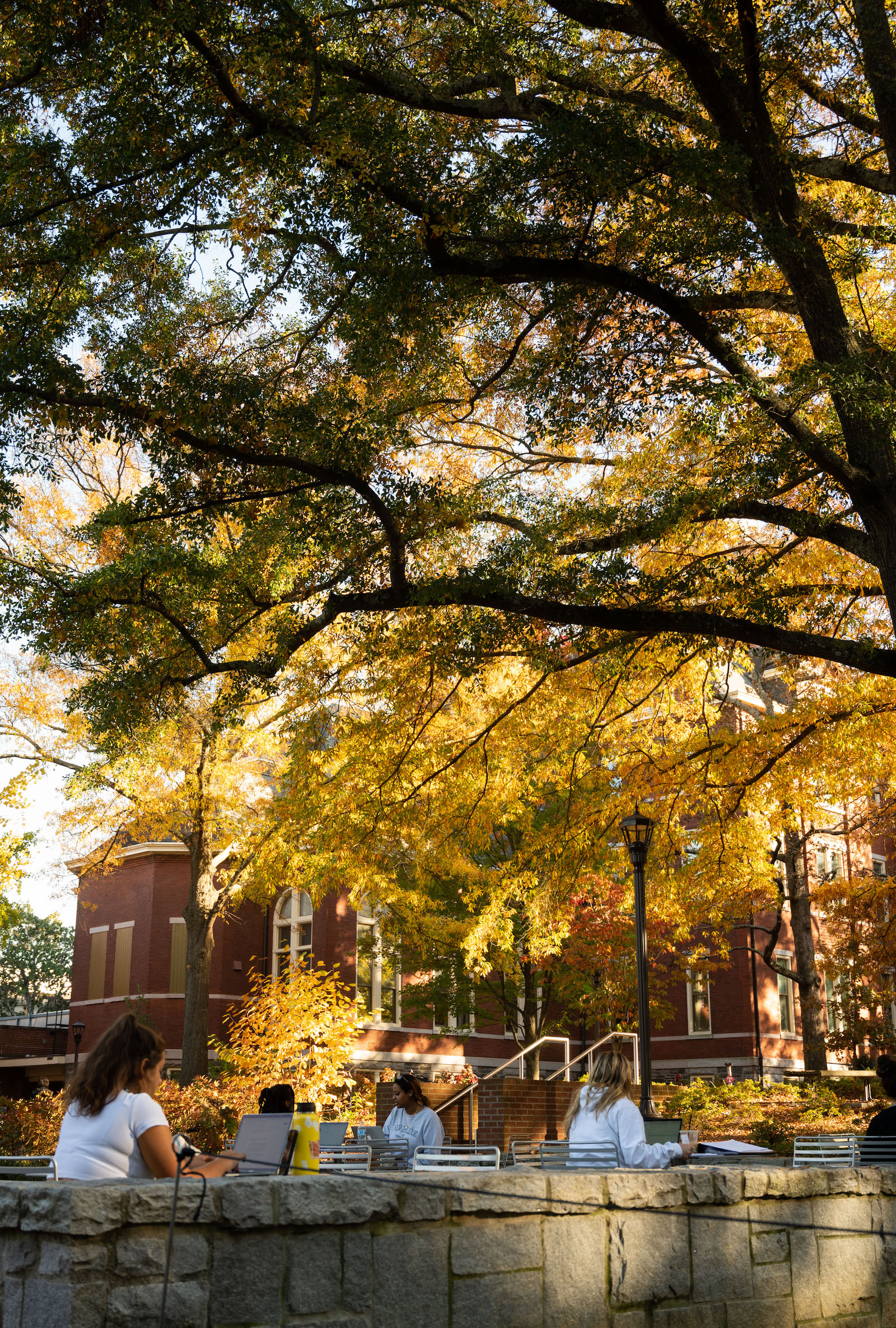 Students in Harrison Square, enjoying the crisp air and fall foliage. Photo taken Nov. 19 by Allison Carter.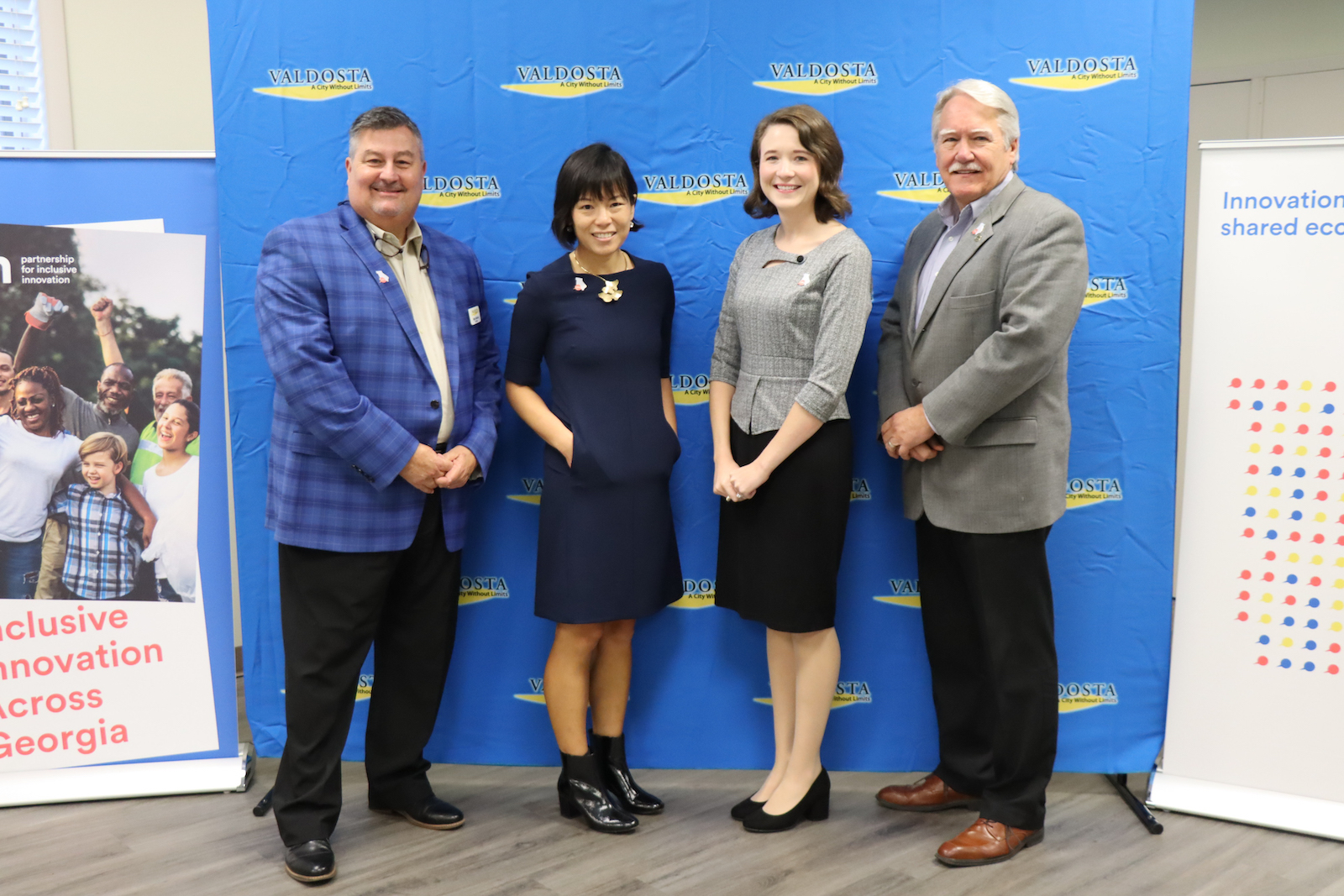 The City of Valdosta piloted a smart traffic calming and connectivity management system that connected its entire 128-traffic-signal grid and included an emergency vehicle signal preemption and a corresponding app, TravelSafely. Sponsored by the Partnership for Inclusive Innovation and in collaboration with Valdosta State University, Georgia Tech's School of Civil and Environmental Engineering, and Applied Information Inc., Valdosta's project was named a finalist in the Smart City Expo World Congress' World Smart City Awards 2021 in the Mobility category. From l-r: Valdosta City Manager Mark Barber, Partnership for Inclusive Innovation Executive Director Debra Lam, Partnership for Inclusive Innovation Project Manager Stephanie Broxton, and Valdosta City Engineer Pat Collins. Photo taken by Jenessa Armenta.
Credits
Photography: Allison Carter, Rob Felt
Writing/Editing: Victor Rogers, Stacy Braukman