Student Alumni Association Enters Fourth Year
Members and alumni will be stationed across campus on Thursday to educate students about SAA programs while giving away freebies and food.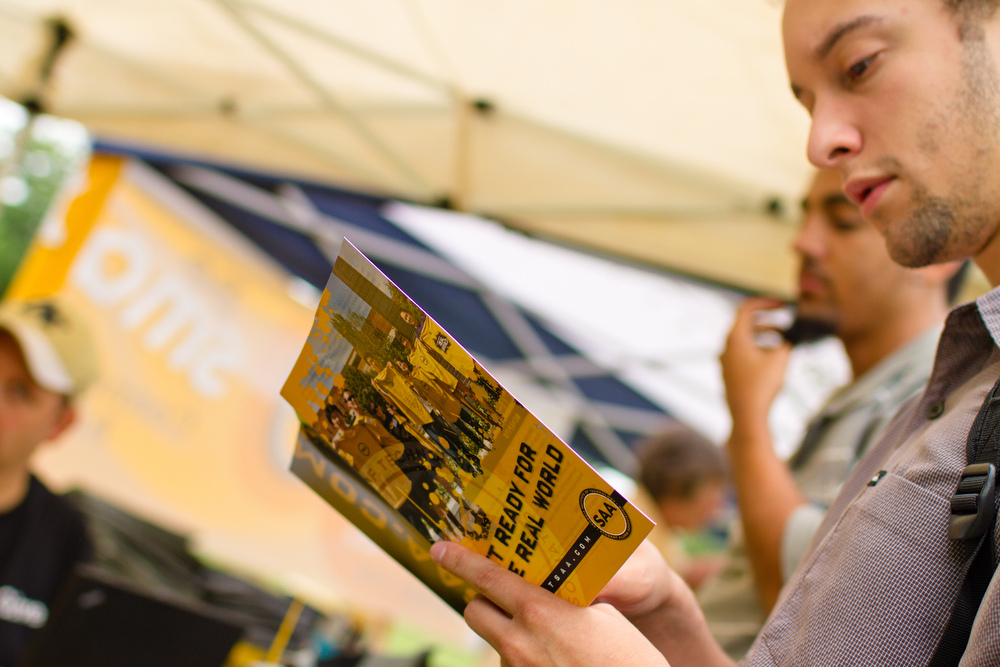 Sep 03, 2013 — Atlanta, GA
Known for over-the-top events, networking opportunities and generous giveaways, the Student Alumni Association (SAA) kicks off its new year on Thursday, inviting all current undergraduate and graduate students to join both in the day's events and the organization itself.
Current SAA members and Tech alumni will be stationed across campus to talk with potential new members about the programs and benefits of SAA membership — as well as give away a variety of goodies.
SAA's three tenets are to provide a connection between students and alumni, promote pride through Tech spirit and traditions, and encourage philanthropy to Tech. It sponsors year-round programs such as Mentor Jackets, which pairs alumni with student mentees, and Dinner Jackets, where students can dine with faculty, staff and alumni. The organization recently earned national awards for its Mentor Jackets and Expert Jackets programs.  
Members pay a $10 annual donation to participate in programming and receive a free T-shirt, among many other benefits, upon joining. The donation is split between Roll Call, an annual Tech philanthropic fund, and the SAA Gift to Tech, an annual gift to campus that is voted on by students and this year will be matched by Tech alumnus and Waffle House CEO Walt Ehmer. Last year the Gift to Tech awarded nearly $30,000 to Georgia Tech Bands.
For this year's kickoff, which is sponsored by the Coca-Cola Company, students can look for SAA stations Thursday from 10 a.m. to 2 p.m. at the Fifth Street Bridge, Instructional Center lawn, Noonan Courtyard, Tech Green, and Callaway Plaza. The day will culminate that evening with an event for SAA members at GameX, a new gaming restaurant downtown. Transportation will be provided from the Student Center Transit Hub beginning at 5:45 p.m., with the event running from 6–8 p.m. Members will have access to unlimited gaming, networkingw ith alumni, a dessert bar and other activities.