Strategic Plan Advisory Group Delivers Initial Report
President-appointed committee recommends some revisions to planning objectives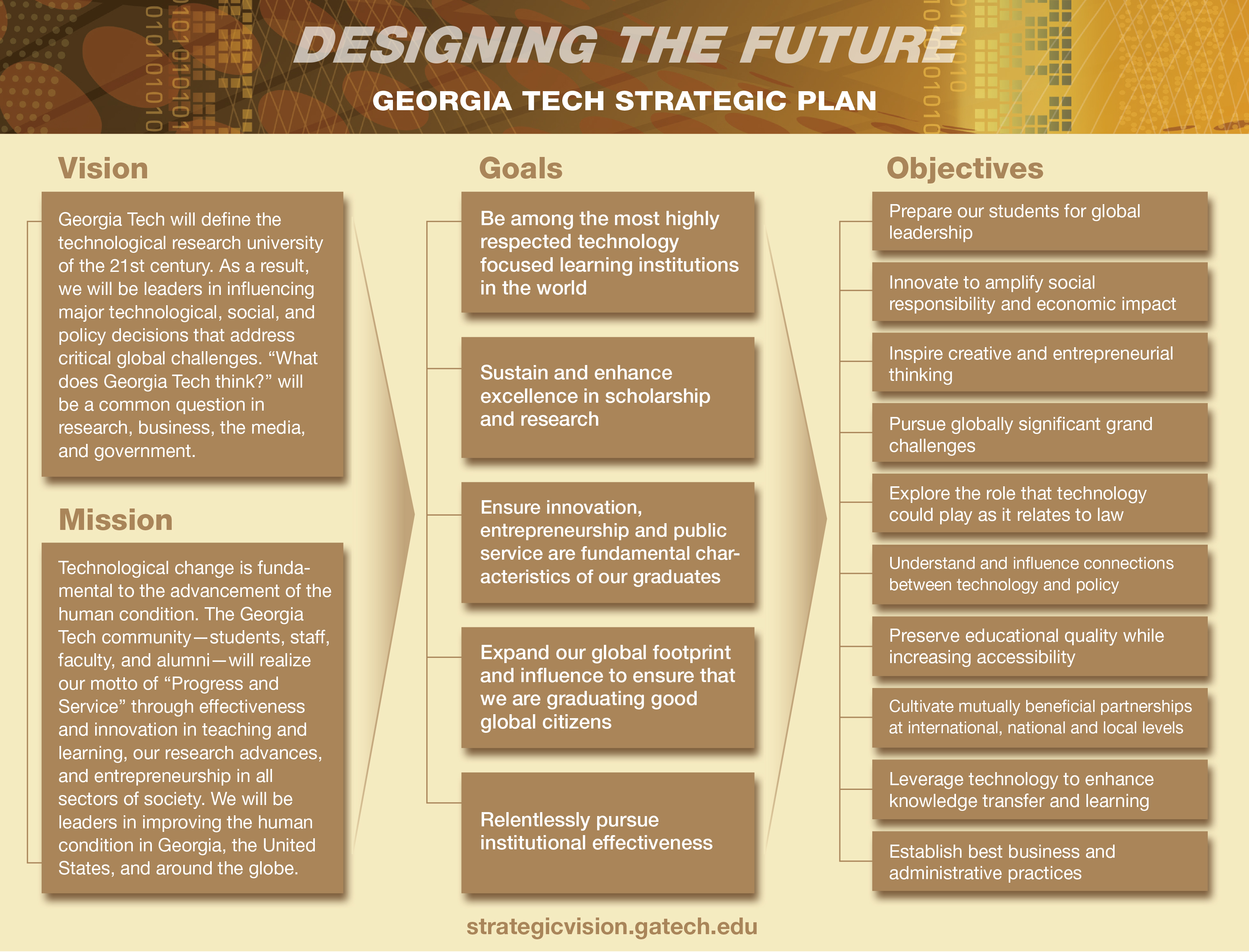 The Strategic Plan Advisory Group developed this one-page document to highlight the main ideas articulated in the Institute's strategic plan. A PDF version is also available for download.
Dec 12, 2013
— Atlanta, GA
In partnership with the Institute's leadership team, the Strategic Planning Advisory Group has released some of its initial feedback on the implementation of the Institute's Strategic Plan.
The group was created by President Bud Peterson in May and charged with providing advice and recommendations on matters pertaining to the alignment, effectiveness and impact of the Strategic Plan released in August 2010. They delivered an overview of findings to leadership last month.
"We set out to meet with campus academic leaders, administrative leaders and project champions to assess the activity and enthusiasm for implementing the goals outlined in Tech's strategic plan," said David Frost, professor in the School of Civil and Environmental Engineering and chair of the advisory group. "What we heard was that the document continues to be the foundation for a lot of unit-level planning and new initiative development."
In its initial report, the vision, mission, and overall goals of the Strategic Plan remain unchanged. It did recommend that some of the objectives be revised to better reflect the Institute's priorities and future goals.
"The advisory group's assessment was a good indication that the main ideas articulated in strategic plan developed by the Georgia Tech community are still sound," Peterson said. "In 2010 we developed a very forward-looking plan. Our task now is to see that we continue our momentum toward achieving those very ambitious goals."
As a standing committee, the advisory group will continue to meet in the spring. Among its priorities are to improve the process by which new projects are identified and funded and how to effectively inform the campus of progress on the Plan's five goals.