NIH launches I-Corps pilot program
The National Institutes of Health (NIH) has recently launched I-Corps @NIH, a pilot course designed to cut the time it takes for life-science innovations to move from laboratory to commercialization.

Life-science entrepreneurs in a pilot I-Corps course at the National Institutes of Health in Bethesda, Maryland, listen on the program's opening day to learn about its structure and how it's designed to get innovations from laboratory to commercialization quicker. [Photo credit: Courtesy of I-Corps@NIH]
Oct 24, 2014
— Atlanta, GA
The National Institutes of Health (NIH) has recently launched I-Corps @NIH, a pilot course designed to cut the time it takes for life-science innovations to move from laboratory to commercialization.
The pilot has received bipartisan support from Congress and the White House, and is driven by the National Cancer Institute's Small Business Innovation Research Development Center, with oversight by Director Michael Weingarten and Andrew Kurtz, the center's program director and team leader.
I-Corps @NIH is a unit of the National Science Foundation Innovation Corps (I-Corps), a boot camp of sorts that trains scientists in the same lean startup methods that other industries use to get products from the research phase to market. I-Corps has so far trained 400 teams of scientists from the NSF, DOE, and ARPA-E.
Keith McGreggor, director of VentureLab at Georgia Tech's Enterprise Innovation Institute (EI2), was picked to be one of the professors in I-Corps @NIH.
McGreggor, a successful entrepreneur who has co-founded or founded six software companies, was a perfect choice to be one of the program teachers, said startup expert Steve Blank, architect of the I-Corps @NIH curriculum and one of the program's lead instructors. The I-Corps curriculum is modeled after the Lean LaunchPad class Blank developed at Stanford University.
"Keith is probably the best model of someone who gets technology and shares the passion of how we do commercialization," Blank said.
Indeed, VentureLab's sole mission is to help Georgia Tech researchers, faculty, staff and students build and create startup companies based on their research.
And Tech was one of the original universities selected by the National Science Foundation in 2012 as a founding network node for the I-Corps program, which trains scientific researchers on how product opportunities can spin out of their academic findings.
With this new pilot course at NIH, which launched Oct. 6 and runs through December in Bethesda, Maryland, the goal is to do the same in the life sciences sector as in other science-related research disciplines.
A total of 21 teams are participating in this pilot, which specifically targets life science startups in therapeutics, diagnostics and medical devices.
"There is a big difference between making the science ready and whether or not you have a good business," Blank said. This makes Tech a critical component, because it has an established record of programs that successfully spin out companies from research.
"This is the language of how to build a company," he said. "Georgia Tech's contribution in training and commercialization of the life sciences is enormous."
The key goals of the course are to have the scientists learn how to:
• Assess intellectual property rights needs and regulatory risk before the design and build phase.
• Define clinical utility before spending huge sums of capital.
• Understand who their primary and tertiary customers are and the sales and marketing requirements needed for eventual commercialization.
• Identify different financing vehicles before they are needed.
One change under the NIH adoption of I-Corps, McGreggor said, is that teams can apply for direct NSF-funding if they complete I-Corps training through one of the NSF nodes – Tech's included — that provide training in Georgia and across the Southeast.
"If a team goes through our regional training — even if that team has never had any NSF backing — because they've gone through our regional training, they can use our node-NSF to let them apply for the NSF I-Corps program itself," McGreggor said.
"It's actually a big deal because it lets students from Auburn, for example, go through a regional training, or a team from a school that doesn't have a lot of NSF funding go through a regional training and then be able to apply for funding."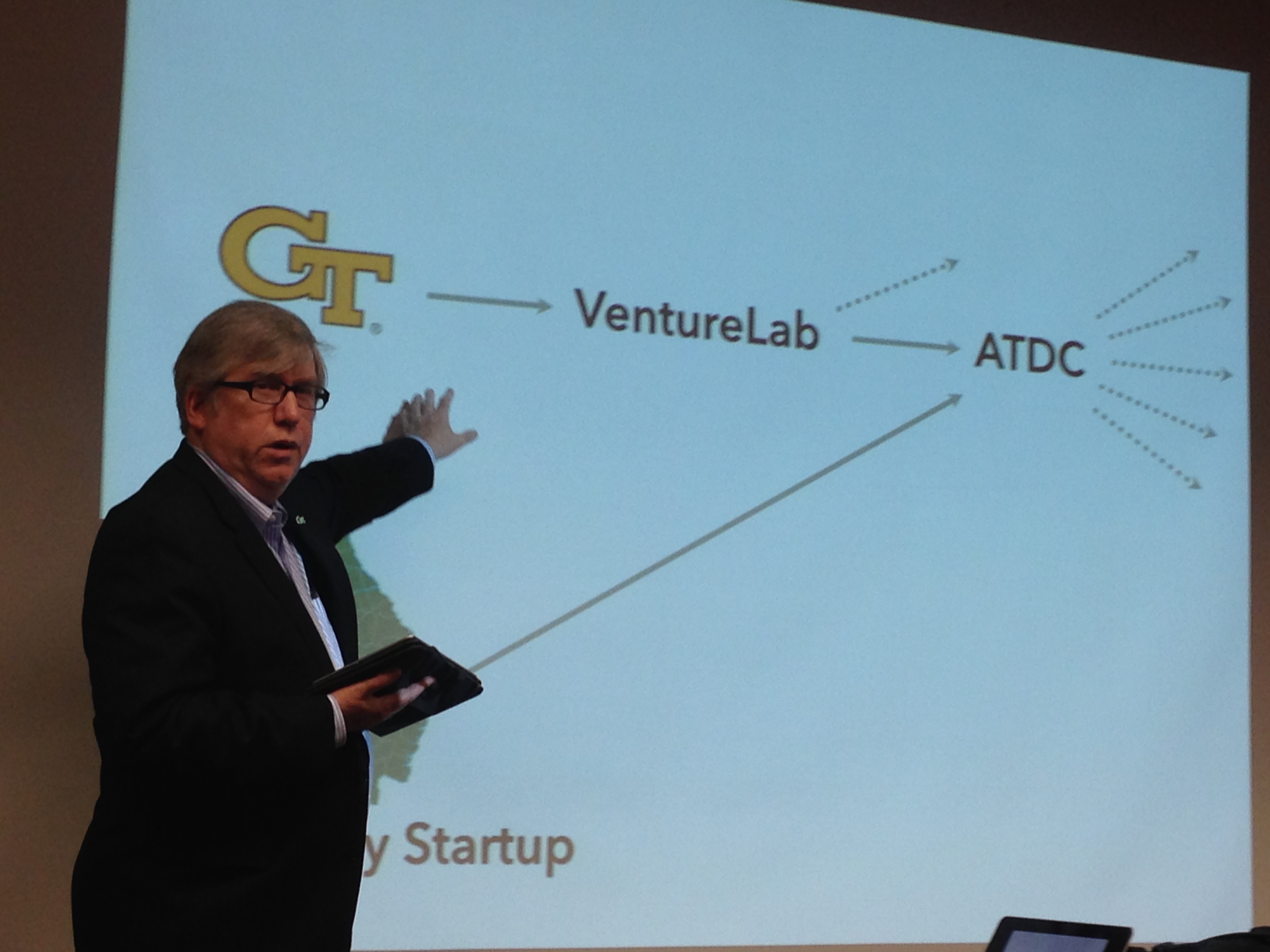 Keith McGreggor, director of VentureLab at Georgia Tech's Enterprise Innovation Institute, discusses customer discovery in a presentation at the Georgia Tech Manufacturing Institute on Oct. 13, 2014. McGreggor was recently selected to teach scientist-entrepreneurs on commercializing their innovations faster in a pilot program the National Institutes of Health launched this month. [Photo credit: Péralte C. Paul]