Former NAACP Chair to Give MLK Lecture
Julian Bond was an eyewitness to several key moments of the Civil Rights Movement.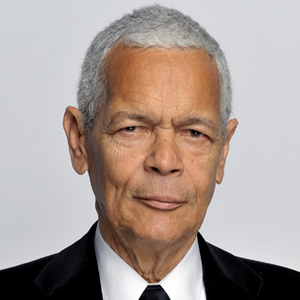 Jan 05, 2015 — Atlanta, GA
Each January, the Georgia Tech community comes together to celebrate the legacy of Martin Luther King Jr. and rededicate itself to his vision.
This year, Julian Bond, social activist and former chairman of the board of the NAACP, will give the keynote address at Georgia Tech's fourth annual Dr. Martin Luther King Jr. Lecture, on Jan. 14 at 3 p.m. in the Student Center Ballroom. 
An eyewitness to several key moments of the Civil Rights Movement, Bond has insight on the struggle of African-Americans for equality, the need for diversity in the shaping of laws, and the future of civil rights. 
"Julian Bond serves as a bridge between an unimaginable past and a foreseeable future," said student Alex Berry, co-chair of the Student Government Association's Cultural and Diversity Affairs Committee and member of the MLK Campus-wide Planning Committee. "He isn't just bringing a new, or different, perspective for his speech. Instead, he is tangibly embodying the ideals that many Georgia Tech students aim to live by." 
Bond was elected to the Georgia House of Representatives in 1965 but was denied his seat by legislators — because of his opposition to the Vietnam War — until the Supreme Court intervened. He was elected to four terms in the Georgia House of Representatives and later to six terms in the Georgia Senate, for a combined 20 years in both legislative chambers. He was chairman of the NAACP from 1998 to 2010. 
As a professor, he has taught at Harvard University, the University of Pennsylvania, and American University, and he is a professor emeritus in the History Department of the University of Virginia. He narrated the award-winning documentaries A Time for Justice and Eyes on the Prize, and he is a frequent guest on political talk shows. 
The theme of this year's Dr. Martin Luther King Jr. Celebration is "Civil Rights to Human Rights: The Courage to Act." The lecture, presented by the Office of Institute Diversity, is open to the Georgia Tech and Atlanta communities. 
Other Georgia Tech observances of the King Holiday include a Student Celebration and a minority recruitment program called FOCUS. 
The annual Student Celebration will be held Jan. 8 at 7 p.m. in the Student Center Ballroom. Students will gather to hear four student speakers who are chosen through a highly selective application process. Several student organizations will provide entertainment including spoken word, singing, dance, and stepping performances. The event culminates with students lighting a candle in memory of Dr. King.
The FOCUS Program gives prospective minority graduate students an opportunity to visit Georgia Tech for an overview of graduate degree programs. The program is designed to encourage attendees to pursue an advanced degree at Georgia Tech or the graduate school of their choice.
For a full calendar of Tech events celebrating Dr. Martin Luther King Jr., visit diversity.gatech.edu/mlk-calendar.