Tech Accepts 5,273 Students in Early Action Admission
Women comprise nearly 41 percent of Early Action admits for incoming class.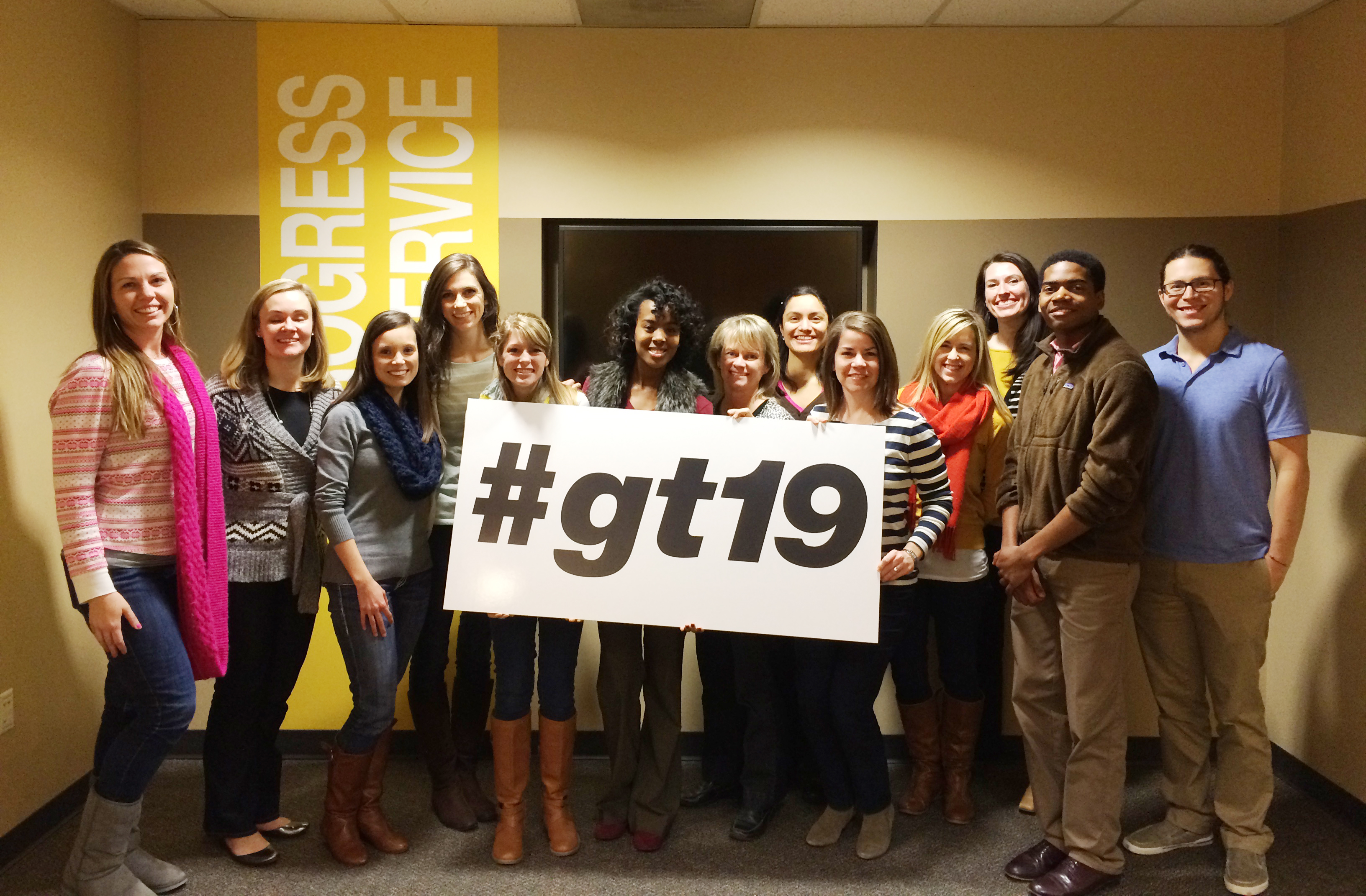 Staff from the Office of Undergraduate Admission welcome accepted freshman, who shared their excitement on social media with the #gt19 hashtag.
Jan 12, 2015
— Atlanta, GA
On Saturday, 5,273 young men and women around the world heard a different kind of "good word" from Georgia Tech: They have been accepted to the next freshman class of Yellow Jackets.
The Early Action admits span all 50 states and 40 countries, plus Washington D.C. and Puerto Rico. 
Applications for the Early Action admission period totaled 11,702, a slight decrease from last year, yet more were admitted and the class has a higher academic profile. Nearly all of the students — 97 percent — have taken AP calculus or a higher level of math. They average 1488 on the SAT (2146 with its writing component) and 32 on the ACT, and have taken an average of 10 college level classes before even finishing high school. 
"It doesn't really matter how many applications you get — you want the right class," said Rick Clark, director of Undergraduate Admission. "We're on our way toward an even better class." 
The Early Action group is made up of nearly 41 percent women, the highest ever for this group, and more African American and Hispanic students than last year. Legacy students, which include siblings, children, and grandchildren of Tech grads or employees, were admitted at a rate of 51.5 percent.
"It doesn't necessarily mean we will yield as high in all those groups, but our admit group has never hit 40 percent women," Clark said.
This year, Undergraduate Admission welcomed faculty into the admission committee process for the first time. Faculty members from the Ivan Allen College of Liberal Arts and College of Architecture helped review applicants to their schools. Admission staff also had the help of Tech international students in reviewing interviews from prospective international students.
"They can watch the interviews and help evaluate language skills and give us their thoughts on the applicant as a peer," Clark said. "We're making the admission process more and more inclusive, and taking more and more factors into consideration every year."
Admission staff will visit metro Atlanta schools this week to present a few lucky high school students with hand-delivered acceptance packets, an outing that's become something of a tradition for the Undergraduate Admission team.
"The time, dedication, diligence, and commitment of our staff is remarkable," Clark said. "Their incredible efforts are what brings each class to fruition."
Saturday was also the deadline for Regular Admission applications. Tech received more than 4,000 applications on that day alone, bringing the Institute to a total of 26,900 applications for the next freshman class — a 4 percent increase over last year. Regular Admission applicants, and those deferred during Early Action, will receive their admission decisions on March 14.
Those who want to give a virtual welcome to the admitted students can use #gt19 on Facebook, Twitter, and Instagram.