Civil Engineers Spend Spring Break Among Alpacas
A group of civil and environmental engineering students will evaluate different methods for testing air and water quality in Bolivia during Spring Break.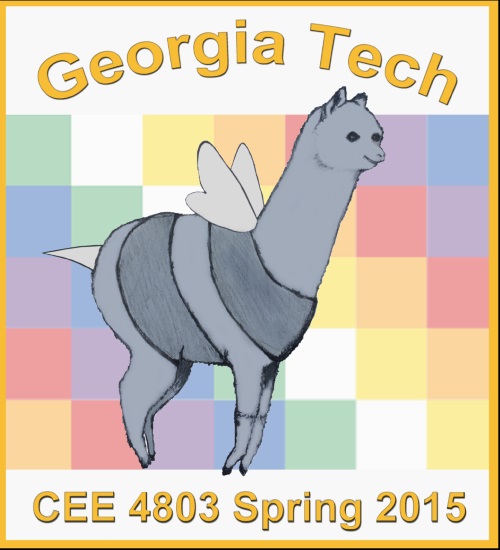 Mar 16, 2015 — Atlanta, GA
While many students left campus last Friday for a well-deserved break from classes, one group boarded a plane for South America, where they'll spend the week applying their research in remote communities in Bolivia.
The students in CEE 4803 — a course called Environmental Technology in the Developing World — have spent the semester preparing for the 10-day trip. They'll be evaluating different methods for testing air and water quality but will have to do so outside the comfort of their usual lab and equipment.
"It's a really powerful and humbling experience to encounter your own limits and the limits of what is possible under certain constraints," said Joe Brown, assistant professor in the School of Civil and Environmental Engineering, who teaches the course.
So far this semester, the class has worked to determine what kind of equipment they will use, how they will take samples, where to send them, and how to be as prepared as possible. About six days of the trip will be spent gathering data to analyze back in Atlanta, but an equally important goal is for students to learn how the technical aspects of their work relate to cultural, social, and economic aspects of the community where they are working.
Rebecca Yoo, a third-year civil engineering major pursuing minors in Spanish and Global Engineering Leadership Development, found the class a perfect fit for her range of interests. In high school she found herself wanting to pursue development work but wasn't sure how until she came to Georgia Tech and learned about civil engineering.
"I was interested in communities that didn't have the same basic needs met that I had grown up with," she said. "I wanted to work with people, so I thought I would end up doing liberal arts, but decided to try engineering."
Though she has traveled internationally for mission trips and to study abroad, this will be her first trip doing engineering in another country.
"It surprises students to find that they can make a difference with their work," Brown said. "It can be a life-changing or career-changing experience for them. It changes their perspective on engineering and shows how they can contribute to the world."
Enrolling in the class is a selective process. Brown looks for students with international interest or experience and dedication to the subject matter. The Joe S. Mundy Global Learning Endowment, designated for international learning experiences for Civil and Environmental Engineering students, provides full funding for the students' travel.
The group of 10 undergraduates, two graduate student teaching assistants, and Brown will work with Universidad Mayor de San Andres in La Paz. Brown hopes this trip is the beginning of other long-term opportunities for research and collaboration with the university. The group will also meet with U.S. Embassy staff during the trip.
As the class prepared for the trip this semester, they consistently revisited one question: What are we trying to do?
"One of the most valuable things I've learned is that we are aren't going there to provide for people who are lesser than we are," Yoo said. "These communities are people, with their own values and ways of communicating. We're there to do research that hopefully will help, but we want to get rid of the doctor/patient relationship idea that we are there to save people. We want to learn about their culture, their perspective, and learn to collaborate with their communities."
The Brown Water Group (no pun intended)
Brown came to Tech last year from the London School of Hygiene and Tropical Medicine, Europe's largest public health school. His research focuses on international development at the intersection of public health and engineering, particularly in the areas of water and sanitation in underprivileged communities. He looks at microbial and infectious diseases whose exposure is due largely to a lack of infrastructure, and how new technology or the adaptation of technology can prevent exposure.
Though the work has serious implications, Brown takes a lighthearted approach.
"I like to say that excreta is my bread and butter," he said.
Brown did work in Bolivia as a graduate student, but hasn't been back since 2006. He's excited to return and for his students to see the country and its culture. 
"Usually when we come into class, Dr. Brown starts out showing us something like a video or a picture of llamas," Yoo said.
The group will continue to post updates on its work online at www.facebook.com/brownwatergroup and www.twitter.com/BrownResearchGT.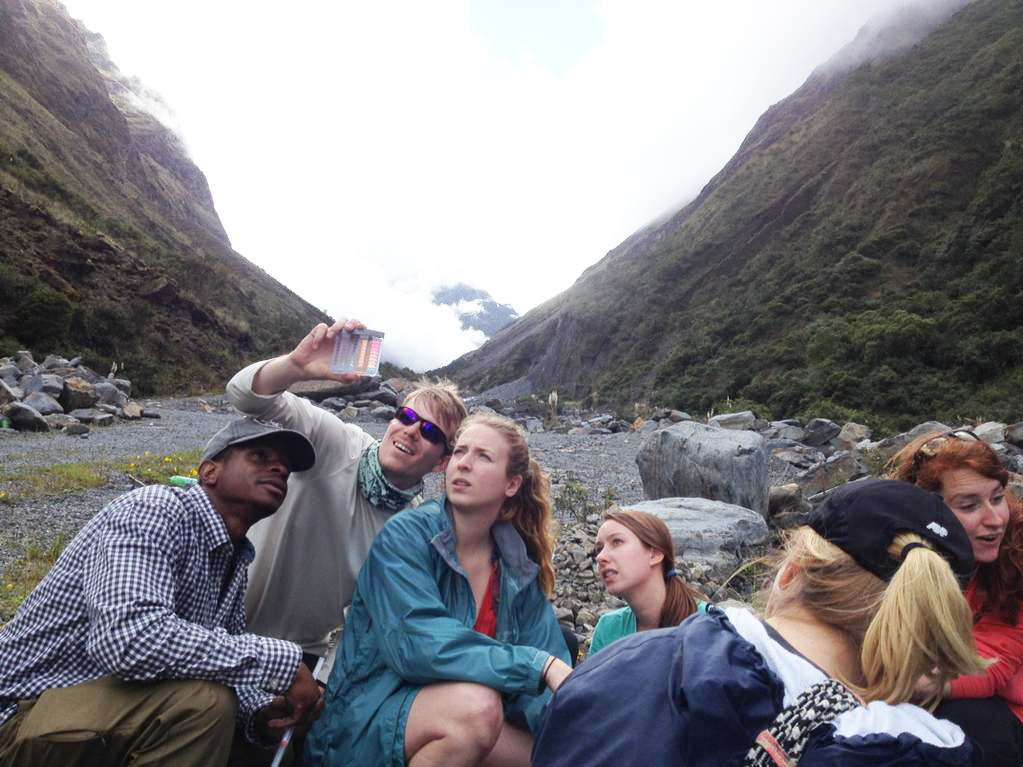 Students collect a water sample in Bolivia as part of their CEE 4803 course.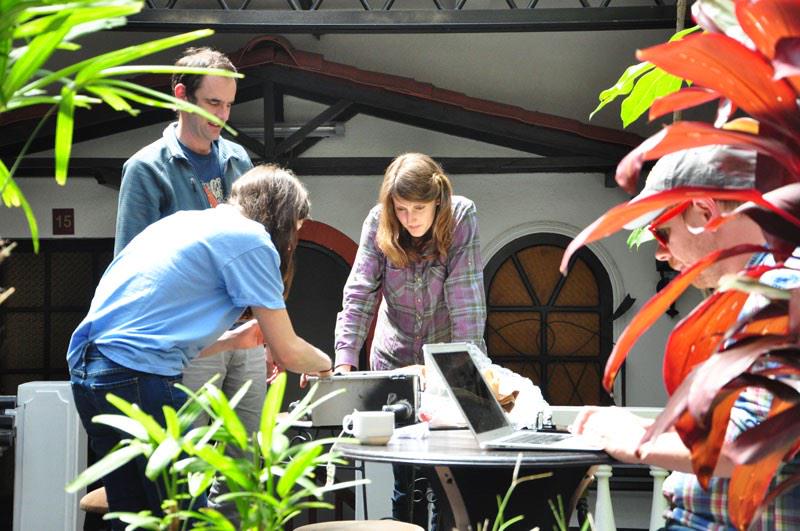 Students work on fixing a sensor used to test air quality in Bolivia.