Tech Admits Most Competitive Class in Institute History
Georgia Tech received more than 27,500 applications. A total of 8,521 students have been offered admission.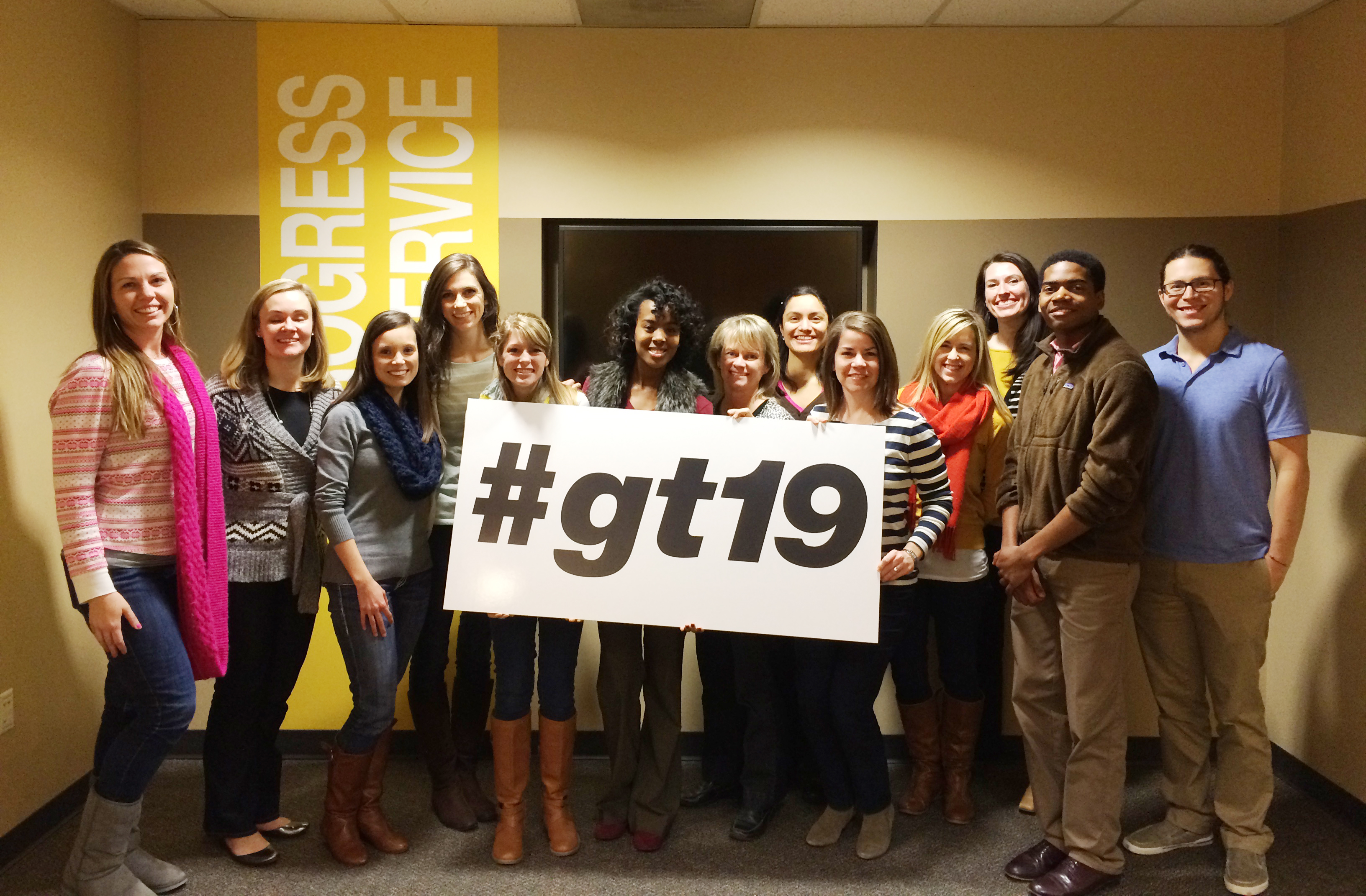 Staff from the Office of Undergraduate Admission welcome accepted freshman, who shared their excitement on social media with the #gt19 hashtag.
Mar 20, 2015 — Atlanta, GA
This year on Pi Day — March 14 — as mathematicians everywhere celebrated the irrational number, 3,248 high school students celebrated the reality that they had been accepted to the next Georgia Tech freshman class.
More than 27,250 students applied to Georgia Tech this year — a 5 percent increase from 2014. With an overall admit rate of 31 percent, compared to 41 percent two years ago and down a percent from last year, this class is the most competitive in Tech's history. Those admitted boast an SAT average of 1480 (2185 with writing) and will have taken an average of nearly 10 college level courses before graduating from high school.
Tech continued to admit in-state students at a slightly higher rate, 37 percent, than the overall acceptance rate.
Now, the campus community is asked to help encourage these admitted students to become Yellow Jackets.
"At this point, it's critical that faculty, staff, and current students are available and invested in helping us enroll the best possible class we can," said Rick Clark, director of Undergraduate Admission. "We are competing with the world's best institutions, and the expertise and background provided by our community is what will help families decide Tech is the best choice for them."
This year, faculty members from both the College of Architecture and the Ivan Allen College of Liberal Arts sat in on the admission committee to help select students specifically passionate about those fields. Clark is hopeful that this type of commitment and enthusiasm will carry over to support the yielding of these students.
Nearly 5,000 prospective students and admits are expected to visit campus in the coming weeks as they evaluate which school is best for them and where to invest in their future. 
"In the weeks ahead, you'll see throngs of wide-eyed visitors," Clark said. "Stop and see if you can help them find where they're going, recommend a good place to eat, or just share your favorite thing about Tech. Ask where they're from, and if it's an admitted student, congratulate them."
Faculty, staff, and current students also can reach out to the admission liaison for their area of campus to assist with writing letters or making calls to admitted students to answer their questions and encourage them to enroll. Current students who want to go the extra mile can also apply to be a tour guide beginning this summer.