Jetson Jets into Clough Building
A new piece of public art created by School of Architecture faculty and students installed in Clough Commons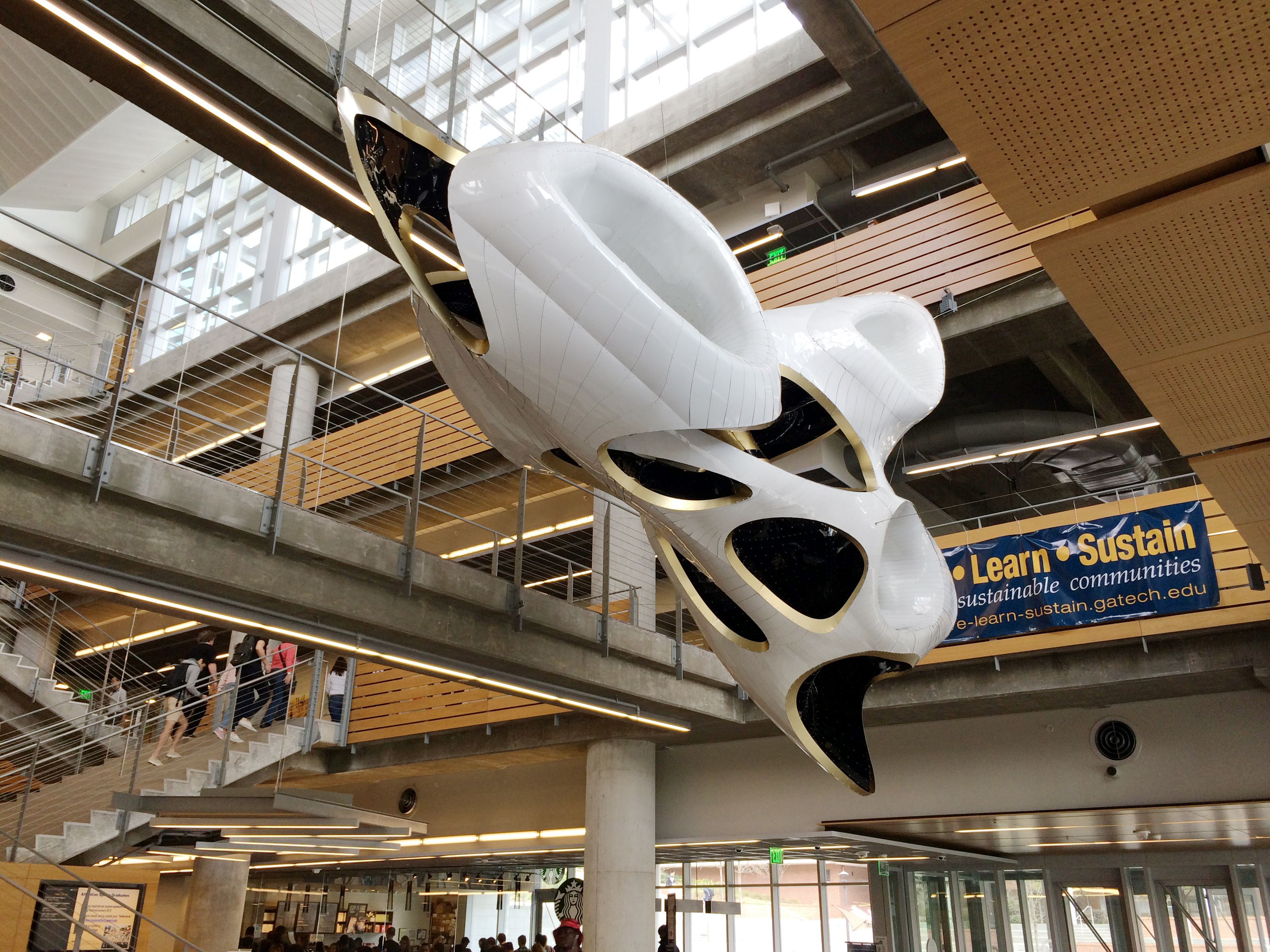 Mar 26, 2015
— Atlanta, GA
On a daily basis the Clough building has a quiet intensity, fueled by study groups, lectures and students preparing for their next class. Starting this week in that central campus location, students, faculty and staff alike will discover a new source of inspiration thanks to School of Architecture Assistant Professor Volkan Alkanoglu's latest project.
Jetson, so named for it's futuristic appearance, is fabricated out of 1,276 unique water jet cut and pre-painted aluminium components, which are connected by over 14,000 stainless steel rivets.  Assembled like a large three-dimensional puzzle, the design forms an elegant, soft and dynamic volume.  The individually cut and rolled 0.25 millimeter  aluminum pieces form a continuously overlapping network of scales with dependence on each other. This multi-connectivity generates tremendous structural stiffness while still being exceptionally lightweight — as big as it is, it only weighs roughly 110 pounds!
The project builds on Alkanoglu's research on lightweight surface structures and the fabrication of complex geometries. Because the existing wall and balustrades in the Clough atrium are only able to hold a limited weight, the project team had to think creatively in order to hang it. Their solution was to construct it of painted and anodized aluminium and suspend it using eight pulleys and stainless steel cables. All of the fabrication was done in the College of Architecture's Digital Fabrication Lab.
The suspension, masterminded by Alkanoglu's colleague Professor Russell Gentry, achieves both aesthetic and pragmatic objectives.  Jetson had to be connected to the building but the team wanted to achieve an appearance of an independent object floating freely in space. From the fundamentals of three-dimensional equilibrium, suspending the piece from more than three cables meant that the load in the cables is a function of the sculpture's stiffness and mass — but the team didn't want the redundant cables to be slack. Therefore, a series of counterweights were used to keep the cables taught, and also to limit the forces in any one cable, so that the thin-wall structure is protected.
While Jetson's time in Clough will be limited, the project team hopes that it will serve as inspiration for all while it's there. And, although it's not outwardly evident, it is clear in the design that Jetson is meant to fly. It is the hope of Alkanoglu and his team that Jetson will fly one day, thanks to engineers from Georgia Tech!

Project Team: Volkan Alkanoglu, Russell Gentry, Ainsley McMaster, Derin Yilmaz, Jessica Greenstein
Installation and Fabrication Team: David Moore, Heather Potts, Patricia Samartzis, Elpida Peponis, Annie Jenkins, Julie Echeverri, Ishrat Lopa, Alex Gillette, Son Vu Grace Reed, Abigail Smith, Sayuj Srivastava
Consultants: Dr. Lauren Stewart — Computational Modeling / High Performance Computing, Jake Tompkins — Digital Fabrication
To learn more about Volkan Alkanoglu's work and research, visit his website at: www.alkanoglu.com.