Toothbrush Technology for Developmentally Disabled Wins 2015 Ideas to Serve Competition
Toothbrush Technology for Developmentally Disabled Wins 2015 Ideas to Serve Competition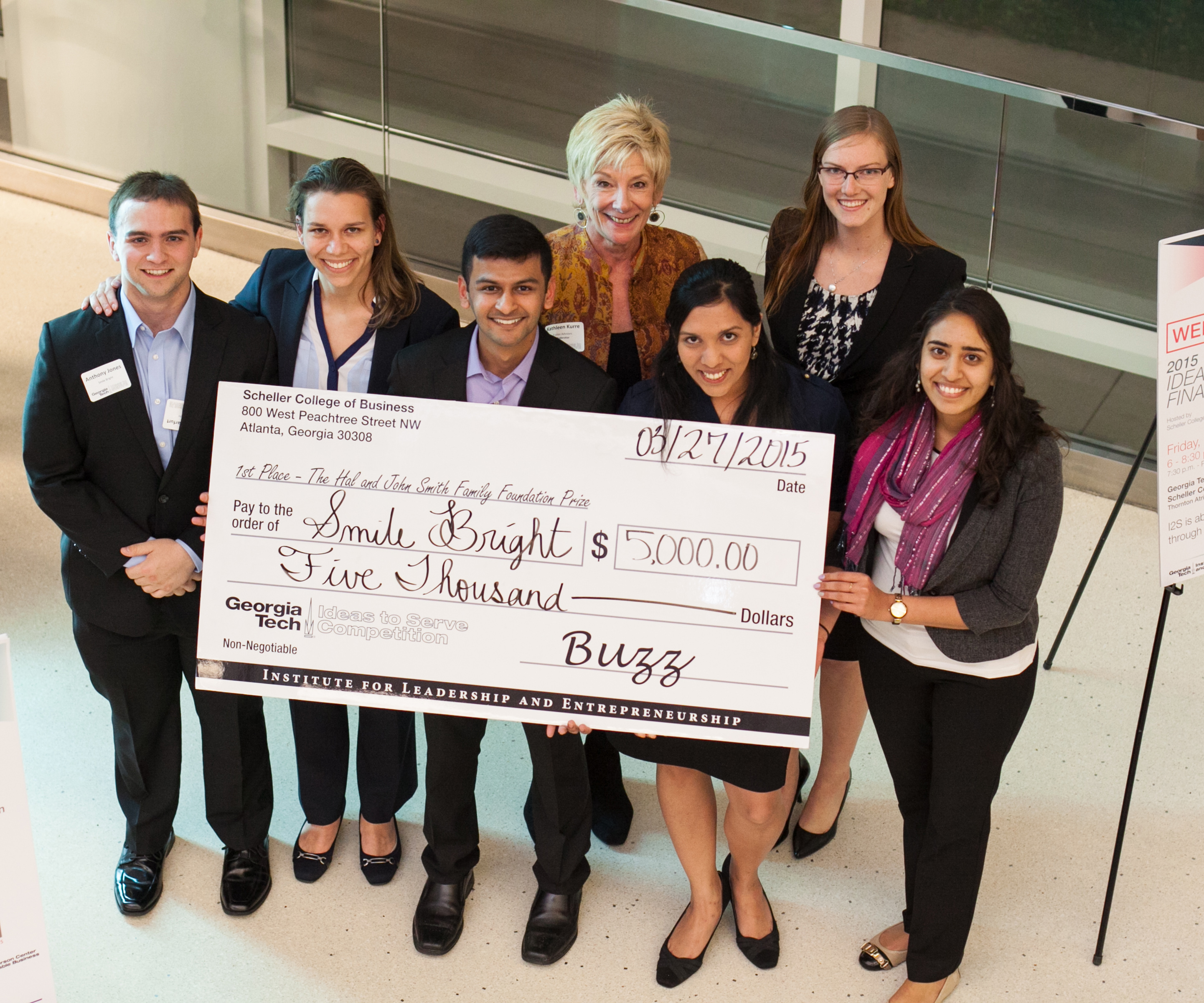 Smile Bright received $5,000 for winning the Ideas Track of the 2015 Ideas to Serve Competition.
Mar 31, 2015
— Atlanta, GA
Toothbrush technology that would empower people with intellectual and developmental disabilities to care for their teeth more effectively and independently won the 2015 Ideas to Serve (I2S) Competition March 27 at Georgia Tech's Scheller College of Business.
The annual competition, organized by Georgia Tech's Institute for Leadership and Entrepreneurship (ILE), is open to all Tech students and recent alumni who "Dare to Care" through their product/service ideas or venture concepts that could solve social problems or sustain the environment.
Smile Bright won the Ideas Track first prize of $5,000 for its toothbrush concept, which includes slanted sides of the brush head and long, angled bristles to clean the sides of teeth without the need for fine motor control. With a handle designed to be easier to grip, the toothbrush plays an instructional song guiding users where to brush and for how long.
Smile Bright team member Neha Sinha, a mechanical engineering major, learned about the dental challenges of people with intellectual and developmental disabilities through acquaintances at her gym.
"As our team got into the process of product development, we realized how passionate we are about our concept and how much further we would like to take it," she said.
Sinha's Smile Bright teammates include computer engineering major Anthony Jones; business administration majors Nadine Marfurt and Rehman Pirani; civil engineering major Laura O'Connell; and chemical engineering major Somya Tirath.
According to the team, Smile Bright's goal is to improve not only oral care, but also the independence of those with intellectual and developmental disabilities so that they can maintain their oral health into adulthood without the aid of a caretaker.
Smile Bright has pursued its dental care technology through its members' participation in a product development class of Georgia Tech's interdisciplinary Denning Technology and Management Program, which develops leaders with both technological and managerial know-how.
Teams participating in this year's I2S competed in two tracks: Ideas (early stage) and Advanced, depending up on their level of progress. Of 20 teams who started in the Ideas Track, 12 advanced to the final round. Five teams competed in the Advanced Track. 
The Advanced Track winner ($2,500) is Vayando, which offers an online booking platform that connects curious travelers with micro-entrepreneurs in emerging economies around the world, increasing their earning potential and ability to sustain themselves (for example, coffee farmers in Costa Rica or basket weavers in Rwanda). Vayando's chief financial officer is MBA student Joshua Wine, who has two partners unaffiliated with Tech.
The Ideas Track runner-up ($2,500) is Living Local, which is developing technology that allows produce to be shipped while still alive, preventing spoilage without the costly energy expenditure of refrigeration – reducing both food waste and the carbon footprint of the delivery process. Living Local's team includes biomedical engineering major Alexander Weiss and mechanical engineering major Ruwan Subasinghe.
Other awards included:
People's Choice ($1,000): VVV Academy, which offers an educational tool that encourages long-term exploration in young students while improving academic performance, test scores, and overall achievement.
Best Video ($500): The Hearty Eater, which plans to enliven existing open space infrastructure and partner with local chefs to provide quality food in a lively, community-oriented environment, allowing everyone to enjoy quality food options, including the food insecure.
Best Poster ($500): LuMa, whose concept is for technology that can minimize cyber bullying and suicide through the monitoring of the social media messages of adolescents and young adults.
"We hope that eventually these ideas will lead to sustainable organizations that are able to generate sufficient income flows to sustain their missions," said Professor Terry Blum, director of ILE. "If the organizations are for-profit companies, the ideas should eventually be capable of providing returns for investors as well."
Most of the I2S teams are interdisciplinary, representing a cross section of majors at Tech, and they are addressing pressing social and environmental issues across various sectors such as education, healthcare, agriculture, economic development, and sustainable energy.
During the I2S Finals Poster Showcase, teams made quick pitches on their concepts and fielded questions from judges and audience members.
Sponsors of I2S include The Hal and John Smith Family Foundation, GrayGhost Ventures, Georgia Tech LEAD Program, Cecil B. Day Program for Business Ethics, Steven A. Denning Technology and Management Program, Ray C. Anderson Center for Sustainable Business, Georgia Tech Scheller College of Business, Speechworks, Tedd Munchak Chair in Entrepreneurship, and VentureLab.
Successful I2S alumni include TOHL, a mobile infrastructure solution to delivering water in hard-to-reach areas; Atlanta Harvest, which addresses the lack of fresh produce in underserved urban areas while creating much needed jobs at the same time; and The Pentorship Program, which works to combat prisoner recidivism by offering career development training and mentor-match to inmates.
"Georgia Tech students are uniquely positioned to become change makers," said I2S organizer Dori Pap. "They are armed with the best education, are technologically savvy, and have an incredible support system on campus that constantly encourages and pushes them to use their creativity for problem solving. Through I2S, we support and celebrate those students who are passionate about improving the human condition."
For detailed team info about 2015 participants and a list of judges see the I2S Program.