5 Ways to Make the Most Out of a Career Fair
Michelle Tullier, executive director of the Center for Career Discovery and Development, offers a few tips to students about attending the Co-Op and Internship Fair.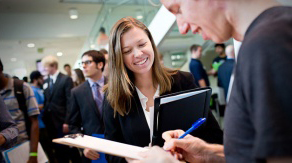 Jan 21, 2016
— Atlanta, GA
With the Co-Op and Internship Fair taking place Jan. 26–28, students should be making preparations for the event and to talk with prospective employers. 
The first step to attending the event is to register through CareerBuzz, though walk-up attendance will also be permitted.
Michelle Tullier, executive director of the Center for Career Discovery and Development, has worked in both higher education and corporate coaching. She offers these tips to students attending the fair. 
Attend the fair. This may seem obvious, but not every student does. "The Co-op and Internship Fair is a great networking and exploration opportunity for students of all majors," Tullier said. "If you get there and talk to an employer who is looking for engineering students and you're a liberal arts or sciences major, for example, ask if they have recruiter colleagues you could contact about opportunities in other areas of their business."
Practice. "Most students know to practice for an interview, but not a fair," said Tullier. She recommends preparing a 20- to 30-second "elevator pitch" that briefly captures who you are, what you offer, and what you're looking for. "Every interaction with a recruiter is like a mini interview. Practice delivering a smooth elevator pitch, giving a firm handshake, and making good eye contact."
Plan your strategy. To make the most of your time at the fair, Tullier recommends that students plan ahead by reviewing the company list to know who will be there and identifying priority employers to target. Look online at the list of employers attending the fair to see which companies you want to talk with and look up background information on those employers. 
Get — and stay — organized. Tullier also advises having a plan for how to keep everything organized as you get materials during the fair. "You can walk out with a lot of business cards and handouts, and it can be overwhelming," she said. "Take only the information you need, and make notes on the back of business cards or on your phone or tablet to remember key discussion points for when you follow up after the fair."
Follow up. If recruiters instruct you to apply on CareerBuzz after the fair, be sure to do so promptly. Also, many recruiters use LinkedIn as a resource for filling positions, and students should be visible and active there. Tullier recommends that students ask to connect on LinkedIn with anyone they connected with in person at the fair. Even if the request isn't accepted, students will have gotten their names in front of the recruiter one more time. The request should be paired with a follow-up email as well. "You may make your initial connection face to face at the fair, but you may close the deal because you followed up virtually," she said.
Above all, Tullier reminds students that attending the fair is about more than just employment.
"Of course coming out with a solid lead on a co-op or internship opportunity is a goal, but it's also about networking and the professional experience of participating in the fair," she said.
The 2016 Co-Op and Internship Fair takes place Jan. 26–28 in the Student Center Ballroom. Students should wear professional business attire and bring their BuzzCard and several copies of their resume. Students can register to attend the fair through CareerBuzz for priority access. Walk-up attendance is also welcome.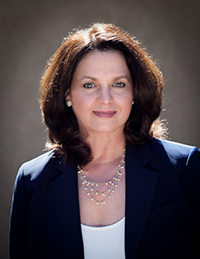 Michelle Tullier is executive director of the Center for Career Discovery and Development.