Survey to Assess Graduate Student Experience
The Graduate Student Experience Survey is the first of its kind on campus and is tailored specifically to the graduate student audience.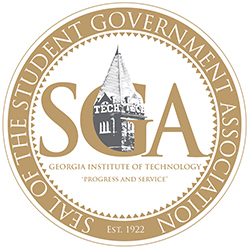 SGA Seal
Feb 16, 2016 — Atlanta, GA
A study being conducted on campus this month asks graduate students to provide feedback on all aspects of their experience at Georgia Tech.
The Graduate Student Experience Survey is the first of its kind on campus and is tailored specifically to the graduate student audience. The Graduate Student Government Association (GSGA) is spearheading the effort, with support from several campus units.
"We want to give the administrators, the school chairs, the faculty, and the students a comprehensive snapshot of graduate student life so that they can have the evidence in hand to make serious change," said Marc Canellas, president of GSGA. 
The survey asks questions about various elements of graduate student life, including advising, finances, academics, teaching, research, and support. It is modeled after the Undergraduate Student Experience Survey that was conducted in 2015. 
"I saw how influential the Undergraduate Student Experience Survey was for legitimizing the concerns that had been widespread among undergraduates," said Canellas, who was part of a task force on the learning environment that was formed partly in response to concerns expressed by survey respondents. He was struck by the comments and solutions brought forth by the group.
"They already knew what the structural and personnel issues were. They had already been concerned about these issues. Most had already developed ideas about how to make undergraduate student life a better experience. However, they had never been given the political capital or the time to find a consensus and implement change. This is exactly what I want to see happen for graduate student life," he said.
All graduate students have received an email inviting them to take the survey. Responses require a login to ensure authenticity, but this information is separated from the answers to keep respondents anonymous. The survey will be open until Monday, Feb. 29. 
"The data we collect will help everyone — from administrators to faculty members — make more informed decisions when it comes to serving our graduate students," said Susan Cozzens, vice provost for Graduate Education and Faculty Affairs. "I hope that every graduate student at Georgia Tech will take advantage of this confidential opportunity to give us feedback on what we're doing right — and could be doing better."  
The 2015 undergraduate survey was the second of its kind. The first was fielded in 2009. Results showed that, overall, students were more positive about their experience in 2015 than in 2009. It also helped identify opportunities for improvement, including the areas of teaching and students interacting with each other.