Traffic to Divert from Tech Parkway during Construction
Construction on Tech Parkway's makeover is scheduled to begin May 9.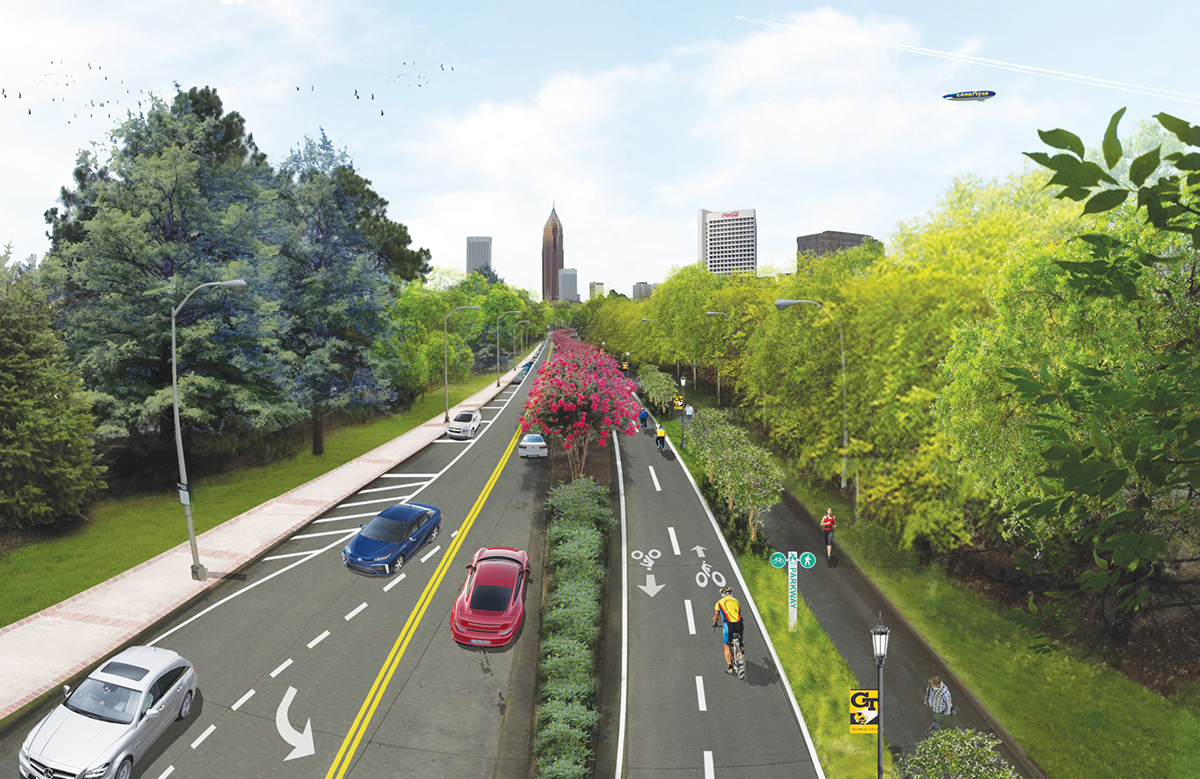 Facing south, this rendering shows what Tech Parkway would look like upon project completion.
Apr 25, 2016
— Atlanta, GA
In collaboration with the City of Atlanta and the local nonprofit PATH Foundation, the West Campus thoroughfare, Tech Parkway, is getting a makeover, shifting from its present configuration as a four-lane divided highway to a two-way street with a dedicated bike facility and wide pedestrian sidewalk.
Long recognized for its sprawling car culture, the effort is part of Atlanta's growing enthusiasm for making alternate modes of transportation more attractive options. Construction is set to begin in early May, and conclude March 2017.
"The Tech Parkway multiuse path project will create new infrastructure to provide the community a safe and easy way to get to and around campus," said Lisa Safstrom, campus transportation planner. "The path will contribute to the greater network throughout town, advancing safer cycling opportunities for all users."
The changes are consistent with both Georgia Tech's Master Plan vision as well as the city's Cycle Atlanta strategy. Despite concerns that this project would restrict automobile traffic, pre-project analysis suggests the reconfiguration can be comfortably accommodated.
"The city and design team did full traffic studies during normal and event traffic situations and confirmed these changes would not negatively impact vehicular circulation," said Jason Gregory, senior educational facilities planner in Capital Planning and Space Management. "This project is a step in managing the traffic volume while also providing for a great connection between midtown and downtown for multiple modes of transportation." 
Near the start of the project, both lanes of Tech Parkway between Means Street and Northside Drive will be closed to through traffic. During that time, drivers will need to adjust their route. Closures may last a few weeks.
At completion, the bicycle and pedestrian routes will continue beyond the Tech campus, stretching down Luckie Street to Centennial Olympic Park. The additional connectivity is likely to open up the campus to its midtown residents, making it a little bit easier for riders to enjoy the underappreciated aesthetics of Tech's 400 acres, and will also provide a safer and more convenient option for Tech's bike commuters to access campus. 
"It could be as significant to this side of town as other multiuse paths like the BeltLine's Eastside Trail," Safstrom said.
Georgia Tech will cover half the cost of the Tech Parkway portion of the project. The PATH Foundation, whose vision is to create a network of connected trails throughout the Atlanta region that converge on the center of the city, will cover the other half.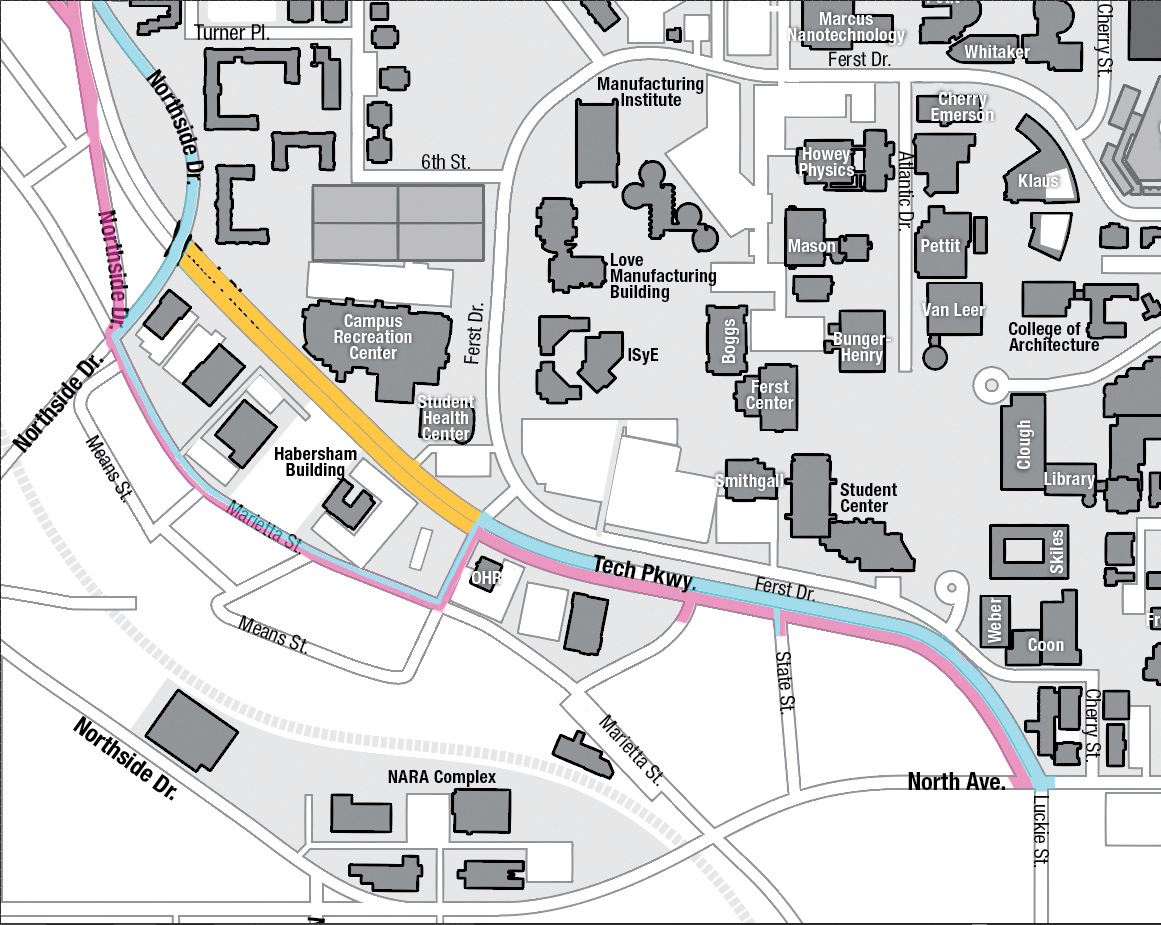 The Tech Parkway project's first phase will occur between Northside Drive and Means Street (in yellow). This will require a brief road closure, and require alternate routes for those traveling north (blue) and south (pink). The segment will reopen to cars during the summer.