Rio Film Events during 2016 Olympic Games Highlights Innovation by and for the World's Poor
Professor Kirk Bowman uses local groups to instate sustainable development in struggling communities.

Reimagine Rio Graphic
Aug 01, 2016
— Atlanta, GA
Media reports on the 2016 Summer Olympics offer a grim portrayal of host city Rio de Janeiro and what the world will see and experience there August 5 – 21. In the midst of the relentless bad news, a Georgia Tech professor worked with world renowned film directors to focus in another direction — innovation and success in Rio. Those stories originate where they might least be expected — amid the heartwrenching poverty of the city's poorest slums. Starting August 11, the Reimagine Rio Festival will present films about local leaders and the kids whose lives they are changing through innovative sports and arts programs.
Reimagine Rio is the brainchild of Kirk Bowman and the partners and students in his non-profit organization Rise Up and Care! As the Rio Games begin, Bowman's team will take to the stage premiering five documentaries that profile innovators, or "superheroes" as Bowman calls them. Bowman's group sought out the most inspiring mentor programs in Rio's favelas — those that are creating sustainable change. The films (whose trailers are available on Reimagine Rio's website) highlight a range of successful neighborhood programs that feature activities ranging from badminton to dancing, from music to circus, and even filmmaking itself. These stories showcase the incredible transformation of youth and communities in the face of great challenges, and they display Rio's favelas in a way that is rarely portrayed by global news media.
In "Bad' and the Birdieman," Brazilian film directors Lili Fialho and Kátia Lund (acclaimed co-director of City of God) explore the Miratus Badmintion Association in the favela of Chacrinha. Miratus founder, Sebastião Dias de Oliveira, set out to help the youth of his community who were mired in crime and drugs. Alongside a friend, Oliveira began Miratus 17 years ago, building the badminton facility brick by brick and the program day by day. Sebastião created his own training system using the homegrown samba dance to develop the fast footwork needed for badminton. His innovative approach keeps kids interested in the sport while also producing some of Brazil's greatest badminton players — including two 2016 Olympic competitors. At the same time, the program also provides education for the local children. But perhaps most importantly, it succeeds by nurturing the aspiration to live beyond the crushing poverty, drugs, and crime so prevalent in the favelas.
The Reimagine Rio Festival is a product of Bowman's research on sustainable community development and local innovation. A professor in the Sam Nunn School of International Affairs in the Ivan Allen College of Liberal Arts, Bowman was named the inaugural Jon R. Wilcox Term Professor in Soccer, Global Politics, and Society in 2014. The financial support of this position allows him to apply more resources to his research, which focuses on identifying locally originated community development. The funds also enable Rise Up and Care to broadcast evidence and conclusions from that research to the world at large.
Bowman's team of partners, supporters, filmmakers, and local leaders will premiere the five documentary films via 300 free screenings in more than 60 locations throughout Rio and its Baixada Fluminense region. The purpose of these screenings is to celebrate the achievements in situ to audiences living in the struggling favelas across the city first. The films unfold the personal stories about the program leaders, their innovations, and the multitude of youngsters whose lives they're effecting. They also highlight Bowman's assertion that local, grassroots solutions — in contrast to ideas originating from outside communities — are the key to success and sustainability in developing countries. The films demonstrate that dreams can become real for those in the favelas, that change is possible. Bowman hopes that the Festival will carry that message beyond the favelas as well, showing Rio and the world a new model for sustainable development. So far, the audience is robust with more than 1,000 people slated to attend and dignitaries including Liliana Ayalde, the U.S. Ambassador to Brazil.
Bowman's model of sustainable change operates on what he calls "the three I's": Identify, Invest, Inspire. He identifies local organizations around the world that have made lasting, long-term impacts on their communities via organic innovation. Rise Up and Care invests capital in those organizations so that they can grow and increase their influence. To inspire the world and the communities about these leaders and innovation, Bowman and Rise Up co-founder Jon Wilcox produce film-festival quality feature documentaries with top local filmmakers.
According to Bowman, the more traditional model of development, which entails outside sources creating new organizations to assist developing communities, is outdated and simply does not work. In a 2015 TedxPeachtree talk, Bowman revealed outcomes from his own experience with a decade of well-intentioned start-ups, as well as his research conclusions on what it takes to establish sustainable change:
"In the global south, abandoned tilapia farms, or play pumps, or sports clubs leave behind donor fatigue, distrust, and hurt feelings, and litters the environment with the carcasses of failed projects. A banker friend convinced me that there is a better way: the community bank model that can have success rates as high as 99 percent. How does a community bank model increase success rates from 25 percent to 99 percent? First, instead of investing time and money in startups, provide expansion capital to existing successful organizations. And second, instead of investing in the next great idea, invest in long term relationships with effective local leaders."
That banker friend is Jon Wilcox who is the co-founder, CEO, and director of California Republic Bank. Together, Bowman and Wilcox want to flip the classic model on its head.
"Those from advantaged countries need to abandon notions of playing the "superhero" coming in with their ideas to fix things and instead adopt the role as "sidekicks" supporting local innovators. This new way of approaching sustainable development relies on already successful organizations that already work within developing communities and thus hone in on a much more specialized and personal level."
These specialized and personalized successes are the stories that will be presented in the Reimagine Rio Festival. Bowman is excited to be premiering the films in the favelas that gave birth to those stories.
"Typically people would premiere a film festival like this in theaters where the wealthier people live. Rio is huge; it has all these poor neighborhoods and they would never go to those theaters. They couldn't afford to. Because our films are about people in these marginalized communities that are doing these incredible things, we want the people in those communities to feel the power and emotion of the film experience, not the downsized version on someone's phone or a laptop." 
Bowman believes that by celebrating the successes of their own neighborhoods, the films will spur more innovation in Rio's favelas.  
"We want to show off the kids in the badminton, circus, dance, and the other programs so that other kids see kids who are just like them. By tapping into the hopes and dreams of these children, their hearts will be inspired to pursue their ambitions in a way they might not have thought possible before."
Moving forward in such a manner requires innovation, but Bowman asserts that our preconceived notions of innovation need to change:
"Innovation is not only the domain of the university, corporations, and start-ups. Often the most effective innovation isn't even with products. It happens in the grassroots and on the ground. It's process innovation from people who know their communities."
As the Rio 2016 Olympic Games begin, Bowman presents the five films about innovations in five favelas of Brazil and, through them, asks the world to consider a new model for enacting positive, sustainable change.  To see the trailers, Reimagine Rio Festival schedule, and locations, visit Riseup.Care.
More about Kirk Bowman

Dr. Kirk Bowman, the Jon R. Wilcox Term Professor in Soccer and Global Politics, joined the Georgia Tech faculty as an assistant professor in Georgia Tech's Sam Nunn School of International Affairs in the Ivan Allen College of Liberal Arts in 1998 and was promoted to Associate Professor in 2004 and Professor in 2014.  He directs study abroad programs in Argentina, Brazil, Portugal, Spain and Uruguay.  A specialist in Latin American politics and political development, he is author ofMilitarization, Democracy, and Development: The Perils of Praetorianism in Latin America (Pennsylvania University Press, 2002), Peddling Paradise: The Politics of Tourism in Latin America (Lynne Rienner 2013),Lessons from Latin America: Innovations in Politics, Culture, and Development (with Felipe Arocena, Toronto 2014) and numerous journal articles, book chapters, and reference chapters. His current projects include a book that uses soccer to explore the theories and concepts of comparative politics. For the full bio, read here.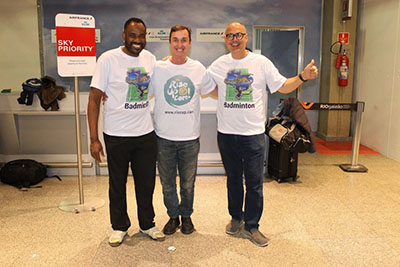 Kirk Bowman, Jon Wilcox, and Sebastião Dias de Oliveira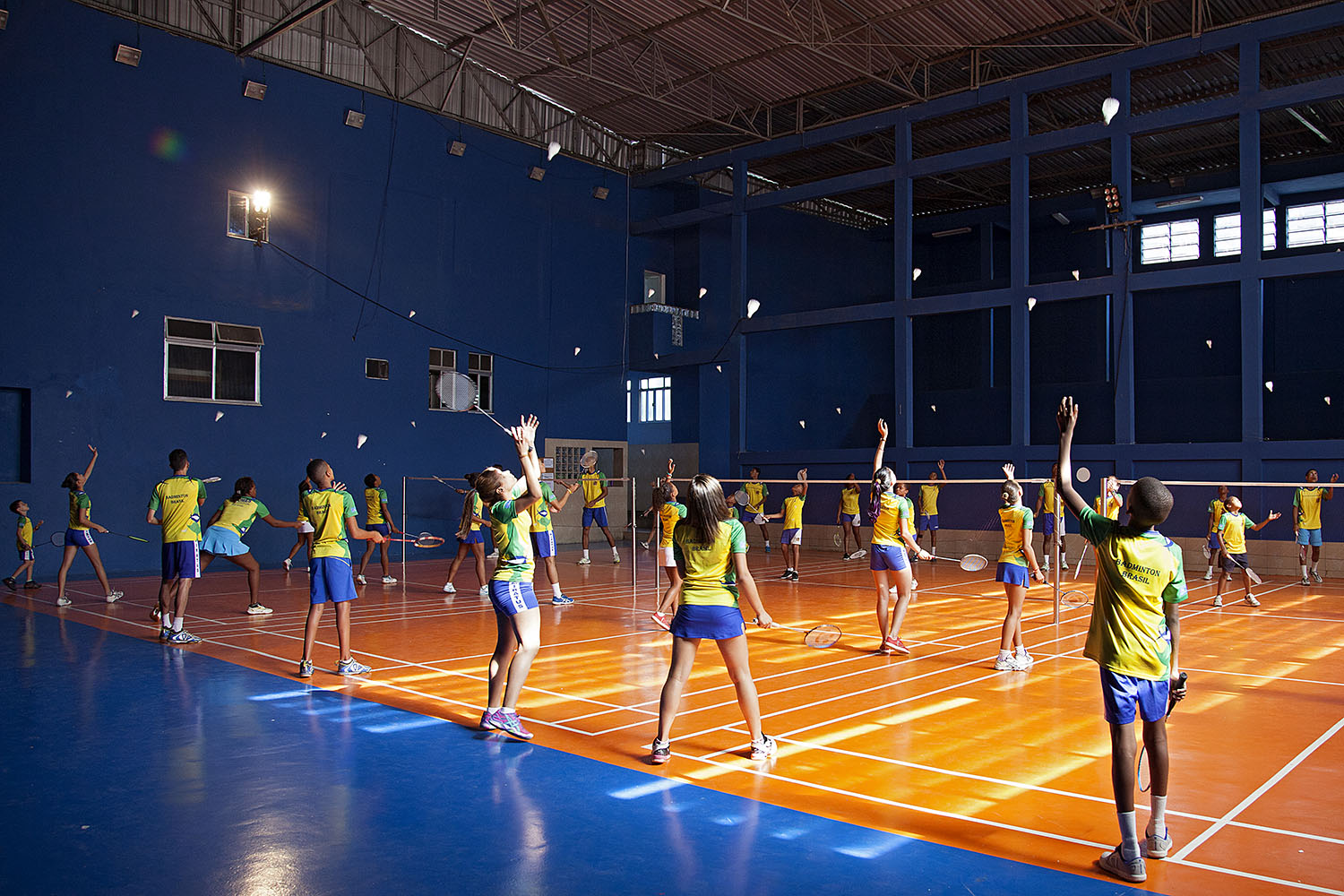 Children at Miratus train for badminton tournaments using techniques developed from samba dancing.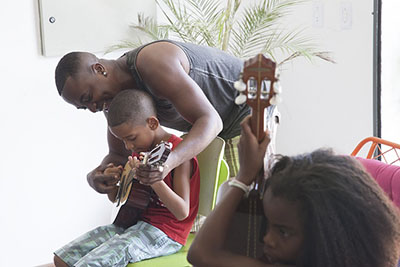 Music is very important to the people of Rio, as evidenced by the documentary Jongo Fever.