Director of Athletics Search Committee Established
An an eight-person committee will recommend candidates to succeed Mike Bobinski.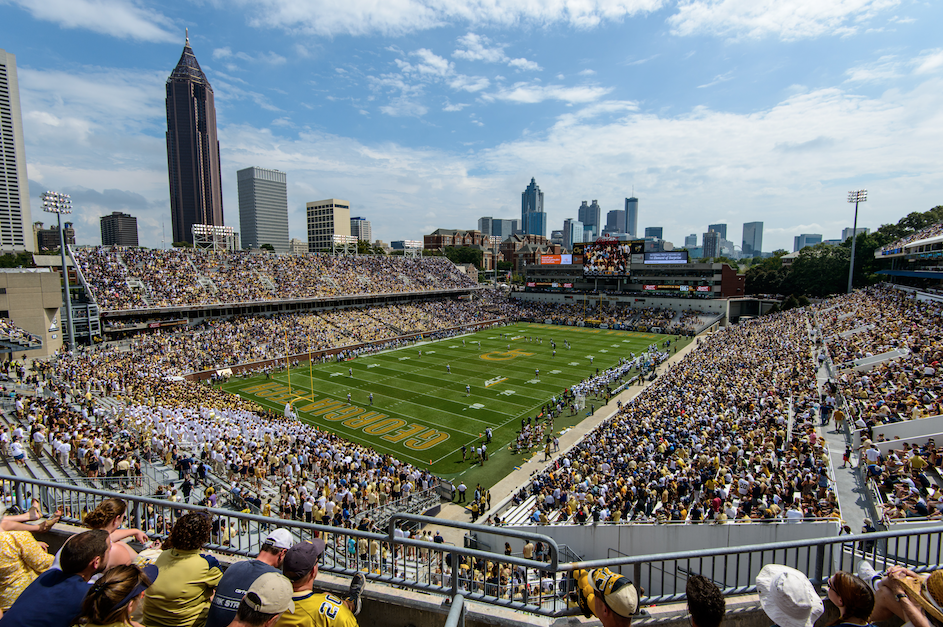 Aug 11, 2016 — Atlanta, GA
Georgia Tech President G.P. "Bud" Peterson has named an eight-person search committee to recommend candidates for the vacant position of director of athletics. The panel will advise Peterson on a successor for Mike Bobinski, who was named athletics director at Purdue University earlier this week.
The committee includes current Georgia Tech faculty and staff, two current students and community leaders. It will be chaired by Al Trujillo, president and chief operating officer of the Georgia Tech Foundation, Inc. The Foundation is an external organization primarily responsible for managing the Institute's financial investments, a sizeable endowment used to support everything from student scholarships to strategic growth.
Trujillo (AE 1981) is a former chairman of the Georgia Tech Alumni Association. He has also served on a variety of Institute committees and initiatives, including the College of Engineering Advisory Board.
Other search committee members include:
Jen Abrams: current Public Policy student, former member of the Georgia Tech Athletic Association (GTAA) Board of Trustees and former Student Government Association president
Mary Brock: member of Georgia Tech's Alexander-Tharpe Fund Board of Directors, co-chair of Campaign Georgia Tech, honorary alumna and co-owner of the WNBA's Atlanta Dream
Reggie DesRoches: faculty athletics representative and Karen and John Huff School Chair and Professor, School of Civil and Environmental Engineering
Lynn Durham: Georgia Tech assistant vice president and chief of staff, Office of the President
Lawton "Mac" Nease (IM 1965): member of Georgia Tech Athletic Association Board of Trustees, trustee emeritus of the Georgia Tech Foundation and president of Nease, Lagana, Eden and Culley, Inc.
Nathan Rakitt: current Industrial Engineering student, former Georgia Tech men's tennis team student-athlete and current chair of the Student Athlete Advisory Board
Steve Swant: Georgia Tech executive vice president for Administration and Finance
Mark Teixeira: retiring Major League Baseball player for the New York Yankees and former Yellow Jacket baseball team member from 1999 to 2001
"We have assembled a team of leaders representing the Georgia Tech community who are committed to our student-athletes and aspire for excellence in all of our athletics programs. Together they bring a wealth of experience and expertise," said Peterson. "I am confident that the committee, under the leadership of Al Trujillo, will find a director of athletics who can continue to lead and move our program forward. I am grateful for their service."
In addition to the search committee, Peterson has selected former Senior Associate Director of Athletics Paul Griffin to serve as interim director of athletics.
Georgia Tech's new athletic director will oversee a department that includes 15 athletic teams competing in 17 NCAA Division I varsity sports. In each of the past three years, the Institute recorded a school-record Graduation Success Rate (84 percent according to the most recent NCAA figures from November 2015). It also recorded outstanding scores in the Academic Progress Rate (APR), which provides a real-time NCAA metric to measure the success of institutions in moving student-athletes toward graduation. The latest APR statistics, released in April, reported that 13 of Georgia Tech's 15 athletic teams scored 980 or better out of a possible 1,000 points.