Summer in the City: How to Stay Cool in the Atlanta Heat
It may almost be time for fall semester, but it's still the peak of summer heat and humidity in Atlanta.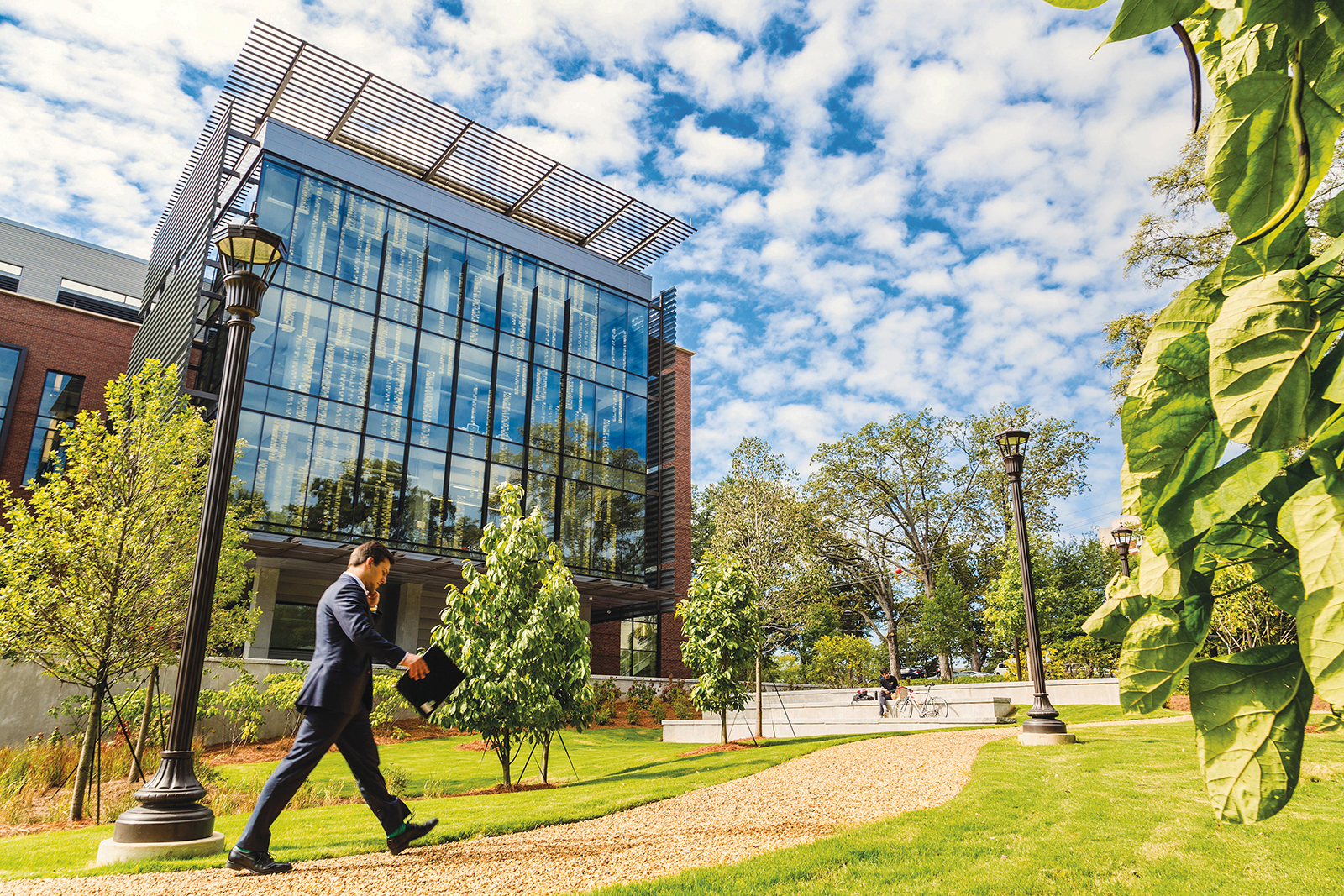 Aug 15, 2016
— Atlanta, GA
The fall semester may have begun, but it's still the peak of summer heat and humidity in Atlanta. How are you supposed to get to and from class, work, and campus meetings without constantly toweling off?
For Jess Hunt-Ralston, senior designer in the School of Civil and Environmental Engineering who bikes to work, thinking "like a hiker" is key. 
"Stay hydrated, stick to shaded areas, and wear a hat," she said. "I often wear a tank top or T-shirt on my commute, with a sweater packed in my bag for the office." For those who walk, bike, or take transit, she also suggested wearing athletic clothes for the commute and packing work clothes to change into once on campus. 
One group whose job it is to be outside at Georgia Tech Landscape Services team. Each year, the team meets with Environmental Health and Safety (EHS) at the beginning of the summer for a reminder of important tips for safety in the heat and how to identify heat illness.  
"We perform the hardest tasks that are in full sun in the morning, and tasks in shaded areas in the afternoon," said Hyacinth Ide, associate director for Landscape Services and Fleet Services. Employees are also encouraged to wear sunscreen and get plenty of rest at night, and are provided hats and cotton clothing. EHS advises that they wear loose, lightweight clothing made of cotton or cotton blends that let air circulate and can wick sweat off the skin. They also suggest avoiding dark-colored clothing, as light colors will reflect the heat and help keep you cool.  
Other materials that are good for the heat include linen, silk, hemp, or even lightweight wool.
Georgia Tech tour guides also spend much of their time outside. These student employees work with Undergraduate Admission to lead visitors from around the world on campus tours, and summer is as busy a season as any — but they are prepared. 
"We remind everyone before their visit to wear loose-fitting clothing and comfortable walking shoes, as the tour is nearly two miles," said Elyse Lawson, senior admission counselor who coordinates campus visits. "When talking to visitors at length, tour guides try to always stop inside air-conditioned buildings or at least in the shade. During the summer, we provide all visitors with bottled water as they head out on tours."
Having a handy supply of products in a desk drawer or office cubby can provide a quick refresh before class or a meeting. Deodorant, oil-absorbing sheets, and face cleansing towelettes should all be components of a refresh kit. 
The Georgia Tech Urban Honey Bee Project offers a beeswax lip balm for $2, made from honey harvested on the roof of the Clough Undergraduate Learning Commons. Barnes & Noble @ Georgia Tech has several hats and water bottles that can be useful for the summer months to stay shaded and hydrated.
Hunt-Ralston even makes her own salt spray, which can provide a quick cooldown after a hot walk. The formula is a 1:4 ratio of sea salt to hot water, shaken until dissolved, and kept in a spray bottle for easy use.
"Salt spray will soak up oil and sweat on your face, so if you have dry skin, you may want to switch to Epsom salt, which will absorb sweat while also hydrating your skin," she said. 
In the summer, you are what you eat. EHS advises that hot, heavy meals can add heat to the body and divert blood to the digestive system that could otherwise be helping the body cool down. Eating light, cool meals can help on days when you may work up a sweat.