Taking Undergraduate Computer Science Online
Intro to Computer Science will soon be offered online through edX.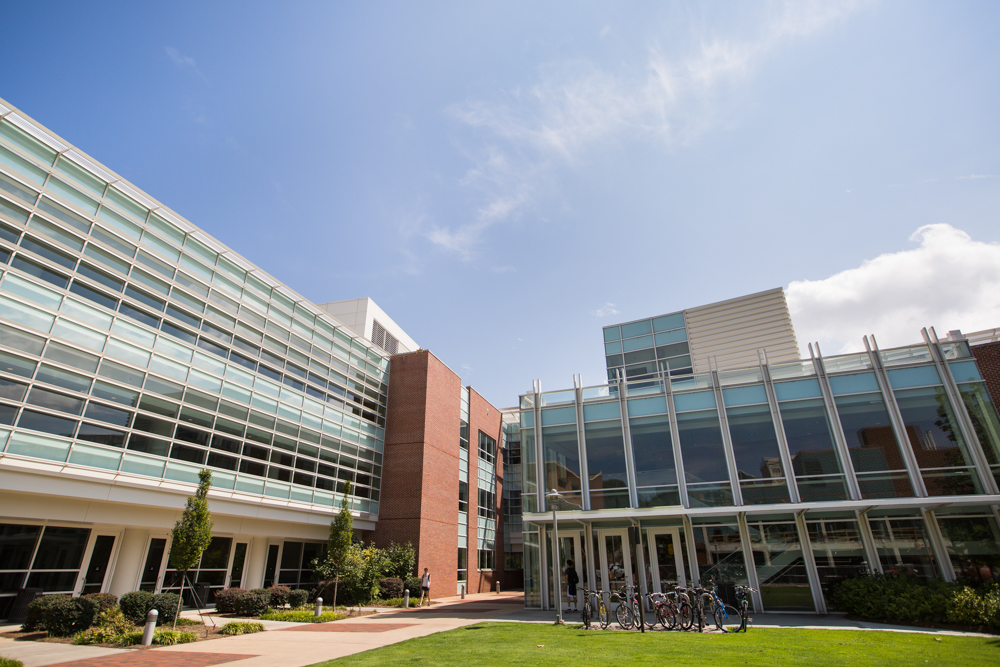 Klaus Advanced Computing Building (Photo Credit: Raftermen Photography)
Nov 01, 2016
— Atlanta, GA
Georgia Tech and McGraw-Hill Education are teaming up on an innovative approach to make elite education more broadly accessible. They're launching an online, undergraduate course in computer science that will debut this spring for current Tech students and be made available in MOOC (Massive Open Online Course) format to help future Georgia Tech applicants earn college credit before they ever set foot on campus.
The online "Introduction to Computing Using Python" course will feature the same rigorous content as Georgia Tech's on-campus course (a requirement for all undergraduates) and will be created with McGraw-Hill Education's adaptive "SmartBook" technology. Like many other MOOCs, it will be freely available through edX, the nonprofit online learning destination founded by Harvard and MIT.
Open learning: Anyone around the world can participate in the course via the edX MOOC and access the educational content for free. You can enroll for this option now at: https://www.edx.org/course/introduction-computing-using-python-gtx-cs1301x#. The course begins Feb 6, 2017.
edX Verified Certificate of Completion: Those who are interested in earning a certificate can enroll in the Verified Certificate track for $99. You can enroll for this option now at https://www.edx.org/course/introduction-computing-using-python-gtx-cs1301x#. The course begins Feb 6, 2017.
Georgia Tech verification of mastery: MOOC students who successfully demonstrate mastery will earn a statement that may be recognized for credit if they later apply and are admitted to Georgia Tech.
Intro to Computing for Georgia Tech students: During Spring 2017, Georgia Tech will offer the MOOC as an online option for its CS 1301 course requirement for on-campus students. It will be supported with voluntary "recitation" sessions each week with teaching assistants.
"Like many other universities, Georgia Tech is experiencing incredible surges in our undergraduate computer science enrollment," said Zvi Galil, John P. Imlay Jr. Dean of Computing at Georgia Tech. "At the same time, there is a tremendous national need for computing talent. As Georgia Tech has shown with our online MS program in computer science, it is possible to leverage technology and affordability to make a tremendous difference in accessibility."
The U.S. Bureau of Labor Statistics estimates there are twice as many annual jobs available in computer science as there are new graduates to fill them. Since the launch of Georgia Tech's online program in computer science (OMS CS) program in 2014, the Institute has become a leading voice in the global conversation about higher education accessibility, affordability, and the future of learning. Since enrolling 380 students in the spring of 2014, OMS CS has grown to nearly 4,000 students in fall 2016, with nearly 12,000 applications to date from people in more than 100 countries around the world.
McGraw-Hill Education's extensive work in developing digital tools for both K-12 and higher education brings a new degree of educational technology expertise to the partnership. As a result, the Intro to Computing course will be infused with tools and programs, like its adaptive SmartBook technology, to provide a more thorough, customized experience for learners.
"Our relationship with Georgia Tech on its Intro to Computing course is an example of the kinds of partnerships we're looking to build with institutions to help them innovate and find new ways to expand access, make learning more efficient and increase student success," said David Levin, president and CEO of McGraw-Hill Education. "It demonstrates the flexibility of our digital platforms, which can deliver adaptive, personalized learning experiences with McGraw-Hill Education content, or ingest content from others and make it adaptive and more powerful for the learner – as is the case with Georgia Tech."
The Spring 2017 offering of the new MOOC as an online option for Georgia Tech on-campus students will be an important case study for its wider applicability. Offered in conjunction with traditional, in-person sections of Georgia Tech's required CS 1301 course, the technology-enhanced option will be completely voluntary and will allow students to transfer to an in-person section if they wish. Georgia Tech students who successfully complete the section will receive a letter grade and degree credit.
"The Institute's mission is to find new and innovative ways to use technology to improve human lives," said Richard DeMillo, executive director of Georgia Tech's Center for 21st Century Universities. "This course will be a demonstration of how technology can expand the number of people in the world who have access to our professors and classes in ways that have never been tried before. It's the next step in making high-quality Georgia Tech learning experiences accessible to as many people as possible."
McGraw-Hill Education's adaptive learning technologies translate traditional learning methods into a highly interactive, personalized experience with a digital reading component powered by the company's SmartBook technology. The SmartBook software uses research-driven machine intelligence to weave together learning and assessment, resulting in a personalized learning pathway. SmartBook, in combination with a robust pedagogy and learning environment, supports the development of confident learners who are more likely to progress and complete a curriculum.
To learn more about Georgia Tech's efforts to provide a new kind of higher education, explore the Institute's Commission on Creating the Next in Education or visit the online Master of Science in Computer Science (OMS CS) website. Visit McGraw-Hill Education's website to learn more about their digital platforms and innovative learning tools.