Institute to Sponsor OpenIDEO Higher Ed Challenge with U.S. Dept. of Education
Georgia Tech will participate in a global initiative announced by the Dept. of Education.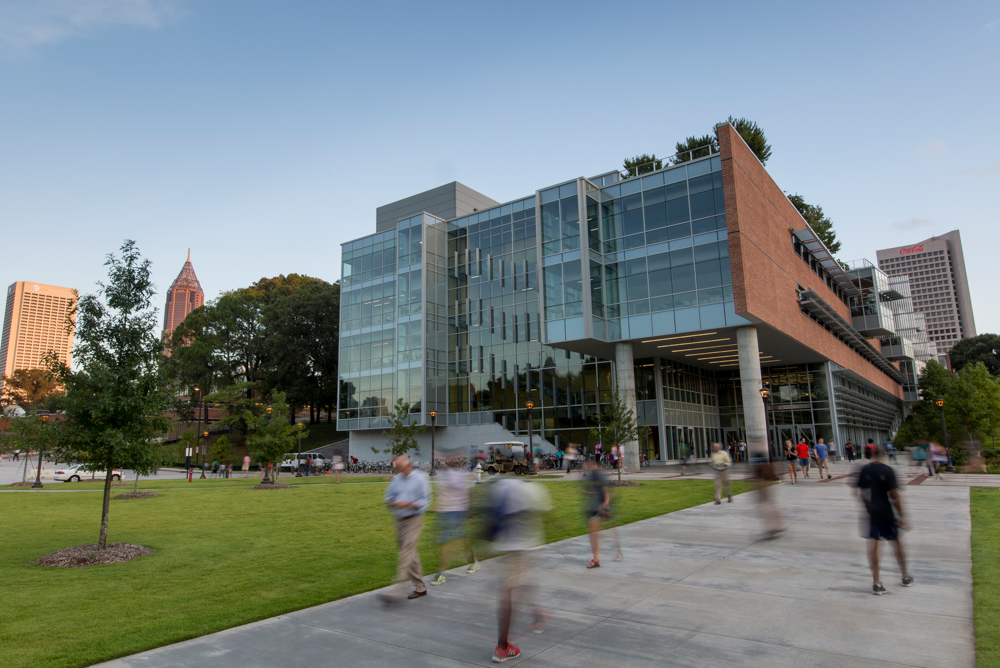 Clough Undergraduate Learning Commons (CULC) (Photo Credit: Raftermen Photography)
Nov 15, 2016
— Atlanta, GA
Georgia Tech and IDEO, an international design and consulting firm, are partnering to sponsor and participate in the OpenIDEO Future of Higher Education Challenge. The global initiative was announced Nov. 15 at the White House by Department of Education Under Secretary Ted Mitchell and will run through February 2017.
According to IDEO, the OpenIDEO Challenge seeks to find solutions to "...reimagine how we prepare students — of all ages — for active civic engagement, real-world employment and career success in an ever transforming society." It will provide faculty, staff and students with the opportunity to submit their ideas on how both Georgia Tech and the global higher education community can innovate and meet the challenges of tomorrow. On campus, Provost Rafael L. Bras and his Commission on Creating the Next in Education (CNE) will lead the Challenge.
"The Challenge is an exciting complement to the CNE as it strives to develop bold ideas that will transform the educational experience of the next generation of Georgia Tech learners," said Bras, who is also executive vice president for Academic Affairs and the K. Harrison Brown Family Chair. "It's a great way to harness the creative and innovative minds of our own Georgia Tech community as well as those of our partners, innovators in higher education and other stakeholders."
OpenIDEO is a branch of IDEO that utilizes human-centered and collaborative design thinking to solve the world's toughest problems.
The Challenge's Research Phase is now underway. The global higher education community is called to share stories and reflections, emotions, perspectives and other personal contributions related to education after high school and throughout one's lifetime. These contributions can be shared through the OpenIDEO Challenge Portal.
A solutions-driven Ideas Phase and then a Refinement Phase — in which Georgia Tech, other challenge sponsors, and an Advisory Panel will create a short list of submitted ideas for a final presentation during the Top Ideas Phase — will follow this phase. Once these ideas are finalized in February, Georgia Tech will host a summit to explore the concepts and find ways to turn collaborative ideas into real world solutions.
Other OpenIDEO Challenge sponsors include ASU GSV Summit, Level Education from Northeastern University, USA Funds and the U.S. Department of Education.
"American college students are more diverse than ever before. The 'new normal' student may be a 24-year-old returning veteran, a 36-year-old single mother, a part-time student juggling work and college, or a first-generation college student. While America has some of the best colleges and universities in the world, we need to better support these students and all students. To do so we simply must innovate. I'm excited to see the ideas that this challenge will spark," said U.S. Education Under Secretary Ted Mitchell.
The Atlanta chapter of OpenIDEO, which recently completed a project to bring human-centered design to students, maintains an active relationship with Georgia Tech students. Through the OpenIDEO Challenge, Georgia Tech hopes to stimulate the world's best out-of-the-box design thinking about the future of global postsecondary education as it seeks to define the technological university of the 21st century. For more information about the Challenge, visit the provost's CNE website or Georgia Tech's Center for 21st Century Universities (C21U) website.