NASSCOM of India signs agreement with Georgia Tech to drive innovation in Internet of Things
NASSCOM latest to join Georgia Tech efforts in Internet of Things research and education.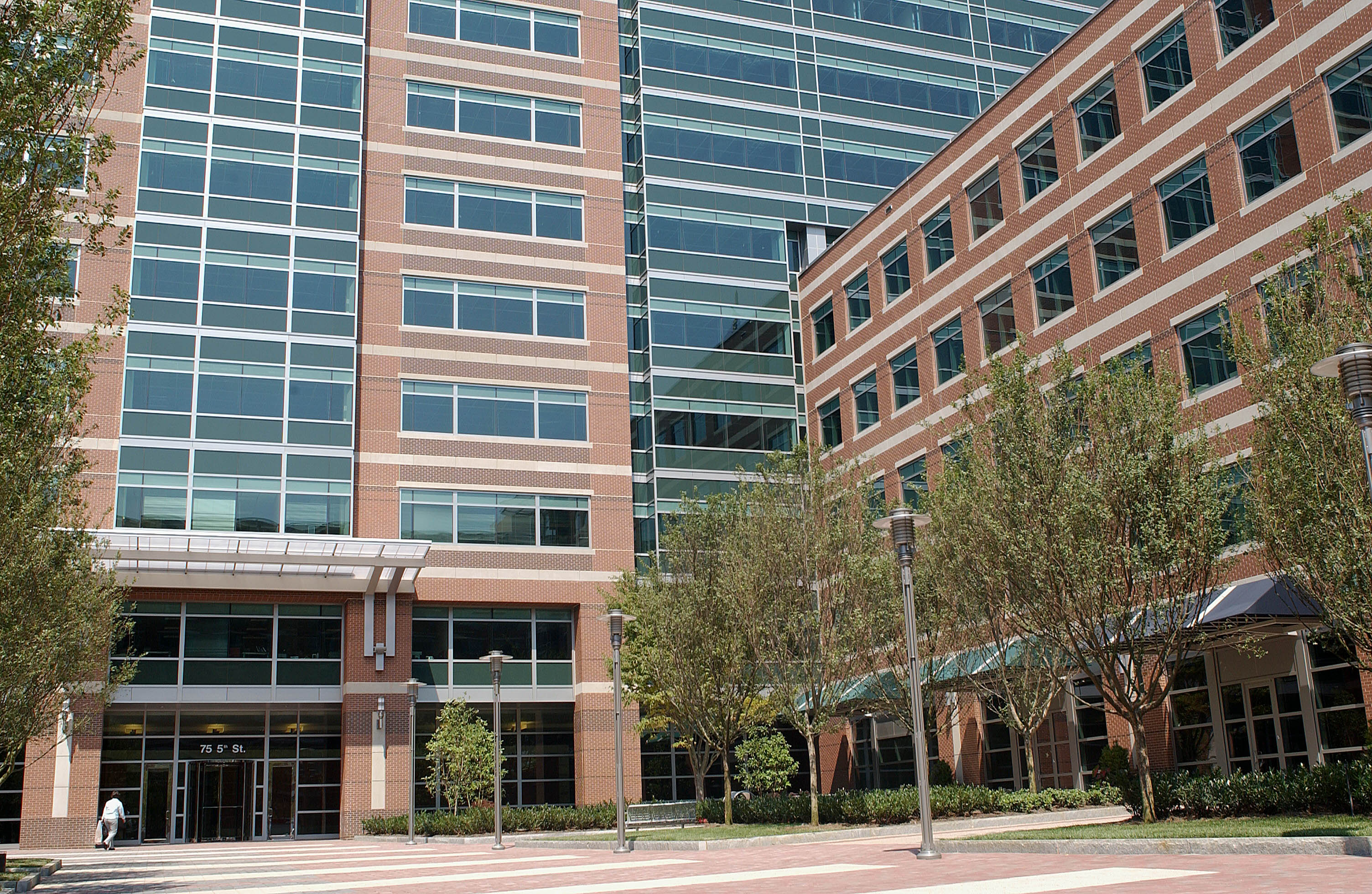 Georgia Tech's Advanced Technology Devleopment Center (ATDC) is one of the oldest and largest university-based startup incubators in the country. ATDC has graduated about 150 companies. The center is located in the Centergy Building in Technology Square. (Photo: Rob Felt)
Dec 19, 2016 — Atlanta, GA
The National Association of Software and Services Companies (NASSCOM) announced Dec. 19 that it has signed a memorandum of understanding with the Georgia Institute of Technology to begin collaborating on advancing the Internet of Things (IoT) and fostering innovation through an IoT ecosystem.
NASSCOM, which is India's information technology and business process management sector industry association, operates the Centre of Excellence for Internet of Things (COE-IoT), which will work closely with Georgia Tech's Atlanta-based Center for the Development and Application of Internet of Things Technologies (CDAIT). The main objective of NASSCOM's COE-IoT is to create innovative applications and domain capability, which is similar to CDAIT's mission of expanding and promoting the Internet of Things' potential and transformational capabilities.
"We are honored to collaborate with a premier high tech organization such as NASSCOM to promote the many benefits of the fast-growing Internet of Things," said Alain Louchez, managing director of CDAIT. "In close cooperation with NASSCOM's IoT center, we intend to explore ways to leverage IoT technologies to accelerate and optimize the pace of digital transformation throughout the economy."
The agreement between NASSCOM and Georgia Tech will allow both organizations to combine their efforts to raise awareness of IoT and create IoT-related events for the purpose of developing a vibrant global IoT ecosystem facilitating the effective and efficient adoption of IoT technologies. The partnership will also prompt conversations around IoT that will promote interoperability across industry and geographic markets.
"The disruptive nature of IoT will have a major impact in all areas of the consumer's life – across all industries including industrial, healthcare, agriculture and smart homes," said Sanjeev Malhotra, chief executive officer of COE-IoT. "IoT will also be used across these industries to improve productivity with minimum usage of natural resources. We are happy to be partnering with Georgia Tech, a leading institute with a focus on emerging technologies, leading to a mutually beneficial agreement that will help us combine Georgia Tech's advanced technology research along with the thriving innovation ecosystem in India."
Through its COE-IoT located in Bangalore, NASSCOM is focusing on systemically expanding the technology ecosystem, with the center providing a platform to address challenges such as the lack of understanding that leads to low adoption levels and security issues faced by the industry.
CDAIT (pronounced "sedate") is a global, non-profit, partner-funded center located at Georgia Tech in Atlanta, Georgia, that fosters interdisciplinary research and education while driving general awareness about the Internet of Things. It aims at efficiently identifying, understanding and solving for its sponsors challenges and problems that may arise along the whole IoT value chain. CDAIT bridges sponsors with Georgia Tech faculty and researchers as well as industry members with similar interests.
About Georgia Tech
The Georgia Institute of Technology, also known as Georgia Tech, is one of the leading research universities in the United States, providing a focused, technologically-based education to more than 25,000 undergraduate and graduate students. Georgia Tech has many nationally recognized programs, all top-ranked by peers and publications alike, and is ranked in the nation's top 10 public universities by U.S. News and World Report. It offers degrees through the Colleges of Design, Computing, Engineering, Sciences, the Scheller College of Business, and the Ivan Allen College of Liberal Arts. As a leading technological university, Georgia Tech has more than 100 centers focused on interdisciplinary research that consistently contribute vital research and innovation to American government, industry, and business.
About NASSCOM
NASSCOM® is the premier trade body and the chamber of commerce of the IT-BPM industry in India. NASSCOM is a global trade body with more than 1800 members, which includes both Indian and multinational companies that have a presence in India. NASSCOM's member and associate member companies are broadly in the business of software development, software services, software products, consulting services, BPM, e-commerce and web services, engineering services and animation and gaming. NASSCOM's membership base constitutes over 95 percent of the industry revenues in India and employs about 3.5 million professionals.