4,380 Students Welcomed to Tech in Early Action
As of Jan. 14, 4,380 high school students have a chance to be Yellow Jackets in Fall 2017.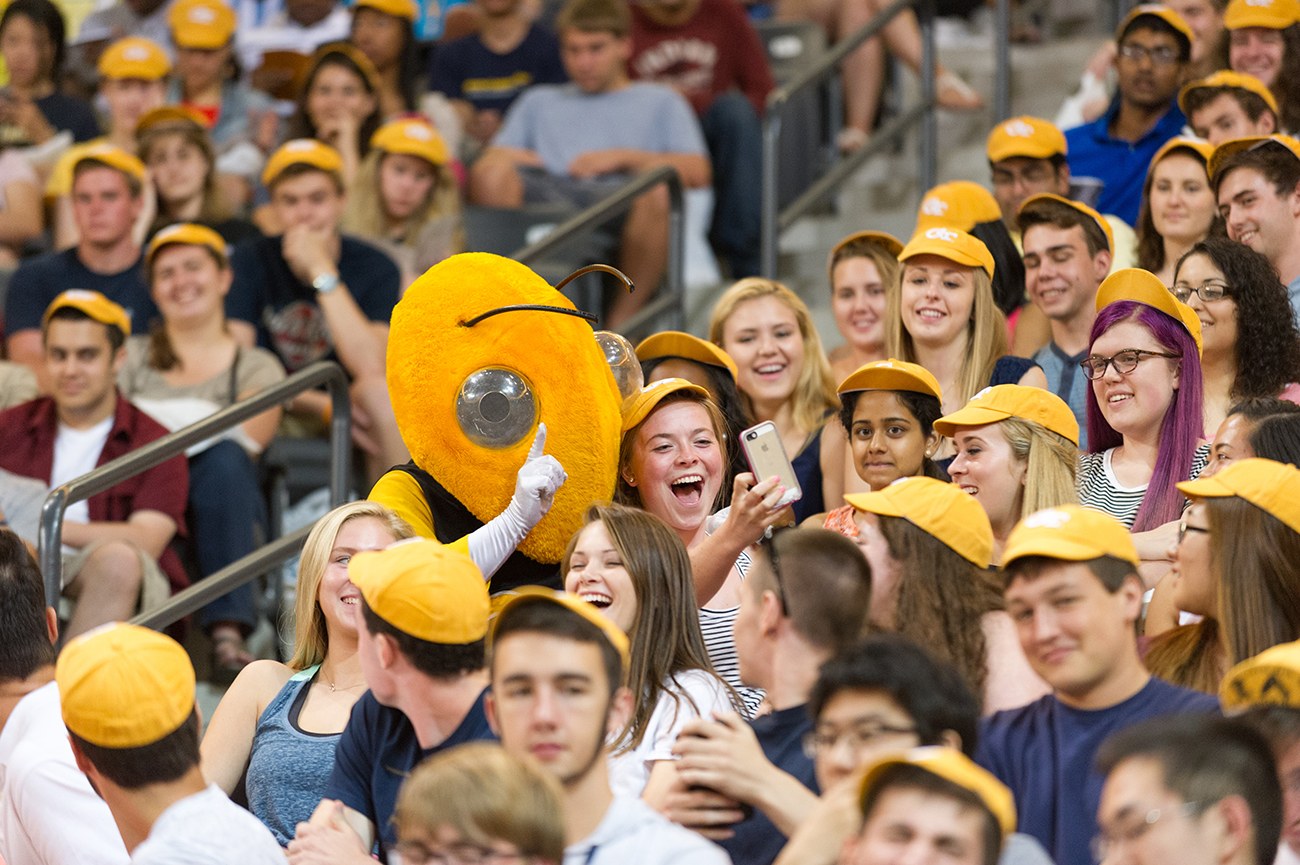 Jan 14, 2017 — Atlanta, GA
As of noon, 4,380 high school students have a chance to be Yellow Jackets next fall.

Looking for 2019 information? Read: Georgia Tech Welcomes Early Action Admits
Georgia Tech offered Early Action admission today to another group of highly qualified students from around the state of Georgia, the U.S., and the world.
This year, 15,715 applied for Early Action admission, an increase of about 1,200 from last year's early round. The admit rate for this round is 28 percent overall — 49 percent for Georgia students and 21 percent for non-residents.
This year's applicants were as impressive as in years past. The average academic profile is a 33 ACT, 1468 SAT, 11 college-level courses, and an A average. Nearly 4,200 Georgia students applied in Early Action this year, a 3 percent increase from last year. 
Rick Clark, director of Undergraduate Admission, attributes part of the quality of application review to faculty involvement. This year, faculty members from all six of Tech's colleges contributed to the admission process during Early Action.
"We deeply value their insight in terms of what makes a good student for them," Clark said. "It is helpful to hear faculty perspective based on their subject area, because what makes the best candidate for liberal arts or design is not necessarily the same as what makes the best fit for a student in computing or engineering. They can tell us what they see in the classroom and what they're looking for in their students."
That input can also shape future admission cycles.
"As they're describing a student, we often ask where they would look for that in an application," Clark said. "Getting that insight was helpful for this admit group and will shape how we review and design applications going forward."
Some students — around 250 in the Early Action round – will receive the opportunity to transfer to Tech through the Arts and Sciences Pathway. This allows Georgia students who applied to majors in the College of Design, College of Sciences, or Ivan Allen College of Liberal Arts to take a set of courses at another college, earn qualifying grades, and transfer to Tech the following year.
Applications for Regular Decision for the 2017 freshman class closed Jan. 1. More than 31,400 students have applied for admission to Georgia Tech for next year — a record high, and about a 3 percent increase from 2016. For comparison, Tech's current fifth-year students (2012 enrollees) were part of an applicant pool of 14,700. Several states saw increases in overall applicants this year, including New York (up 49 percent), California (up 45 percent), and New Jersey (up 37 percent).
Regular admission decisions go out March 11. The next two months are a hybrid time for Undergraduate Admission, as the staff prepares to help applicants understand Early Action decisions, host admitted student programs, and review Regular Decision applications.
"We say it every year, but it's true — we're blown away by the quality of these students," Clark said. "It's very exciting thinking about what we're trying to create here and that we're drawing applicants with significant ability to improve the human condition and live out Tech's motto of progress and service."