Internet of Things Center Continues to Grow, Make Global Impact
Membership in the Internet of Things research center has reached 18 companies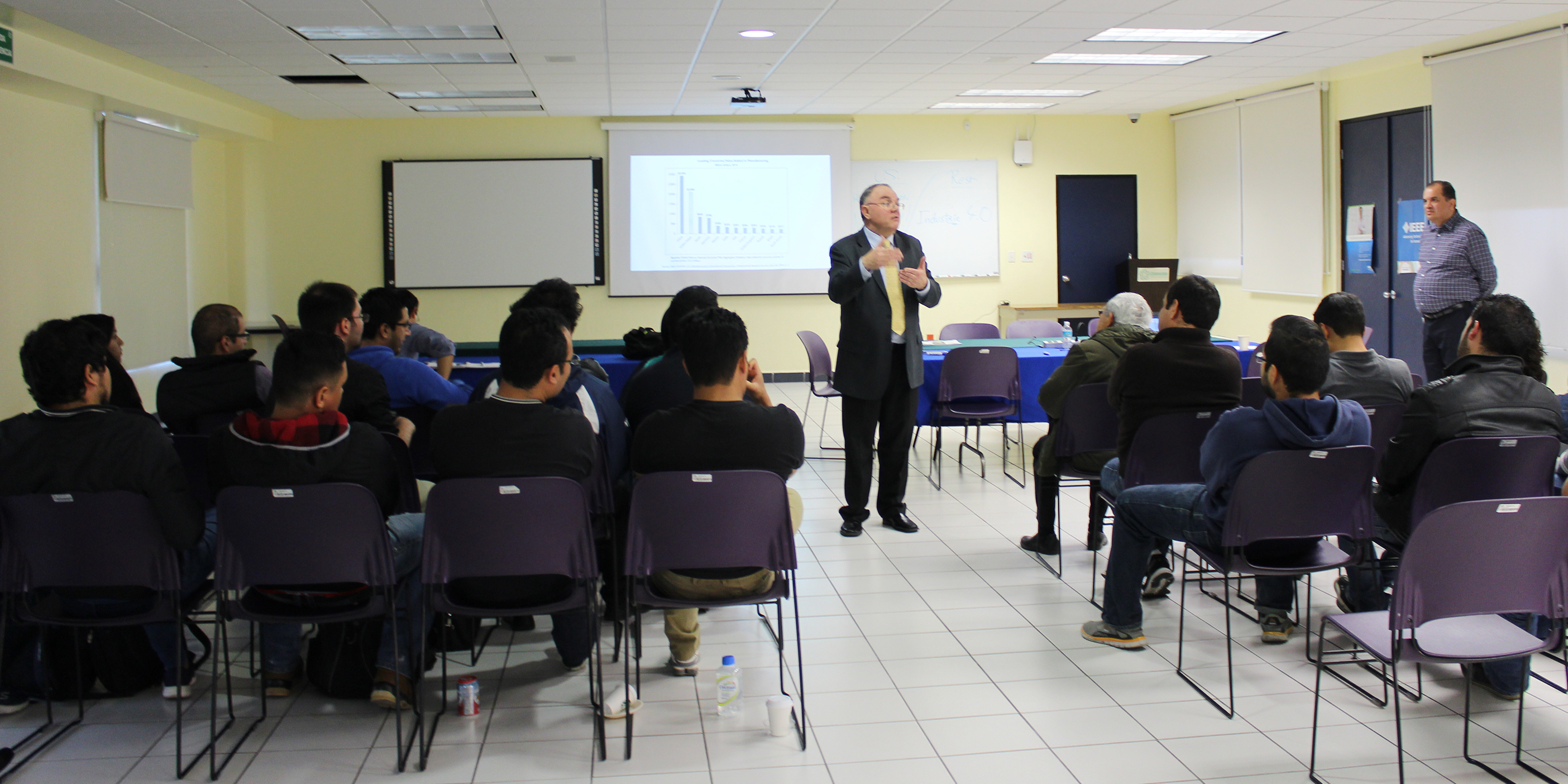 Alain Louchez, managing director of Georgia Tech's Center for the Development and Application of Internet of Things Technologies housed at GTRI, presents to researchers at Center of Innovation in Internet of Things in Guadalajara, Mexico.
Jan 27, 2017 — Atlanta, GA
The Center for the Development and Application of Internet of things Technologies (CDAIT) continues to expand in membership and impact.
Since launching in 2014, CDAIT has grown from three founding members to eighteen, including the following companies from the United States, Asia, Australia and Europe:
AIG
Amazon
AT&T
Brambles
Cisco
Comcast
Corning
Flex
Global Payments
IBM
Infor
Landis+Gyr
Merial (Boehringer Ingelheim)
Samsung
Stanley Black & Decker
Verizon
VMware Airwatch
Wipro
The center, dedicated to Internet of Things (IoT) interdisciplinary research, education and industry outreach, has also grown in influence.
A "green paper" released on January 12 by the National Telecommunications and Information Administration (NTIA) at the U.S. Department of Commerce titled "Fostering the Advancement of the Internet of Things" included input from CDAIT's managing director, Alain Louchez. Reviewing the nature of IoT, the study  quoted Louchez as saying, "Of all the many facets of the Internet of Things as it is understood today, the one single groundbreaking element is not the connectivity… [but] the smartness of things."
Also announced in January, CDAIT was named one of the best IoT blogs/websites by the Internet of More Things. CDAIT was commended for providing "informative analysis."
In addition to corporate members, CDAIT has reached out to non-for-profit IoT-focused organizations and signed two memoranda of understanding; the first one with the International Telecommunication Union, a specialized agency of the United Nations and its Study Group 20 - Internet of Things (IoT) and its applications including smart cities and communities; and the second with the Centre of Excellence for Internet of Things of India's National Association of Software and Services Companies.
Furthermore, CDAIT's managing director was recently selected by Instituto Tecnológico y de Estudios Superiores de Monterrey (Guadalajara) as an international advisor to "Centro de Innovación, Desarrollo Tecnológico y Aplicaciones de Internet de las Cosas" (a.k.a. "Center of Innovation in Internet of Things or CIIoT") after bid approval by the government of Mexico in June 2016.
As CDAIT's influence grows globally, Louchez has been invited to join the distinguished international panel of judges for the IoT Global Network Awards 2017.
"These are small steps, but they are important steps," Louchez said. "These recognitions show that we are having an impact and the world is beginning to take notice. Georgia Tech is a resource for all seeking to innovate in the Internet of Things space, and thanks to the forward-looking and forward-thinking companies and individuals who have joined us, we are having influence on how the Internet of Things will take shape."
So far the CDAIT board members have met four times, with the next meeting scheduled for April. At that meeting, members will receive updates on various IoT-related activities, which are mostly conducted at CDAIT through five working groups that address critical IoT concerns such as education, startup ecosystem, thought leadership, research, and (latest addition) security and privacy.
"We're very pleased with the way we have evolved over time," Louchez said. "Our members are not only providing financial resources, but they also get directly involved, giving along the way a very much needed connection with industry needs and perspectives. Also central to our work is the effective and remarkable support we are receiving from the many institutes and centers across Georgia Tech that are engaged in IoT-related domains."
Housed at the Georgia Institute of Technology in the Georgia Tech Research Institute, CDAIT (pronounced "sedate") is a global, non-profit, partner-funded center located in Atlanta, Georgia, United States, that fosters interdisciplinary research and education while driving general awareness about the Internet of Things. It aims at efficiently identifying, understanding and solving for its sponsors challenges and problems that may arise along the whole IoT value chain. CDAIT bridges sponsors with Georgia Tech faculty and researchers as well as industry members with similar interests.