Gary May Confirmed as Next Chancellor at UC Davis
College of Engineering Dean Gary May to serve as next chancellor of UC Davis.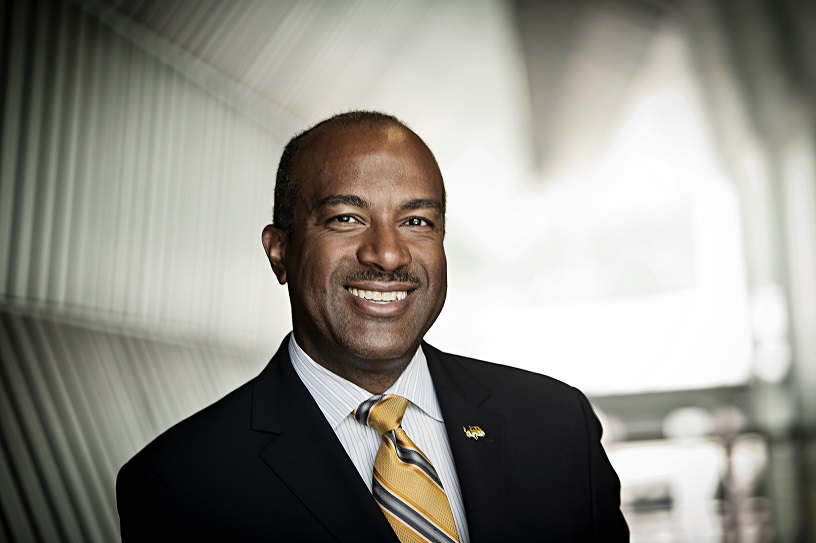 Gary May has been Dean of the College of Engineering at the Georgia Institute of Technology since 2011.
Feb 21, 2017 — Atlanta, GA
University of California President Janet Napolitano has selected Georgia Tech Engineering Dean Gary May to be the next chancellor of the University of California, Davis, which the California Board of Regents approved in a unanimous vote Feb. 23. 
May will begin at UC Davis on August 1, 2017. An interim dean for the College of Engineering will be appointed, and the search for the new dean will begin immediately. Next steps will include appointment of a search committee.
"As an accomplished alumnus and longtime member of our faculty for nearly three decades, Dean May has certainly left his mark on Georgia Tech as a leader, mentor and scholar," said Rafael L. Bras, provost and executive vice president for Academic Affairs and K. Harrison Brown Family Chair. "Under his leadership, the College of Engineering has thrived as a preeminent program in the nation and world. We thank Dean May for his years of service to Georgia Tech and certainly wish him well at UC Davis."
May has served as the dean of Georgia Tech's College of Engineering since July 2011 and has held the Southern Company Chair since 2015. He also holds an academic appointment as professor in the School of Electrical and Computer Engineering. As dean, he serves as the chief academic officer of the college and leads more than 400 faculty members and more than 13,000 students. The College of Engineering at Georgia Tech produces more engineering graduates than any other college in the United States.
"For the past five years, Dean May has led the nation's largest and most diverse college of engineering," said Georgia Tech President G.P. "Bud" Peterson. "His commitment to mentoring students and developing programs to attract and retain female and underrepresented minorities in STEM fields has benefitted students, not only here at Georgia Tech but throughout the nation. His efforts to increase interdisciplinary collaboration and help graduates gain entrepreneurial confidence have had wide-ranging impact, including facilitating the growth of Technology Square. We are grateful for his vision, energy and thought leadership while here at Georgia Tech."
Prior to his current appointment as dean, May was the Steve W. Chaddick Chair of the School of Electrical and Computer Engineering, and his field of research is computer-aided manufacturing of integrated circuits. He has authored more than 200 technical publications, contributed to 15 books and holds a patent in this topic.
He has also participated in acquiring more than $49 million in research funding, and he has graduated 20 Ph.D. students. In 1993, May was named Georgia Tech's Outstanding Young Alumnus, and in 1999 he received Georgia Tech's Outstanding Service Award. In 2004, he received Georgia Tech's Outstanding Undergraduate Research Mentor Award, as well as the Outstanding Minority Engineer Award from the American Society of Engineering Education. In 2006 he received the Mentor Award from the American Association for the Advancement of Science (AAAS). In 2010 he was named the Outstanding Electrical Engineering Alumnus of the University of California, Berkeley. May is a Fellow of the AAAS and the IEEE.
May created the Summer Undergraduate Research in Engineering/Science (SURE) program, for which he has been granted $3 million from the National Science Foundation (NSF). SURE hosts minority students to perform research at Georgia Tech in the hopes that they will pursue a graduate degree, and over 73 percent of SURE participants enroll in graduate school. May was also the co-creator and co-director of the Facilitating Academic Careers in Engineering and Science (FACES) and University Center of Exemplary Mentoring (UCEM) programs, for which he has been granted more than $17 million from NSF and the Sloan Foundation to increase the number of underrepresented Ph.D. recipients from Georgia Tech. Over the duration of FACES, 433 minority students have received Ph.D. degrees in science or engineering at Georgia Tech – the most in such fields in the nation. As a result of these efforts, May received the Presidential Award for Excellence in Science, Mathematics and Engineering Mentoring from President Barack Obama in 2015.
May is executive vice president of the National GEM Consortium and a member of the National Advisory Board of the National Society of Black Engineers.
May received a B.S. in electrical engineering from Georgia Tech in 1985 as well as M.S. and Ph.D. degrees in electrical engineering and computer science from Berkeley in 1988 and 1991, respectively. A native of St. Louis, Missouri, he is married to LeShelle R. May, and they have two daughters, Simone and Jordan.
"I have greatly enjoyed helming the College of Engineering (one of the best jobs in all of academia), but the leadership of an institution such as UC Davis represents a truly exceptional opportunity," May said. "It is impossible to reduce to mere words how much Georgia Tech has meant to me and to my family. I have literally spent more than half of my life on this campus (55.92 percent to be exact), and that experience has shaped me into the person that I am today. I am grateful to my colleagues, students, staff, and fellow Tech alums for their friendship and the memories that will remain etched in my mind as long as long as I live."