CauteryGuard Wins the InVenture Prize
InternBlitz took home second place, while CauteryGuard also scored the People's Choice Award.
Mar 16, 2017 — Atlanta, GA
A safer medical device used to remove unwanted tissue and to stop bleeding won Georgia Tech's InVenture Prize Wednesday night.
The four biomedical engineering students behind CauteryGuard redesigned an electrocautery device by adding a retractable tip. This change prevents the risk of burns many doctors and patients face from the device's exposed tip. It also eliminates the chance of fires in operating rooms because an exposed tip could come into contact with flammable materials.
The team won $20,000 plus a free patent filing and a spot in Flashpoint, a Georgia Tech accelerator. They also won the $5,000 People's Choice Award, which went to the fans' favorite invention.
"This is really incredible," said Dev Mandavia, a student in Georgia Tech's Wallace H. Coulter Department of Biomedical Engineering. "This validates all the hard work we've put into this device. This will allow us to take it to the next step and bring our product to FDA approval and then eventually start saving the lives of patients and surgeons."
The other team members are: Jack Corelli, Hunter Hatcher and Devin Li.
The two-member team of InternBlitz earned second place, which comes with $10,000, a free patent filing and a spot in Flashpoint.
InternBlitz streamlines the internship application process. It finds internships for students, automatically fills in their personal contact information and resume, and then sends applicants the extra, company-specific questions.
The inventors are: Murtaza Bambot, an industrial engineering major, and Nathan Dass, a computer science major.
The annual InVenture Prize brings together student innovators from all academic backgrounds across campus in an effort to foster creativity, invention and entrepreneurship.
CauteryGuard will now represent Georgia Tech at the ACC InVenture Prize. This competition, which will involve student startups and inventions from each of the 15 universities in the Atlantic Coast Conference, will take place at Georgia Tech March 30 and 31.
"We are so excited to represent Georgia Tech," Mandavia said. "Just seeing the support we've received from everyone, especially everyone in the Coulter Department of Biomedical Engineering, has been incredible."
Learn about the other four finalists here:
Capable Cane is a walking cane that unfolds into a portable, full-sized comfortable seat.
CPR+ is a CPR mask that allows an untrained bystander to perform CPR by walking the user through each step of the process.
Gaitway are transportable, collapsible parallel bars for physical therapists to use when working with children.
PickAR uses augmented reality technology so warehouses can process orders more efficiently.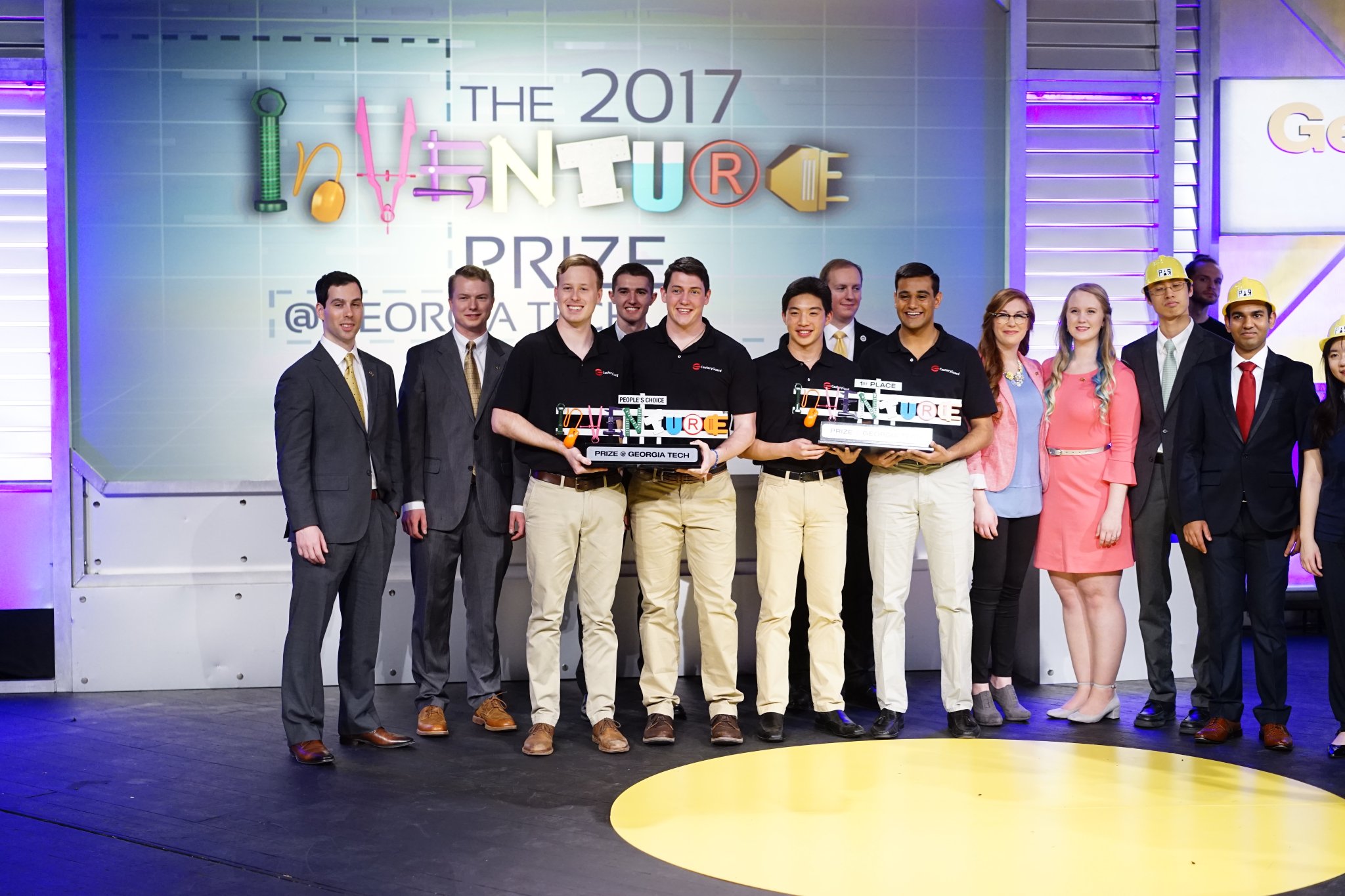 Team CauteryGuard wins not only $20,000 as winner of the 2017 InVenture Prize, but also $5,000 for winning the People's Choice popular vote.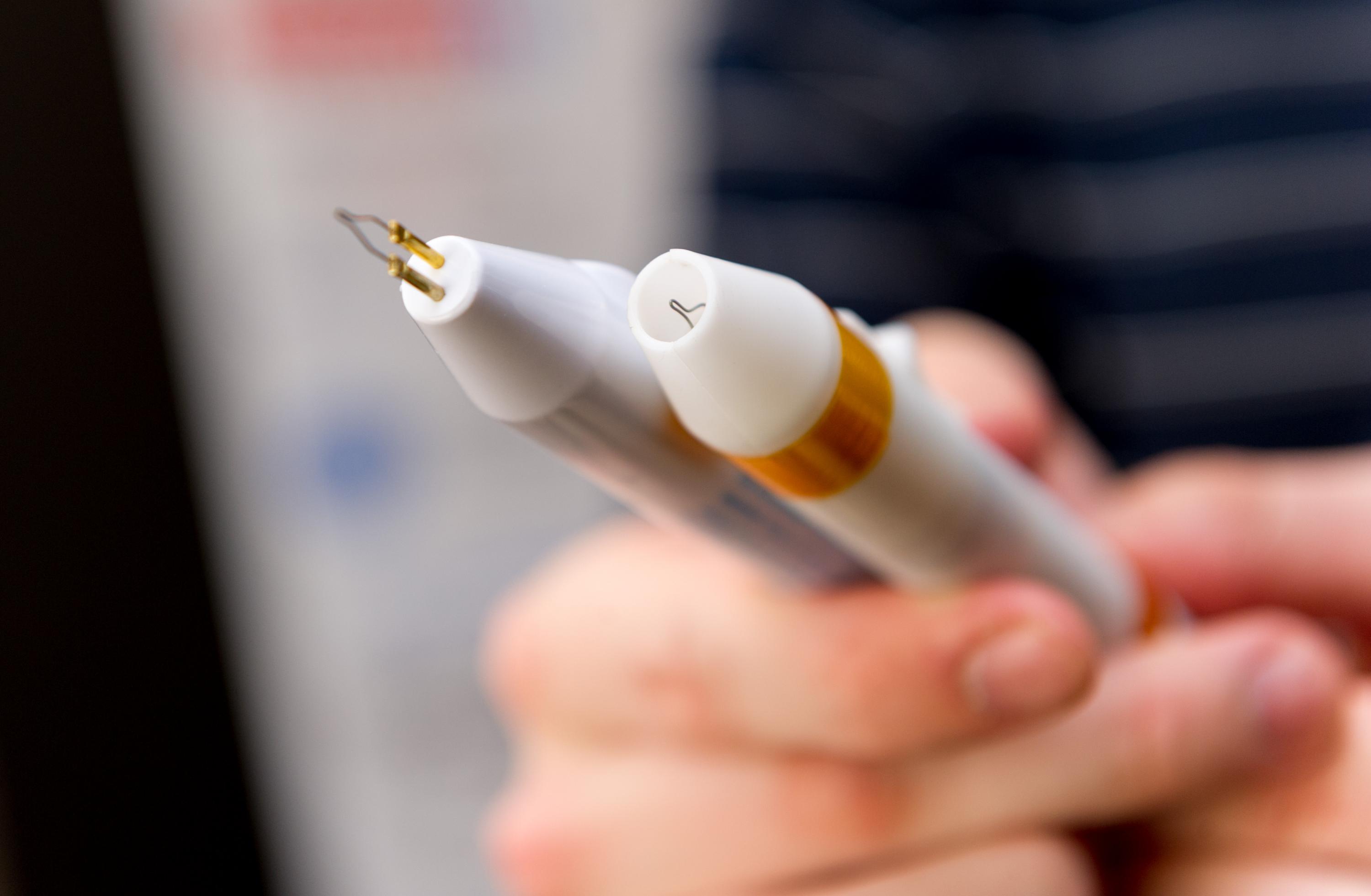 The CauteryGuard device that won the 2017 InVenturePrize is a tool that prevents surgeons and patients from being injured during procedures.