Honors Event Celebrates Outstanding Students
On April 20, the following students were recognized for their achievements throughout the past academic year.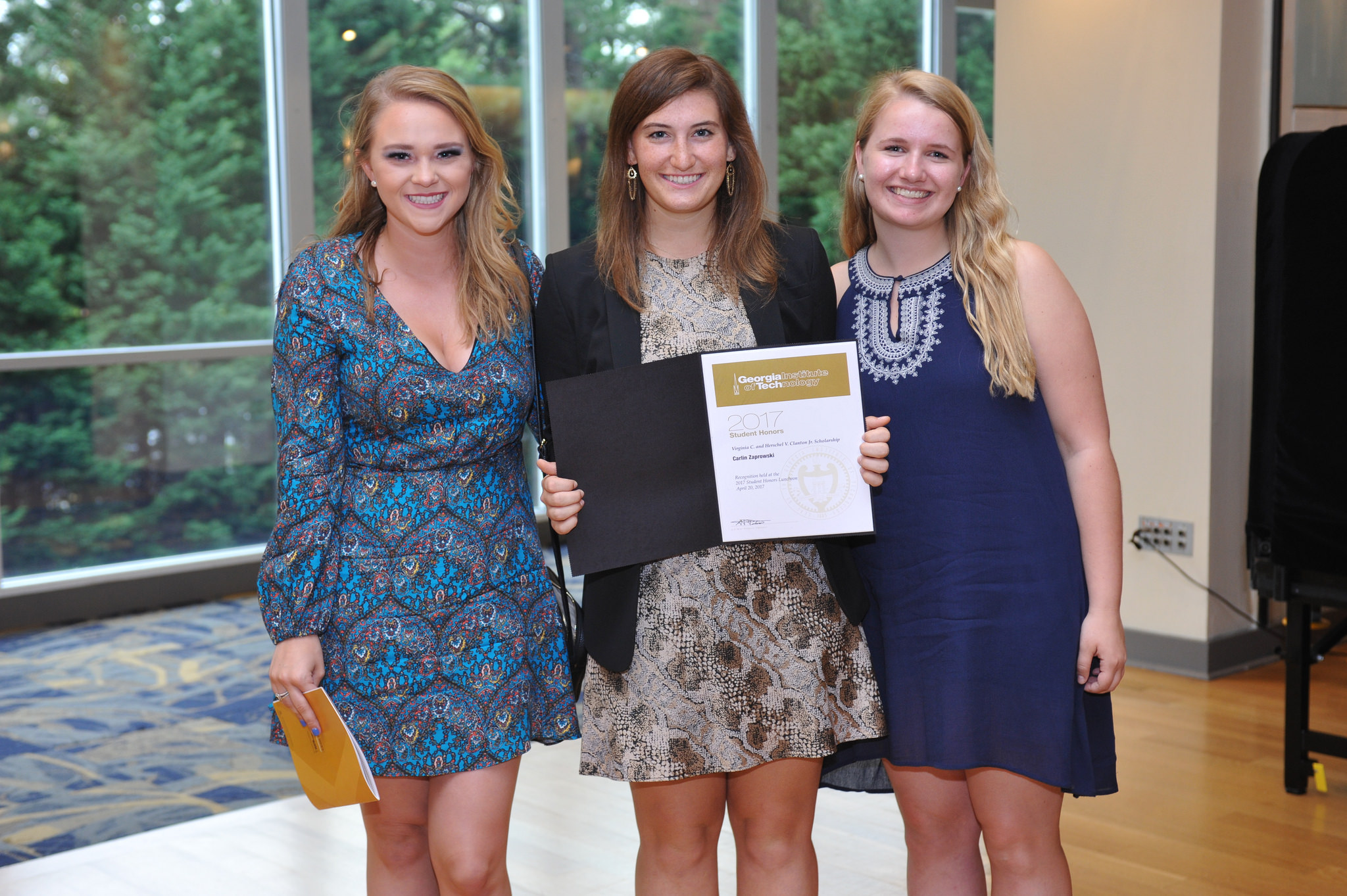 Apr 20, 2017 — Atlanta, GA
This year's annual Student Honors Celebration was held on April 20 at the Student Center Ballroom.
Students were recognized for academic excellence in addition to other outstanding achievements and leadership. Awards were given at both the Institute level and within individual colleges. See photos on Flickr.
Congratulations go out to the following students:
Institute Awards
Alvin M. Ferst Leadership and Entrepreneur Scholarship Award: Arjun Bir and Kaitlin Rizk
Georgia Tech Faculty Women's Club Scholarships: Hannah Geil, Daniel Gurevich, Reed Morris, Margaret Tokos, Samantha Torres
Love Family Foundation Scholarship: Gueorgui  "George"  Tzintzarov and Charles Wang
College Academic Awards
College of Computing
Donald V. Jackson Fellowship: Devavret Makkar, Laurane Saliou, Akhilesh Srikanth
Marshall D. Williamson Fellowship: Varun Agrawal, Rachel Leroy, Samyukta Sherugar
Outstanding Graduate Teaching Assistant Award: Will Johnson
Outstanding Undergraduate Teaching Assistant Award: Saurabh Kumar
Ivan Allen College of Liberal Arts
Excellence in Applied Languages and Intercultural Studies (ALIS) Award: Elizabeth Clark
Homer Rice Award in History and Sociology of Technology and Science: Mario Bianchini
International Affairs Outstanding Undergraduate Student Award: Murry Smith
James Dean Young Writing Award: Emily King
Liam Rattray Award: Ana de Give and Reagan Johnson
College of Design
General Fellowship Award: Catherine Bisson
AIA Henry Adams Medal: Steven Fendley
Alpha Rho Chi Medal: Anna Frost
Stanley, Love-Stanley, P.C. Graduate Award: Zachary Hicks
Stanley, Love-Stanley, P.C. Undergraduate Award: James Garnett
Scheller College of Business
Chambless Wilbern McGill Perseverance Prize: Lonnie Williams
Norfolk Southern Scholarship: Courtney Naser
Dow Chemical-P. C. McCutcheon Prize for Outstanding Student Achievement in Business: Christopher Lung
Jennifer R. and Charles B. Rewis Award for Student Excellence in Accounting: Elizabeth Pickens
John R. Battle Award for Student Excellence: Daniel Obiorah
Naresh K. Malhotra Scholarship: Jill Domzalski
College of Sciences
Cynthia L. Bossart and James Efron Scholarship: Aaron Aizenman
Earth and Atmospheric Sciences (EAS) S. Rutt Bridges Award: Mary Francis McDaniel
Mehta Phingbodhipakkiya Undergraduate Memorial Scholarship: Carson Kirby
Nickelson-Sutherland Prize: Alexander Buser
Roger M. Wartell, Ph.D., and Stephen E. Brossette, M.D., Ph.D., Award for Multidisciplinary Studies in Biology, Physics, and Mathematics: Rachel Barker and Krishma Singal
Virginia C. and Herschel V. Clanton Jr. Scholarship: Carlin Zaprowski
Robert A. Pierotti Memorial Scholarship: Charles Wang
College of Engineering
Aerospace Engineering Outstanding Senior Scholar Award: Madison Lynn Luther
Donnell W. Dutton Outstanding Senior in Aerospace Engineering Award: Yijang Li
Outstanding Academic Achievement in Biomedical Engineering Award: Colin Huber
S.K. Jain Outstanding Research Award in Biomedical Engineering: Shohini Ghosh-Choudhary
G. D. Jain Outstanding Senior in Biomedical Engineering Award: Benjamin Ashby
Chair's Award — Outstanding Chemical and Biomolecular Junior: Taylor Gherardi
Chair's Award — Outstanding Chemical and Biomolecular Senior: David Umo
Buck Stith Outstanding Junior Award in Civil and Environmental Engineering: William Disser
School Chair's Outstanding Senior Award in Civil Engineering: Corinna Slater
School Chair's Outstanding Senior Award in Environmental Engineering: Grace Brosofsky
Electrical and Computer Engineering Undergraduate Research Award: Daniel Canales
Most Outstanding Electrical and Computer Engineering Senior Co-Op Award: Nicole Barcori
Outstanding Computer Engineering Senior Award: Ethan Everett
Outstanding Electrical Engineering Senior Award: Gueorgui  "George"  Tzintzarov
Alpha Pi Mu Academic Excellence Award: Alex Moran
Evelyn Pennington Outstanding Service Award: Harshil Goel
Institute of Industrial Engineers Excellence in Leadership Award: William  "Alex"  Berry and Cole Sutter
American Association of Textile Chemists and Colorists (AATCC) Student Chapter Award for Graduating Seniors: Garrett Lecroy
School of Materials Science and Engineering Outstanding Senior Award: Nicole Kennard and Marco Scaglia
Richard K. Whitehead Jr. Memorial Awards: John DiPrete, Brian Do, Kevin Pluckter, Seth Radman
School Chair's Award — Woodruff School of Mechanical Engineering: Chelsea Silberglied
Woodruff School of Mechanical Engineering Outstanding Scholar Award: Franklin Hailey Brown II
Outstanding Scholastic Achievement Award — Nuclear and Radiological Engineering Program, School of Mechanical Engineering: Paul Burke
Davidson Family Tau Beta Pi Senior Engineering Cup: Hannah Greenwald
Helen E. Grenga Outstanding Woman Engineer Award: Emily Reinhard
COE Honors Day Awards: Andrew Denig, Emily Ferrando, Adam Fultz, Jonathan Jeffrey, Benjamin Lazar, Abigail McClain, Meghan Pollard, Michael Wang, Michael Waters, Jonathan Yaeger, Areesh Zindani