Alavi, Bonnett Named 2017 Women of the Year by Women in Technology
Women in Technology honor Alavi, Bonnett with 2017 Women of the Year Awards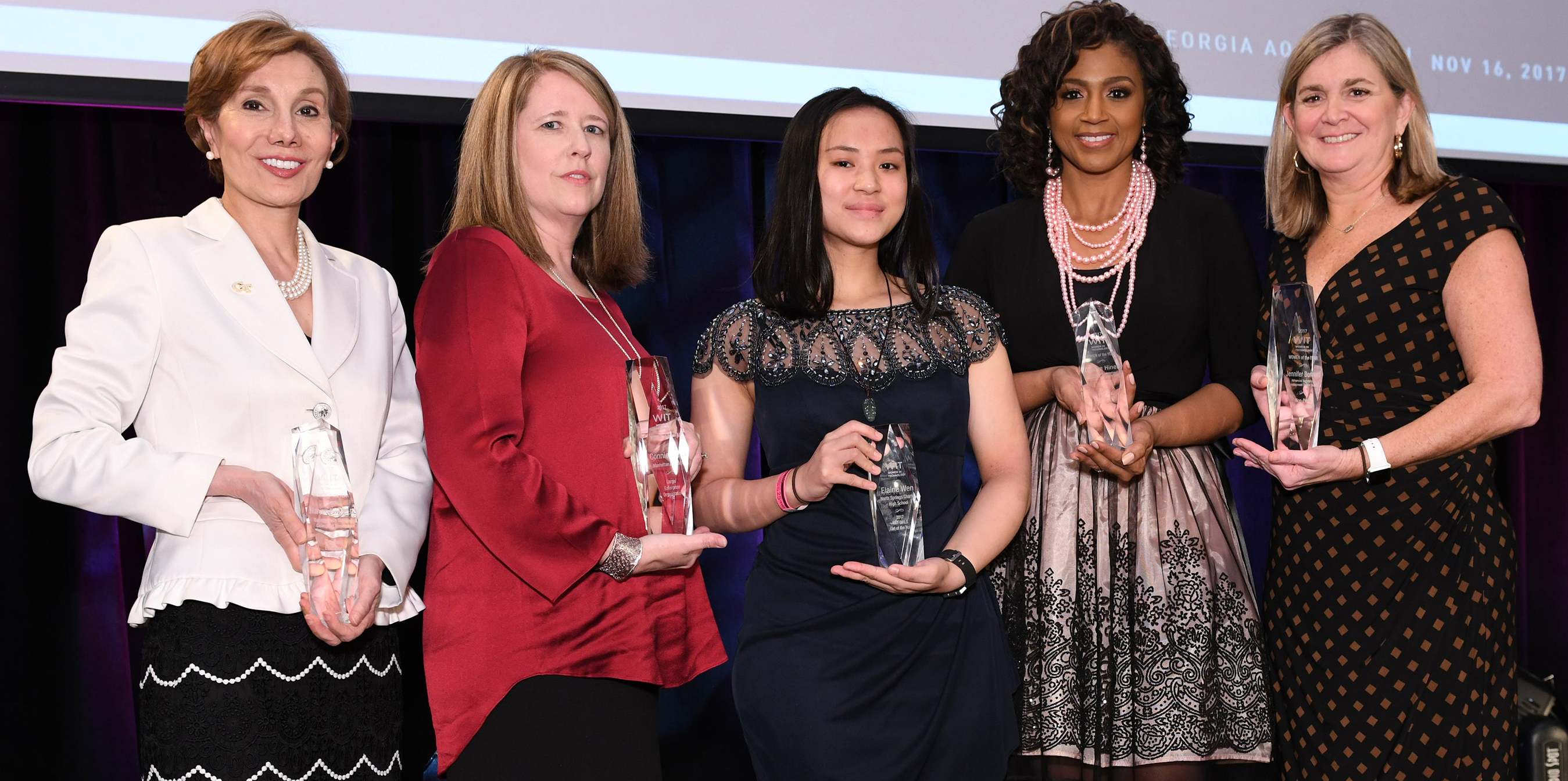 Alavi, Bonnett Named 2017 Women of the Year by Women in Technology
Nov 17, 2017
— Atlanta, GA
Georgia Tech was well represented among the Women in Technology (WIT) Women of the Year winners on Nov. 16, with both Ernest Scheller Jr. College of Business Dean Maryam Alavi and Advanced Technology Development Center (ATDC) General Manager Jennifer Bonnett winning in their respective categories.
Alavi was named Woman of the Year in the Mid-Size Organization and Education Institution category, while Bonnett won Woman of the Year among Non-Profit Organizations.
"I have the good fortune of working at Georgia Tech's Scheller College of Business – the intersection of business and technology," Alavi said. "Our mission aligns with Women in Technology's mission to encourage girls and women to excel at science and technology. In fact, Georgia Tech awards the highest number of engineering degrees to women and underrepresented minorities in the nation."
Alavi has served as dean and Stephen P. Zelnak Jr. Chair of Scheller College since 2014. Before that, she built an illustrious career as a researcher, scholar, mentor, and trailblazer in the field of information technology management. She is now leading the transformation of Scheller College into one of the best technology-oriented business schools in the world.
As dean of a top-ranked business school, Alavi plays a critical role in developing and advancing women at the intersection of business and technology.
Bonnett has been with ATDC since 2011, and as general manager she helps to lead the organization's programming on the campus and throughout the state. She has 20 years of experience in information technology and software development, and is the co-founder of StartupChicks, which empowers female entrepreneurs through education and coaching, community building, and investment. As an entrepreneur and startup founder, Bonnett and her partners raised more than $47 million in funding three companies.
 "I'm honored and thrilled by this win, but this award is really a recognition of the hard, transformative work all of us have done at ATDC these last 18 months," Bonnett said. "This is just as much a win for the amazing and talented team we have at ATDC as it is for me."   
Georgia Tech's ATDC is the state of Georgia's technology startup incubator. Founded in 1980 and funded annually by the Georgia General Assembly, ATDC's mission is to work with entrepreneurs across the state to help them learn, launch, scale, and succeed in the creation of viable technology companies.                                
This year, 12 Women of the Year finalists were selected out of 109 submissions. Each finalist holds a leadership position in a business or STEAM (Science, Technology, Engineering, the Arts, and Mathematics) role within a technology organization in Georgia, or they maintain STEAM leadership positions within a non-technology organization.
Previous award winners affiliated with the Institute all came from the Georgia Tech Research Institute (GTRI). They include Jill Gostin in 2016, Leanne West in 2014, Lora Weiss in 2012, and Margaret L. Loper in 2010.
Throughout its 25-year history, WIT has sought to advance the role of women in the tech industry and to increase STEM education opportunities for girls.
By Jonathan Bowers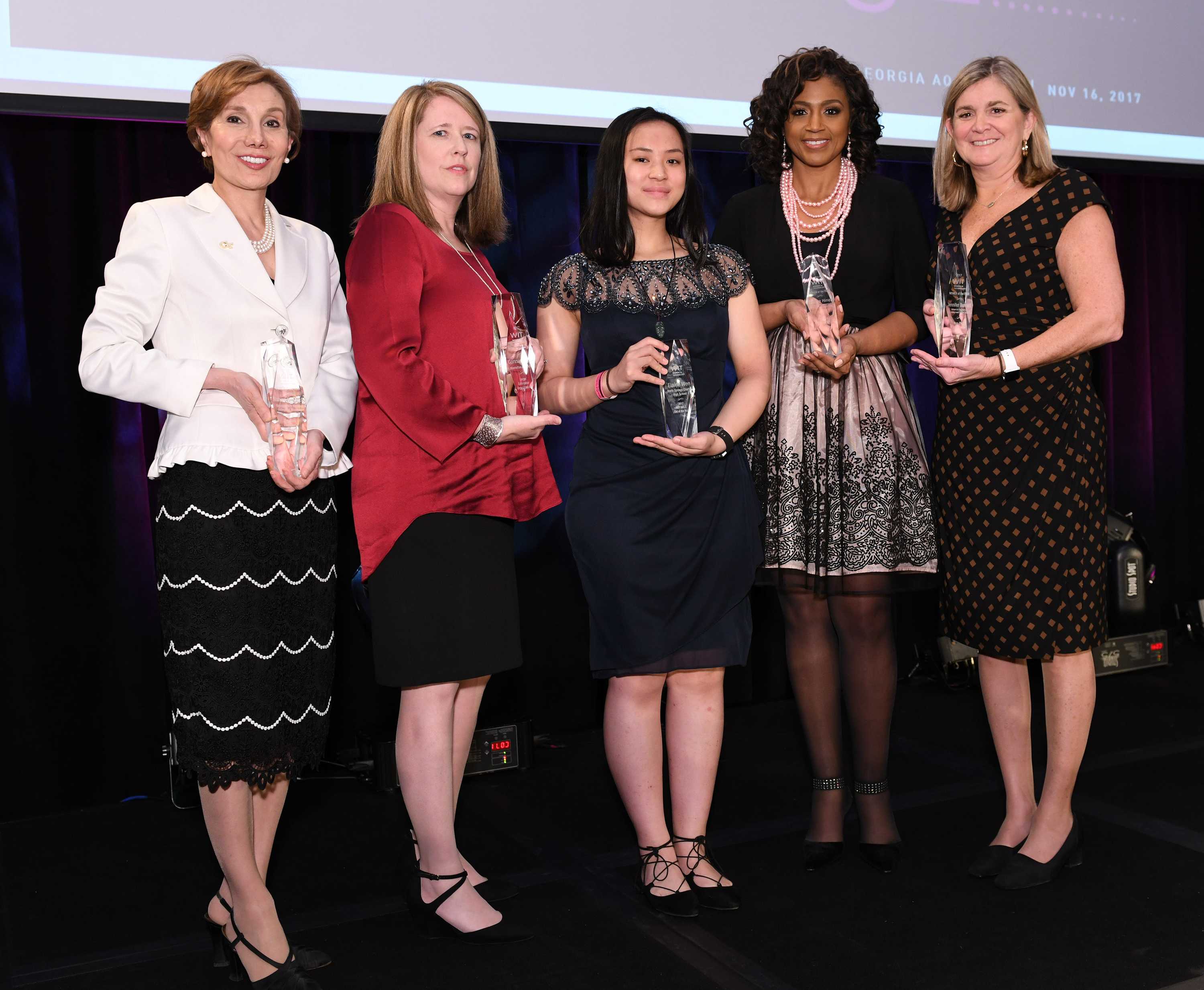 Winners of the 2017 Women of the Year Awards from Women in Technology are, from left, Maryam Alavi, dean of Georgia Tech's Scheller College of Business; Connie Taylor, vice president of global research and development at Manhattan Associates; Girl of the Year Elaine Wen, a student at North Springs Charter High School; Denise Hines, executive director of the eHealth Services Group for the Georgia Health Information Network and eHealth Services Group; and Jennifer Bonnett, general manager of Georgia Tech'