UltraView Wins the 2018 InVenture Prize
The inventor, Kolby Hanley, receives $20,000 and a free patent, and advances to the ACC InVenture Prize competition.
Mar 14, 2018
— Atlanta, GA
Kolby Hanley won Georgia Tech's InVenture Prize Wednesday night for his invention, a first-of-its-kind aiming device for competitive archery.
He won $20,000 plus a free patent filing and a spot in Flashpoint, a Georgia Tech accelerator.
Hanley, a materials science and engineering major, transferred to Tech last year. His lightweight scope with integrated light, called StarLight, is the latest product developed by his company, UltraView. He runs the company from his dorm room.
PedalCreator placed second, a prize that comes with $10,000, a free patent filing and a spot in Flashpoint.
Their device, Disruption, is an affordable guitar effects pedal that gives musicians the freedom to create distortion sounds. Professional musicians are already using the invention and offering feedback.
The inventors are Dallas Condra, mechanical engineering major; Jeremy Leff, mechanical engineering major; and Vanya Padmanabhan, industrial design major.
The People's Choice Award and $5,000 went to pHAM. These students designed a filter to reduce coffee's acidity. They incorporated a mineral blend into the structure of the filter paper, which reduces the acidity of the brewed coffee without negatively affecting the taste.
Four materials science and engineering majors – Michele Lauto, Tyler Quill, Aaron Stansell and Lucas Votaw – invented this product. 
The annual InVenture Prize brings together student innovators from all academic backgrounds to foster creativity, invention and entrepreneurship. This year marked the contest's 10th competition.
Hanley, a competitive archer, advances to the annual ACC InVenture Prize, which includes student startups and inventions from each of the 15 universities in the Atlantic Coast Conference. That competition will take place at Georgia Tech April 5 and 6.
Learn about the other Georgia Tech InVenture Prize finalists here:
Memeois. This team designed an all-meme platform. It crawls the internet for memes and uses machine learning to curate a personalized feed of memes.
Scal-Pal. The team redesigned current blade packaging to make scalpel assembly safer and more efficient. Inventors said this design eliminates the threats posed by exposed blades, which can put health care workers at risk for blood-borne diseases and connective tissue damage.
Tensionr. These students created an easy, safe and effective strap tensioning tool for loads of any shape. It allows for the elimination of razor-sharp steel bands, which frequently cut workers on the hands, arms and face.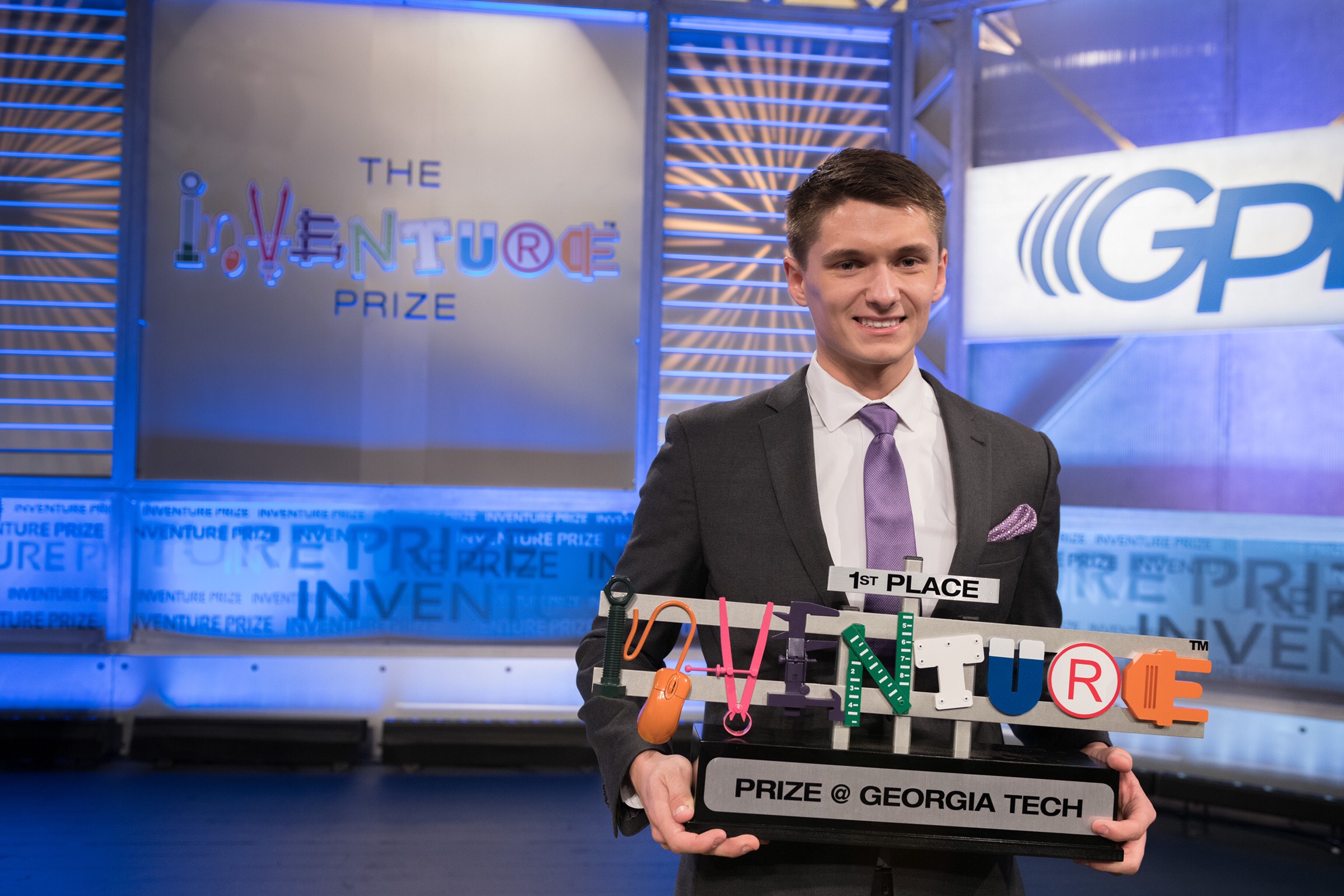 Kolby Hanley won the 2018 InVenture Prize and will received $20,000 and a free patent. Hanley, an archer, invented a new aiming device for competitive archery. (Photo: Allison Carter)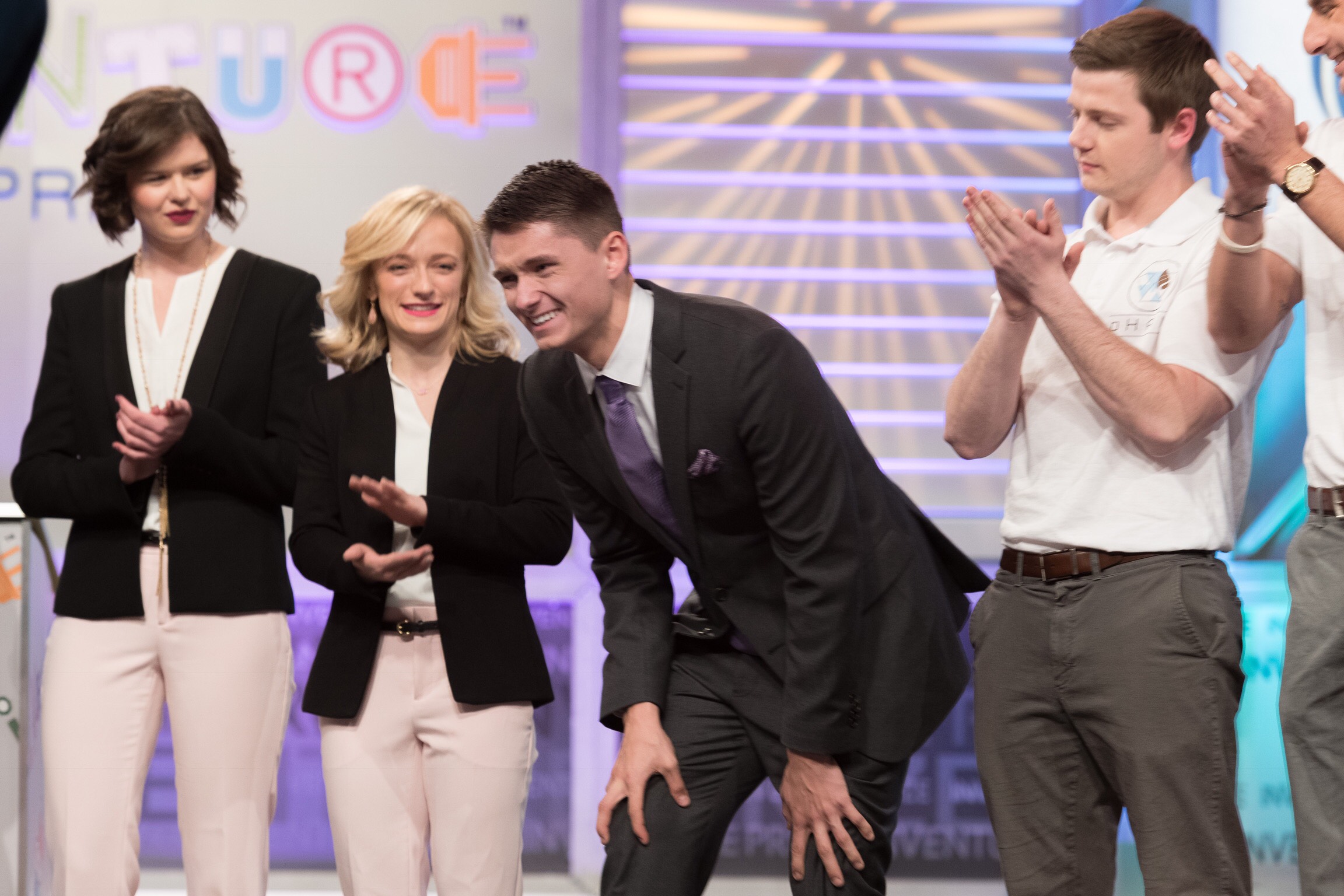 Kolby Hanley reacts after learning he won Georgia Tech's 2018 InVenture Prize. He invented a first-of-its-kind aiming device for competitive archery. (Photo by Allison Carter)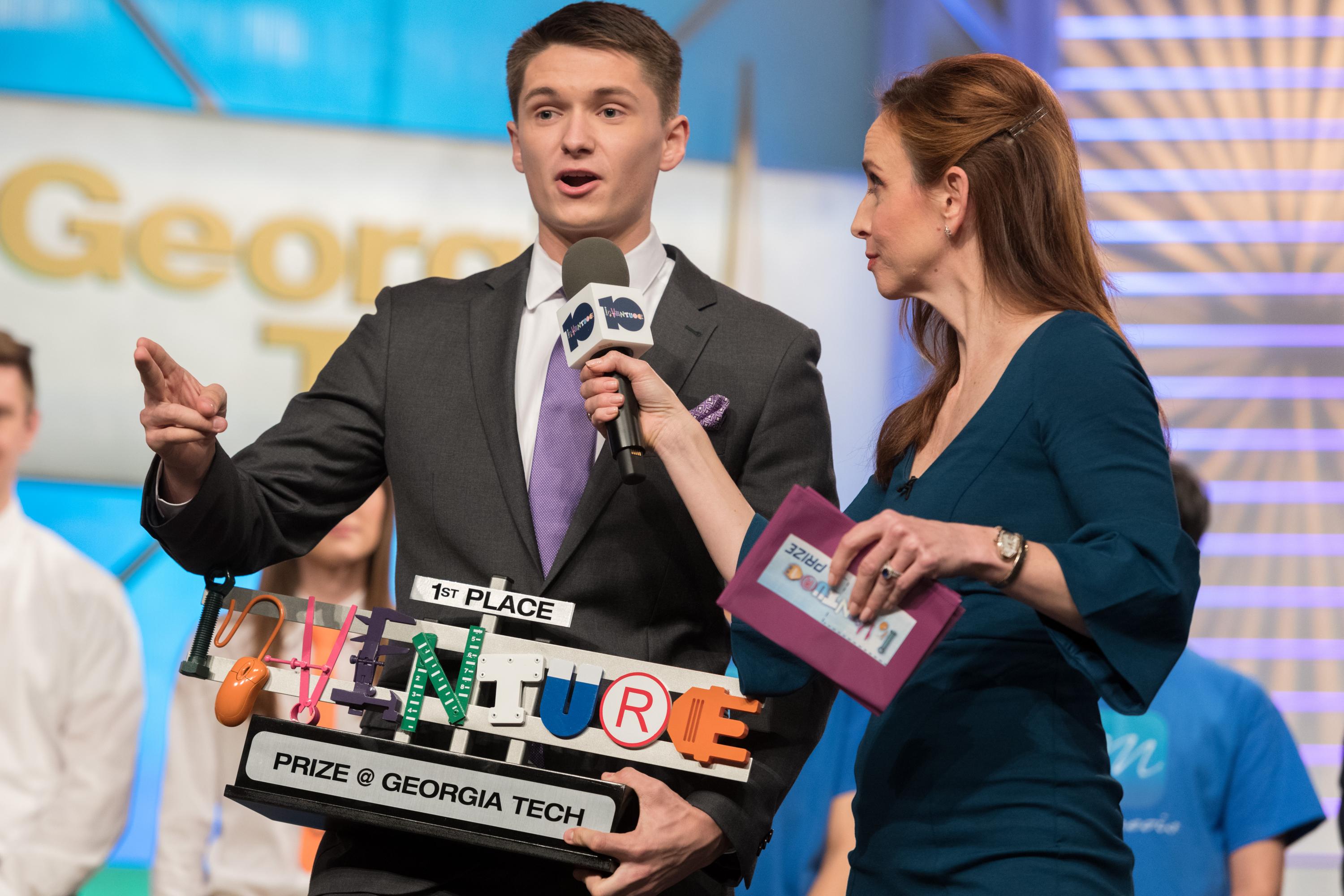 Kolby Hanley won Georgia Tech's 2018 InVenture Prize for his invention, a first of its kind aiming device for competitive archery. Hanley talks with host Faith Salie. (Photo by Allison Carter)