SAA Gift to Tech Awarded to LGBTQIA Resource Center
Tech's LGBTQIA Resource Center is the 2018 Gift to Tech winner, receiving more than $35,000 for new office space and programmatic support.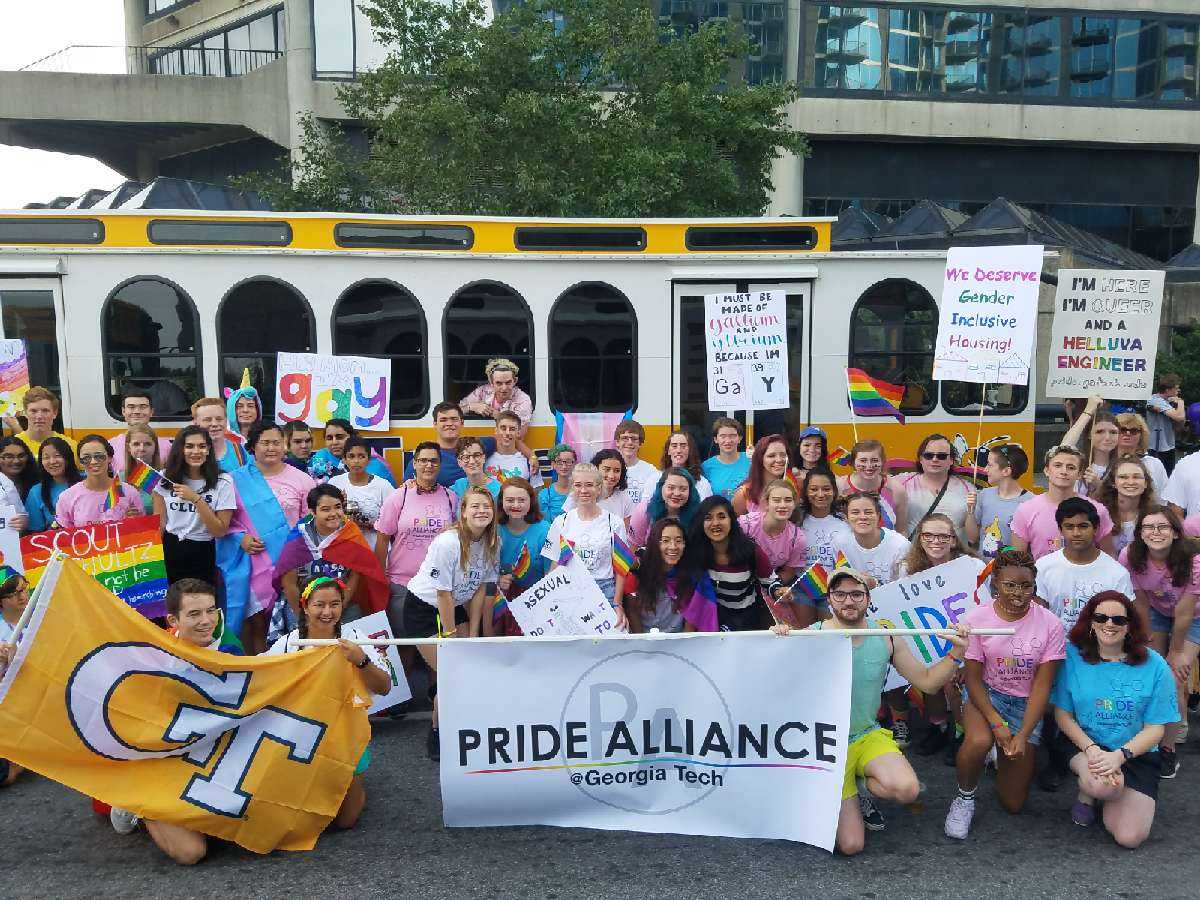 Georgia Tech Pride Alliance at the 2017 Atlanta Pride Festival.
Apr 17, 2018
— Atlanta, GA
The votes are in, and the LGBTQIA Resource Center is the 2018 Gift to Tech winner. The organization will receive more than $35,000 for new office space and programmatic support.
Gift to Tech funds come from the nearly 7,000 Student Alumni Association (SAA) members, with $5 of every yearly membership donation going toward the SAA Gift to Tech. The Georgia Tech student body chooses the top three project submissions, and the SAA members select the final Gift to Tech project winner.
"We are so thrilled and excited to get this award," said Aby Parsons, director of the LGBTQIA Resource Center. "After Pride Alliance President Scout Schultz's death last year and the loss to the campus LGBTQIA community, morale in the community was low. So, this award is gratifying in a lot of ways because it was voted on by students. I think a lot of our queer and trans students really feel like it was very affirming to have their peers show support in a very tangible, meaningful, and important way."
The LGBTQIA Resource Center's winning proposal is a plan to help create a multi-room center with space for two staff offices, an office for community partners to host drop-in hours with critical wellness services (HIV testing, counseling, peer coaching, ministry), a reception area with student assistant workspace, a study area with work stations, a resource library, lounge area, and group meeting space. The second part of their proposal is a request for funds to expand programs in three areas: training and education, health and well-being, and visibility.
The LGBTQIA Resource Center opened in 2014 in a small room in the Smithgall Student Services Building and relocated to a slightly larger room in 2016. This year the Center will move into a bigger space in the same building. Parsons envisions a larger Center to bring Tech on par with resource centers at some of its peer institutions. Construction is expected to take place during the summer, with the new space opening in the fall.
Parsons said that while the LGBTQIA Resource Center already had approval for the construction project, they didn't have funds to furnish the space and equip it with resources and programmatic supplies needed.
"So, we asked Gift to Tech to fund the stocking of the center, with remaining funds going to creating online training modules for faculty about classroom inclusion, and also developing our queer health and well-being series," Parsons said.
The award will be presented during a ceremony on Thursday, April 19, at 11 a.m. in the Alumni Association Ballroom. Then at 6 p.m., the LGBTQIA Resource Center will host Lavender Graduation and the Lavender Awards in the Wardlaw Center's Gordy Room.
Previous SAA Gift to Tech winners have included: Tech Ends Suicide Together, Excel at Georgia Tech, Student Mental Health, and Klemis Kitchen.