Lifting Communities with Smart Technology
Georgia Smart Communities Challenge helps small and large cities improve quality of life.
Jun 12, 2018 — Albany, GA
While the four Georgia communities represent different parts of the state, their leaders expressed a similar goal: improve the quality of life for residents.
The cities of Albany and Chamblee and the counties of Chatham and Gwinnett will soon embark on year-long projects to address housing blight, traffic and transportation woes and sea level rise along Georgia's coast. These projects are supported through the Georgia Smart Communities Challenge, a Georgia Tech-led initiative that brings together industry and public agencies to support large and small neighborhoods in their efforts to implement cutting-edge smart technologies.
Georgia Tech President G.P. "Bud" Peterson and other state leaders traveled to Albany Tuesday to announce the four winners.
"Georgia Tech is very proud to have played a role in this program, which we believe will improve the quality of life in the participating communities and also provide models for other communities throughout our state to consider as they strive to make life better for their citizens," Peterson said.
The program provides seed funding and access to technical assistance, expert advice and a network of peers. A Georgia Tech researcher will advise and conduct research in support of each group's goals. 
The teams will each receive $50,000 in grants and $25,000 from Georgia Tech in research support. The selected communities each raised an additional $50,000.
Georgia Power is the lead sponsor of the program, with additional financial support from the Atlanta Regional Commission.
In Albany, the city and its collaborators will establish an efficient inventory of key community housing and associated infrastructure conditions. City leaders said this housing resiliency project will provide them with the data to make sure resources are being spent and allocated in ways that will result in the biggest positive impact.
"This program allows us to be part of work that is on the cutting edge and will prepare our community for the future," Albany Mayor Dorothy Hubbard said. "It means so much for the community to know we have Georgia Tech behind us and that this is a project we should be doing."
The Gwinnett County project will evaluate traffic management technologies for improved vehicle mobility throughout the region. The technology will improve safety and connectivity. For this project to succeed, the county needs to make sure it's investing in the right hardware and technology, said Vince Edwards, project coordinator with the Gwinnett County Department of Transportation.
"This an opportunity for us to work with the premier research institution in the state and have access to world-class talent," he said. "We know working with Georgia Tech and the other partners will help us make sure we are successful."  
Georgia Smart organizers expect the strategies developed by the selected communities will serve as models that could be implemented elsewhere across the state.  
The program is just one part of the work Georgia Tech is doing in this area. The Institute has partnered with the city of Atlanta since 2015 to design, implement and study Smart City initiatives.
"For us, Georgia Smart represents a great opportunity to branch out to other parts of our state," Peterson said.
Work on the projects will begin in September and continue through September 2019.
Georgia Tech will conduct site visits to the four communities and hold workshops, conference calls and other activities to support the projects, said Debra Lam, managing director of Smart Cities and Inclusive Innovation at Georgia Tech.
"Creating and implementing smart communities is hard work and it's difficult," she said. "But we know we're on the right path when we are purposely empowering local communities themselves with data and technology."
Additional Georgia Smart partners include: Association County Commissioners of Georgia, Georgia Centers for Innovation, Georgia Chamber of Commerce, Georgia Department of Community Affairs, Georgia Municipal Association, Global City Challenges, Metro Atlanta Chamber and Technology Association of Georgia.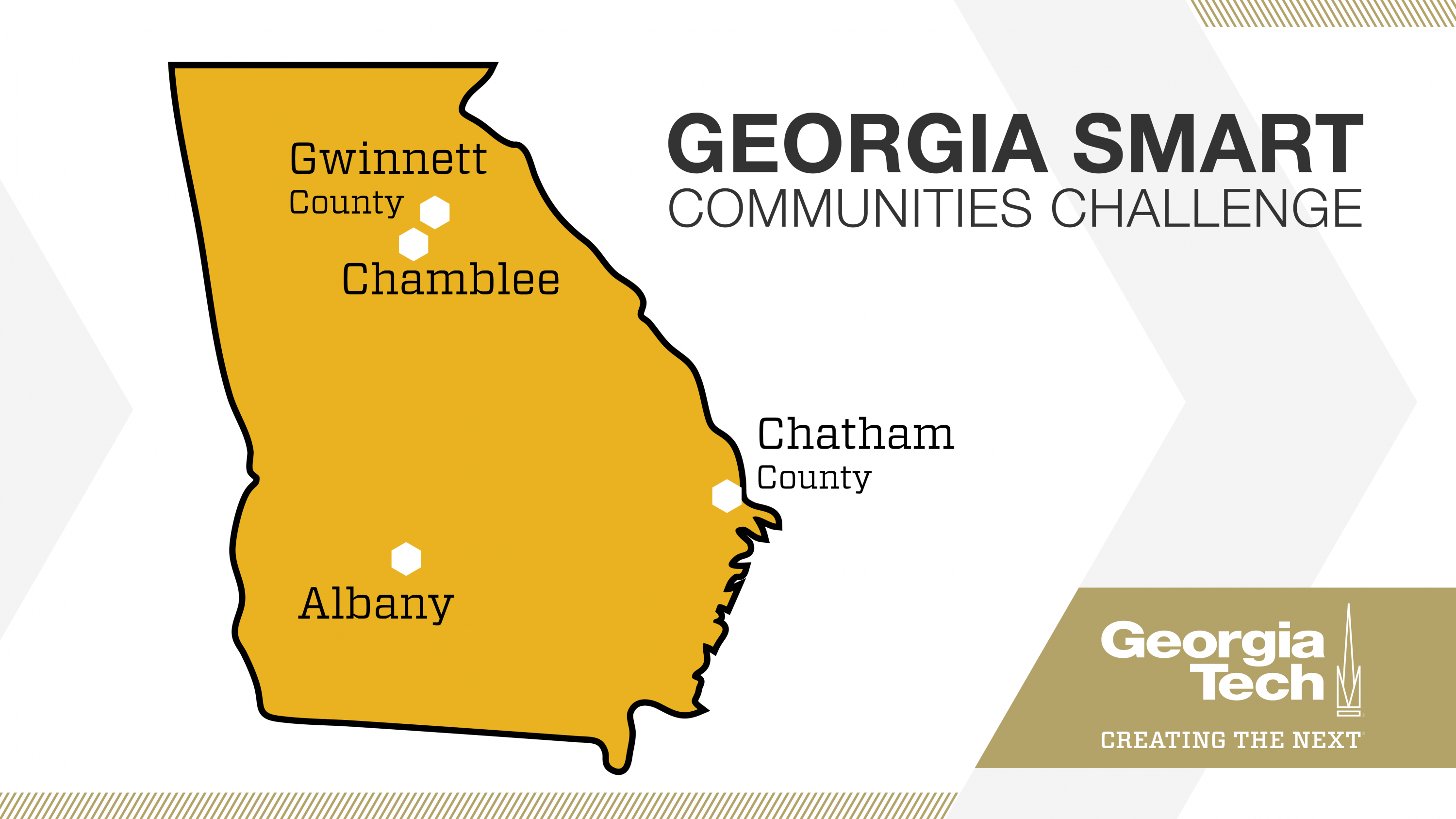 Albany, Chamblee, Chatham County and Gwinnett County won the Georgia Smart Communities Challenge, a Georgia Tech-led initiative that brings together industry and public agencies to help local governments.