Condoleezza Rice to Give Keynote at Georgia Tech Fall Commencement Ceremony
Former Secretary of State to deliver address to undergraduates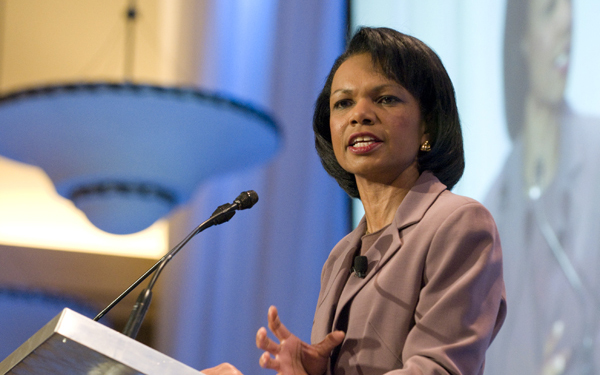 Condeleezza Rice, 66th U.S. Secretary of State
Oct 09, 2018
— Atlanta, GA
Former U.S. Secretary of State Condoleezza Rice will deliver the keynote speech at the Georgia Institute of Technology's undergraduate commencement ceremony on Saturday, December 15 at McCamish Pavilion on the Tech campus.
Rice, who is the Denning Professor in Global Business and the Economy in the Stanford Graduate School of Business, served as the 66th Secretary of State in the administration of George W. Bush from 2005 to 2009. She is the second woman and first African American woman to hold the post. She also served as national security advisor under President Bush, the first woman to hold that position.
An expert in foreign policy, the former Soviet Union and Europe, Rice is also the Thomas and Barbara Stephenson Senior Fellow on Public Policy at the Hoover Institution, and a professor of political science at Stanford University. She is a founding partner of RiceHadleyGates, LLC., an international consulting firm established to help companies implement their strategic plans and expand their portfolios in emerging markets.
Georgia Tech President G.P. "Bud" Peterson said Rice's record of public service makes her the ideal person to address the Institute's newest graduates.
"We encourage our students to serve as leaders prepared to address some of society's greatest challenges. I can think of no greater role model to speak to our new graduates than Condoleezza Rice," said Peterson. "Secretary Rice is an accomplished diplomat, public servant, educator and thought leader who will inspire and challenge the next generation of leaders."
Rice's public service career is indeed extensive.
In 1986, while an international affairs fellow of the Council on Foreign Relations, she also served as special assistant to the director of the joint chiefs of staff. From 1989 through March 1991, Rice served on President George H.W. Bush's National Security Council staff. She served as director, senior director of Soviet and East European Affairs, and, special assistant to the president for national security affairs.
As a professor of political science, Rice has been on the Stanford faculty since 1981 and has won two of the institution's highest teaching honors – the 1984 Walter J. Gores Award for Excellence in Teaching and the 1993 School of Humanities and Sciences Dean's Award for Distinguished Teaching. She is the author or co-author of a number of books, including two bestsellers, No Higher Honor: A Memoir of My Years in Washington (2011) and Extraordinary, Ordinary People: A Memoir of Family (2010).
From 1993 to 1999, Rice served as Stanford University's provost, a period during which she oversaw a $1.5 billion annual budget and an academic program totaling 1,400 faculty members and 14,000 students.
In 2013, Rice was appointed to the College Football Playoff Committee (CFPC), formerly the Bowl Championship Series (BCS). She chaired the NCAA's Commission on College Basketball, a group formed to examine and improve the integrity of the sport, in 2017.
Rice, a native of Alabama, is a fellow of the American Academy of Arts and Sciences. She has appeared four times on Time 100, Time magazine's list of the world's 100 most influential people. In 2004 and 2005, Rice was ranked the most powerful woman in the world by Forbes magazine.
Rice earned her Ph.D from the Graduate School of International Studies at the University of Denver in 1981 and her master's degree from the University of Notre Dame in 1975. She earned her bachelor's degree in political science, cum laude and Phi Beta Kappa, from the University of Denver in 1974.