Bringing the World to North Avenue: Meet Allison Noffsinger
Allison Noffsinger is the assistant director of On-Campus Internationalization in the Office of International Education, a role she seemed destined to fill.
Feb 08, 2019 — Atlanta, GA
Allison Noffsinger is the assistant director of On-Campus Internationalization in the Office of International Education (OIE), a role she seemed destined to fill.
She was born in Virginia, moved to Colorado, then grew up mostly in a college town in Mississippi. After graduating from high school, she moved to Arequipa, Peru, for a year as a Rotary Youth Exchange Student where she lived with a host family and attended a local high school and university. Following that year, she returned to the U.S. to attend college at Western Kentucky University, where she double-majored in public relations and Spanish, and double-minored in international business and Latin American studies.
While in college, Noffsinger studied abroad in Seville, Spain for a semester and also used her summer vacations to independently backpack around Europe and the Americas, visiting more than 25 countries before graduating. After graduation, she moved to Tel Aviv-Jaffa, Israel, for a year as a Rotary Ambassadorial Scholar, where she took classes at Tel Aviv University, interned at an Arab-Jewish community center, and toured the country speaking to rotary clubs. Upon returning to the United States, she began working in international education full time for a few years before attending graduate school at Florida International University in Miami to study international relations. After completing her degree, she worked as an international student recruiter for Hult International Business School. She was based in Miami, but worked most of the time in Colombia.
In 2015, while in a coffee shop in Cali, Colombia, she received a job alert for a global internship advisor position at Georgia Tech.
"I was fascinated by it," Noffsinger said. "The job looked interesting, and I was impressed that a university had the resources to dedicate one and a half staff people to global internships."
In addition to being interested in the job, she had already been thinking about moving to the Southeastern U.S. to be near her sick father. Months prior, she had also met her now husband, Ben Reed, at the 2014 FIFA World Cup in Natal, Brazil, and he just happened to live in Atlanta.  
"So, all of the forces combined, and I applied for the job," Noffsinger said.
She worked as the global internship advisor in OIE for a couple of years, then transitioned to her current position in November 2017. She is responsible for the On-Campus Internationalization workgroup in OIE, which oversees: the Global Leadership Living Learning Community of 118 first-year, degree-seeking students; International House (or I-House), a living learning community for 46 students comprised of 50 percent exchange students and 50 percent degree-seeking students; and the International Plan, a globally focused degree designation program that develops students' global competence within the context of their majors. She and her team are also responsible for International Education Week, TECHsplore, TECHsplore Summer, and additional intercultural learning opportunities.
"We focus on international opportunities that occur right here on campus. We bridge the gap between incoming international students and education abroad," Noffsinger said. "There's a lot of variety, and it's exciting. There's always something new. In one of the realms, something big is happening at any given time."
Noffsinger said the most rewarding part of her job is seeing students evolve while at Tech. She likes seeing how much the students grow even within their first year, and seeing the choices they make regarding their major or what emphasis they will put on their careers.
"I get to work with students in areas that they are passionate about," she said. "Students opt in to a lot of the things we're doing — such as a living learning community or International Education Week events. It's a passion for them, so getting to work with them on things that I'm also passionate about is really rewarding."
The most challenging part of her job is working with so many distinct areas.
"I'm really passionate about each area I work with, whether it's living learning communities, the International Plan, or intercultural learning. I want to give everything the time it deserves, while making sure I find the right balance," Noffsinger said.
Away from work, Noffsinger is very involved with the local soccer community and loves how the sport is intertwined with her zest for international travel and her curiosity of different cultures. She has played soccer since age 5, and she has traveled to four World Cups, including the most recent in Russia in 2018.
She and her husband are on the board for Resurgence, an official supporter group for Atlanta United, and they are also in leadership roles for the American Outlaws – Atlanta Chapter, a supporter group for U.S. Soccer. Through Resurgence, she has worked with local organizations such as Trees Atlanta, Meals on Wheels, and Soccer in the Streets, among others, to give back to the Atlanta community. Recently, she helped raise over $8,000 for Soccer in the Streets, through the second annual Resurgence Supporters Invitational, a soccer tournament held at the MARTA Station soccer fields in Atlanta's West End Community.
"We're expecting our first child in April, so we're stepping down from the board of Resurgence. But, we'll still be very involved," Noffsinger said.
She and her husband are already thinking about how they will travel to the next World Cup in Qatar in 2022 — with their baby in tow.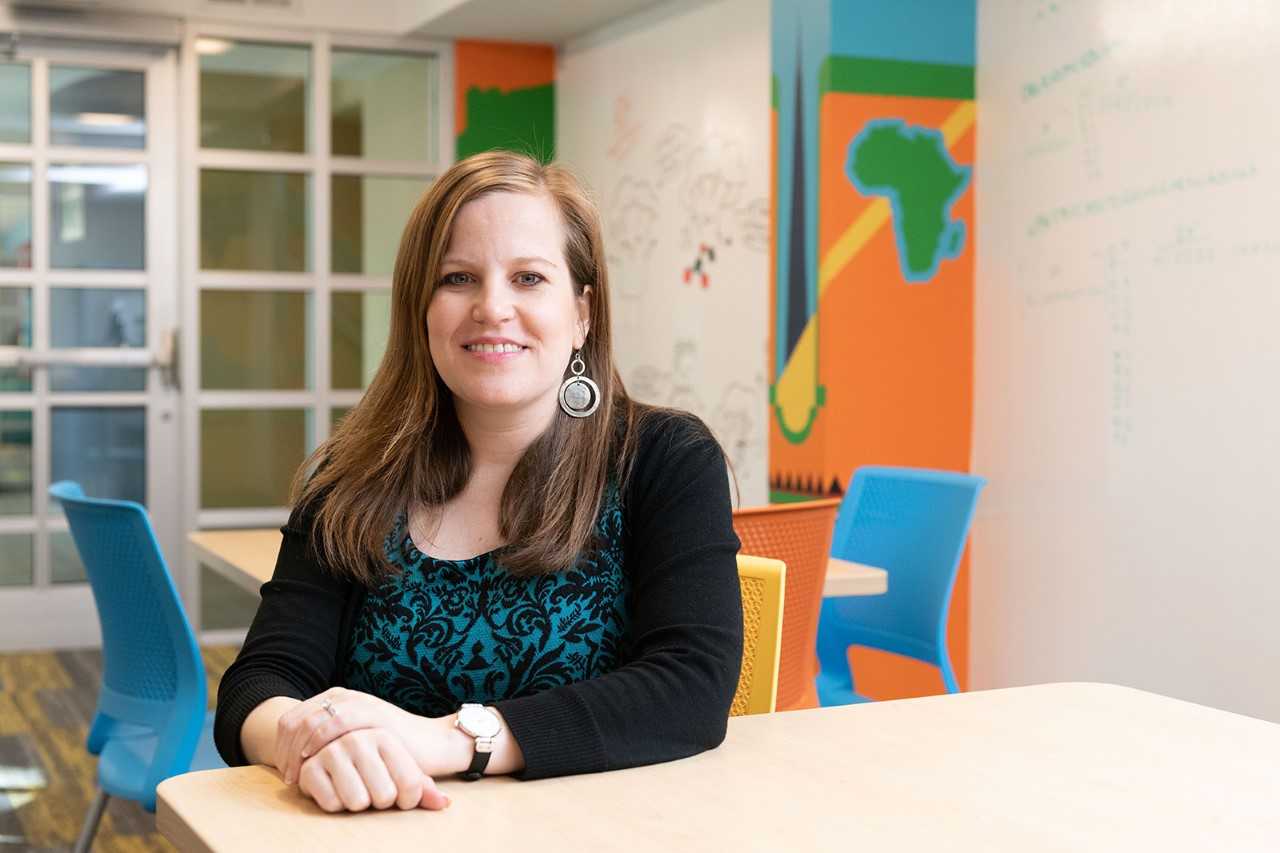 Allison Noffsinger, On-Campus Internationalization, OIE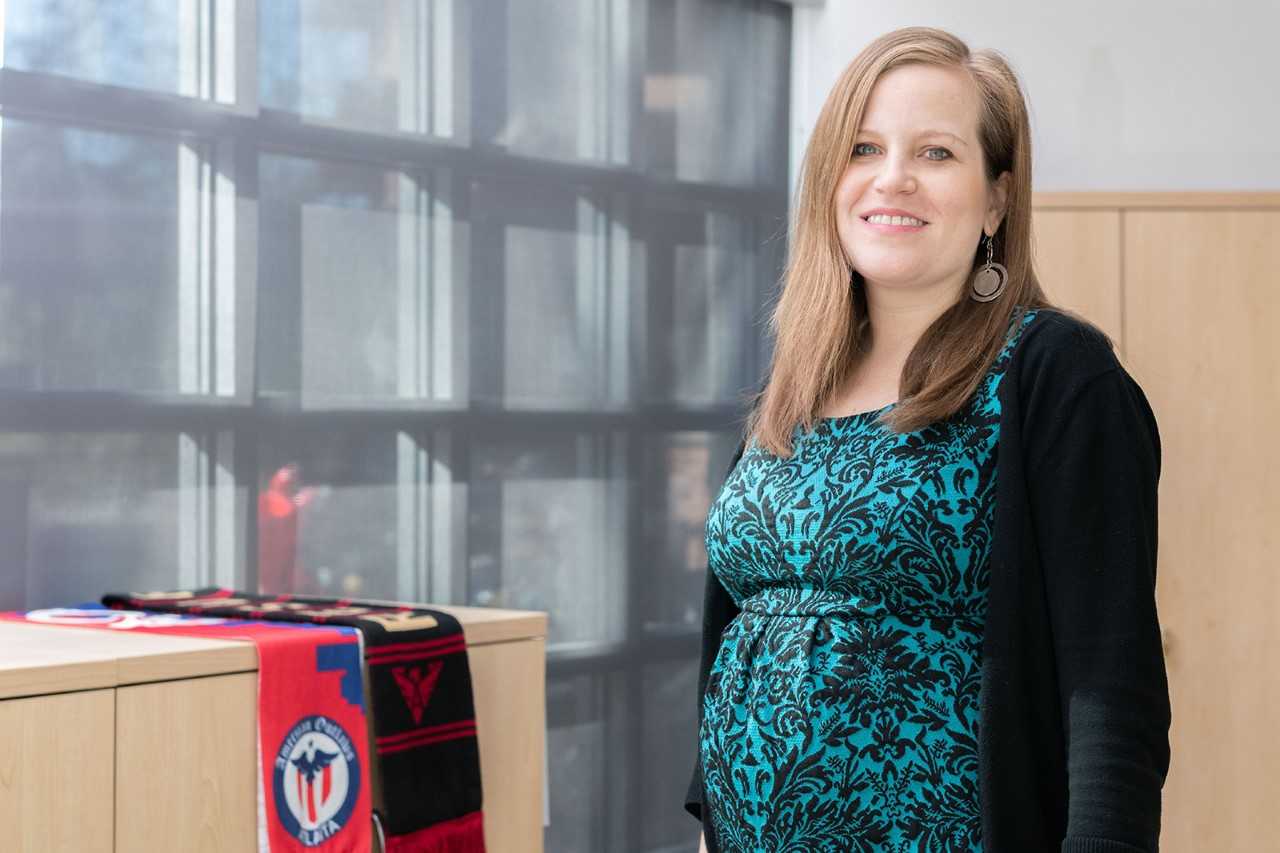 Allison Noffsinger, On-Campus Internationalization, OIE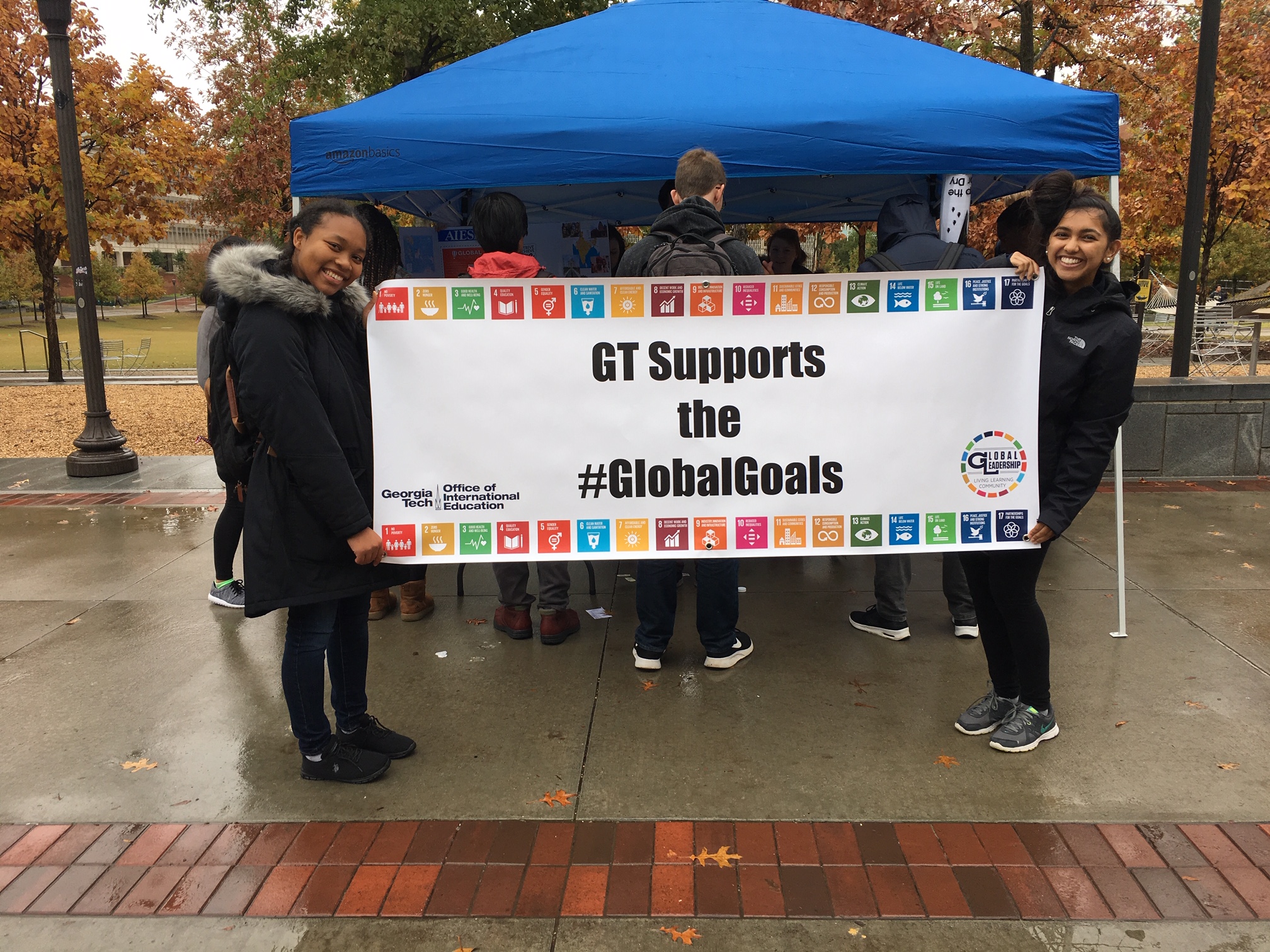 Students participating in Tech's living learning communities have global goals.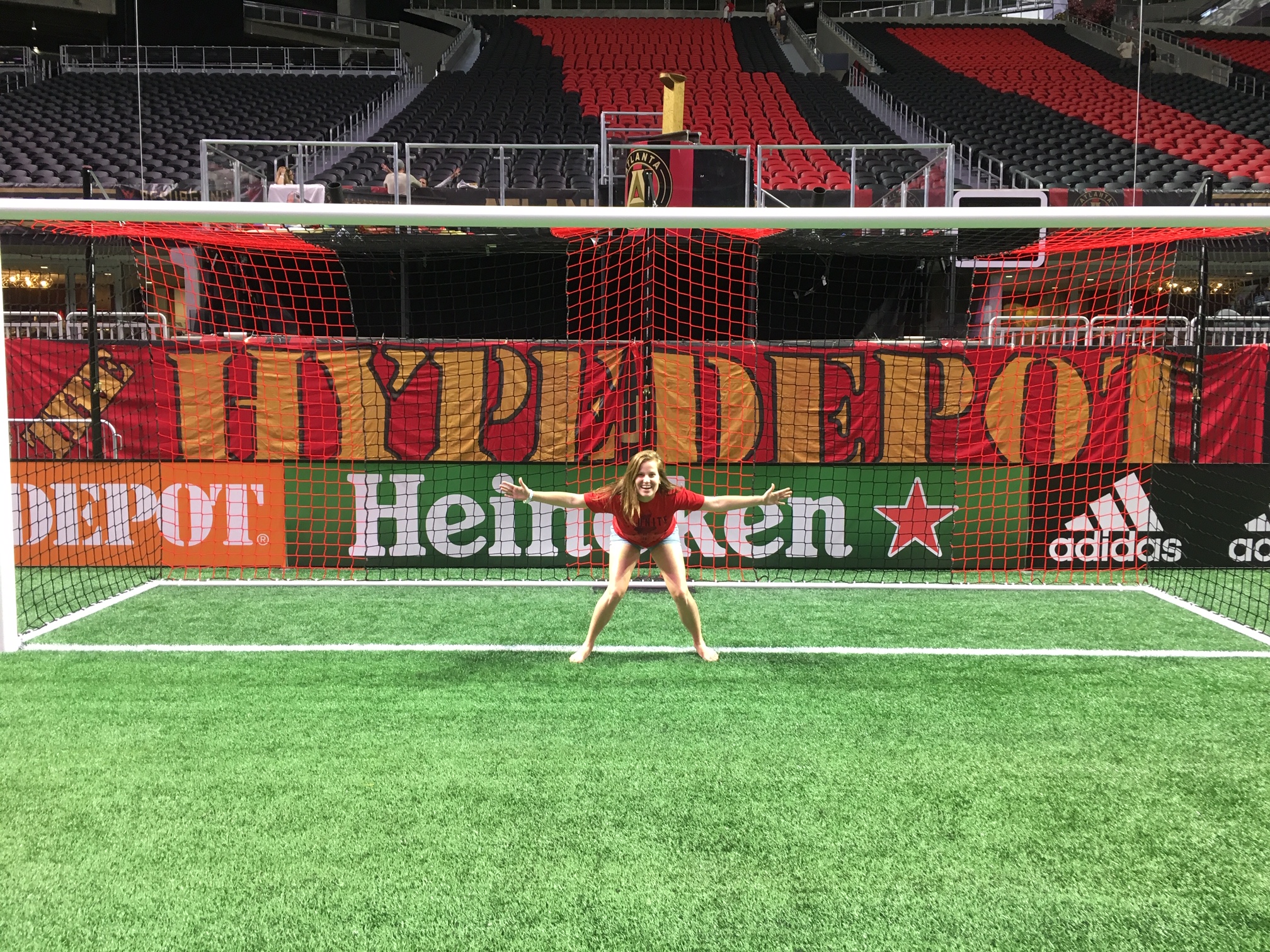 Allison Noffsinger on the field at Mercedes Benz Stadium. She and other Atlanta United supporters were setting up the tifo and flags in the supporter section the night before a game in September 2017, during the team's inaugural season.