Meet Camilla Brewer, a Welcoming Face at the LGBTQIA Resource Center
Camilla Brewer, coordinator for the LGBTQIA Resource Center, organizes programs, events, and training for the campus community.
Mar 18, 2019 — Atlanta, GA
Camilla Brewer, coordinator for the LGBTQIA Resource Center, has been in the newly created position since May.
"Tech hiring this position has really helped our center grow," Brewer said. "I'm focusing on student-facing initiatives while our director, Aby Parsons, focuses on faculty and staff initiatives. We're able to say 'yes' to more. We're able to do more and be at more places."
Brewer coordinates programs, events, and training for the campus community. This includes organizing discussion groups for students, training facilitators to conduct programs, conducting two- to four-hour training sessions, and co-coordinating large-scale events such as student welcome receptions and Lavender Graduation for LGBTQ students.
Because of her welcoming demeanor, Brewer has had several students that have either come out to her or felt comfortable enough to have a personal conversation with her.
"This semester has been particularly interesting. We have experienced an influx of students who are coming out to themselves or may be questioning their sexual orientation or gender identity," Brewer said. "I love that I get to make very real connections with students who may not have that anywhere else. That's really special. It can be difficult some days, but I'm willing to be that resource for students."
The most rewarding part of Brewer's job, she says, is when students have success, and they share that with her.
"The most challenging part of my job is when I fail — or a student fails. I understand that failure is a natural part of any process," she said. "But, it's painful to watch students — and myself — go through difficult times, grief, loss, and just pain in general."
She said it's also a challenge to interact with people who may not see the value in the work the Center does. As an example, she mentioned those who ask what the Center is doing or who the Center is engaging, yet there is little attempt to absorb the information.
"I love answering questions and helping people grow," she said. "The challenging part is when people don't want to grow."
Brewer applauds the direction Tech is taking regarding serving the student body, and she hopes it continues to develop.
"I wish that Georgia Tech had a larger network of student support services," she said, "which I think we're seeing now, with the Path Forward — Together initiative and the resources being allocated to mental health, more counselors being hired, a new intake center opening — these are things that will help us get more work done proactively across departments and divisions."
Away from the office, Brewer enjoys bullet journaling, going to concerts, and cooking, which is a new hobby.
"Cooking is making your own food with your own hands, so it's like a form of art for me," she said. "I really enjoy learning what foods work well for my body. I'm cooking paleo foods: vegetables, lean meats, good fats, no added sugar. I pretty much cook everything from scratch, including curry sauce," she said.
Every Sunday she cooks for about five hours, preparing food for the week.
"It's a lot, but I enjoy it. It's my time to decompress and reset for the week."
Brewer has a few favorite meals, including a dish called the bowl of doom.
"It's ground beef with green onions, sweet potatoes, a fried egg, salsa, and avocado. I also add a sauce made of sriracha, honey, and fresh lime juice. It's sort of like a hash or a scramble."
With her bullet journaling — a dot grid journal system for tracking the past, organizing the present, and planning for the future — she's able to keep up with important dates (using monthly and weekly spreads), monitor new music being released, track paleo meals she likes, take notes, and, sometimes, just doodle. She also keeps mementos from events she's attended so she'll have a record of them.
"I typically bullet journal on the weekend as part of my 'Sunday refocus day.' I fill in other things during the week."
With her concert-going hobby, Brewer says she "feels music so strongly that going to live concerts is like another world for me. I went to Music Midtown alone. I needed to see Fall Out Boy (being a Chicago native) and Sylvan Esso. It was cool going alone because I had never done anything like that by myself. I could focus specifically on getting myself there, listening to the music, and not having to coordinate logistics with a group."
Another one of her favorite bands is CHVRCHES, and she's especially excited about an upcoming show by Florence + the Machine.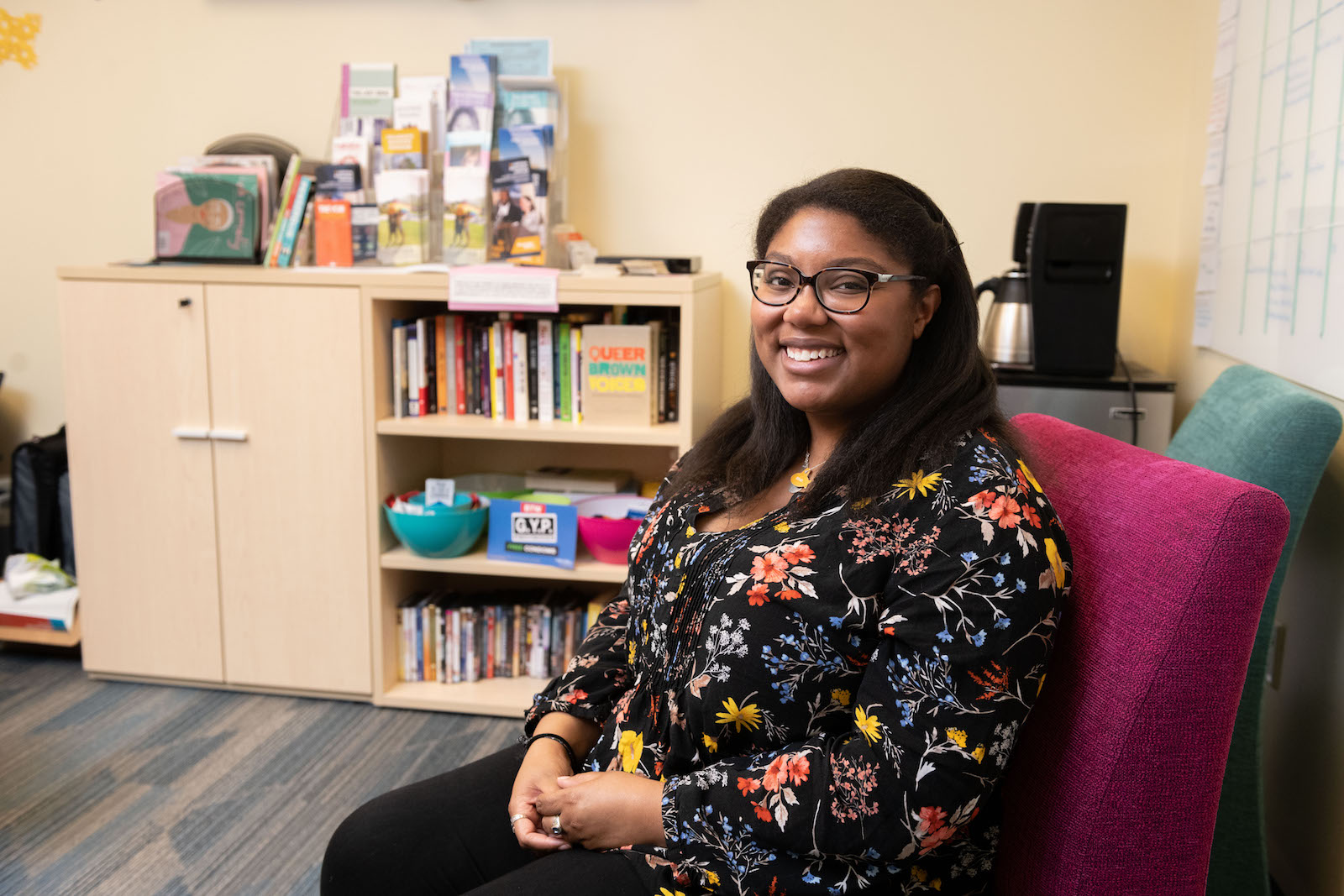 Camilla Brewer, coordinator, LGBTQIA Resource Center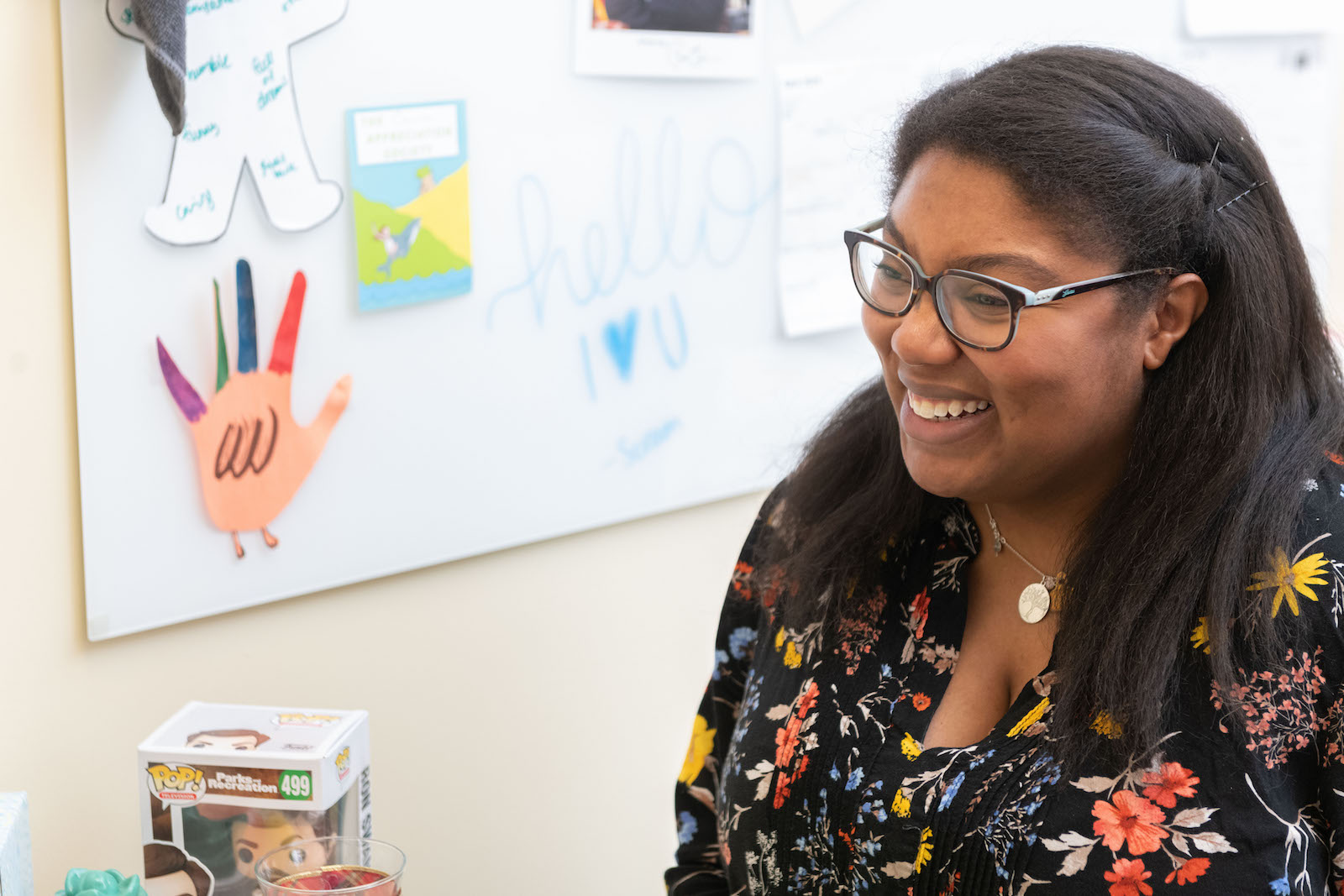 Camilla Brewer, coordinator, LGBTQIA Resource Center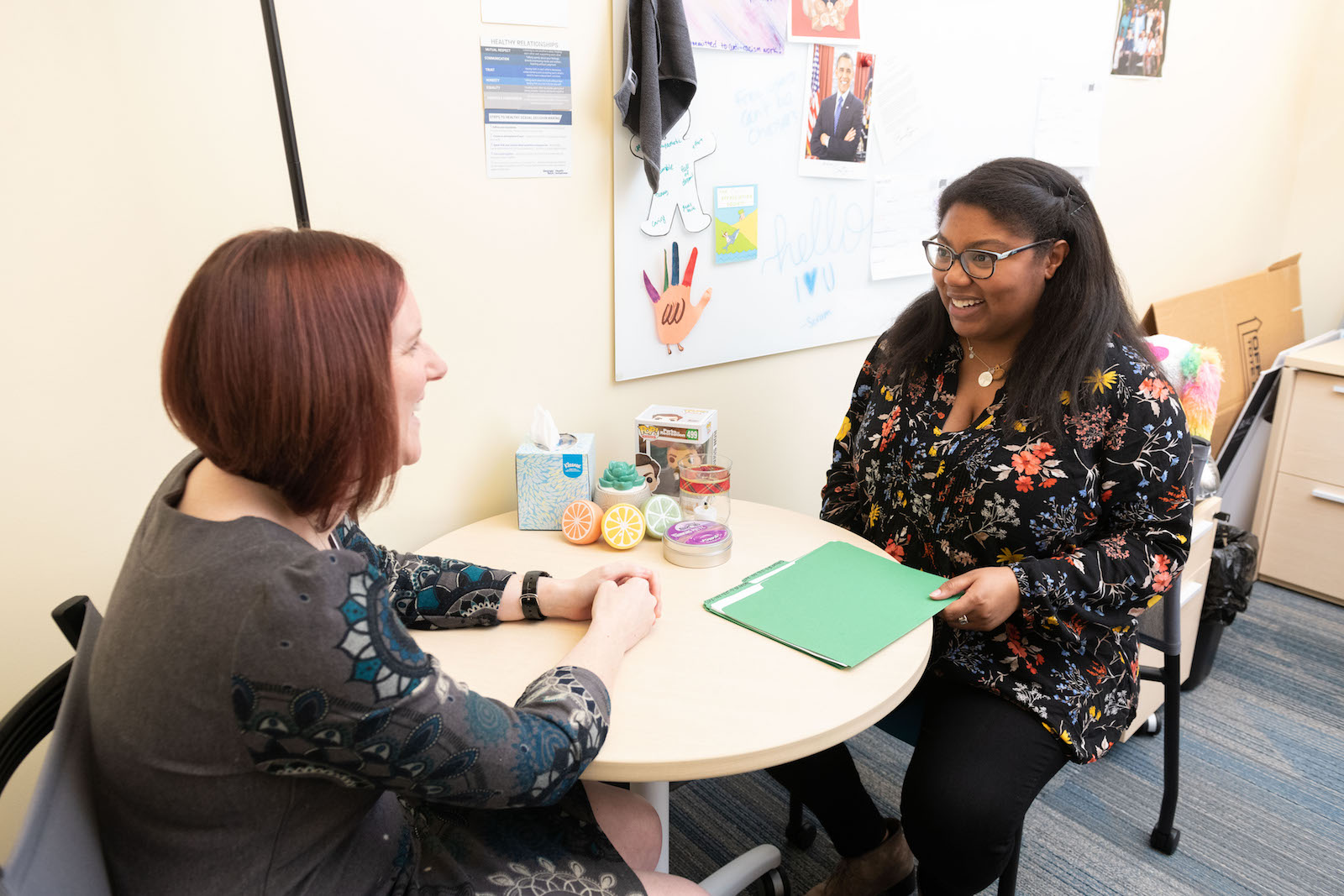 Camilla Brewer (R), coordinator of the LGBTQIA Resource Center, chats with Aby Parsons, director of the Center.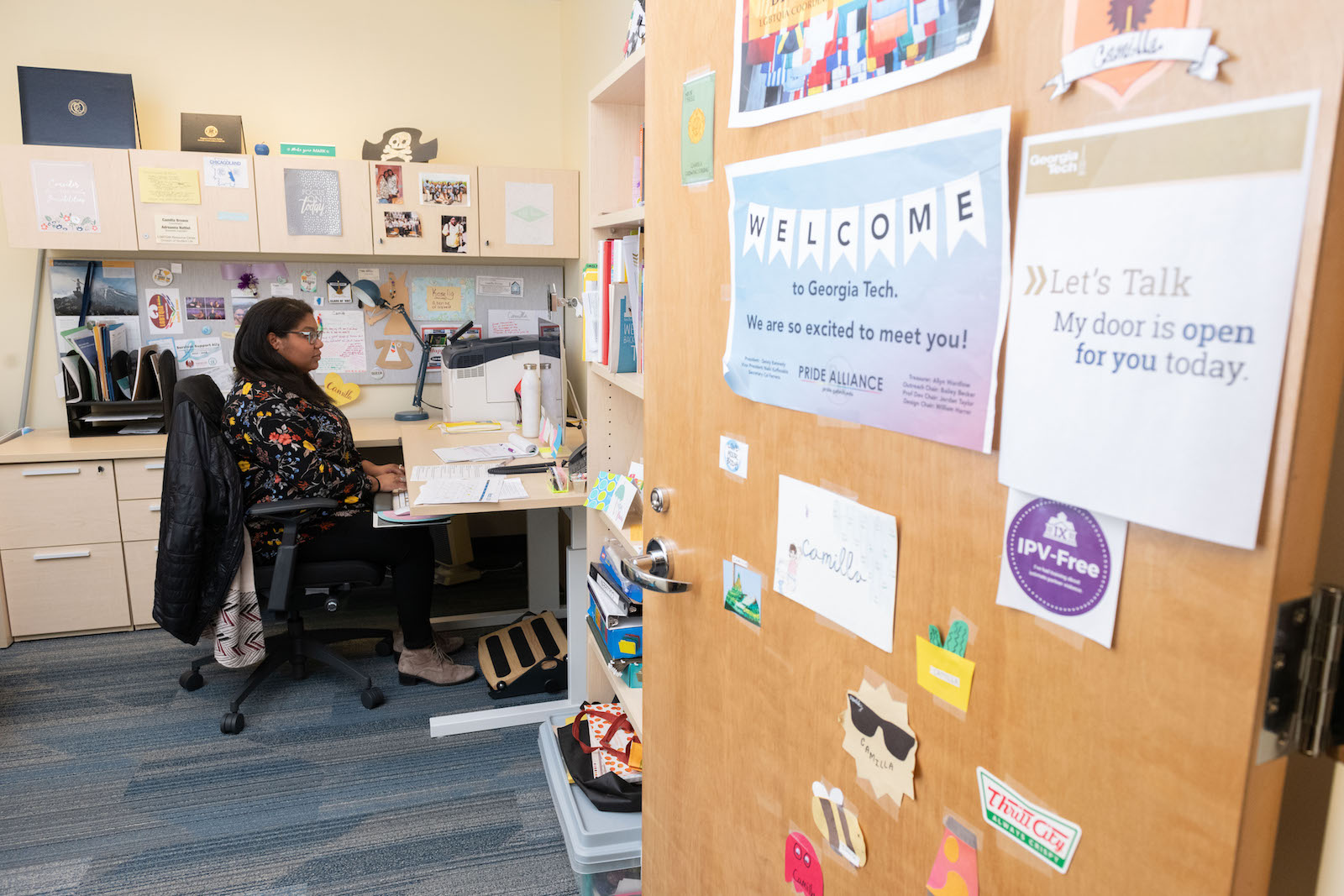 Camilla Brewer, coordinator, LGBTQIA Resource Center