SLS Interns Help Build Sustainable Communities
This summer, 27 students were placed with 23 different government, non-profit, and community host organizations.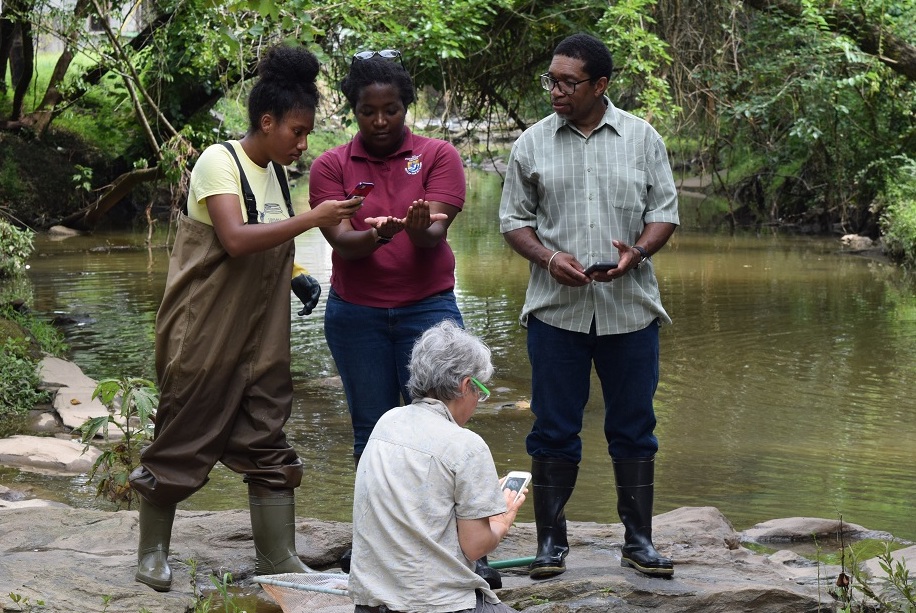 One of the SLS interns works with her host group in hands-on research. (Credit: Center for Serve-Learn-Sustain)
Aug 02, 2019 — Atlanta, GA
The Center for Serve-Learn-Sustain (SLS) is preparing to wrap up the second year of its summer internship program. This year, 27 interns were placed with 23 host organizations, including government, nonprofit, and community partners. The interns span a wide variety of majors, and their responsibilities are determined by the needs of their hosts.
Mira Kaufman, a rising third-year public policy major, is currently interning with the urban agriculture director and the AgLanta project in One Atlanta: The Mayor's Office of Equity, Diversity, and Inclusion. She spends her days doing anything from coordinating events to editing grants to researching policy initiatives.
Kaufman's interest in sustainability is nothing new; in high school, she volunteered at Zoo Atlanta and worked on her school's urban farm. Those experiences drew her to a career in sustainability, and the SLS internship has strengthened her desire to work in this field.
"This job has given me the chance to use some of the skills from my major in the real-life setting of a city government, and has only intensified my interest in policy, particularly on the local level," she said.
Adair Garrett, a rising third-year civil engineering major and sustainable cities minor, is spending the summer with the Georgia Farmers Market Association (GMFA), where she works both inside and out of the office. On her days outside, Garrett helps run GMFA's Just Food pop-up markets in communities that lack access to fresh, local produce. When she's indoors, she designs toolkits for market managers across the state, analyzes the data collected at the Just Food markets, and researches food justice news for GMFA's publications.
"Studying civil engineering has provided me with the hard skills for data analytics and the basics of graphic design, but this internship has reminded me that these skills are just tools to help good intentions become good actions," Garrett said.
The SLS internship program enables participants to approach sustainability from a wide range of perspectives, such as Cara McClain, a rising fourth-year majoring in applied languages and intercultural studies, and Kate Ferencsik, a rising fourth-year psychology major.
McClain was not particularly interested in sustainability until she heard about the SLS internship. Most of the work in her major focuses on international development, and she wanted to find a way to apply those skills to local Atlanta communities. She found a position with the Regional Centres of Expertise (RCE) Greater Atlanta Youth Network, and has spent her summer helping to develop a fellowship that will partner students across nine universities with local and corporate case study sponsors. Together, these groups will research their progress toward implementing some of the 17 Sustainable Development Goals, set by the United Nations in 2015.
"My work on international projects has helped me learn about global issues, but ultimately led me to realize that I also want to do work that will benefit the community that raised me and that I still live in," she said.
Ferencsik's ideas about sustainability have also changed, thanks to her internship. She has devoted her summer to working as a community engagement intern for the Georgia Smart Community Corps in Savannah, in the department charged with installing sea level sensors that will help emergency planning and response across Chatham County. Her job is to develop relationships with local partners, to help establish a framework that can aid the sensors in increasing emergency awareness and resilience in individual communities.
"Prior to this internship, I separated sustainability into two distinct paths: a way of life and a career path," Ferencsik said. "Through this internship, I have learned that sustainability is a mindset, more than anything, which intertwines them."
As the interns prepare to wrap up their summers, they are already contemplating the meaning and significance of their experiences.
"The internship showed me the value of asking many questions and ensuring I understand the overarching goal before I start work on the smaller objectives to achieve it," Kaufman said.
"I've been able to practice learning how to learn as I continuously navigate new places, engage new people with GFMA's mission, research for new articles, and develop new technological skills," Garrett added.
McClain and Ferencsik credit their internships with helping them develop new strategies for approaching challenges. On one hand, McClain has started to appreciate the value of incorporating creativity into her project planning.
Ferencsik, meanwhile, has discovered that in trying to make vulnerable communities resistant to natural disasters, there are often issues of social inequity that have long gone unaddressed and make community engagement difficult.
"I've learned that the best way to get through [these challenges] is to maintain a positive attitude that reflects the resilience you wish to create," Ferencsik said.
Each of the SLS interns is required to write a reflection on their summer, which will be published on the SLS Reflection Blog. To learn more about this summer's SLS interns, check out this story from the Office of Undergraduate Education. For more information on the program, including requirements for both interested students and partners, visit the Center for Serve-Learn-Sustain's internship page.