Atlanta Honors College Namesake, Mayor Ivan Allen Jr., through Newly Dedicated Bridge in Downtown Atlanta
The Path Bridge connecting downtown to the Westside highlights the legacy of Mayor Ivan Allen Jr.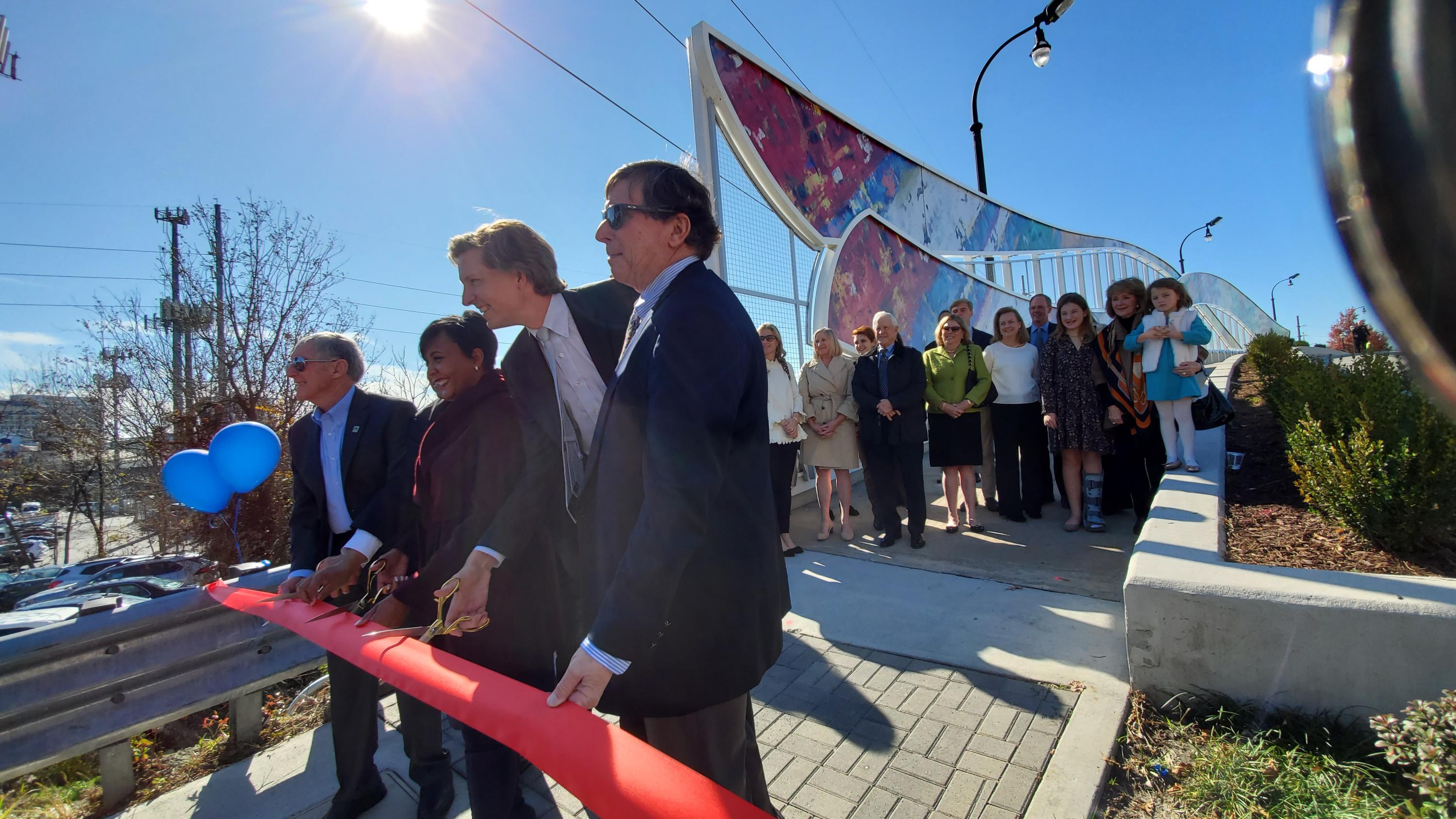 Ivan Allen Jr. Legacy Bridge
Nov 26, 2019 — Atlanta, GA
The Ivan Allen College of Liberal Arts namesake, Mayor Ivan Allen Jr., was celebrated on November 25 with the dedication of a downtown Atlanta bridge as a new outdoor walking museum in his name. An alumnus of Georgia Tech (Commerce 1933), Allen transformed Atlanta during his mayorship in the turbulent 1960s. 
The PATH Foundation brought together the Allen family, Jim and Sarah Kennedy, and the James M. Cox Foundation to fund the project with hopes of helping younger generations understand Mayor Allen's role in forging a new era in Atlanta, pushing forward civil rights for African Americans and creating the foundations for the modern city we know today. Among those quoted in the bridge exhibit is former Ivan Allen College Dean Jacqueline Royster.
Part of Atlanta's extensive Path system, the newly dedicated Ivan Allen Jr. Legacy Bridge connects Marietta Street and the Westside symbolizing Mayor Allen's example in risking everything to break down the barriers of Jim Crow laws, and revitalize Atlanta as a city where all its citizens could flourish together. The bridge was designed by Mad Dworschak, Signature Design, and Perez Planning + Design who spent months researching Mayor Allen's life and accomplishments.
A series of placards runs the length of the bridge under colorful ribbons, which creates a linear timeline for visitors as they walk by. The story is divided into several themes including Allen's character, his civil rights record, his business pragmatism, his vision for the city's cultural institutions, and his collaboration with other leaders.
The bridge also offers onlookers a multimedia experience as the placards include mobile hyperlinks and QR codes that visitors can scan with their smart phone to access supplementary video content. The colors used in the display mirror Mayor Allen's story, beginning on the Marietta Street side of the bridge with traditional reds, white, and blues to signify when Mayor Allen took office. They morph into an intense palette of varied bright colors to signify the radical change of the 1960s and Atlanta's transition into an international city under Mayor Allen's leadership.
The Ivan Allen Jr. Legacy Bridge is now one of many remembrances of Mayor Allen and his impact on Atlanta that can be found around the city. Georgia Tech's Ivan Allen College of Liberal Arts is the steward of the Allen Legacy which underpins the school's research, teaching, and public engagement.