Shared history unites Mr. and Ms. Georgia Tech 2019
Nov 27, 2019
— Atlanta, GA
"We sort of knew of each other, just not very well," explains Rachel Luckcuck, newly named Ms. Georgia Tech 2019.
"I think we had Calc together, right?" Mr. Georgia Tech Francis Yang asks Luckcuck.
"I used to think that Francis was just so cool. I can't believe looking back that now we're Mr. and Ms. Georgia Tech," Luckcuck says.
"I remember when you got into Georgia Tech and how excited you were!" Yang recalls happily.
Luckcuck had taken extra online classes to boost her high school resume in hopes of being accepted to Georgia Tech. She also played the Georgia Tech fight song for inspiration — while studying. Both tactics paid off.
"That was a great day. January 8," she remembers.
"That's my birthday!" Yang exclaims.
Both Luckcuck and Yang attended Walton High School in Marietta, Georgia, and both are now business administration majors at Tech. Their election as Mr. and Ms. Georgia Tech was purely coincidental; they ran separately on their own merits and service. The winners were selected from a pool of 20 semifinalists who were required to write essays about their personal experiences and interviewed about their service to campus. Luckuck and Yang won the 2019 title from among a narrowed pool of ten finalists after a popular vote by their peers.
The photographs from Bobby Dodd Stadium were the talk of their hometown. "I was getting tons of messages on Facebook and Instagram from my former high school teachers,' Luckcuck says. "They were just so proud to see us there together."
Yang has found this whole experience surreal. "I couldn't have asked for a better experience at Georgia Tech. Previous Mr. and Ms. Georgia Techs are the people I looked up to when I first got here. Now that's me."
He has helped incoming students make the transition to college through his work as a FASET Orientation leader. "One of the best parts of all of this is having some of those students come congratulate me," he says.
Luckuck says she has found joy working with the Excel Program, a Georgia Tech initiative that provides a post-secondary education for students with intellectual and developmental disabilities.
"There are thousands of colleges but only about 200 options nationwide for these students. Georgia Tech being one of them is incredible, and being part of the program has been life-changing," she says.
One of Yang's favorite moments of the entire process was seeing his mom on the field. "It was her first game day," he says. "She was so excited. To share that moment with her was so special." And he was so excited that he almost forgot it was his first time on the field too.
For Luckcuck, self-admittedly a bit shy and reserved, her Tech experience has taught her more about herself and how she can best serve others. "It's living our motto of progress and service. Now as Ms. Georgia Tech I can find a way to give back because Georgia Tech gave so much to me."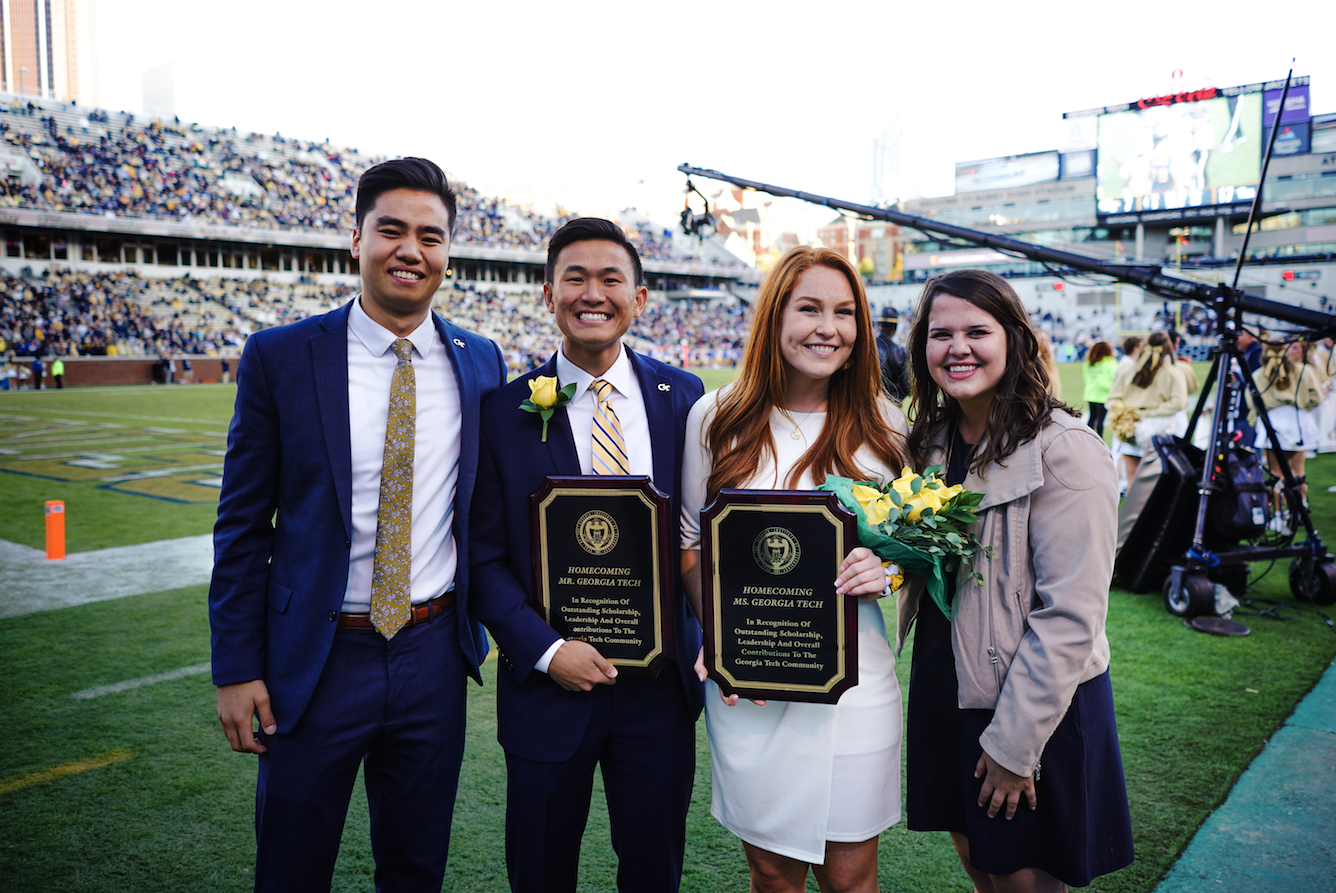 Although they attended the same high school, Francis Yang and Rachel Luckcuck (center) didn't become friends until they came to Georgia Tech.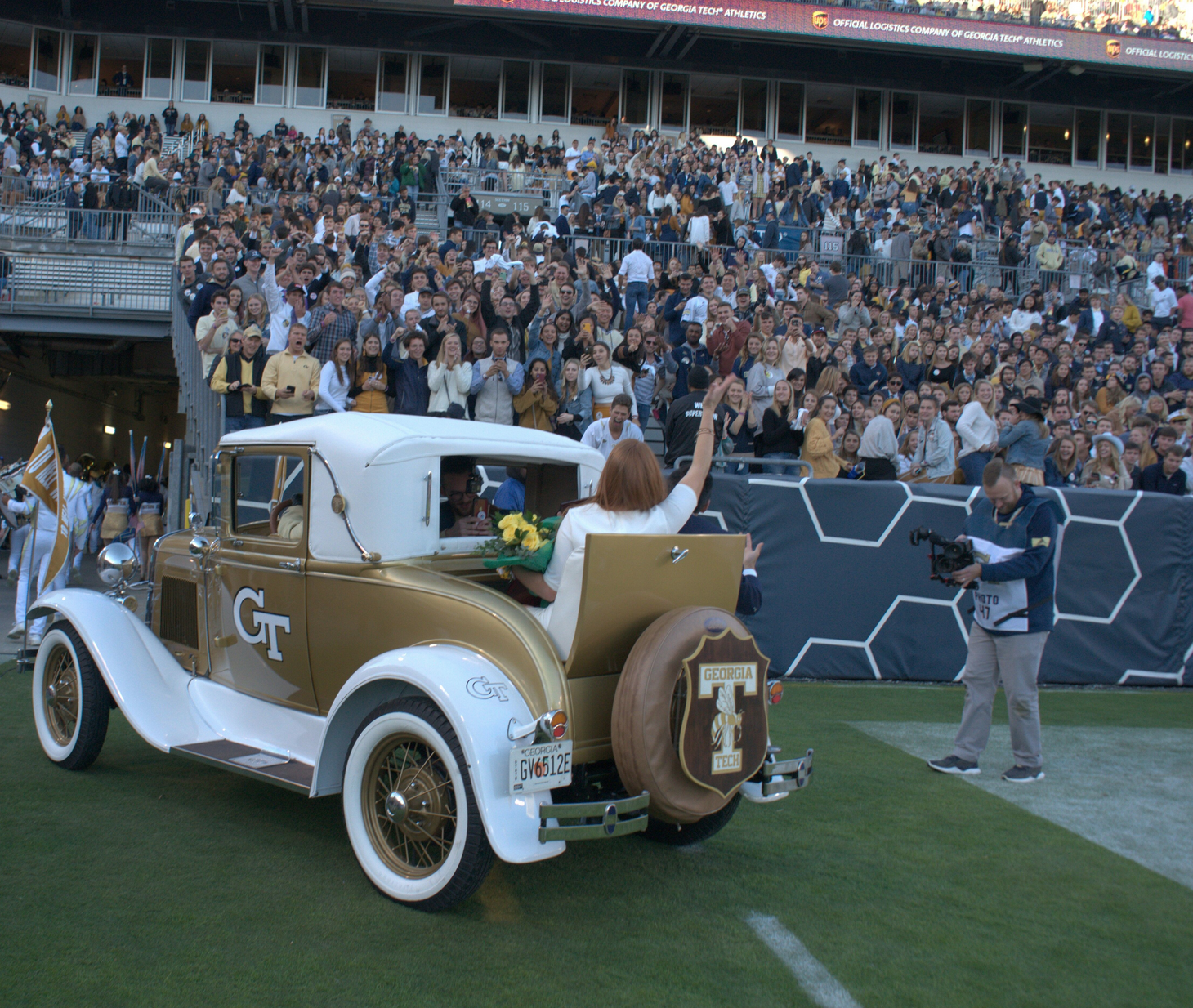 Both Yang and Luckcuck attended Walton High School in Marietta. Their ascension to the titles of Mr. and Ms. Georgia Tech was purely a stroke of coincidence.