Faculty Honored by USG for Classroom Excellence
Ashok Goel and Donald Webster are being recognized by the University System of Georgia for their dedication in the classroom.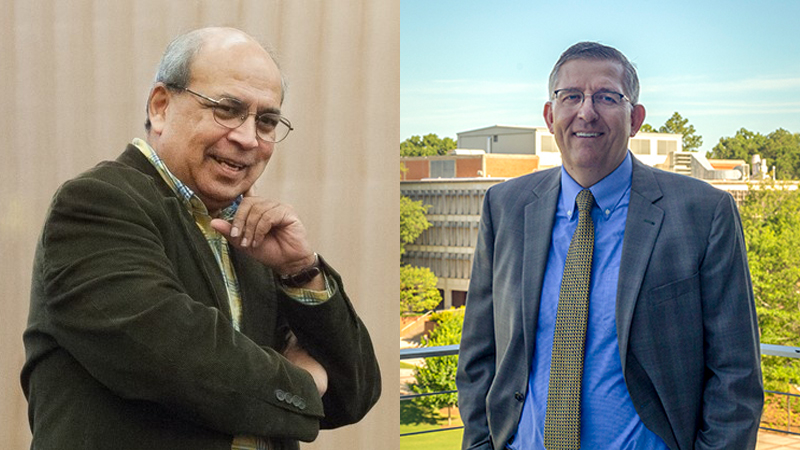 Ashok Goel and Donald Webster
Jan 10, 2020
— Atlanta, GA
Two Georgia Tech professors have been honored by the University System of Georgia for their dedication in the classroom.
Ashok Goel, professor in the School of Interactive Computing, will receive a Regents Award for the Scholarship of Teaching and Learning. The award recognizes his groundbreaking contributions to the evolution of online learning.
Widely known as creators of Jill Watson ­– the world's first artificially intelligent (AI) teaching assistant – Goel and his Design and Intelligence Lab team continue to build upon the Jill platform to create next-generation AI tools that increase engagement, help retention, and improve learning outcomes for online teachers and learners.
"We're moving well beyond answering questions about a particular class and getting closer to developing AI technologies that can scale globally, work in tandem with other AIs, and truly be transformative for a broad spectrum of online learners," Goel said.
Donald Webster, the Karen and John Huff Chair of the School of Civil and Environmental Engineering, has been selected as the recipient of the 2020 Felton Jenkins Jr. Hall of Fame Faculty Award. The award recognizes faculty for their strong commitment to teaching and student success.
Webster is the only faculty member from a Georgia research university to receive this system-wide award.
"Being selected among the many, many outstanding faculty instructors in the University System who are dedicated to teaching and student success is an exhilarating honor," Webster said. "I am passionate about student-centric instruction and creating pathways for success in challenging engineering courses, so it's thrilling to be recognized for innovative teaching approaches that improve student achievement."
Read more about why Webster was honored.
Goel and Webster will receive their awards at the Regents Scholarship Gala on Friday, Feb. 21. See a full list of 2020 Regents Award winners.