Applications now open for the 2020 Georgia Innovative Economic Development Internship Program
Georgia Tech graduate students can further their research and earn $6K in 10-week, paid summer internship.
Jan 29, 2020 — Atlanta, GA
The Science, Technology, and Innovation Policy (STIP) program at Georgia Tech is now accepting applications for the 2020 Georgia Innovative Economic Development Internship Program. (Apply here: stip.gatech.edu/apply/).
The 10-week, paid internship allows students of any University System of Georgia (USG) school in master's and Ph.D. programs to further develop and pursue research that connects it to science, technology, and innovation to economic development. At the end of the internship, students will present their findings to economic development and innovation groups.
Applications will be accepted through Feb. 28, 2020. The internship is open to any graduate student who has completed the first year of a two-year master's program or enrolled in a doctoral program at a public university in the USG.
Those accepted into the 2020 cohort will be notified by the end of March 2020. Interns will receive a $6,000 stipend. Interns from previous cohorts have pursued research projects in a variety of disciplines, ranging from industrial engineering to digital media. (Acceptance is not based on students' academic concentration.)
"They will develop their research and work collaboratively with economic development and policy experts, and see first-hand how their ideas and findings can help shape economic development policies and, in turn, have the potential for real-world impact," said Jan Youtie, STIP program director.
STIP, a globally recognized program, conducts research-based policy analyses and reports of innovation policy, science, and technology for organizations and governments in the United States and globally.
Student interns from the 2019 cohort said the experience was a bridge to new opportunities and new audiences to discuss their research findings.
"It really helped me push forth with my research and data collection and analysis, and since then, we've had a publication accepted for an artificial intelligence (AI). In March of 2020, I'll be presenting on AI to a non-profit organization and an audience of about 250 people," said Daniel S. Schiff, a Ph.D. candidate in Tech's School of Public Policy.
Schiff's research looks at AI policy strategies and related ethics codes/guidelines being developed by corporations, governments, and other organizations. He said it was a welcome challenge to marry the societal implications of AI technology with economic development.
"With the support the STIP team and some of that brainstorming, I was definitely able to convey the project in a way that still discussed the social and ethical issues of artificial intelligence, but in a way that was also relevant to economic development."
Ebney Ayaj Rana, a student pursuing a master's degree in public policy at Georgia State University's Andrew Young School of Policy Studies, said his work as a 2019 intern helped him learn how to effectively present and explain his findings to a wide-ranging group of economic development and public policy leaders and experts.
Rana's research focuses on how high-tech entrepreneurship among immigrants is growing in the state of Georgia compared with the United States overall, and how fiscal policies and economic development incentives can be mobilized even more for the betterment and fostering of immigrant-owned enterprises in the state of Georgia.
His findings show immigrants have higher rates of high-tech entrepreneurship but Georgia economic development policies aren't as robust to support and encourage that growth, compared with other states including New York and Virginia.
"Being a STIP intern was really an intellectual, exciting experience," Rana said. "Unlike conventional internship programs, here you will need to complete a research project by doing rigorous research over that two-month period. The whole process of initiating the research in the summer and finally sharing your findings with the economic development group was really an exciting experience for me."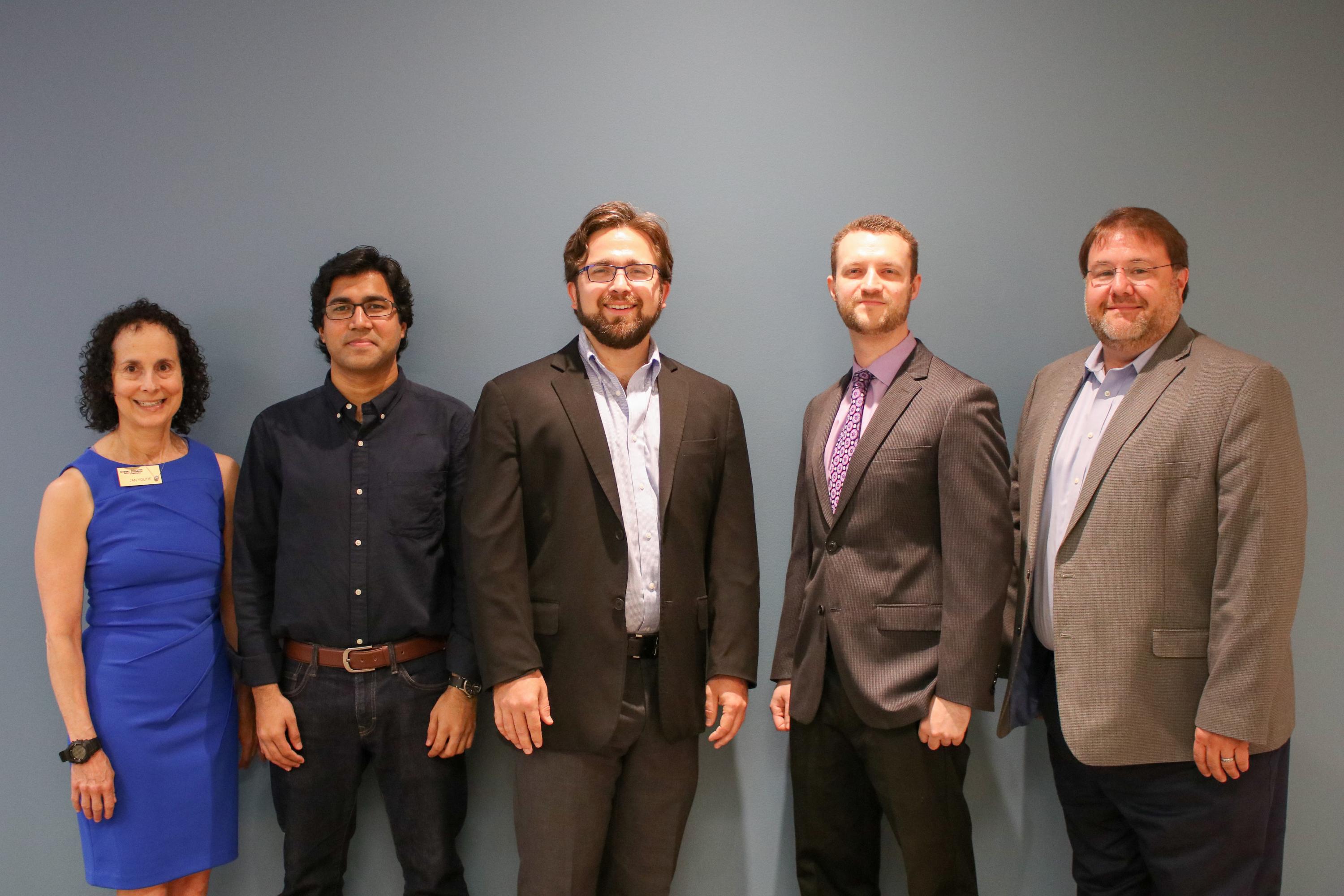 The 2019 Georgia Innovative Economic Development Internship Cohort. From left: Jan Youtie, director of the Science, Technology, and Innovation Policy program at Georgia Tech; Ebney Ayaj Rana, a master's student at Georgia State University; Karl Grindal and Daniel S. Schiff, Ph.D. candidates in Tech's School of Public Policy, and Alfie Meeks, director of Tech's Center for Enonomic Development Research. (Photo by: Matthew Hummel)