Music Technologists Find Inspiration, Community at Guthman
In its 12th year, musical instrument competition showcases the newest and most innovative ideas in music.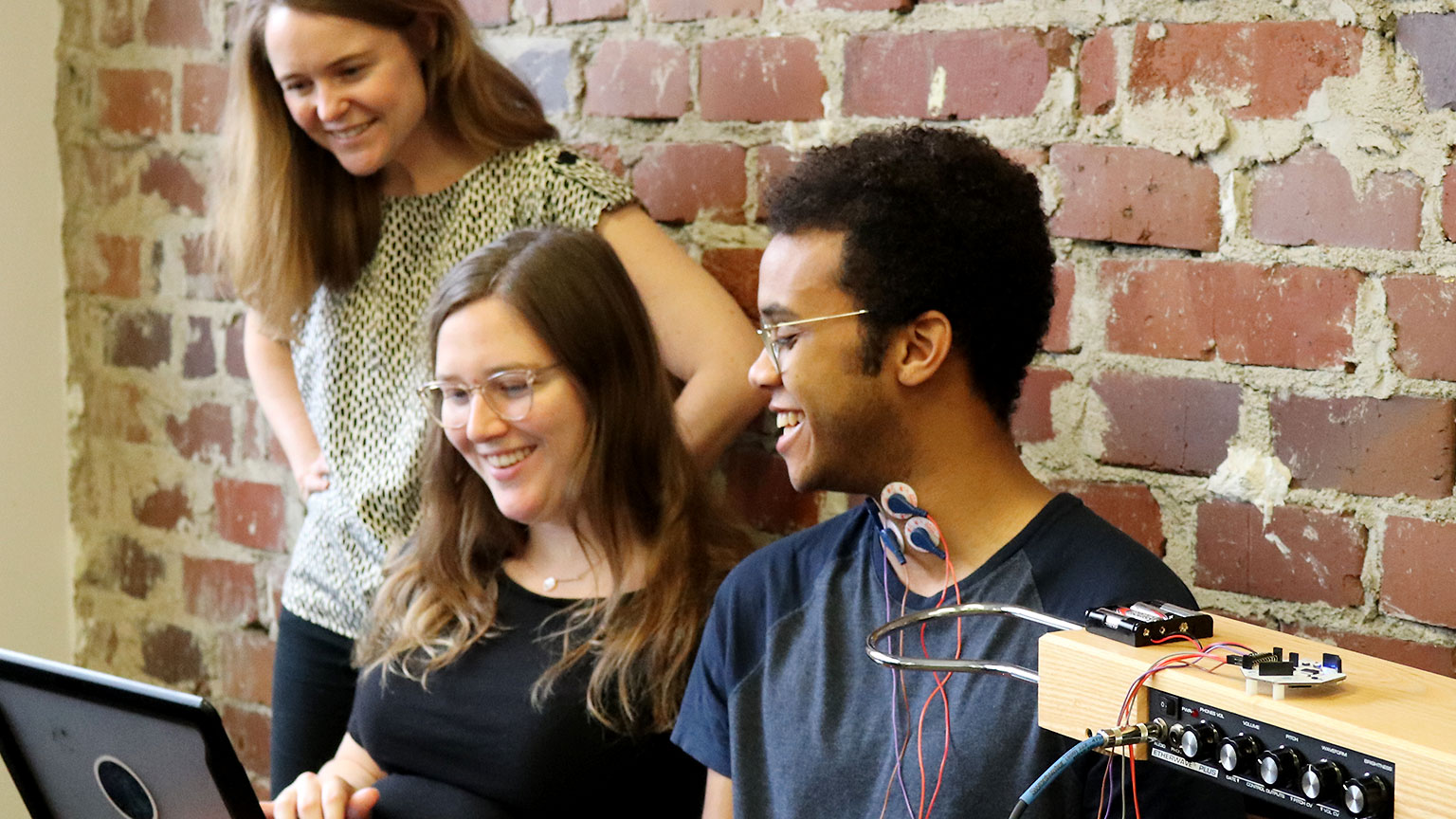 Grace Leslie, left, works with students on a human feedback music technology project. (Photo: School of Music)
Mar 03, 2020 — Atlanta, GA
When you make music with technology, said David Zicarelli, the CEO of Cycling'74, it can change your life.
Zicarelli might be biased: his lifelong career is music technology.
Since the 1980s, he's worked on interactive composition technology. "I think the intersection of music and technology and creativity is a really cool problem, just something that is endlessly interesting to think about."
But there's also something incredibly practical about it, he said. "Instead of spending your entire life learning to play a very difficult instrument, you can participate in and make music more readily with technology."
While the concept of music technology is fairly well-grasped by the modern world, Zicarelli said, as an industry he and his peers aren't as easy to pin down.
"Music Technology is a big space. There's not one community. In my experience, there are a lot of different communities that tend to focus around a particular tool or approach," he said. Often they meet each other at large events like Moogfest or the Ableton Conference, focused on creativity or learning new technical skills.
They also come to the Guthman Musical Instrument Competition at Georgia Tech, for demonstrations in performance and technology innovation. This year, Zicarelli will judge the contest as well as cohost the Music, Art, and Technology Fair.
"I was fortunate enough to attend [the Guthman Competition] a few years ago, and I still remember and am actively inspired by what I saw," he said, "in terms of this amazing variety of creative approaches."
The Competition does two important things for music technologists, Zicarelli said. One, it shows that the invention of an instrument is a valid form of creative expression. And two, it provides an opportunity to observe emerging technologies.
"For example, Roli came and demonstrated the Seaboard a few years ago at Guthman, and now you can buy that product and have it in your house."
The Intersection of Music Technology and … Everything
As an assistant professor for the Georgia Tech School of Music and a researcher in the Center for Music Technology, Grace Leslie's work often includes human computer interface, electrical engineering, experimental psychology, and acoustics.
"There's a lot of different things that music technology can be," she said. "We professors who have labs in the Center are kind of like a Venn diagram. We do work that's at the intersection of music technology and other things." Leslie runs the Brain Lab, where she and her graduate students develop brain-music interfaces and other physiological sensor systems.
The ways in which this year's Guthman Competition instruments cross over into other areas of study and design are especially compelling, she said.
"This year we have a lot of really exciting instruments that are designed as assistive technologies," Leslie said, "to help encourage and inspire people to make music, when traditional musical instruments might not be accessible to them physically."
"It really broadens our horizon [as music technologists] in terms of what musical instruments are, and the kind of innovations that they're able to bring to our lives. Innovation doesn't just have to be about creativity and newness or novelty. It can also be about helping people."
Even the Guthman Competition's setting — hosted by a Georgia Tech school with a uniquely rigorous music technology program — is valuable for music technologists in terms of sharing ideas.
Because music technologists are used to sharing ideas in academic settings and in music venues, Leslie strives to teach her students how to communicate their work to a broader community. She fosters concerts that blend technological demonstrations with compelling musical performances. As an electronic music composer and improviser, Leslie maintains a brain-body performance practice.
Influencing the Next Generation of Music Technologists
As part of the Guthman Competition festivities, this year the School of Music, Cycling '74, and the Atlanta Science Festival are teaming up with Georgia Tech's Center for Education Integrating Science, Mathematics, and Computing (CEISMC) for a GoSTEAM workshop.
Designed for the middle school audience, the workshop will take place prior to the Fair. Students will learn how to use Cycling '74's Max/MSP software to create music. Sabrina Grossman, the science education program director for CEISMC, will help run the event.
"There's so many opportunities with this intersection of music technology and art," Grossman said. "I think a lot of times, students don't even know this exists."
"[My colleague] has a great quote. When people ask her, 'How did you become an engineer?', she says, 'Well, my dad told me I couldn't major in music.'," Grossman said. "Ten, fifteen years ago, there weren't many music technology programs in schools."
But through increasingly national reach of programs like EarSketch, students with strong music preferences can envision broader career options, Grossman said.
"I definitely think that it allows them to think outside the box about music and outside the box of what their future could be in music or computer science."