Illuminate Tech Speaker Series Goes Virtual
Four student speakers will be sharing their stories over BlueJeans.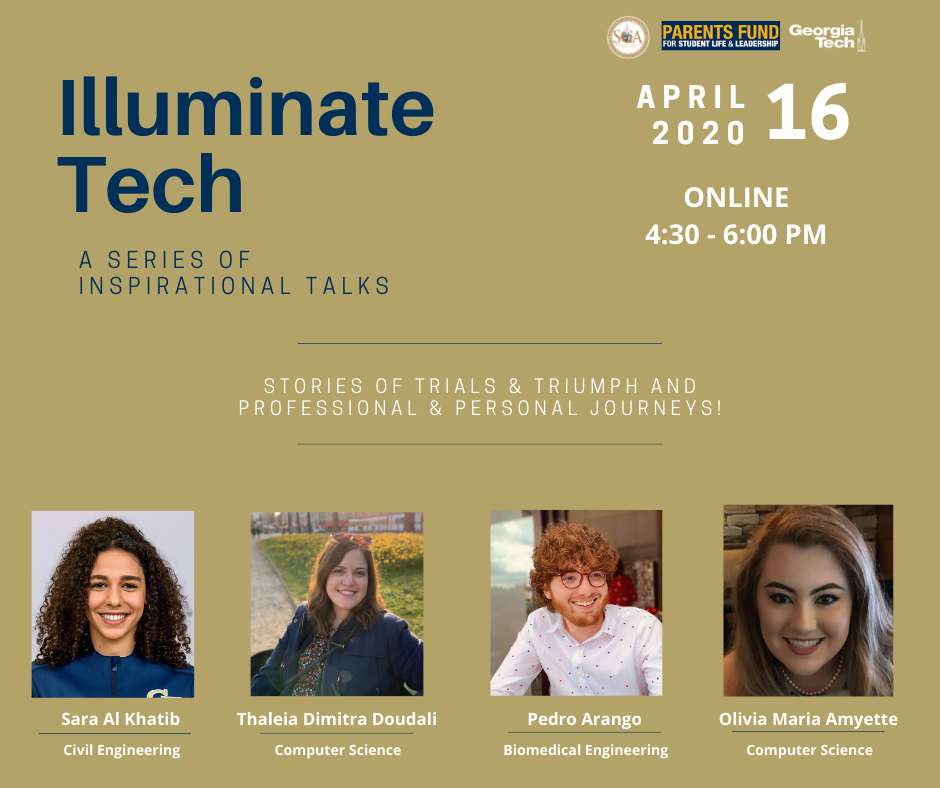 Credit: Student Government Association
Apr 15, 2020 — Atlanta, GA
On Thursday, April 16, the Student Government Association (SGA) will be hosting the spring version of their Illuminate Tech speaker series online. The BlueJeans broadcast is open to all members of the Georgia Tech community and will be live from 4:30 to 6 p.m. The event will feature four student speakers:
Sara Al Khatib, fourth-year civil engineering major
Olivia Amyette, third-year computer science major
Pedro Arango, fourth-year biomedical engineering major
Thaleia-Dimitra Doudali, Ph.D. student in computer science
Each student will speak about a certain struggle they've faced and how they were able to overcome it.
The Illuminate Tech series showcases student and faculty speakers each semester. In March, three professors shared their stories; the students were set to take the stage later in the spring. In light of the recent COVID-19 crisis, SGA decided to proceed with the series virtually, as it believes that highlighting students' stories of perseverance is more important now than ever.
"These talks provide speakers with an opportunity to share their personal stories, which can inspire, motivate, instill hope, and transform the Tech student community, while promoting awareness about the struggles and hard work of the speakers' personal or professional lives," said Harshit Daga, vice president of graduate events for graduate SGA.
Illuminate Tech started last fall with talks by three student speakers. Click here to learn more about what they talked about and hoped to do by sharing their stories. More information about this semester's virtual event can be found on graduate SGA's Facebook page.