Town Hall Addresses Graduate Student Concerns
The event was one of a series of town halls hosted by Stamps Health Services.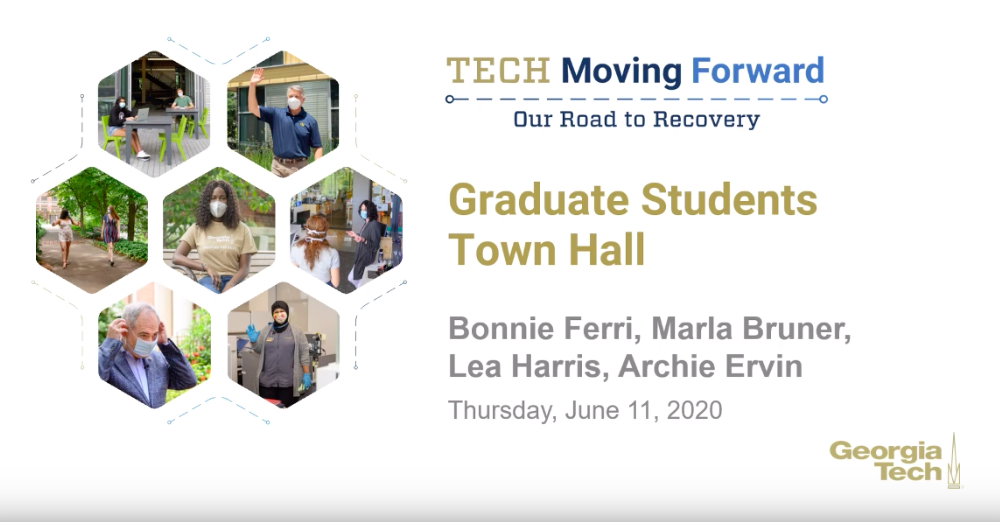 Jun 11, 2020 — Atlanta, GA
On June 11, Stamps Health Services hosted an online Graduate Students Town Hall. Panelists represented the Office of Graduate Studies; Office of the Vice Provost; Institute Diversity, Equity, and Inclusion; and the graduate Student Government Association (SGA). They addressed students' questions about Covid-19, the plan to return to campus, and racism and protest in the U.S.
Many graduate students expressed concerns about what could happen to international students who might not receive their visas before classes start. Students in this position can take some courses online, do research remotely if the proper materials are accessible, or defer their admission until Spring 2021. They can also arrive on campus up to 30 days after the semester starts, with departmental approval. Each situation is unique, and panelists advised all graduate students to stay in contact with their departments as the summer progresses.
Others expressed an interest in learning more about race — and combating racism — in the U.S. Archie Ervin, vice president of Institute Diversity, Equity, and Inclusion, recommended the book How to be an Antiracist by Ibram X. Kendi. He also said that Georgia Tech will soon be announcing new campus initiatives around these issues, including implicit bias training for students.
Bonnie Ferri, vice provost for Graduate Education and Faculty Development, told participants that the Institute had recently submitted a plan for the fall semester to the University System of Georgia and is waiting for it to be accepted or returned with feedback. The plan includes a proposed schedule for the semester.
Ferri also said that the first priority for returning graduate students this fall will be progress towards their degree, but that that their overall experience at Tech is close behind.
"We want to make sure that your experience here is one that you can take away and feel that you've learned, that you've grown, and that you're prepared to face the world once you leave," Ferri said.
Panelists addressed other student concerns, including how much student health insurance would cover were a student to contract Covid-19, the use of personal protective equipment (PPE) and disinfectant in labs, and what students should do if they had recently lost their funding due to the pandemic.
Now, both graduate students and undergraduates are encouraged to complete a survey recently sent out by SGA. The survey gathers students' opinions about various aspects of a fall return to in-person instruction. Lea Harris, president of the graduate SGA, also urges students to reach out to their SGA representatives to enlist them as advocates as the Covid-19 pandemic continues to evolve.
A recording of the full town hall, as well as the comments section with more questions and answers from moderators, is available here. Recordings from the June 9 Health and Safety Town Hall, as well as information on upcoming online discussions, can be found here. The next virtual town hall will be held Tuesday, June 16, at 4 p.m. It will feature an open session with Institute leadership, including President Ángel Cabrera, Provost and Executive Vice President of Academic Affairs Rafael Bras, and Brandt-Fritz Dean of Students Chair John Stein.
The Office of International Education (OIE) will also be holding its own town halls on Thursday, June 25, at 3 p.m. and Thursday, July 2, at 9 a.m. More information will be available soon.
To stay informed about Georgia Tech's response to Covid-19 and its proposed ramp-up plan, visit the Tech Moving Forward website.