Mental Health Organizations Offer Engagement Opportunities
Campus groups dedicated to mental health have opportunities for students to get involved.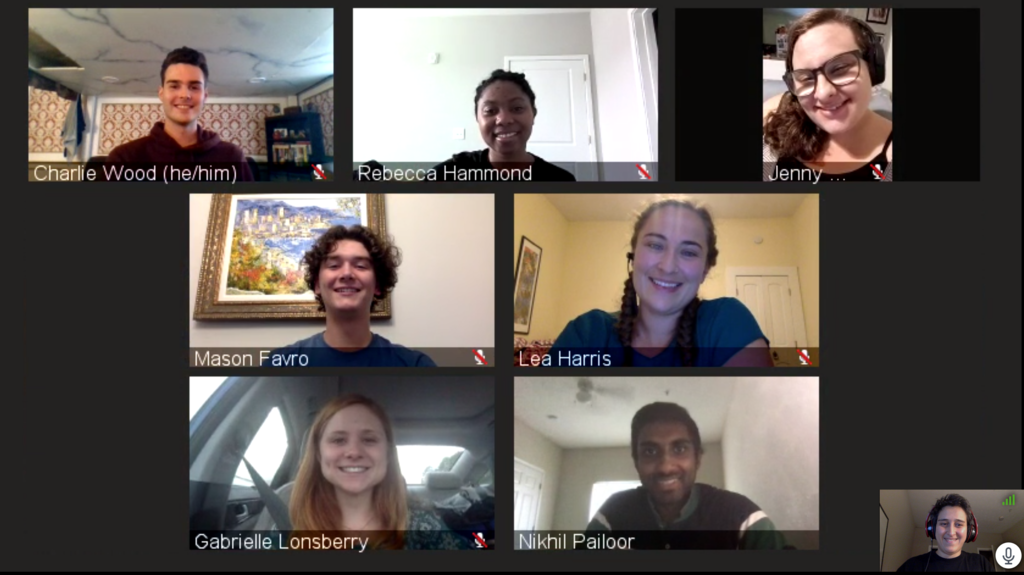 Virtual meeting of the Mental Health Joint Allocation Committee.
Sep 18, 2020 — Atlanta, GA
Two campus groups dedicated to mental health have opportunities for students to get involved. The Mental Health Student Coalition (MHSC) is recruiting members, and the Mental Health Joint Allocation Committee (JAC) is holding information sessions.  
MHSC strives for a healthier campus community by equipping students with the knowledge and resources to take care of themselves and each other. The coalition is looking for new members to join students who are considered mental health thought leaders at Georgia Tech.
Members of the coalition are expected to attend weekly virtual meetings each Monday from 7 to 7:40 p.m., and they should complete QPR training by the end of the calendar year. Members are also expected to meet with their committees outside of general body meetings and work on projects as needed.
Apply here for Fall 2020 positions. There is no deadline to apply because interviews are conducted on a rolling basis. After an application is submitted a member of MHSC will schedule a virtual interview
The Mental Health Joint Allocation Committee manages a $1 million fund allocated from the Student Government Association and Georgia Tech administration. The organization funds initiatives that improve student mental health and well-being, including proposals for educational programs; improving the delivery and accessibility of mental health services; and resources that foster wellbeing, managing stress, and living a balanced student life.
With more than $600,000 remaining in its budget, JAC is looking for proposals that can make a positive impact on students. Two upcoming information sessions will include information on submitting a proposal to JAC, and there will be time to discuss specific ideas and speak with members.
The two information sessions will be held via BlueJeans on:
Tuesday, Sept. 29, 11 a.m. – noon
JAC also provides on-demand information sessions to student groups, organizations, and campus departments. To schedule a session, email gtsgajac@gmail.com. The organization's meetings are held online on Fridays from 4 to 5:00 p.m. and are open to everyone. For more information on the online meetings, click here.