Tech Hosts Global Climate Action Symposium
Local and international scientists, engineers, business and policy experts, student leaders, and artists will showcase climate change solutions.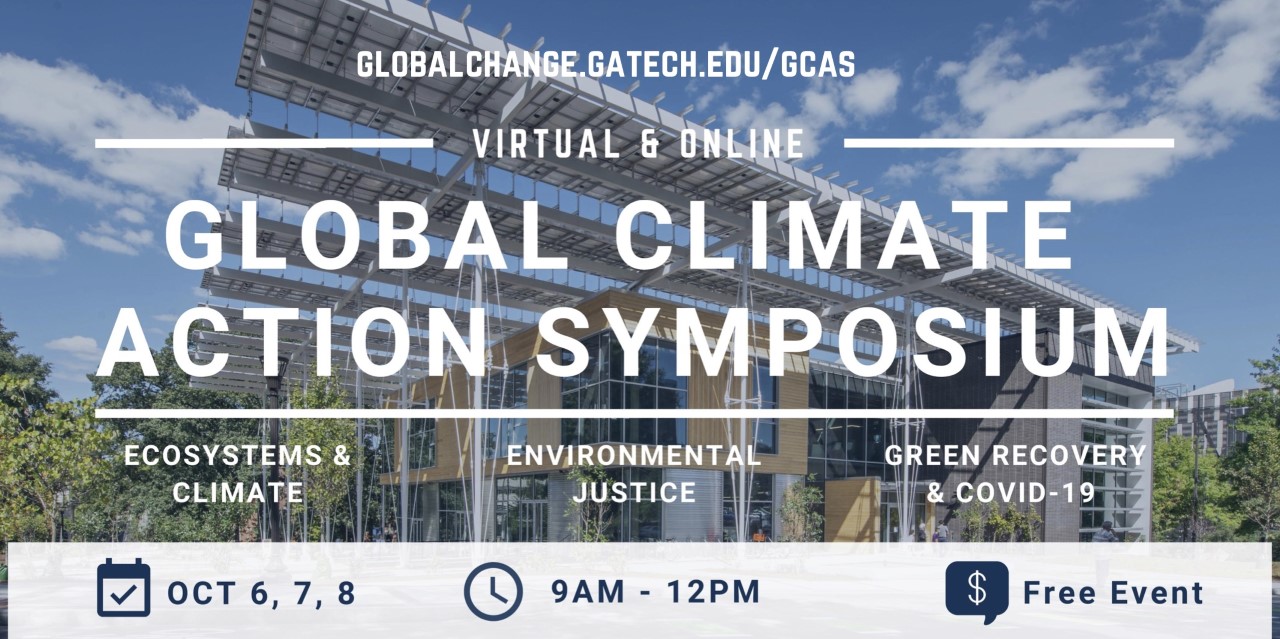 Sep 30, 2020 — Atlanta, GA
The second annual Global Climate Action Symposium, Oct. 6 – 8, will bring together local and international scientists, engineers, business and policy experts, student leaders, and artists to showcase climate change solutions. The virtual event is jointly sponsored by Georgia Tech and six European consulates during European Climate Diplomacy Week. President Ángel Cabrera will deliver opening remarks.
"The symposium is a great opportunity to celebrate the diverse, vibrant community that is dedicated to climate solutions here in Atlanta and across the world," said Kim Cobb, Georgia Power Chair and ADVANCE Professor in the School of Earth and Atmospheric Sciences and director of the Global Change Program. "From science to policy, and from industry to nonprofits, Georgia Tech is thrilled to partner with our EU consulates here in Atlanta to showcase how Georgia is leading on climate solutions, through innovation and partnerships."
Cobb said symposium attendees will hear from experts working at the intersection of climate and racial justice, and they will get a preview into how a post-pandemic future might accelerate the shift to a low-carbon economy.
"As a global issue, climate change must be addressed from multiple vantage points, including social equity and justice," Anna Stenport, professor of Global Studies, chair of the School of Modern Languages, and founding codirector of the Atlanta Global Studies Center, said. "The Atlanta Global Studies Center is thrilled to support an inclusive approach to advancing the Sustainable Development Goals."
Students of all ages can attend and learn more about the climate challenge and how their passions can advance climate solutions.
"The virtual format has allowed an explosion in the diversity of experiences we can offer our audience," Cobb said. "Attendees will hear from a wider array of experts, 'visit' a number of sites where climate solutions are coming to life, and attend workshops with artists and thinkers located across the world. It is logistically challenging, but everyone has been so eager to work together to make it happen."
The symposium is co-sponsored by Serve-Learn-Sustain (SLS) and the Atlanta Global Studies Center, together with six Atlanta-based EU consulates, and it advances Cabrera's initiative on the United Nations Sustainable Development Goals (SDGs).
"The symposium's three themes, Ecosystems and Climate; Environmental and Climate Justice; and Covid-19 and Green Recovery, overlap with several of the SDGs," Cobb said. "And its foundation of partnership between Georgia Tech and the EU consulates illustrates how progress on global-scale challenges can happen locally, through a shared vision of what's possible."
Jennifer Hirsch, director of Serve-Learn-Sustain, said the event could not be timelier.
"It will highlight connections that we need to understand and address moving forward — between public health, the natural environment, and equity — to ensure that recovery takes us to a new place, not back to the pre-pandemic normal," Hirsch said. "The symposium will feature the work of some of our SLS community partners, like the West Atlanta Watershed Alliance. The Global Change Program is taking intersectionality and collaboration to a new level, and we're excited to be their partner in this work."
Registration is free, and the event is open to the public. Register here.