Tips for Socializing Safely During Cold Weather
As the temperature drops and pandemic continues, there are still ways to stay safe while seeing others.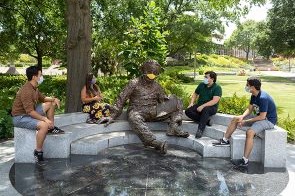 Feb 01, 2021 — Atlanta, GA
As the winter continues and the temperatures remain cool, students are trying to find new ways to socialize safely. While virtual gatherings are still the safest way to spend time with friends, those wanting to do so in person still have options with lower risk of transmitting the virus.
Avoid large gatherings. The likelihood that someone in a group is infected increases as the size of the group grows. While there's no official number that constitutes a "safe" small group, public health guidance has recommended limiting groups to 10 people.
Follow all appropriate protocols. Maintain at least 6 feet of distance between yourself and others when spending time together in person. Face coverings are also required while inside campus facilities and buildings where 6 feet may not always be possible (though not inside one's own living space). Masks aren't a substitute for social distancing; the two should be practiced in tandem. And while masks aren't required outdoors, you're still safest when wearing one, even if you're already social distancing.
There are several guidelines for events hosted throughout the spring. If you're hosting a student event, make sure to review those a few weeks in advance. Click here for more formal processes and recommendations for in-person gatherings.
Hang out outside. There are several outdoor spaces on campus for students to utilize, including Tech Green on East Campus and Burger Bowl and Roe Stamps Recreation Fields (SAC Fields) on West Campus. Note that the SAC Fields are sometimes reserved in advance by different organizations. Many small courtyards and lawns, perfect for small outdoor hangouts, are located between various sets of on-campus dorms and apartments.
In addition, there are tents located around campus equipped with heaters and lawn chairs. Tents can be reserved through the online event management system (log in with Georgia Tech credentials).
Remember that others will also want to take advantage of outdoor spaces. While it's important to spread out, don't do so in a way that takes up more space than you need. If you're participating in an activity that involves moving around, make sure you don't cross over into someone else's personal space.
Avoid sharing food, drinks, and other items. It's possible that Covid-19 can be spread from an object that has the virus on it. Therefore, it's safest to avoid sharing anything with your friends, especially food and drinks.
Utilize the contact tracing app NOVID. Georgia Tech is using NOVID, a contact tracing app that will anonymously notify those who might have been exposed to Covid-19. Keeping the app on standby mode whenever you're outside of your usual living space can help keep track of those you come into contact with and notify you when someone you've been around tests positive for Covid-19. Learn more about the app here.
Regularly sanitize your hands while socializing, and wash them thoroughly once you get home. The Centers for Disease Control and Prevention (CDC) recommends that everyone frequently wash their hands, especially after returning from a public place. If you can't wash your hands, use hand sanitizer that contains at least 60% alcohol.
Get tested regularly. Consistent testing is one of the most important parts of containing the spread of the coronavirus on campus. Georgia Tech offers free surveillance testing for asymptomatic students at multiple locations on campus, and students are encouraged to get tested once a week. Register for testing at mytest.gatech.edu and see testing site locations here. Symptomatic students can get tested at Stamps Health Center.