SGA Welcomes New Executives For Upcoming Year
Samuel Ellis and Ajanta Choudhury will helm the undergraduate SGA, while Stephen Eick and PJ Jarquin will do so for the graduate one.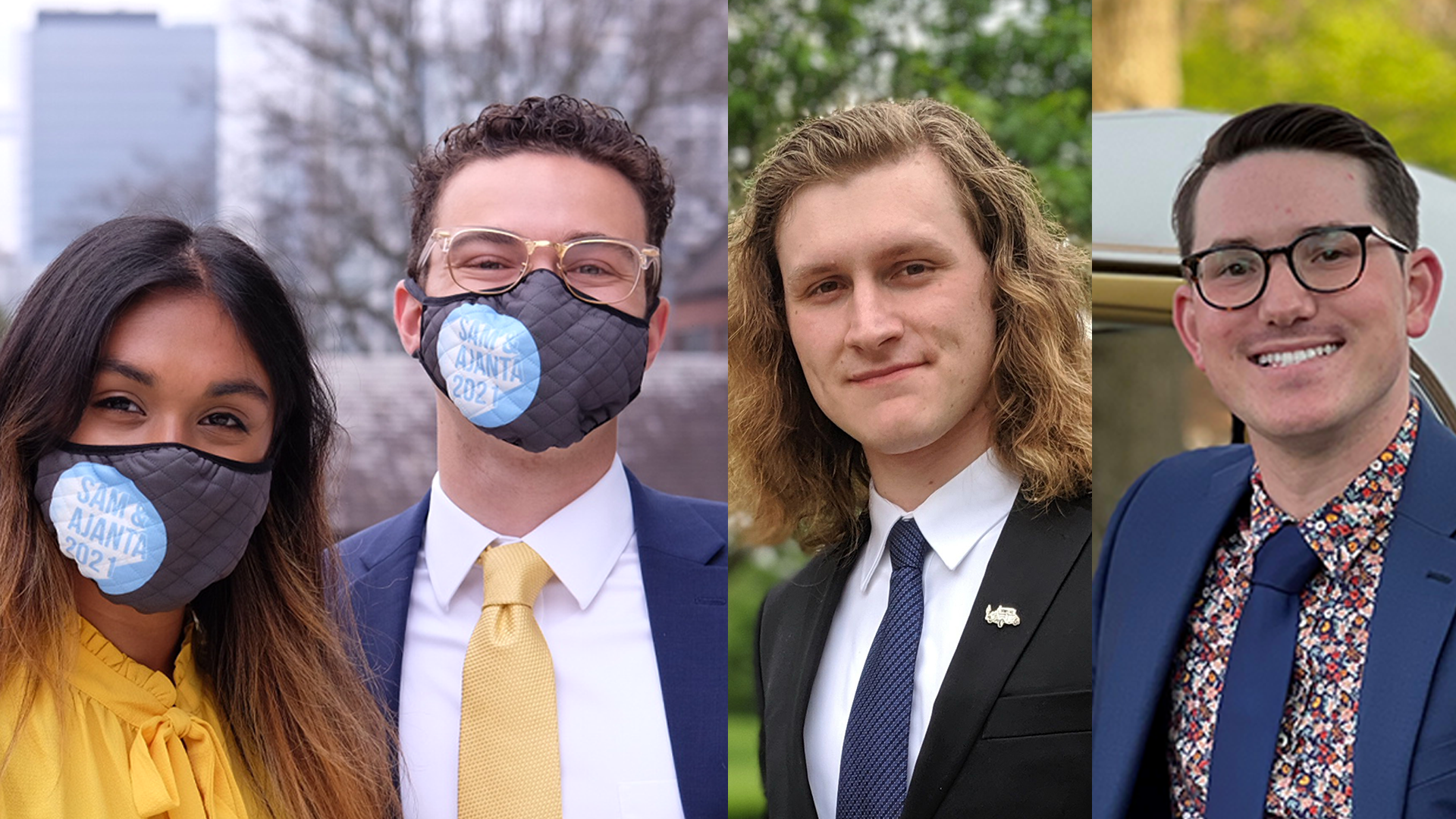 Left to right: Ajanta Choudhury, Samuel Ellis, Stephen Eick, PJ Jarquin
May 04, 2021 — Atlanta, GA
As the academic year comes to an end, the Student Government Association (SGA) is welcoming its new leadership. Samuel Ellis and Ajanta Choudhury were recently sworn in as the undergraduate SGA president and executive vice president, respectively. And Stephen Eick and PJ Jarquin will be taking over as graduate SGA president and executive vice president.
Eick, a Ph.D. student in computer science, comes from GSGA's legislative branch, the Graduate Student Senate (GSS). Jarquin, a Ph.D. student in biomedical engineering, has spent his time in GSGA on the executive side, serving as vice president of campus services this year. He and Eick believe that, together, their experiences in different parts of student government will allow them to approach problems in a balanced way.
Ellis and Choudhury met in the Undergraduate House of Representatives (UHR) during the 2019-20 school year. After that, Ellis, an international affairs major, became vice president of external affairs, while Choudhury, a biology major, took a year away from SGA. They hope that being able to see SGA from different perspectives will help them provide solutions and address issues.
As their terms get underway, both teams are ready to jump into advocating for students. For the undergraduate executives, this largely focuses on academic policies, changing how students interact with the Office of Student Integrity, and helping with the shift to in-house dining in the fall. The graduate executives, meanwhile, are starting off by trying to help increase and consolidate mental health resources across campus, as well as advocate for new ways to support graduate researchers. Both groups agree that as Tech transitions toward a more familiar semester in the fall, they want to be involved in making sure that transparent, robust policies are in place to keep students safe.
Both sets of executives also share the desire to strengthen their particular side of SGA, which they feel will allow them to better advocate for students' needs. For example, Eick has a goal of filling every seat in GSS by the end of the year.
"We hold ourselves back when we don't have people engaged," he said. As a member of GSS, Eick was the only representative for the College of Computing, which usually can have as many as nine representatives. He sees this as an excellent opportunity to increase both participation and diversity within GSGA.
"We want to make sure that we're reaching different parts of campus whose voices aren't usually heard," Ellis said. For him, this means bringing new people into USGA by creating a recruitment chair position, as well as connecting people outside of the organization with Institute-wide committees where their input would be useful.
Each new executive also has a policy that they're particularly excited to work on. For Ellis, it's finding a way to address the problem of students experiencing homelessness; Choudhury wants to improve infrastructure for students with disabilities. Eick is passionate about building a participant recruiting board for research studies across campus to strengthen graduate student research, while Jarquin plans on advocating for more LGBTQ+-friendly health resources.
The new SGA leadership is ultimately humbled by the opportunity to serve their fellow students.
"To be in this role is to empower and uplift those in the same way that I felt empowered and uplifted by former executives in student government," said Choudhury. "Being in this role isn't just about improving the student experience, but really empowering the next generation of student leaders."
"Coming from an immigrant father, being raised in the South, and being gay, it's important for me to be in a role as visible as this," Jarquin said. "It really is an honor to be in the position to fight for all graduate students."
Applications are currently open to be an executive committee chair for undergraduate SGA; applications are rolling, but those interested should apply by Friday, May 7, to be considered. Learn more about each committee here. Elections for GSS and first-year representatives for UHR will happen in the fall; view the full list of seats in GSS and UHR.