Forum Addresses Inclusive Entrepreneurship
Leaders in higher education, government, and venture capital gathered at Georgia Tech to look at how Atlanta can ensure and support inclusion in entrepreneurship.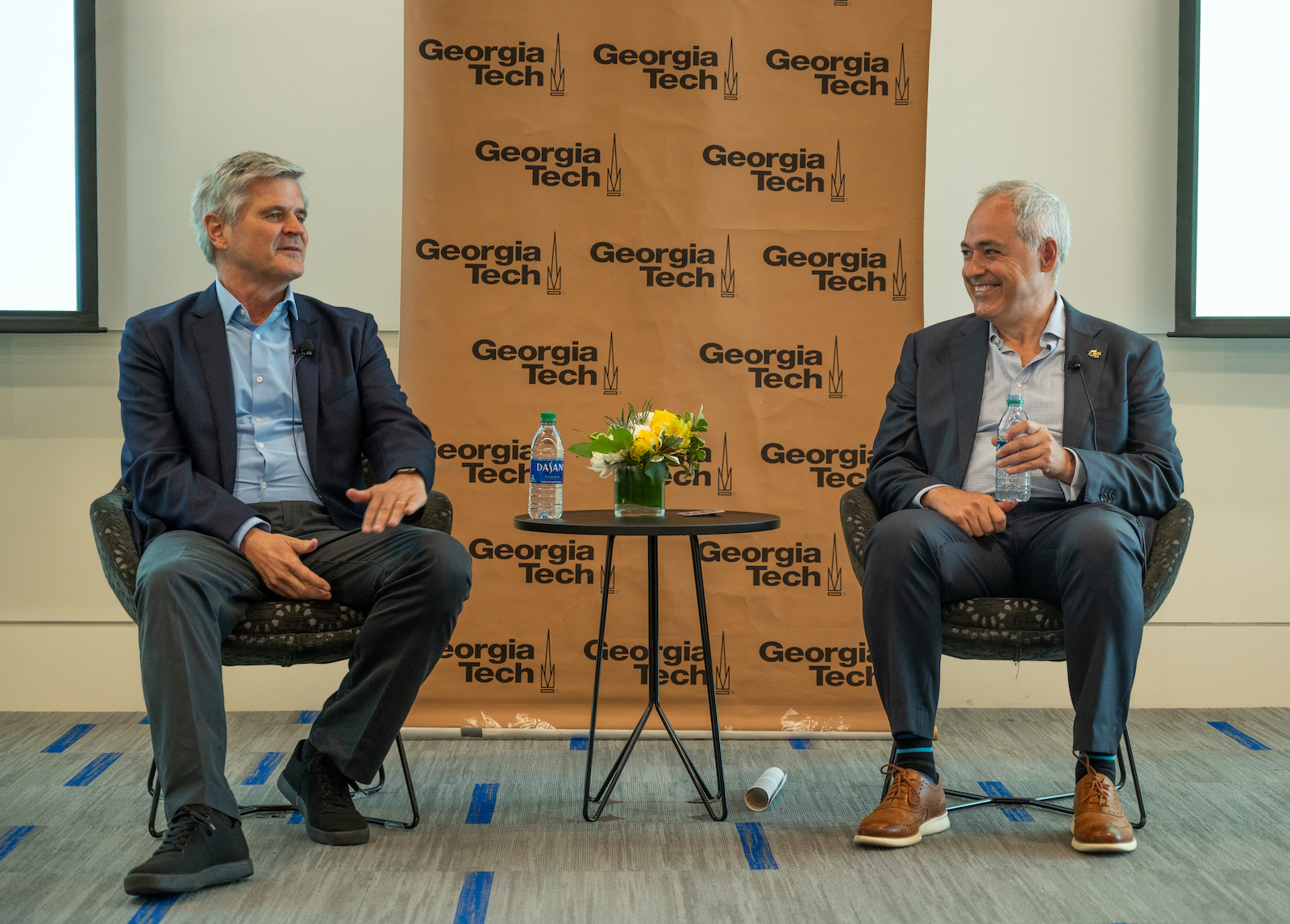 Steve Case, co-founder of AOL and investment firm Revolution LLC, and President Ángel Cabrera at the Inclusive Entrepreneurship forum. Photo by Allison Carter.
May 27, 2021 — Atlanta, GA
Corporate executives, entrepreneurs, political leaders, venture capitalists, and leaders in higher education gathered virtually and in person Wednesday for a forum at The Kendeda Building for Innovative Sustainable Design, looking at how Georgia Tech and Atlanta can ensure and support inclusion in entrepreneurship. The daylong event was presented in collaboration with the Metro Atlanta Chamber of Commerce and Rise of the Rest Seed Fund.
President Ángel Cabrera welcomed guests and then held a fireside chat with Steve Case, co-founder of AOL and investment firm Revolution LLC.
"We've seen interesting and encouraging signs of more and more places rising and bubbling up as entrepreneurship hubs," Case said. "Obviously Atlanta has seen a lot of momentum in recent years and does seem poised for a real acceleration in the next decade or so. But if you just look at the data, according to the National Venture Capitalist Association, despite that progress, last year 75% of venture capital went to three states — California, New York, and Massachusetts. Georgia got 1%."
He said there is still a disconnect between where the ideas are, where the entrepreneurs are, where the creativity is, and where the opportunity is to build a company. As a result, college graduates from the South or Midwest who wanted to do something entrepreneurial often felt like they had to go to Silicon Valley.
Case, although encouraged by the changes he has seen, said there is still a lot of work to do. He said Atlanta's success depends on three things: talent, capital, and collaboration.
"You have to win the battle for talent," he said, "and that means being a magnet for getting people to come here. But it also means keeping what you've already got — people growing up here and people coming to Georgia Tech. How do you keep them here as opposed to having this brain drain? Or how do you get people who left to come back?"
Case said investors are not worried about getting a company started, but they are concerned about scaling the company if it's successful. Can the community support 1,000 or 5,000 employees?
Accessing capital is the second key component for success.
"How do you get more capital locally with angel networks? How do you support the development of more regional funds? And how do you get people on the coast to pay attention to what's happening in places like Atlanta?" he asked.
The third component for success is collaboration within the community.
"Many places we visited are way too siloed. People are doing interesting things here and there, but they're not doing it in a collaborative way," Case said. "And usually the universities are too disconnected from the start-up community. In most communities, although it's getting better, the mayors and governors are focused on economic development in a traditional way by luring a big company as opposed to what I think is the right way, which is nurturing new companies."
Case said Atlanta is well positioned, is on the rise, and will continue to rise.
"The biggest opportunity for Atlanta is to emerge as the most inclusive startup city," he said. "It's not about a particular sector. It's about creating an environment where everybody has a shot."
And because of the diversity of Atlanta itself, the city has an advantage in this area. "But you need to be intentional about it. Go out of your way to be inclusive," Case said. "This is a moment. I urge you to seize on it."
The rest of the forum included discussions on diversity and inclusion with panels of community leaders, Tech alumni and students, young entrepreneurs, business and financial leaders, and Tech faculty and staff.
A few highlights from the panel discussions are below. A recording of the entire event is available on Georgia Tech's YouTube channel.
"There's a transformation in engaging amongst communities of different types of people that needs to take place. That's what inclusivity is. It's proactive, not reactive."
—Mark Buffington, managing partner, Panoramic Ventures; founder, BIP Capital
"For me when I got into elected office was this willingness to want to be inclusive, but not necessarily for all the right reasons. For me, being inclusive is all about perspective. Ultimately the work product is better because of the perspective inclusivity provides into those products."
—Lt. Gov. Geoff Duncan
"Atlanta can build the ecosystem that works for us based on the resources that we have — and is not a copy of Silicon Valley, but is the best Atlanta that we can make."
—Jewel Burks Solomon, head of Startups, Google
"There's a notion that inclusion is the right thing to do. It's also the profitable thing to do. Studies show that diverse teams deliver higher profits, higher market caps, and higher returns because they're finding problems that others won't uncover. If you're not prioritizing and maximizing diversity then you're choosing to not maximize returns. And if you think of it that way, it changes the world."
—Paul Judge, managing partner of Panoramic Ventures and co-founder and executive chairman of Pindrop
"What companies should not do is ask their Black employees or female employees to join every single diversity event or activity in the company. You will quickly wear us out and have us not wanting to work there anymore, even though we want to help. Think about a way to scale their feedback across the organization. Also, when a person from an underrepresented group comes to you with a problem, don't minimize it. And don't ask the employee to solve the problem. There are teams that can help with those problems."
—Nashlie Sephus, applied science manager, Amazon Artificial Intelligence, and founder of TheBeanPath.org
"Shame on us if in 10 years we have not created something that history will never forget and cemented Atlanta as the city that got it right. It scares me that, with this consortium of resources and this embarrassment of riches, if we don't get this thing right it will slowly erode and 20 years from now my daughter won't have the access that I have right now."
—Jay Bailey, president and CEO, Russell Innovation Center for Entrepreneurs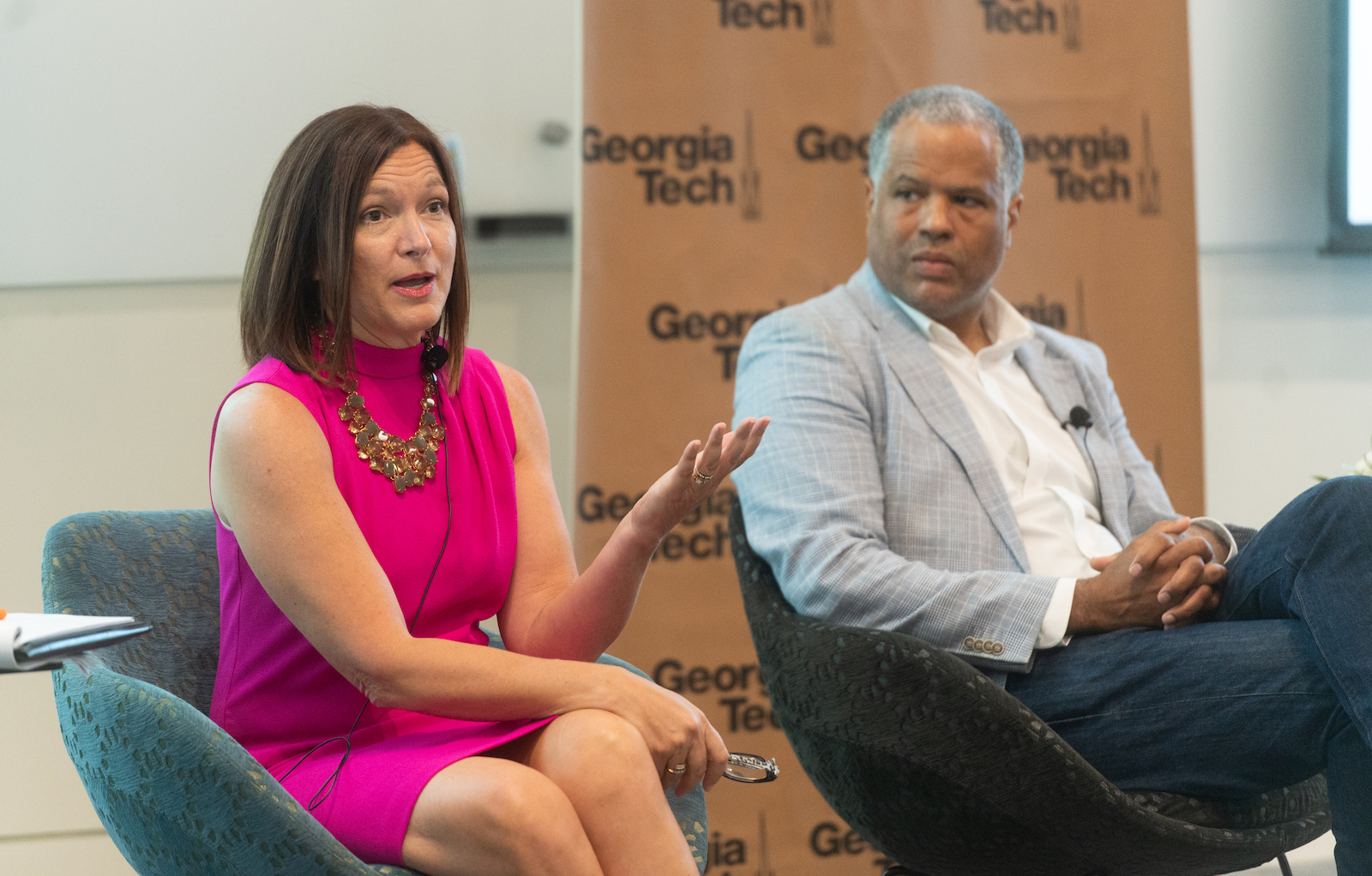 Lara Hodgson, co-founder, president, and CEO of Now, and Guy Primus, CEO and board member of Valence Enterprises, were panelists at the Inclusive Entrepreneurship Forum. Photo by Allison Carter.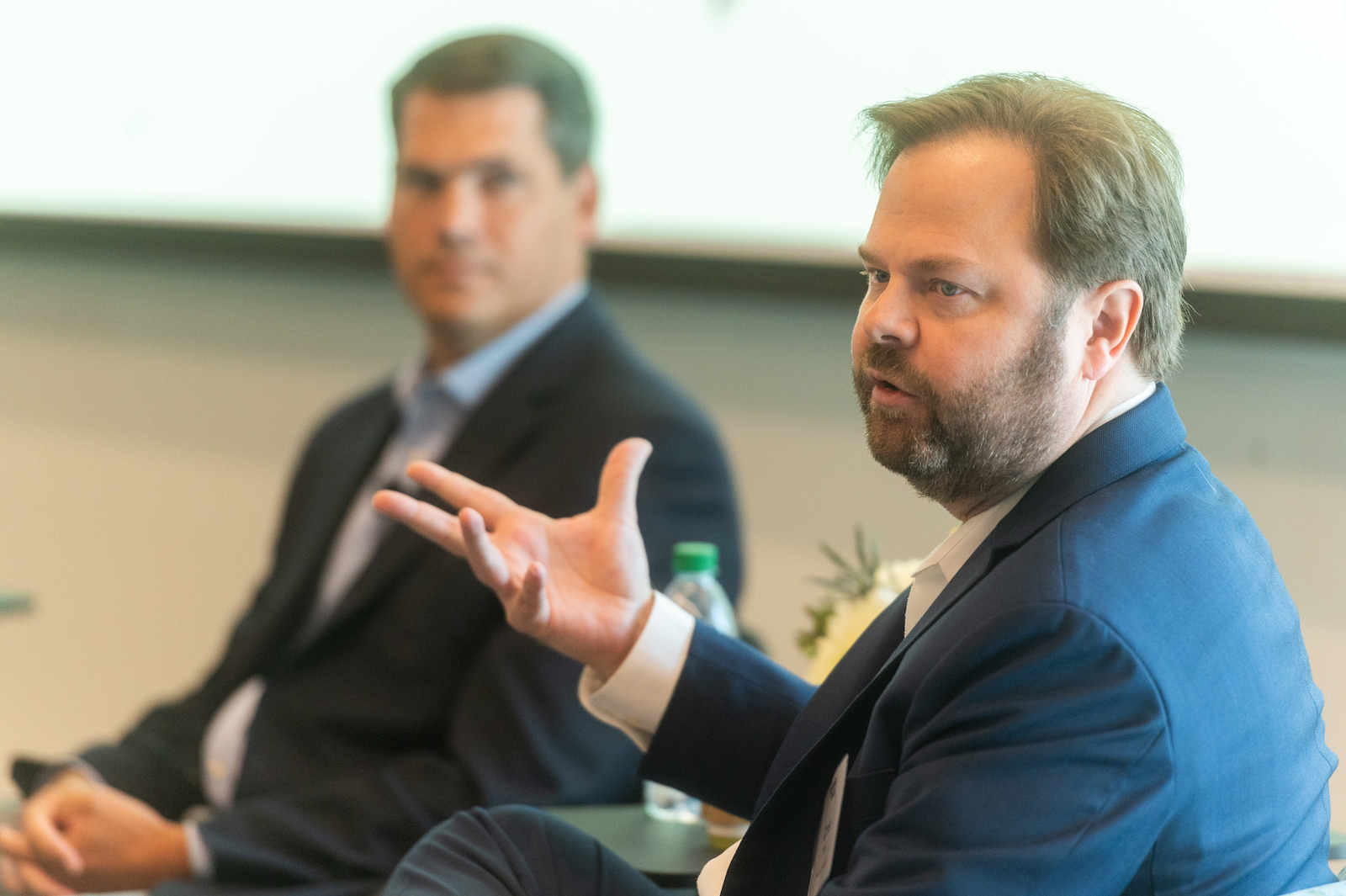 Chris Klaus (foreground), founder and CEO, Kaneva, and founder and partner, CyberLaunch, and Georgia Lt. Gov. Geoff Duncan were panelists at the Inclusive Entrepreneurship Forum. Photo by Allison Carter.