Dynamic Duo Leads Tech Wreck Summer Camp
Abby Harvey and Darrin Wolfe run the Tech Wreck Summer camp for children of Georgia Tech faculty, staff, and students.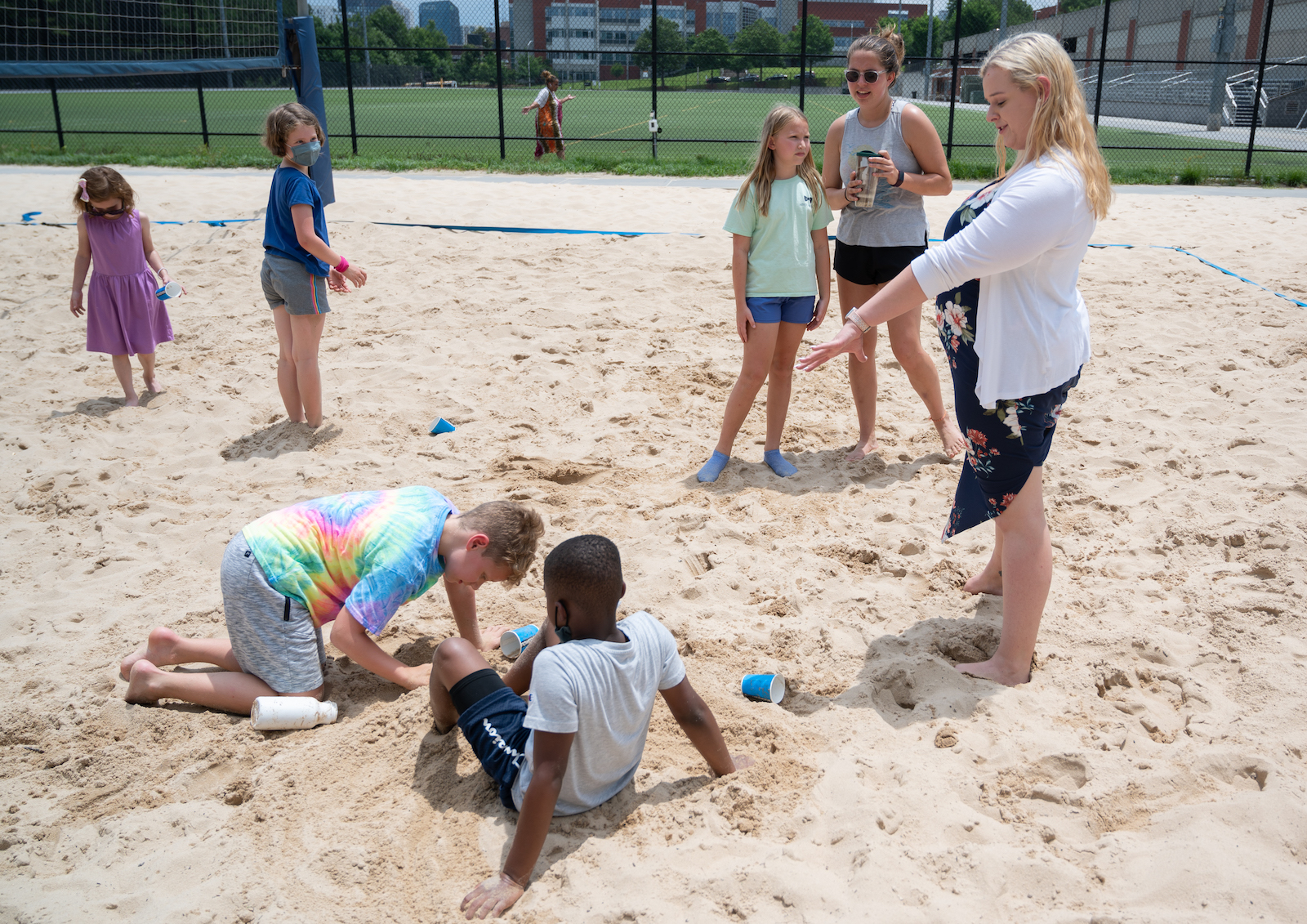 Abby Harvey, camp director for Tech Wreck Summer Camp, with campers and counselors during "Beach Week." (Photo by Allison Carter)
Jul 15, 2021 — Atlanta, GA
Abby Harvey and Darrin Wolfe jokingly call themselves partners in crime. The duo runs the Tech Wreck Summer Camp, an 8-week day camp for children (ages 6 to 13) of full-time Georgia Tech faculty, staff, and students. Harvey is the camp director and Wolfe is the co-camp director.
As the competitive sports coordinator of operations for the Campus Recreation Center (CRC), Harvey oversees intramural sports and sports clubs during the academic year. For the summer camp she oversees all operations, from planning to registration and staff training.
"It's one of those jobs that when you do it right and everything goes well, it doesn't feel like a job at all," she said, "because my job in the summer is playing games with kids."
Harvey gives the camp a new theme each week. For "Beach Week" the sand volleyball court next to Roe Stamps Field became a place for building sandcastles. 
"We have kids who have been coming to camp here since they were rising first graders all the way through becoming a teenager," Harvey said. "I don't want to do the same things over and over. Camp should be a new experience for them every year, so that is a fun challenge for me. I love being creative and coming up with new fun activities. And there is nothing more creative than having a bunch of kids keeping you on your toes."
Harvey's co-camp director, Wolfe, focuses on the staff training side and makes sure the team of 25 camp counselors is prepared to look after the 50 to 70 children who usually attend the camp. Because of the pandemic, Harvey and Wolfe had to alter the camp's activities.
"We used to take the campers on field trips to venues in and around Atlanta," said Wolfe, who has been at Georgia Tech for four years. "We're not doing field trips this year, so we're bringing entertainment and activities to campus, like ice cream trucks and inflatables."
Last year Tech Wreck was open for only a week and a half before closing because of a rise in the number of Covid-19 cases. But Harvey learned a lot from the experience that could be applied this year. She also shared best practices with camp administrators from other universities through the National Intramural-Recreational Sports Association (NIRSA).
"I became a youth programs leader in this area because we were open when most other camps were not," said Harvey, who partnered with a colleague from the University of Wisconsin to participate in a series of round tables hosted by NIRSA. "It was cool to share our experiences and help people across the country get their camps started up again."
Wolfe enjoys Tech Wreck because it's a team effort with lots of work done by the camp counselors and support from other CRC staff members. It's also nice break from his normal role as competitive sports coordinator for staff development at the CRC.
"I enjoy working with college students throughout the year," he said. "The summer camp lets me work with a different age group, and they keep us young. It's also fun to see the returning kids and their growth and maturity level from year to year. Even though we only see them for the summer, we have an impact on their lives."
When they aren't working, Harvey and Wolfe often hang out together and with other CRC staff members.
"A lot of the coordinators at the CRC are transplants to Atlanta, and we really didn't know any other people in the city," Harvey said. "We became a friend group really fast. On weekends we hang out, play games, and do typical things that friends do. It's been awesome to have co-workers who are also your friends."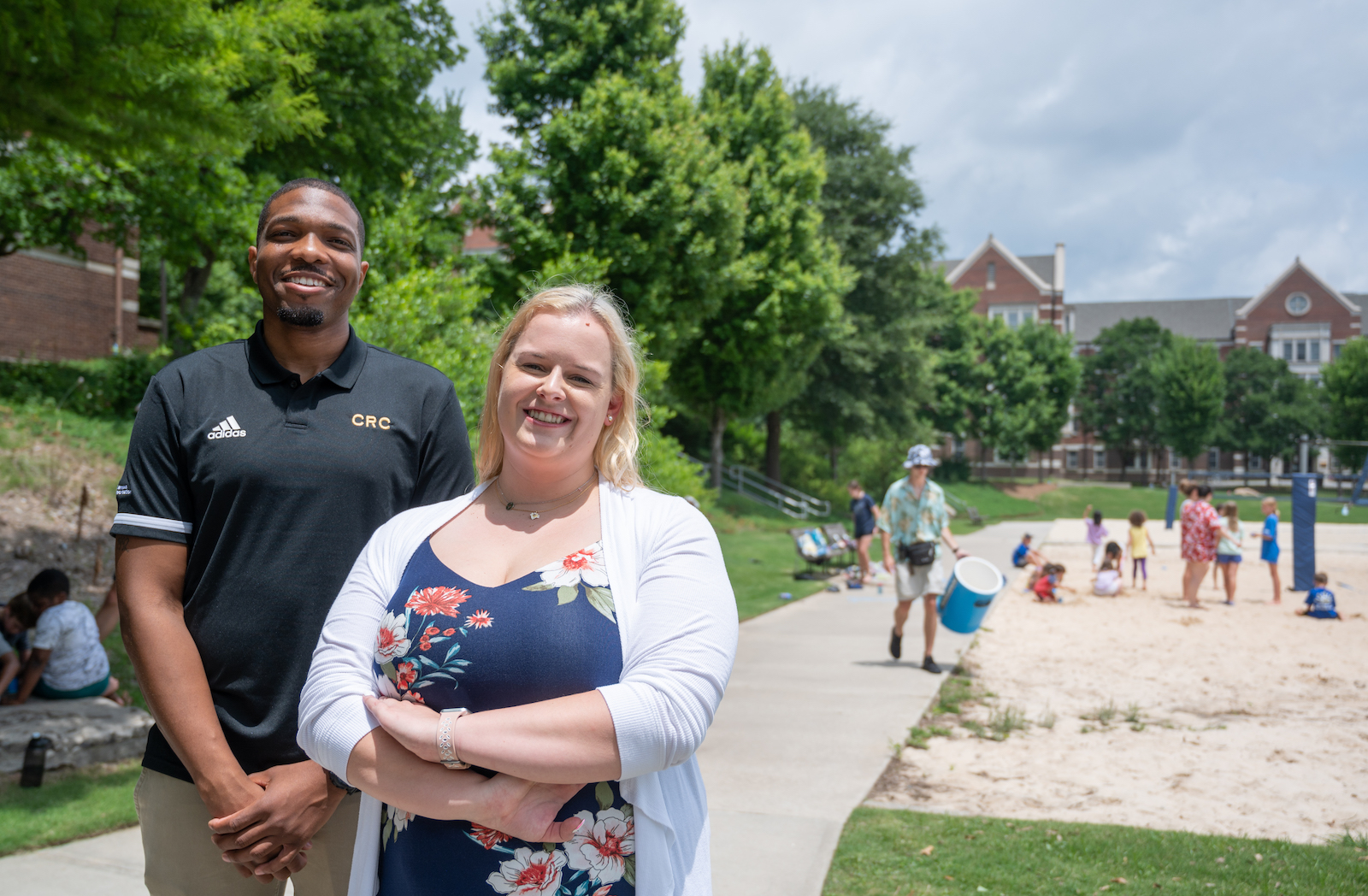 Abby Harvey and Darrin Wolfe run the Tech Wreck Summer Camp at the Campus Recreation Center. (Photo by Allison Carter)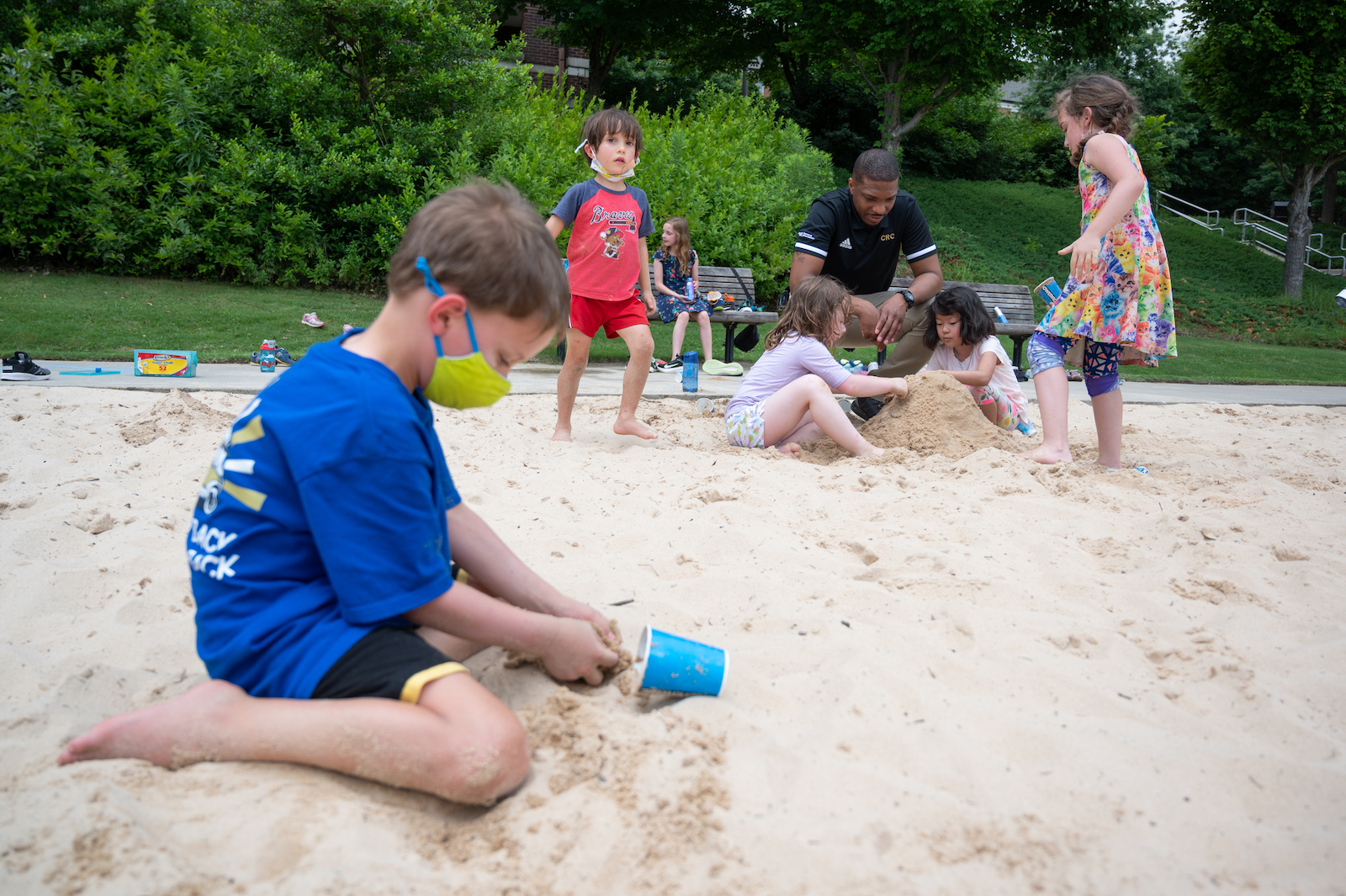 Darrin Wolfe, co-camp director for Tech Wreck, enjoys seeing the returning campers and their growth and maturity level from year to year. (Photo by Allison Carter)