Testing Remains Vital in Controlling Spread of Covid-19
Surveillance testing for Covid-19 is critical, even for those who are vaccinated, because it is the only way to detect an infection before it puts others at risk.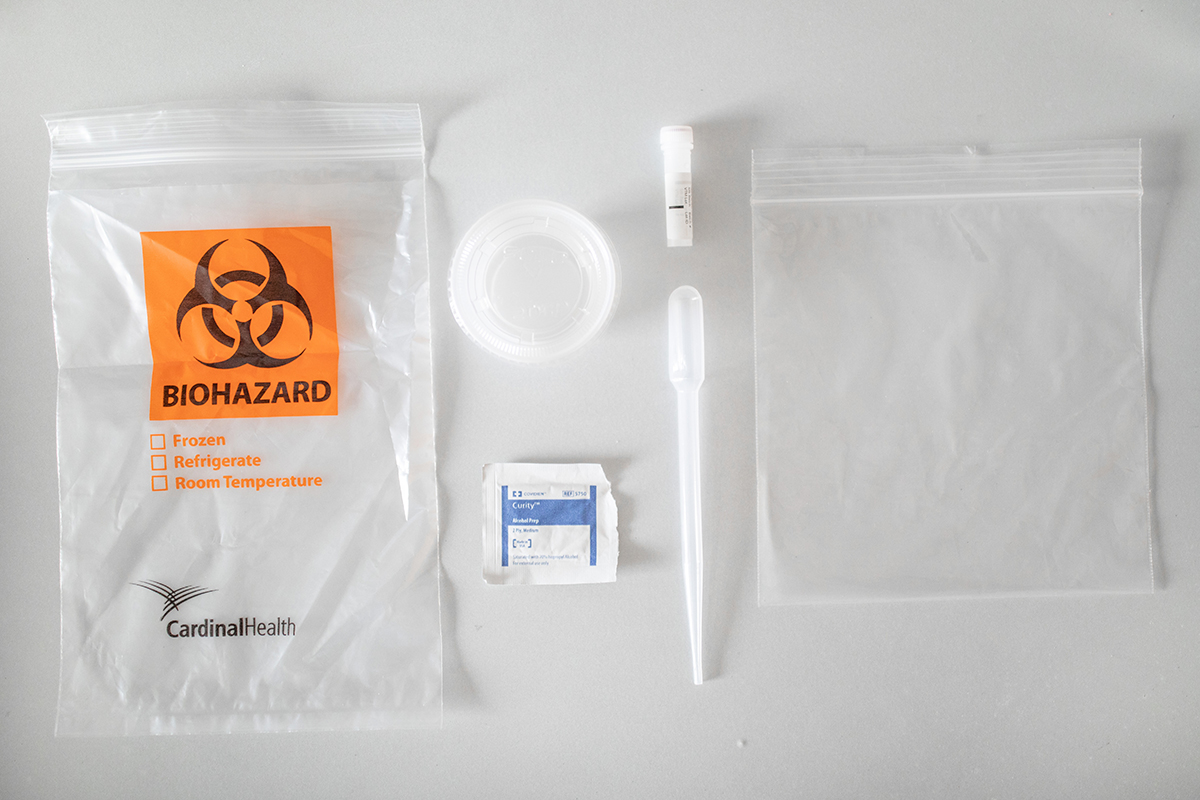 Surveillance Testing Kit
Sep 17, 2021
— Atlanta, GA
Since Georgia Tech launched its asymptomatic surveillance testing program in August 2020, more than 370,000 Covid-19 tests have been administered to the Tech community. Testing remains critical, even for those who are vaccinated, because it is the only way to detect an infection before it puts others at risk.
During his annual Institute Address earlier this month, President Ángel Cabrera said, "We are still in the middle of a long and difficult public health crisis that will continue to test us in countless ways. But we are in this together and, like last year, we will navigate through this successfully again." Cabrera urged the Georgia Tech community to test weekly and encourage other students, colleagues, and friends to do the same.
Bryan Gomez, executive president of the Residence Hall Association and an undergraduate student, has shared that he is vaccinated and continues to test weekly.
"I continue to test every single week and encourage others to do the same, because it's the best way we can keep each other safe on campus," he said.                        
Georgia Tech's surveillance testing program began in spring of 2020 by visionary faculty who foresaw the problem and, with support from Tech leadership, researchers, and students, started working to address it. The initiative has been a campuswide effort with major contributions from the College of Sciences, the College of Engineering, the Petit Institute for Bioengineering and Biosciences, and the Georgia Tech Research Institute.
"Our Covid-19 testing program is a story about how the state government, the USG, and Georgia's biotech industry were mobilized in order to protect us," said True Merrill, a senior research scientist in GTRI and a member of the campuswide team working on surveillance testing.
"Young people are more mobile and they tend to be more asymptomatic, so they get more people sick without appearing to be sick themselves," Merrill said. "To control the degree of spread, testing young people is really important." 
Georgia Tech's testing program has had support from the state's political leaders since its inception. Georgia Lt. Gov. Geoff Duncan visited campus in August 2020 and walked through the testing process shortly after it was introduced. All Georgia legislators were tested twice a week at the state capitol during the 2021 legislative session, and they will do it again this fall. And earlier this month Teresa MacCartney, acting chancellor of the USG, visited campus and was tested at the Library before touring the testing lab.  
The Asymptomatic Testing Program: How It Works
The testing is done by a 30-person team that collects samples and works around the clock in a federally certified lab constructed in the basement of a campus research building. The process begins with registration on a campus website, which generates a barcode that participants bring to one of the testing sites with no appointment necessary. At the site, participants register and are given a test kit in a plastic bag. They spit into a small plastic cup and use a pipette to transfer a saliva sample to a small plastic vial containing a buffer solution that inactivates any virus that may be present. Treats are offered at all sites, usually in the form of stickers and cookies, as a thank you to those who test.
The samples are transferred to the test lab three times a day for evaluation. To reduce the number of PCR tests that must be run each day, the saliva samples are pooled so that a single test can examine samples from five individuals. An innovative double pooling strategy can identify one individual in a set of six pools who is positive, while clearing another dozen individuals. Using standard equipment, the team evaluates 225 samples at a time, and can test thousands of samples a day.
By placing each individual sample into two different pools, when a positive result is obtained, the researchers can focus on the likely infected person for diagnostic confirmation. The surveillance and diagnostic testing is normally completed within 24 to 48 hours, allowing contact tracers to identify other community members who may have been exposed.
Cabrera said it is important for everyone to continue doing what they can to keep Georgia Tech as safe as possible by using all of the tools that are available, including weekly asymptomatic testing.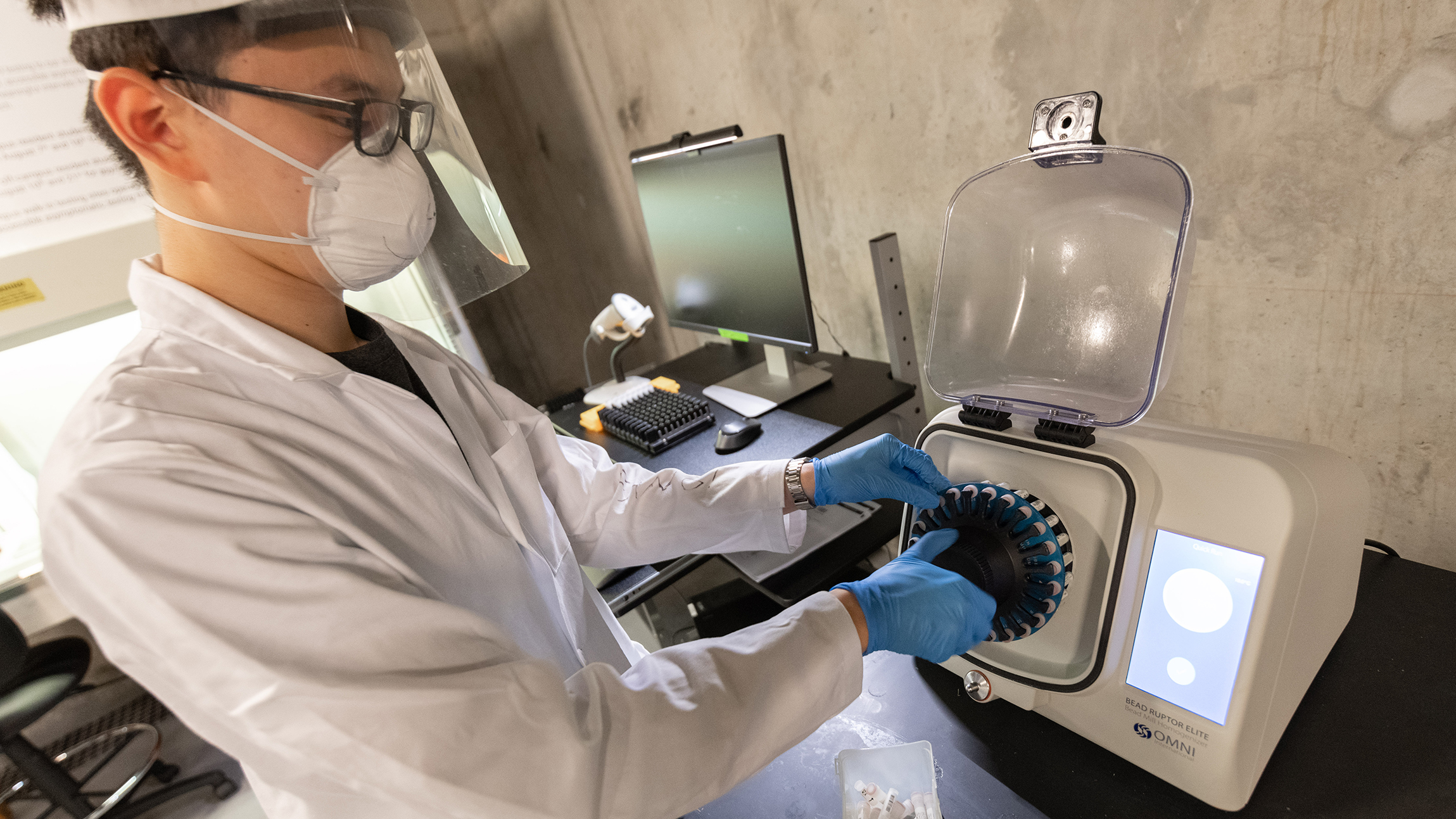 Georgia Tech research technician Fang Shi places vials containing saliva tests into a device used to prepare samples for testing. (Credit: Rob Felt, Georgia Tech)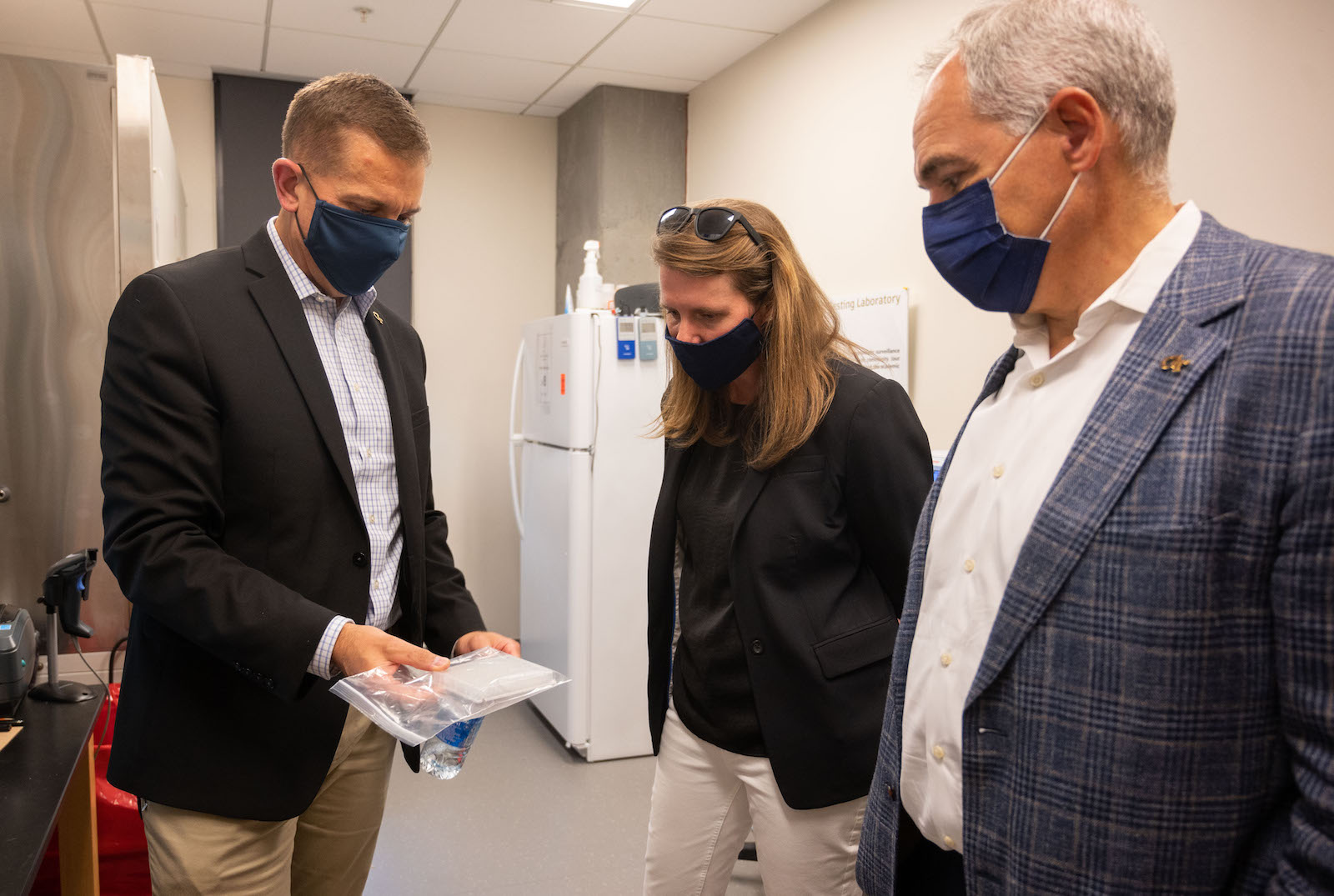 Teresa MacCartney, acting chancellor of the USG (center), tours the Covid-19 testing lab with Mike Shannon, a principal research engineer from GTRI who manages the overall Covid-19 testing program, and President Ángel Cabrera. (Photo by Allison Carter)