Join the October Atlanta Bike Challenge
As the weather cools, it's the perfect time to get on a bike and enjoy fall in Atlanta.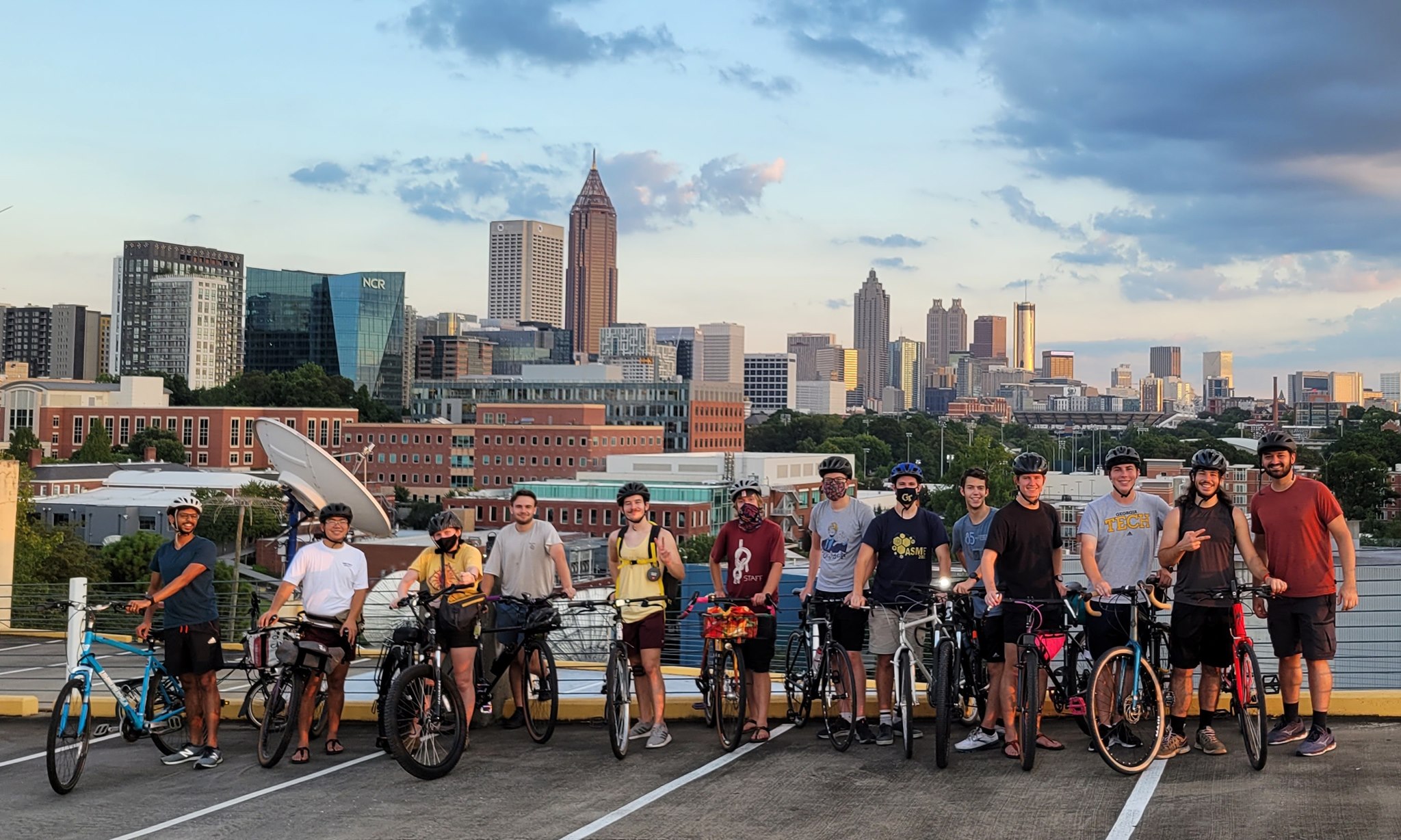 A Starter Bikes community ride took place earlier this month.
Sep 30, 2021 — Atlanta, GA
As the weather cools, it's the perfect time to get on a bike and enjoy fall in Atlanta. Love to Ride's Biketober challenge starts Oct. 1 and encourages people across the city to form teams, log their miles, and compete for prizes throughout the month.
The challenge encourages people to ride their bikes, and ride them often. Students, faculty, and staff can join or form a team for their group or department, and select Georgia Tech as their workplace. Learn more and sign up at lovetoride.net/atlanta.
For those who are new to biking on campus, there are several resources beyond plentiful bike lanes and bike racks. Learn about some of those resources below, and learn even more at pts.gatech.edu/bicycling-georgia-tech and bike.gatech.edu.
Bike Racks/Rooms
Tech has two secure bike parking rooms on campus, in the Dalney Parking Deck and in the E81 Georgia Tech Hotel deck in Tech Square. Both are secured through Buzzcard access, and the Dalney location has a fix-it station. The E81 bike room is accessible via the pedestrian door on Williams Street (the room is located just inside to the left – look for a yellow banner).
Parking and Transportation Services (PTS) will install a new outdoor bike pump  next to the bike racks outside the Scheller College of Business. Another pump is located outside the PTS administrative offices at 845 Marietta Street.
New bike racks were recently installed inside Klaus parking deck.
Ride Smart Bike/Scooter Safety Class
Free helmets are given to members of the campus community  who take a free 12-minute online bike/scooter safety class. The class helps participants get their bike or scooter ready to ride and learn the rules of the road before hitting the streets safely. Meanwhile, PTS sells helmets (for both bike and scooter riders) for $12. The new PTS customer service center is at 770 Spring Street, also in the E81 Tech Square Hotel parking deck.
Aztec Cycles at the Community Market
Aztec Cycles' mobile repair shop will be at the Community Market at the Instructional Center Lawn each Wednesday from 10 a.m. to 2 p.m. this semester. They are available to service bikes and sell basic supplies.
Starter Bikes Extended Hours
Starter Bikes is now open from 4 to 7 p.m. each Friday for repairs. Announcements regarding bike sales will be made on their Facebook page. Starter Bikes is located in the CRC Parking Deck. Starter Bikes will also host several workshops on Thursday, Oct. 8, to help riders learn how to make their own repairs.
New SmartPark Locations
SmartPark parking locations for 2021-22 at the Student Center (W02) and Dalney (W22) join existing locations at Tech Square (E81), North Campus (W23), and Visitor Area 1. The SmartPark permit costs $25 per year to join and $6 per usage.
Shower Options for Active Commuters
Visit the Campus Map for locations of showers on campus that are available to commuters. The CRC Commuter Shower Pass provides a towel and access to the locker room showers from 7-9 a.m. Monday through Friday for $5 per month. Visit the Bike Georgia Tech website for information.
Move Georgia Tech
Encouraging active transportation on campus, Move Georgia Tech offers tools to explore how your transportation choices impact your environmental, financial, physical, and mental health.
Jim Kirk Bicycle Safety Fund
With his retirement, former Georgia Tech administrator and bike commuter Jim Kirk created a fund to provide helmets to members of the Georgia Tech community to encourage riding and improve the safety of riders through education and helmet use. Since 2019, the fund has provided more than 200 helmets to participants in the Ride Smart Bike/Scooter Safety Class. If you would like to make a gift to support riding safety on campus and ensure that everyone who needs a helmet is provided one, visit the fund's page and make a gift.