12th Annual France-Atlanta Returns to Georgia Tech With Virtual and In-Person Events
The French-American series of events begins on October 15.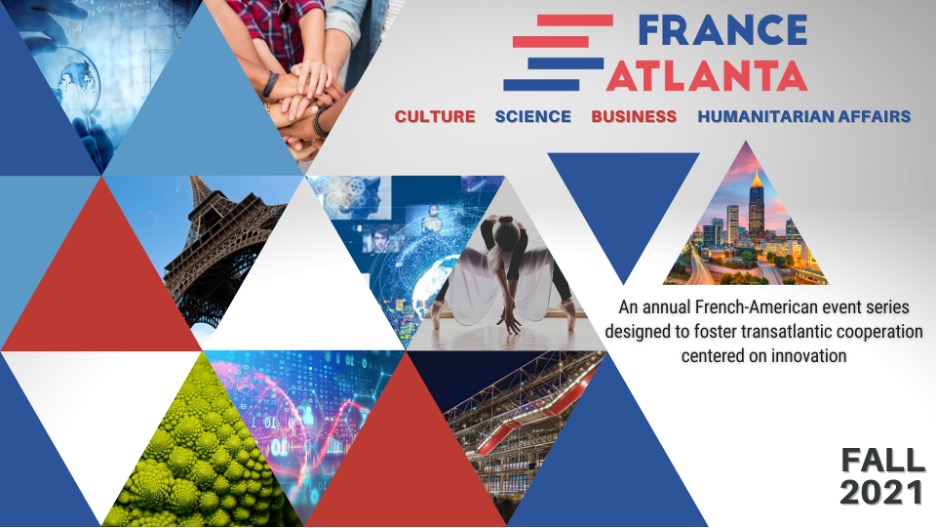 Oct 14, 2021 — Atlanta, GA
Georgia Tech continues its annual collaboration with the Consulate General of France in Atlanta to present the 12th annual France-Atlanta series from Oct. 15 to Nov. 5. Created in 2010, the French-American series fosters cooperation and exchange between France and the southeastern United States in the realms of science, business, culture, and humanitarian affairs.
This year's events will celebrate innovation, uniting many of Georgia Tech's top programs with French counterparts to explore future cooperation and expand the Institute's global footprint. France-Atlanta events will take place virtually and in person and are open to the public.
Upcoming Events With Georgia Tech
Casual Creators: How New Tools Are Changing Artistic Practices  
Tuesday, Oct. 19
11:30 a.m.
Professor Jason Freeman, from Georgia Tech's School of Music, joins IRCAM (Institut de Recherche et Coordination Acoustique/Musique) at the intersection of art and technology. This event explores whether digital and other systems can be designed to help these casual users tap into their creative sides. Panelists will also discuss the design of creativity-augmentation systems that rely on computational creativity.
Transatlantic Tech Success
Tuesday, Oct. 26
10 a.m.
This summit will bring together outstanding entrepreneurs, tech leaders, government officials, the Creative Destruction Lab-Atlanta at the Scheller College of Business, and other stakeholders from both France and the Southeast. Discussions will center on channels of collaboration and the key components of success that transatlantic innovators seeking to conquer the U.S. market should consider before starting their entrepreneurial journey in Atlanta.
Proteins of the Future
Thursday, Oct. 28
11 a.m.
French and American researchers and entrepreneurs from the agri-food sector will present advances in research on plant and synthetic proteins, their environmental impact, as well as associated ethical and regulatory issues. CREATE-X 2015 participants Grubbly Farms will join this virtual discussion on new food sources and alternative proteins.
Ethical Management of AI: A French-American Dialogue
Tuesday, Nov. 2
9 a.m.
Jason Borenstein, director of the Graduate Research Ethics Programs at Tech, joins the second annual conference on the ethics of artificial intelligence. This virtual event will cover the approaches taken by France, the European Union, and the United States to address the future of AI and big data and mitigating potential ethical issues.
Several Georgia Tech departments will sponsor seminars and workshops. Learn more and view a full schedule of events at: france-atlanta.org.